About
Our entire team is dedicated to providing you with the personalized, gentle care that you deserve. All our staff is dedicated to your comfort and prompt attention as well.
...more
Our entire team is dedicated to providing you with the personalized, gentle care that you deserve. All our staff is dedicated to your comfort and prompt attention as well.
More about Skinify Clinic
Skinify Clinic is known for housing experienced Dermatologists. Dr. Durgesh Sonare, a well-reputed Dermatologist, practices in Bhopal. Visit this medical health centre for Dermatologists recommended by 63 patients.
Timings
Location
Near Capital Mall, Hoshangabad Road
Hoshangabad Road
Bhopal,
Madhya Pradesh
-
462026

Get Directions
Photos (1)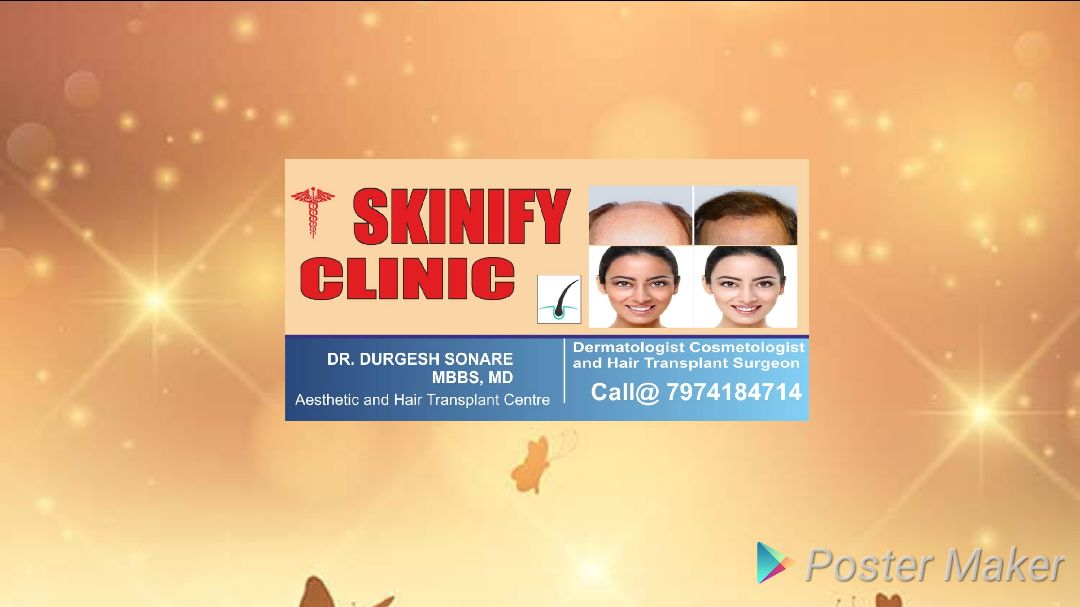 MD - Dermatology, Venereology, Leprosy
Dermatologist
Book appointment and get ₹125 LybrateCash (Lybrate Wallet) after your visit
Services
Submit Feedback
Submit a review for Skinify Clinic
Your feedback matters!
Write a Review
Patient Review Highlights
"Very helpful"
1 review
Reviews
Suhani Tripathi
Dec 17, 2018
Durgesh sir is a cooperative person
Sona
Jun 29, 2018
Great results.
Feed
A common skin condition, which causes the discoloration of your skin in patches across the face, melasma is more of a social embarrassment and cause for distress rather than being a serious condition. Although it affects men as well, studies have shown that over 90 percent of patients are women. It is also known as the mask of pregnancy as many pregnant women develop this skin condition.
Causes of Melasma
Primary causes of melasma have been attributed to various hormonal changes within the body. Let's look at some of the factors that may cause this disorder:
Pregnancy: This is often attributed as the leading cause of melasma, the primary cause has often been attributed to hormonal changes that a woman may experience due to pregnancy.
Treatments that may change hormonal balance: Women on contraceptive pills or who have implants such as intrauterine devices may also develop this disorder. This is due to the balance of estrogen and progesterone being changed within the body.
Sun exposure: Continued sun exposure may also lead to melasma. This is due to the activation of melanocytes within the body which start producing more melanin.
Stress: Long periods of stress on the body can also trigger hormonal changes and cause melasma.
Thyroid problems: If someone suffers from Hypothyroidism or low levels of the thyroid hormone, it can trigger other hormonal changes and also cause this skin disorder.
It has also been noticed that people with generally a darker skin tone tend to get melasma and it is less common in people with fairer skin.
Certain characteristics of Melasma
Melasma develops in certain patterns which can be easily diagnosed either as spots on the skin similar to freckles or brown patches of skin that grow bigger. Some of these patterns are:
Malar pattern: This grows on the nose and cheeks
Mandibular pattern: Starts growing around the jaw line
Brachial melasma: This grows on the upper arms and shoulders
Lateral cheek pattern: Grows on the cheek on both sides of the face
Centrofacial pattern: Nose, upper lips, forehead and cheeks
Treatment of Melasma
Most women who develop melasma during pregnancy report that it goes away after childbirth. However certain forms of melasma may appear in non-pregnant women due to hormonal changes. Treating the underlying hormonal changes usually, resolves the problem. However certain other methods may be required to resolve the issues such as skin creams, chemical peels, dermabrasion and microdermabrasion.
4551
people found this helpful
The condition which occurs on exposure to foreign substances and causes the skin to become red, itchy and inflamed is known as contact dermatitis. It is commonly known as a rash. Although most of the reactions to contact dermatitis are not serious, they can be very irritating till the itching subsides. The causes of contact dermatitis are usually case specific; they vary according to the different types of this disease.
The types of contact dermatitis are:
Allergic contact dermatitis: This condition occurs when an allergic reaction is developed after exposure to foreign substances. The reaction occurs with a release of inflammatory chemicals that causes the skin to become irritated and itchy. If a person has eczema, he or she can suffer from this kind of rash. Causes of allergic contact dermatitis include:

Latex gloves
Poison Oak
Jewellery (gold or nickel)
Perfumes and chemicals in skincare and cosmetic products

Irritant contact dermatitis: Contact between the skin and a toxic material causes Irritant contact dermatitis. They can be sub divided into two categories, namely chemical irritants and physical irritants. Some of the toxic substances that cause this condition include battery acid, drain cleaners, detergents, kerosene, pepper spray and bleach. The physical causes of Irritant contact dermatitis include low humidity from air conditioning, a variety of plants and so on so forth. The condition tends to become more painful, rather than itchy.
Photo-contact dermatitis: This is a very uncommon type of contact dermatitis which is caused due to the exposure of some active ingredients in sunscreen to sunlight. When sunlight is not present, the sensitive chemicals in the substances are not harmful.
Symptoms
Symptoms of contact dermatitis depend upon the causes of this condition. The symptoms of allergic contact dermatitis are:
Dry or oozing blisters
Dry, flaky and scaly skin
Redness of the skin
Extreme itching
Burning of the skin with or without sores
Leathery or dark appearance of the skin
Symptoms of Irritant Contact dermatitis can be slightly different. They include:
Blistering
Swelling
Cracking due to extreme dryness
Ulcerations
Stiff or tightened skin
Open sores that form crusts
4458
people found this helpful
A receding hairline and premature hair loss is a major cause of concern for most people. The affected person suffers a major loss to his appearance, self-esteem and confidence level. With one of the biggest causes for hair loss being the increased stress levels across all genders and age groups, premature hair loss is seen more and more in younger ages, as early as the late 20s.
That being the case, hair transplant, which comes as a rescue to the affected people is gaining significant popularity. There are two main techniques of hair transplantation and both involve replacing the lost hair follicles from one part of the body to another part.
While the scalp is the most commonly used donor site, the chest and back also can be used as donor sites if there is adequate hair growth. In the recent years, advanced techniques are in place that yield more natural results, are less invasive, and enable a quicker recovery.
Read on to know some of the common benefits of hair transplantation.
Natural process: When compared to the wigs that were used earlier to mask the bald pate, the hair transplant is a more natural way to replace lost hair. It is healthier, has no chemicals, and does not have any harmful or allergic reactions.

Improved esthetics: The person's own hair is transplanted and so the new hair growth that covers the bald pate resembles the rest of the hair, producing quite a natural appearance. Of course, there is the initial stage where the donor site requires some healing before the transplanted follicles are completely absorbed and begin to yield results. Also, this is far better than the wigs that give away the fact that the person has had hair loss and is using artificial hair.

Relatively permanent solution: Hair transplant is more or less a permanent solution to hair loss and receding hair loss. There are very few people who have had transplants and have again experienced baldness. Though the newly growing hair might be thinner, it is not that obvious for the others as it is for you. It is more often than not a permanent solution to the bald spots that you once experienced.

Psychological effects: Restoring lost hair improves confidence and self-esteem and improves self-worth too. The personality of a person changes drastically, and anybody who has gone through hair loss and had successful transplant surgery can vouch for it.

Low maintenance: There is actually no ongoing maintenance that is required after the hair transplant. Routine hair care suffices, making it easy for the person without multiple follow-up visits.
Go ahead with hair transplant, if you have a receding hairline. You will see the benefits for yourself.
4305
people found this helpful
What are Warts?
Warts are infectious outgrowths that may appear on any part of the body. For example, the most common warts occur on fingers. They are caused by virus, most typically the Human Papilloma Virus (HPV) and several of its subtypes. They appear as dense painless rounded nodules of about 0.3- 1 cm in diameter. The mode of transmission of this virus is usually by contact. You can also contract warts by sharing objects like razors, towels or other personal items. They can be sexually transmitted if the warts are present on genitals.
Usually, they are benign outgrowths but sometimes, they may be cancerous if present on genitals.
How To Prevent Warts?
Earlier, the only way to prevent contracting warts was avoiding contact with infected people. But now-a-days, vaccines against HPV are present that are given in teen years to prevent genital warts and cancer caused by them.
How are they diagnosed?
Your doctor can easily tell if the outgrowth is a wart just by having a look at it. If it is not clear, your doctor may take a sample of your skin and look at it under the microscope to ensure that it is a wart.
CAUTERIZATION
Cauterization is a medical procedure wherein a part of the body is burnt in order to damage some tissue in order to prevent an outgrowth. Cauterization can be done by medicine, cryotherapy (using localised or general low temperatures to treat benign or malignant tissues), radio frequency cauterization or laser. The method applied depends on size and location of the outgrowth or the choice of you dermatologist as well.
It is recommended to get warts removed at its earliest to prevent spreading of the disease.
Several myths are present in the market that state cure to warts by various homemade remedies but these can do more harm than good. Treating warts must be done by practised medical personnel. Incomplete removal of warts can cause recurrence of warts due to secondary infection.
4244
people found this helpful
Seborrhea or dandruff can be a very distressing as well as an embarrassing problem. Dandruff, primarily caused due to dryness, refers to the white flakes that fall off your scalp. The problem of dandruff is common for both men and women, irrespective of age. Dandruff is such a problem that cannot be cured easily but can only be controlled. There are many remedies for controlling dandruff.
Five such remedies are mentioned below:
1. Avoid oiling your hair on a regular basis: Dandruff, at times, tends to increase if your scalp is excessively oily. So, to avoid it, try not to oil your hair regularly. Also, if you have an oily scalp, make sure to use the correct hair care products to control the problem.
2. Include more vitamins in your diet: A healthy diet can help you to deal with your problem of dandruff more efficiently.
3. Mental stress: Reducing your mental stress can help you to control dandruff, since most hair problems occur due to stress or stress related problems.
4. Use the right comb: Try using an appropriate comb for your hair. If the comb hurts your scalp, then the skin of your scalp may turn flakier resulting in more dandruff.
5. Use anti- dandruff hair care products: Using anti-dandruff shampoos and conditioners can help you to control your problem of dandruff.
If you are unable to control dandruff, you should not ignore it and consider visiting a dermatologist for further advice.
4214
people found this helpful
Skin health is an indicator of a number of factors, such as blood circulation, digestion and waste removal from the body. The skin is considered to be an organ in itself as it performs certain important functions in the body. Therefore, you always need to make sure that your skin is in its optimal health. Common skin conditions like acne, dandruff and blackheads can easily be prevented by following certain precautions.
Outlined below are some tips to keep your skin healthy:
Avoid junk food: It's high time you stop eating processed foods and the ones covered in grease. Junk foods which are rich in oil and sugar can make your skin oily and cause acne. Instead, replace them with seeds and nuts.
Exercise: The benefits of exercise are not limited to fat loss; it is beneficial for the skin too. Exercises such as running boosts blood circulation in the skin and the sweat helps in draining out various waste products from the body.
Diet: Your diet should consist of fiber rich foods, which improve your digestion. Many problems of the skin are linked to a bad digestive system. Cut out simple carbohydrates and include complex carbohydrates such as brown rice.
Follow a skin care regimen: You should follow a proper skin care regimen to maintain your skin. Wash your skin with a mild cleansing agent every day and moisturize it. Apply sunscreen while going out to prevent sunburns.
Drink lots of water: Drink lots of water every day. Water helps in cleansing the body by removing the waste products from the body. Abstain from alcohol because it only adds calories and damages the liver. Aim for at least 2-3 litres of water on a daily basis.
Avoid overexposure to the sun: While sun exposure allows the skin to produce vitamin D, but too much of that can lead to sunburns. It increases the risk of certain skin cancers as well. Make sure to apply sunscreen and wear full sleeved clothes before going outdoors.
Exfoliate regularly: Make sure you exfoliate your skin on a regular basis to clean your skin and get rid of the impurities. Don't scrub your regularly as it may damage the skin.
In case you have a concern or query you can always consult an expert & get answers to your questions!
3948
people found this helpful
Near By Clinics