Personal Statement
I want all my patients to be informed and knowledgeable about their health care, from treatment plans and services, to insurance coverage.
...more
I want all my patients to be informed and knowledgeable about their health care, from treatment plans and services, to insurance coverage.
More about Dr. Vidhyasagar T
Dr. Vidhyasagar T is an experienced Veterinarian in BTM Layout, Bangalore. He has been a successful Veterinarian for the last 26 years. He is a qualified BVSc . You can visit him at BTM Vet Polyclinic in BTM Layout, Bangalore. Don't wait in a queue, book an instant appointment online with Dr. Vidhyasagar T on Lybrate.com.

Lybrate.com has a nexus of the most experienced Veterinarians in India. You will find Veterinarians with more than 39 years of experience on Lybrate.com. You can find Veterinarians online in Bangalore and from across India. View the profile of medical specialists and their reviews from other patients to make an informed decision.
Info
Education
BVSc - Veterinarian college Bangalor - 1992
Location
Book Clinic Appointment with Dr. Vidhyasagar T
Services
Submit Feedback
Submit a review for Dr. Vidhyasagar T
Your feedback matters!
Write a Review
Feed
Nothing posted by this doctor yet. Here are some posts by similar doctors.

Please give both terramycin in powder form anti bio-tic,(make solution in water) and noroxin tablet 10mg with (make in powder form and mix with water)
2
people found this helpful
Asked for male, 24 years old from Lucknow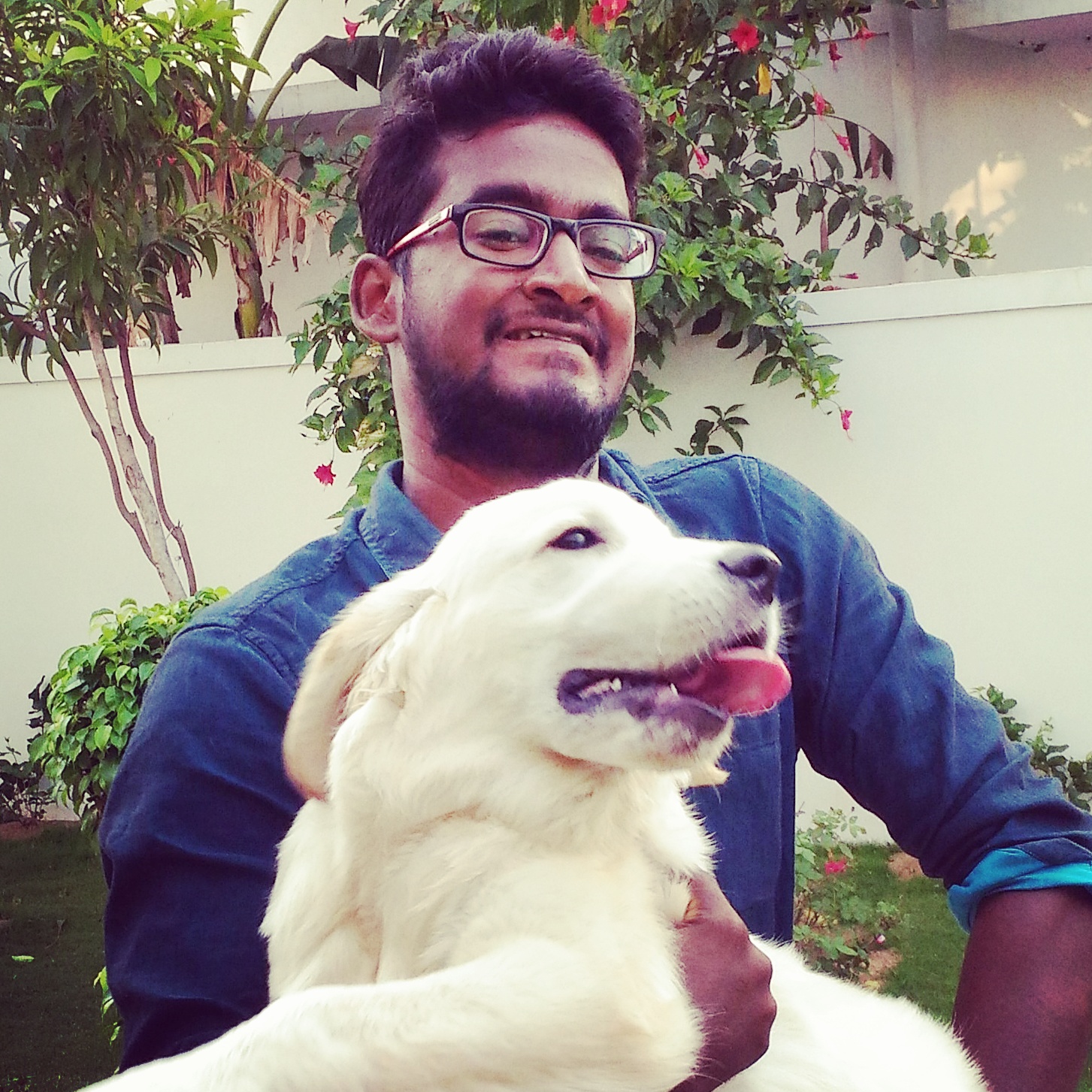 Both have almost same combination and composition, but the quantity differs in syrup and drops. Ie) if a vitamin is 2 mg in syrup, it will be 0.5 mg in drops. Drops is recommended for birds and pups.
1
person found this helpful
Shared 1 year ago • Featured Tip
It is not unnatural to find some lumps or bumps on your dog's body, particularly when the dog is approaching its senior years. These growths are among the most common issues found in older dogs. But it can also happen to the younger ones. It is natural to be scared and have doubts whether it is a tumor or a lump or is it cancer. As a dog owner, therefore, you must understand the different types of lumps, bumps and growths on the dogs so that you can consult with a reputed veterinarian without delay.
1. Understanding the lumps, bumps, and growths: The veterinary doctor would refer to an unknown lump as a tumor in a general manner. This term do not indicate the malignity or benignity of the tumor. These terms typically indicate that an abnormal growth of tissues has taken place inside the body which has a shape or is a mass. There is no reason to panic in case your vet says that there is a growth or something of similar significance.
2. Getting the right diagnosis of the lumps on dogs: The dog owners are most likely to notice growth on the dogs while taking it for routine grooming or while petting it. When there is a new growth or tumor on the dog, it is safer to consult with the veterinarian who can carry out a thorough checkup. He would discuss the medical history of the dog which may include daily lifestyle, diet, signs and symptoms of illness and then a physical examination will be performed. It is important to note here that sometimes, the growth may not be noticeable and this is the primary reason why taking it out to an experienced veterinarian is crucial. The expert would be able to find visible masses while carrying out a routine examination.
3. Testing the mass or lump on the dog's body: When there is a lump or growth on the dog's body, it is important to carry out some tests such as complete blood count, urinalysis, radiographs revealing signs of metastasis and internal abnormalities, ultrasound, CT scan and certain advanced diagnostics.
In some cases when the lump can be easily accessed, the expert may recommend you to take your dog for a fine needle aspirate which is performed by inserting a small needle into the mass and drawing back the syringe. A little amount of tissue gets accumulated in the syringe which is then tested to determine the character of the lump. When the fine needle aspirate test is not effective, usually a biopsy is carried out under general anesthesia or mild sedation where it is cut out surgically or the entire mass is removed following surgical procedures.
3266
people found this helpful
Asked for male, 26 years old from Kurnool
if you can send photos, videos, photocopies of investigation results, at least we can try to penetrate and suggest you something on critical care, if you do not have potent qualified small animal health care facilities at your area. This is called tele-medicine too. One thing you need to do in absence of such facilities at your area, appoint one paravet who can inject, administer iv fluids and draw blood samples. Now send photos of your dog from different angles, try to capture videos with close take without missing its vital life activities like responsiveness to stimuli or its alertness, its movements that are present-- like its response to food and water etc. What more you can do, if you have veterinary pathological laboratory at your place or at your knowledge, just go for some blood tests. This may include cbc+diff, serum creatinine, urea, bun, serumna+, k+, ca++, lft, fasting blood glucose. Without wasting time, not to detain next treatment procedure to start you need to come out with all these promptly whether you are taking your pet to any hospital or consulting here with any qualified vet to initiate life saving attempts. But do not consult anyone who is not a licenced vet.
Shared 3 years ago • Featured Tip

House training is accomplished by rewarding your puppy for eliminating where you want him to go (outside) AND by preventing him from urinating or defecating in unacceptable places (inside the house). You should keep crating and confinement to a minimum, but some amount of restriction is usually necessary for your puppy to learn to "hold it." (To learn how to crate train your puppy, please see our article, Weekend Crate Training.)

How Long It Will Take

Some puppies learn where and where not to eliminate at a very young age, while others take longer to understand. Most puppies can be reasonably housetrained by four to six months of age. However, some puppies are not 100% reliable until they are eight to twelve months of age. Some puppies seem to catch on early but then regress. This is normal. Keep in mind that it may take a while for your puppy to develop bowel and bladder control. He may be mentally capable of learning to eliminate outdoors instead of inside, but he may not yet be physically capable of controlling his body.

How Often Your Puppy Needs to Go Out

All puppies are different, but a puppy can usually only hold his waste for the same number of hours as his age in months. (In other words, a four-month-old pup should not be left alone for more than four consecutive hours without an opportunity to go outside.) He can last longer at night, however, since he's inactive (just like we can). By the time your pup is about four months old, he should be able to make it through the night without going outside.

House Training Steps

1. Keep your puppy on a consistent daily feeding schedule and remove food between meals.

2. Take the puppy outside on a consistent schedule. Puppies should be taken out every hour, as well as shortly after meals, play and naps. All puppies should go out first thing in the morning, last thing at night and before being confined or left alone.

3. In between these outings, know where your puppy is at all times. You need to watch for early signs that he needs to eliminate so that you can anticipate and prevent accidents from happening. These signs include pacing, whining, circling, sniffing or leaving the room. If you see any of these, take your puppy outside as quickly as possible. Not all puppies learn to let their caretakers know that they need to go outside by barking or scratching at the door. Some will pace a bit and then just eliminate inside. So watch your puppy carefully.

4. If you can't watch your puppy, he must be confined to a crate or a small room with the door closed or blocked with a baby gate. Alternatively, you can tether him to you by a leash that does not give him much leeway around you (about a six-foot leash). Gradually, over days or weeks, give your puppy more freedom, starting with freedom a small area, like the kitchen, and gradually increasing it to larger areas, or multiple rooms, in your home. If he eliminates outside, give him some free time in the house (about 15 to 20 minutes to start), and then put him back in his crate or small room. If all goes well, gradually increase the amount of time he can spend out of confinement.

5. Accompany your puppy outside and reward him whenever he eliminates outdoors with praise, treats, play or a walk. It's best to take your puppy to the same place each time because the smells often prompt puppies to eliminate. Some puppies will eliminate early on in a walk. Others need to move about and play for a bit first.

6. If you catch your puppy in the act of eliminating inside, clap sharply twice, just enough to startle but not scare him. (If your puppy seems upset or scared by your clapping, clap a little softer the next time you catch him in the act.) When startled, the puppy should stop in mid-stream. Immediately run with him outside, encouraging him to come with you the whole way. (If necessary, take your puppy gently by the collar to run him outside.) Allow your pup to finish eliminating outside, and then reward him with happy praise and a small treat. If he has nothing to eliminate when he gets outside, don't worry. Just try to be more watchful of him in the house in the future. If your puppy has an accident but you don't catch him in the act and only find the accident afterward, do nothing to your pup. He cannot connect any punishment with something he did hours or even minutes ago.

Additional House Training Tips

Clean accidents with an enzymatic cleanser to minimize odors that might attract the puppy back to the same spot.
Once your puppy is house trained in your home, he may still have accidents when visiting others' homes. That's because puppies need to generalize their learning to new environments. Just because they seem to know something in one place does NOT mean that they'll automatically know that thing everywhere. You'll need to watch your puppy carefully when you visit new places together and be sure to take him out often.
Likewise, if something in your puppy's environment changes, he may have a lapse in house training. For example, a puppy might seem completely house trained until you bring home a large potted tree—which may look to him like a perfect place to lift his leg!
House training does require an investment of time and effort—but it can be done! If you're consistent, your hard work will pay off. Hang in there! If you need help, don't hesitate to contact a qualified professional, such as a Certified Professional Dog Trainer (CPDT), a Certified Applied Animal Behaviorist (CAAB or Associate CAAB) or a board-certified veterinary behaviorist (Dip ACVB). To find one of these experts in your area, please see our article, Finding Professional Help.

What NOT to Do

Do not rub your puppy's nose in his waste.
Do not scold your dog for eliminating indoors. Instead, if you catch him in the act, make a noise to startle him and stop him from urinating or defecating. Then immediately show your dog where you want him to go by running with him outside, waiting until he goes, and then praising and rewarding him.
Do not physically punish your puppy for accidents (hitting with newspaper, spanking, etc.). Realize that if your puppy has accidents in the house, you failed to adequately supervise him, you did not take him outside frequently enough, or you ignored or were unaware of his signals that he needed to go outside.
Do not confine your puppy to a small area for hours each day, without doing anything else to correct the problem.
Do not crate your puppy if he's soiling in the crate.
If your puppy enjoys being outside, don't bring him inside right after he eliminates or he may learn to "hold it" so that he can stay outside longer.
Do not clean with an ammonia-based cleanser. Urine contains ammonia. Cleaning with ammonia could attract your puppy back to the same spot to urinate again. Instead, use an enzymatic cleaner. You can find one at some grocery stores or any major pet store.
20
people found this helpful
Asked for female, 6 years

Can you share some pic of your dog? For now Pet Derm shampoo and spray is fine for now. You can use petben shampoo along with petderm shampoo.
1
person found this helpful
Shared 3 years ago • Featured Tip
Top 10 Banned Dog Breeds


Even though it seems outdated and unfair, breed-specific laws continue to exist across the globe in order to attempt to reduce the number of dangerous dogs. Enforcing these laws is extremely costly and difficult, but certain breeds of dogs continue to be outlawed because they are deemed "threatening." Here are 10 dog breeds that are currently banned in the world.

10. Tosa Inu
Tosa Inus happen to be massive dogs with certain variations that have a weight anywhere between 130 pounds and 200 pounds. They bred to be fighting dogs right from the start and they are legally prohibited in several countries like Denmark, Malta and Norway, where they are regarded as dangerous.

9. Pit Bulls
Pit Bulls were originally bred to bait bears and bulls. Several studies have allegedly indicated that Pit Bulls are responsible for up to 45% human attacks by dogs, particularly children. Thus, Pit Bulls are restricted all over the world, especially in Miami and the UK.

8. Perro de Presa Canario
Perro de Presa Canarios are large dogs that were originally bred to work lifestock. Early obedience training and socialization is essential for these dogs, and yet they can be aggressive. After reports of killings, this dog breed was banned in Australia and New Zealand.

7. Neapolitan Mastiff
Even though Neapolitan Mastiffs are not associated with dangerous dogs, owning them is illegal in Singapore. A psychological evaluation has to be passed by a Neapolitan Mastiff in order to own one in Romania. Fully grown Neapolitan Mastiffs that weigh almost 200 pounds can be dangerous.

6. Fila Brasileiro
Also referred to as Brazillian Mastiffs, these large dogs were developed in Brazil. Their tracking abilities tend to be remarkable, but at the same time, their aggressiveness and strength tends to be quite terrible. Perhaps this is why Denmark, Israel, Malta, Norway and the UK banned this dog breed.

5. Dogo Argentino
These large and white muscular dogs were developed in Argentina mainly for big-game hunting, especially puma and wild boar. Although they were bred not be aggressive, they happen to be athletic and extremely strong. Thus, owning a Dogo in Australia, New Zealand, Portugal and the UK is illegal.

4. Czechoslovakian Wolfdog
The Czechoslovakian Wolfdog is just one example of wolf hybrid breeds, many of which are illegal to keep as pets. There have been particular reports about attacks by wolfdog breeds, especially on children who are viewed as prey items, which is just one example that they possess wolf-like instincts.

3. Boerboel
Boerboels were originally bred to guard the homestead. There was a time when they were a first line of denfese against predators like hyenas, lions and other big cats. However, after being recognized as fighting dogs, this breed was banned in Denmark in 2010.

2. American Bulldog
American bulldogs are heavy muscular dogs. Despite being known for their friendly and pleasant demeanor, American Bulldogs tend to be extremely confident as a result of which they exhibit the trait of "stubbornness." They were banned in Denmark and Singapore after reports of fatal attacks.

1. American Bandogge
These muscular looking dogs have been using for fighting, even though they were not originally bred for this purpose. Since they are a cross breed between the American Pit Bull Terrier breed and the Neapolitan Mastiff breed, so they are prohibited in places where those two breeds are illegal.

Indeed, the reports of aggressiveness and attacks by these dog breeds cannot be denied. However, the fact remains whether it was the fault of the animals or their owners. Whatever the case, these were top 10 banned dog breeds.
4
people found this helpful
Shared 3 years ago • Featured Tip
Dogs need to wash to keep comfortable much like we do. They feel more comfortable and less irritable because they are clean. As such, you may well notice that your dog's temperament improves with regular grooming. Similarly, the personal attention that they are getting will also improve their outlook and their overall attitude.

Enhancing Bonding - This is the main advantage of grooming your dog
yourself. You can actively look to form a bond with your dog that goes above
and beyond any other bond. The close personal attention that your dog gets
does not come in any other form and the shared experience can really make
you feel a connection to your dog that is founded on that.

Grooming is an essential element of the care of a dog. Every single owner should have a basic working knowledge of how to groom their dogs because it makes an awful lot of difference to not only how a dog looks but also to how he or she feels. A clean and well groomed dog is generally happier than a dirty and matted dog for a number of reasons. Firstly, groomed dogs have had personal attention from their owners and so are more contented as a result. They are also more secure in their position within a family as a result of the care and the bond that has been forged between owner and dog. Furthermore, well groomed dogs are often healthier because any health issues that arise can be spotted quickly and easily.

All of the above aside, it is an owner's responsibility to look after a dog as well as possible and the basics of grooming do not require much effort to learn. However, you need to have a good basic knowledge of grooming tools and how they can be used to improve the overall appearance of your dogs.

4
people found this helpful
Asked for male, 19 years old from Kolkata

U can clean the whole body with luke warm water gently and tie that wing close to the body for healing. This is to make sure the sparrow doesn't use that wing for any purpose for few days and allow any possible healing faster. Another option is to go to a Vet in person who has the experience on birds, get an X- Ray and overall status of what exactly has happened inside and it's prognosis.

MS - General Surgery, FMAS.Laparoscopy
General Surgeon, Gandhinagar
Hello dear Lybrate user, hi Warm welcome to Lybrate.com I have evaluated your query for your pet dog thoroughly. Keep the wound clean with antiseptic liquid as dettol or savlon 3 times a day. Take care that there should not be any accumulation of dust or mud over that part. Apply Neosporin skin ointment 2 times a day, apply dressing over that. Consult later animal doctor for certain medicines to make it heal faster. Hope this clears your query. Wishing your cuty fine recovery. Can use my private URL for private consultation at Lybrate.com https://www.Lybrate.com/gandhinagar/doctor/dr-bhagyesh-patel-general-surgeon  Welcome for any further assistance. Regards take care.
View All Feed