Personal Statement
I'm dedicated to providing optimal health care in a relaxed environment where I treat every patients as if they were my own family.
...more
I'm dedicated to providing optimal health care in a relaxed environment where I treat every patients as if they were my own family.
More about Dr. Anju Sharma
Book an appointment online with Dr. Anju Sharma on Lybrate.com.

Lybrate.com has an excellent community of Gynaecologists in India. You will find Gynaecologists with more than 34 years of experience on Lybrate.com. Find the best Gynaecologists online in Agra. View the profile of medical specialists and their reviews from other patients to make an informed decision.
Info
Education
MBBS - Sarojini Naidu Medical College , Agra - 1992
MS - Obstetrics & Gynaecology - Sarojini Naidu Medical College , Agra - 1997
Professional Memberships
Asia Oceania Geosciences Society (AOGS)
Federation of Obstetrics & Gynaecological Societies of India
Location
Book Clinic Appointment with Dr. Anju Sharma

Diwani Crossing , Bhagwan Talkies

,

Agra
Get Directions





Consult Online
Text Consult
Send multiple messages/attachments. Get first response within 6 hours.
7 days validity
•
₹300 online
Consult Now
Phone Consult
Schedule for your preferred date/time
15 minutes call duration
•
₹400 online
Consult Now
Video Consult
Schedule for your preferred date/time
15 minutes call duration
•
₹500 online
Consult Now
Services
Submit Feedback
Submit a review for Dr. Anju Sharma
Your feedback matters!
Write a Review
Patient Review Highlights
"Very helpful"
5 reviews
"knowledgeable"
2 reviews
"Sensible"
1 review
Feed
Shared 6 months ago • Featured Tip
If you are stressed and wondering if this anxiety will affect the health of your child, you can be assured that you will have an uncomplicated childbirth and a healthy baby. It is absolutely normal to be stressed to some extent regarding the changes that are taking place in your life and to your body. But that doesn't mean you can be stressed all the time and if this is the case with you, then you should seek professional help as high anxiety levels can adversely affect the health of your baby. This is because the cortisol or stress hormone may cross the placenta and create an impact on the emotional development of the baby.
There are various ways of staying stress free during pregnancy, and they are simple enough to be incorporated in your daily routine.
Take enough rest and concentrate on your baby: It is good for you and the baby if you relax. You should sing and talk to your baby and you will be happy to know that he or she can hear you from around 23rd week. This would also allow you to bond better with your child after the birth takes place.
Talk about your stress with people you trust: If you have any tension or worries regarding your child's well-being, you can always communicate it to your best friend, your mother or anyone you faith in. You should never hesitate to be honest about your thoughts and feelings, and when you are true to yourself, you are likely to receive the support you require. You should talk to your partner as well and you may be surprised to know that both of you share similar worries and that your partner has some concerns that you are unaware about.
Eat well and stay healthy: Eating tasty as well as nutritious food is good for your mind and body. Take in as many minerals, vitamins and Omega-3 fatty acids as you can, as these will help in elevating your mood. It is believed that the amino acid named tryptophan can help you get rid of all the tensions and boost your mood. It also helps in raising the levels of serotonin and melatonin that allow you to sleep better and make you feel well rested.
With little exercise and pampering, you will be able to reduce the stress and feel comfortable about your pregnancy.
In case you have a concern or query you can always consult an expert & get answers to your questions!
2724
people found this helpful
Shared 7 months ago • Featured Tip
What is erythroblastosis fetalis?
Erythroblastosis fetalis is also known as haemolytic anaemia in the newborn. This occurs due to blood incompatibility in the mother and foetus. Due to this incompatibility, the antibodies present in the mother's blood, will pass through the placental barrier and attack the blood cells of the foetus. This will lead to the destruction of the red blood cells of the foetus and it is likely to cause anaemia in the foetus. This condition varies from mild to very serious. In its moderate or severe stage, the erythroblasts or immature red blood cells are formed in the blood of the foetus and this disease is called erythroblastosis fetalis.
Why does it happen?
The two main causes of erythroblastosis fetalis are Rh incompatibility and ABO incompatibility.
Rh Incompatibility: When the mother is Rh –ve and the father is Rh +ve, there is a good chance for the baby to be Rh +ve. The antigens present in the blood of the Rh +ve baby will behave like a foreign agent and the mother will produce antibodies against it. If it is the first pregnancy, then the child may not be at risk, however, if the second child ends up being of +ve blood group again, then the antibodies present in the mother's blood will attack the baby and may result in a spontaneous abortion.
ABO Incompatibility: This usually occurs when the mother's blood group A, B, O does not match the baby's. This causes fewer complications in comparison to Rh incompatibility, but it may be severe if the child has a very rare blood group.
How to avoid it?
It is a highly preventive condition. Firstly, you have not tested your blood group; it is advised to get it tested along with the blood group of the father. If you already know your blood group, then you must mention it to your doctor. If the father has negative blood group, then there will be no problem. However if the father is Rh positive, then it is advised to get routine tests done by the doctor.
The other preventive measure to take is a treatment called RhoGAM or the Rh immunoglobulin. It reduces the reaction of the mother to the baby's blood cells. This shot is administered around the 28th week of the pregnancy. It is also administered 72 hours after the birth of the baby with the positive blood group.
In case you have a concern or query you can always consult an expert & get answers to your questions!
2517
people found this helpful
Shared 9 months ago • Featured Tip
Many women experience pain in their genitals intermittently or a few times during their lives which may be caused by varying factors. However, when pain in the vulva and the surrounding area occurs in regular cycles or constantly without any underlying reasons, it is known as Vulvodynia. This is characterized by pain in the vulva, the surrounding areas, the entrance to the vagina and the urethra. Let's look at some of the treatment options for Vulvodynia:
1. Topical or local anesthetics: As Vulvodynia is a condition due to the abnormal sensitivity of the area surrounding the vulva, using anesthetics will help to ease the pain. Treatments like ointment and sprays will numb the area and ease the symptoms. This can even be applied before sexual intercourse if it is a trigger for pain.
2. Injections that act as nerve blocks: Some women may experience sensitivity as they may have neural problems and due to this sensitivity in the nerves in the genital area, may suffer from Vulvodynia. This is usually treated with nerve blocks or medications that reduce the sensitivity of the nerves. This should be only after consultation with the doctor.
3. Biofeedback therapy: There are certain forms of physical therapy which can be employed to reduce pain from Vulvodynia. Biofeedback therapy primarily deals with this problem by teaching patients to relax muscles.
4. Physical therapy of the pelvic floor muscles: This is also a common therapy where the patients are taught to relax and control the pelvic muscles. These are the muscles which support the bowel, the bladder and the uterus and specific exercises will help relax them, reducing the symptoms as well as decreasing the incidences of intermittent Vulvodynia.
5. Medications: This is the most common treatment for Vulvodynia. Various medications can be prescribed to patients depending on the type of pain they experience, such as Antihistamines for itching, tricyclic antidepressants for chronic pain among others. Steroids and anticonvulsants are also used to reduce pain.
6. Surgery of the affected area: If your pain is chronic and can't be treated by any other method, then doctors might suggest surgery to remove the bits of tissue from the affected area to reduce sensitivity and pain. However this is done only in the rarest of cases. In case you have a concern or query you can always consult an expert & get answers to your questions!
2750
people found this helpful
Shared 11 months ago • Featured Tip
Cervical cancer occurs when abnormal cells on the cervix grow out of control. The cervix is the lower part of the uterus that opens into the vagina. Cervical Cancer is one of the most common ailments that women suffer from, making it only more important to be taken seriously and treated immediately.
Most cervical cancer is caused by a virus called human papillomavirus, or HPV. You can get HPV by having sexual contact with someone who has it. There are many types of the HPV virus. Not all types of HPV cause cervical cancer. Some of them cause genital warts, but other types may not cause any symptoms.
Most adults have been infected with HPV at some time. An infection may go away on its own. But sometimes it can lead to cervical cancer. That's why it's important for women to have regular screening. A screening can find changes in cervical cells before they turn into cancer. If you treat these cell changes, you may prevent cervical cancer.
Symptoms of Cervical Cancer may include:
Bleeding from the vagina that is not normal, such as bleeding between menstrual periods, after sex, or after menopause.
Persistent abnormal discharge.
Cervical cancer is the easiest gynecologic cancer to prevent, with regular screening tests and follow-up. Two screening tests can help prevent cervical cancer or find it early:
The Pap test (or Pap smear) looks for precancers, cell changes on the cervix that might become cervical cancer if they are not treated appropriately.
The HPV test looks for the virus (human papillomavirus) that can cause these cell changes.
When to Get Screened
You should start getting regular Pap tests at age 21. The Pap test, which screens for cervical cancer, is one of the most reliable and effective cancer screening tests available. The Pap test is the best way to find cervical cell changes that can lead to cervical cancer. Regular Pap tests almost always show these cell changes before they turn into cancer. It's important to follow up with your doctor after any abnormal Pap test result so you can treat abnormal cell changes. This may help prevent cervical cancer.
Treatment-
In spite of being a fatal ailment, over the years various treatments have evolved that deal with this problem effectively. Some of them are:
1. Surgery: One of the effective and oft availed treatment to cure cervical cancer is surgery. Depending on the stage on which the disease is detected, doctors may suggest for a hysterectomy or removing the pelvic nymph nodes.
2. Chemotherapy: This has emerged as the most sought after way of treating any form of cancer. The abnormal growth of cells that triggers cancer in the first place is deterred in this method by administering drugs to destroy them.
In case you have a concern or query you can always consult an expert & get answers to your questions!
2468
people found this helpful
Shared 1 year ago • Featured Tip
Miscarriage is the early loss of foetus within 20 weeks of pregnancy. It is also known as 'spontaneous abortion'. According to research, about 8-20% of the pregnancies end in miscarriage. Out of the total number of miscarriages, 80% of them end within 12 weeks of pregnancy.
Types of Miscarriages and their Symptoms
Threatened Miscarriage – As the term suggests, in this condition the process of miscarriage might have begun. This is the initial stage of the process. In threatened miscarriage, there is slight bleeding accompanied by cramps and pain in the lower back, which is usually mild. The cervix (the lower part of the uterus) remains closed.
Inevitable and Incomplete Miscarriage – In these conditions, there is bleeding along with an open cervix. When there is dilatation and thinning of the cervix, miscarriage is inevitable. In incomplete miscarriage, part of the tissue comes out and a part remains inside the uterus. In inevitable and incomplete abortions, the bleeding and cramps are more severe.
Complete Miscarriage – Complete miscarriage is when the embryo has completely emptied from the uterus. The pain and bleeding reduce once the foetus is expelled. This can be confirmed through ultrasound.
Missed Miscarriage – In Missed miscarriage, there is no sign of the life of the embryo and there is no expulsion of the embryo. It can be detected from the absence of heartbeat of the embryo found on ultrasound.
Recurrent Miscarriage – It happens when there are two or three miscarriages one after the other. It affects about 1% of the pregnancies.
Risk Factors
Increased maternal age i.e., women above 35 years.
Excess or insufficient chromosome in embryo.
Placenta is the organ which links mother and the baby for blood supply. Problem in the development of placenta can cause miscarriage.
Excessive smoking and drinking during pregnancy.
Obese women have higher risk of miscarriage.
Long-term health conditions like high blood sugar, high blood pressure, liver disease etc.
Weakened cervix, which is the result of previous injury or surgery, can also result in miscarriage.
What are the symptoms of a miscarriage?
Bleeding or spotting can be one of the symptoms of miscarriage. It should be kept in mind that not all pregnant women who suffer from spotting or bleeding, end in miscarriage.
Lower backache starts before or right after bleeding, which can be persistent or you could have cramps which may be mild or sharp and can feel like more of pelvic pressure.
Missed miscarriages are detected through ultrasound when the doctor finds that there is no heartbeat of the embryo or when the uterus is not growing.
What are the treatment options in miscarriage?
Medical – In most of the cases, there are no specific drugs to stop a miscarriage from occurring. In some cases, certain hormonal preparations help. There is no point in prescribing medicines for prevention of miscarriage if there is heavy bleeding.
Surgery – Dilatation and evacuation (D&E) is a simple operation which is done under general/local anaesthesia. In this operation, the cervical canal is dilated and contents present in the uterus are evacuated. There is no cutting involved as it happens through the vagina. The process needs only five to ten minutes, but the patient has to stay in the hospital for about 3-4 hours.
This process is opted when:
There is heavy bleeding.
The patient suffers from missed miscarriage.
What can you do to prevent miscarriage?
Nothing much can be done to prevent miscarriage in most of the cases. However, following supportive measures may help:
There should not be overexertion during pregnancy. Moderate amount of physical activity is permissible.
One should have a well-balanced diet. Studies have shown that a diet loaded with fruits and veggies helps in overall well-being during pregnancy. One should limit the consumption of caffeine.
Avoid smoking, alcohol and certain drugs to prevent miscarriage.
In case you have a concern or query you can always consult an expert & get answers to your questions!
2553
people found this helpful
Shared 1 year ago • Featured Tip
The inability to conceive after indulging in unprotected sex is known as infertility. It can also be referred to the biological incapability of a male to cause the conception or a woman being unable to carry the pregnancy for full-term. Research has shown that female problems contribute to over half of all the infertility cases while a majority of the other causes include sperm disorders.
Treatment of infertility depends on:
Cause of Infertility
Duration of Infertility
Age of both partners
Personal preferences
Causes:
Causes of infertility in women include:
1. Ovulation disorders: This is regarded as the most common cause of infertility in women. The disorders can be caused due to the following
2. Problems in fallopian tubes or uterus: Abnormalities in the uterus or fallopian tubes render the woman incapable of conceiving naturally. This might be due to:
Submucosal fibroids
Previous sterilization treatment
3. Medications: There is a possibility that treatment will cure infertility. Examples include NSAIDs (non-steroidal anti-inflammatory drugs), Chemotherapy and Radiotherapy. Treatment of infertility might involve a significant amount of psychological, physical, temporal and financial commitments. In men, treatment is done to treat lack of healthy sperm or general sexual problems. The treatments include:
Medications
Surgery
Change in lifestyle
Sperm retrieval
Even though it is possible to restore fertility in women using only one or two therapies, a number of treatments might be required before conception is possible. Some of these treatments include:
Intrauterine insemination (IUI)
Stimulation of ovulation with fertility drugs
Surgery to restore fertility
In situations where pregnancy does not happen spontaneously, Assisted Reproductive Technology (ART) can be used by couples to achieve pregnancy. It is a form of fertility treatment which involves the handling of sperm and egg. The entire ART team consists of psychologists, physicians, embryologists, nurses and lab technicians.
One common ART technique is In vitro fertilization (IVF). It is a process where an egg and sperms are manually combined in a laboratory dish, followed by transfer of embryo to the uterus. Some aspects involved in an IVF cycle are:
Intracytoplasmic sperm injection (ICSI)
Assisted hatching
Donor eggs or sperm
Gestational carrier
Some complications that may occur during the treatment of infertility are:
Multiple pregnancy
Ovarian hyperstimulation syndrome (OHSS). If you wish to discuss about any specific problem, you can consult a Gynaecologist.
2357
people found this helpful
Asked for Female, 29 years old from Chennai
If you have a history of repeated abortions. Then only requires cx stitch. If cervical length is reducing ,then go for cx stitching.
1
person found this helpful
Asked for Male, 29 years old from Pune
Hi, yoga and meditation will help you to reduce your stress. Take your medicine daily, consult your doctor more frequently. Get your blood investigation done. K.
1
person found this helpful
View All Feed
Near By Doctors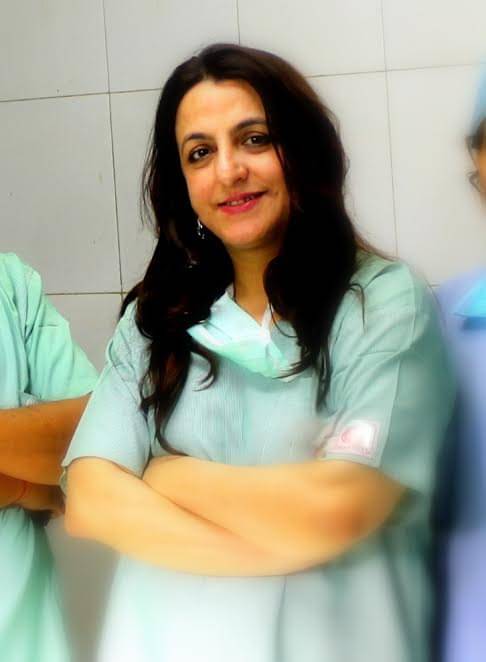 MBBS, MD - Obstetrics & Gynaecology
Gynaecologist
Dr. Shivani Chaturvedi Obstetrics & Gynaecology Super Speciality Centre,
Book Appointment