Personal Statement
I'm a caring, skilled professional, dedicated to simplifying what is often a very complicated and confusing area of health care.
...more
I'm a caring, skilled professional, dedicated to simplifying what is often a very complicated and confusing area of health care.
More about Dr. Siddhartha Sinha
Dr. Siddhartha Sinha is a popular Psychiatrist in Kanke Road, Ranchi. He has helped numerous patients in his 10 years of experience as a Psychiatrist. He studied and completed MBBS, DPM . You can visit him at Medicare in Kanke Road, Ranchi. Save your time and book an appointment online with Dr. Siddhartha Sinha on Lybrate.com.

Lybrate.com has a number of highly qualified Psychiatrists in India. You will find Psychiatrists with more than 40 years of experience on Lybrate.com. Find the best Psychiatrists online in Ranchi. View the profile of medical specialists and their reviews from other patients to make an informed decision.
Info
Education
MBBS - BPKIHS - 2009
DPM - KMC Manipal - 2013
Languages spoken
English
Hindi
Kannada
Location
Book Clinic Appointment with Dr. Siddhartha Sinha

Bariatu Road, Housing Colony, Bariatu, Near Premsons Motors

,

Ranchi
Get Directions
Services
Submit Feedback
Submit a review for Dr. Siddhartha Sinha
Your feedback matters!
Write a Review
Reviews
Shreya Anurag
Dec 28, 2018
I got a hope to restart my life.i can't even think to live more but now I am satisfied with my life I can't explain about my experience more but he returns the real me.he is great!
Feed
One of the researches that have come out a few years back suggested that almost every individual has an obsessive compulsive disorder (OCD) to an extent. The trouble starts when this anxiety disorder breaches out of control and damages his/her social well-being. What is obsessive compulsive disorder (OCD)? Let us have a look at it in detail.

What is obsessive Compulsive Disorder?
Obsessive-compulsive disorder (OCD) is a type anxiety disorder, where people have a recurring feeling to do an activity with unwanted thoughts, ideas or sensations (obsessions). The recurring feeling can drive them to do the activity repetitively (compulsions). The repetitive behaviors can include simple tasks like hand washing, checking and rechecking things, Cleanliness and hygiene. They have a potential to interfere with a person's social interactions and his general well being. Our human mindset is made up of thoughts for which an equal action occurs.
For people with Obsessive-Compulsive Disorder (OCD), these ideas continue to dominate them to do the same thing again repeatedly and not doing them causes great distress and agony to them. Most of the people with OCD can recognize that they have the condition, but the imbalances make them unable to stop the occurrences. They usually start at an early stage and continue into adulthood where the condition dominates at its peak. For most of them, an OCD can exist as just a random thought - often disturbing, and they would be helpless in most cases to have a control over it. Some of the examples of the compositions include cleaning, hygiene, Checking and re-checking, arranging and mental compulsions.

Treatment for OCD:
So now since it is established that it is an imbalance of the brain let us look at the treatment possibilities. One of the treatments is the Cognitive Behavioral Therapy under the Psychiatry Branch. The therapy is an exposure type of treatment where the patients are exposed to the situations where they have basically no control of. Through this exposure and in medically contained environments, patients can identify that they can control and monitor their anxiety and depression levels without having to do the repetitive behavior. It can be a bit challenging for the cases that involve mental illusions as they cannot be recreated, but they can be effectively curbed when channeled through alternative means. Also, medications and anxiety reducing drugs along with the psychiatric therapy can help to a great extent in the treatment. Relaxation techniques such as meditation, yoga, and massages also help in having greater control of the disease.

Having a healthy lifestyle and having a general awareness of the warning signs and what do to when the indications occur can go a long way in the betterment of the life. It is a slow treatment process and requires a lot of patience for the therapy to be successful. Having patience in a way contributes towards the well-being of the person indirectly. In case you have a concern or query you can always consult an expert & get answers to your questions!
2901
people found this helpful
"Get off the mobile and go outside," are these words being heard more commonly nowadays, than at any other point in time in life? The answer could be frighteningly real as humanity has just stepped in one of the newest forms of a psychiatric disorder. What's worse is that the medical world is divided whether if this should be considered as a disease and separate field to be dedicated to it or simply pass it off as a generation growth that the future has to embrace.
Let us look a little deeper about the disorder and the serious nature that it indicates.
What is internet & phone addiction?
Only recently did Internet addition and phone addition become part of the diagnostic and statistical manual of the mental disorder - Meaning that internet addiction is now effectively considered a psychiatric disorder and there are chances of identifying and treating it using medically approved means. As the name suggests, internet addiction and phone addiction means that the person is using his creative and designated time on the medium when he is no longer required to. Simply put it becomes an obsessive habit on the part of the person to look into the phone and use the internet as a routine activity. Long-term addiction can lead to many psychological factors such as withdrawal symptoms, depression, and general loss of awareness about the surroundings. For most people, the syndrome can be an underlying factor of an even more severe health condition that the person is trying to mask by whiling away his time with the internet and the mobile. Across the people who get affected by it, the common traits are the internet gaming and social media.
The addiction in today's world:
The velocity of the disorder is yet to take on the world. As of now only two countries- South Korea and China have identified the disorder as a disease and treatments are administered. Europe and United States have just categorized it as a disorder and research is being done on it. The general treatment plan that exists now aims to understand the patient first. The psychiatric treatment tries to successfully make a minor bridge between the user and his addiction. From practicing different time of using the internet to suggesting new schedules and goals, the person can be slowly be eased backed into the society. The purpose of the psychiatric treatment is not to block the internet/ mobile usage completely but to limit them. A person is educated to get his satisfaction in other forms like relations ships, outdoor activities than to depend on the internet. Apart from it some depression reducing drugs can also be had at the insistence of the psychiatrist.

Medical Possibilities
Professors argue that Internet addiction and mobile addiction is not exactly a disease. It simply determines an underlying medical condition of a person that needs more treatment. Though still in its early stages the medical world has made it clear that its contribution towards these mental addictions would increase by massive miles within the turn of the decade. In case you have a concern or query you can always consult an expert & get answers to your questions!
2663
people found this helpful
A particularly stressful situation or event that has created terror or been overly dramatic or dangerous can lead to stress and anxiety long after the individual has physically come out of the situation. This kind of a traumatic condition is usually what characterises Post Traumatic Stress Disorder (PSTD).
In simple words, PTSD is a neurological disorder which affects individuals after experiencing severe traumatic situations.
Symptoms of PSTD:
Mood symptoms: mood swings are the most common outcome of these symptoms. The patient may experience a complete lack of enthusiasm and drive to indulge in activities like hobbies and socialising. Also, the patient may end up harbouring feelings of negativity towards family, friends and strangers, besides going through phases of guilt and self blame for the occurrence of the traumatic event.
Re-experiencing symptoms: these symptoms include flashbacks and life like re-imagination in the form of dreams and nightmares. In many cases, the patient may remember and re-experience the entire scene or series of events that have led to the trauma in the first place. This can be triggered by a memory or association with words, events and other such things that have to do with the memory of the traumatic episode.
Arousal symptoms: arousal or reactivity symptoms may trigger the same reactions that the person showed during the traumatic experience. These may include being on edge constantly in anticipation of a reoccurrence, or even getting startled by the slightest thing since the mind is already occupied with thoughts of the event, constantly. Anger and emotional outbursts may also be caused due to these symptoms.
Avoidance or rumination: Those suffering from PTSD avoid being reminded of the trauma, such as people, situations or circumstances associated with the event. They try to suppress memories associated with the event.- Many others ruminate excessively and prevent themselves from coming to terms with it.
Duration of PSTD:
PSTD usually lasts up to six months. Yet, there are cases where it lingers on and requires treatment for some particular types of symptoms or behavioural changes.
Treatment for PSTD:
Mindfulness meditation (not a treatment option) helps in recognizing cognitive dissonances and affected thought patterns and aids in recognizing and overcoming their influence. Other therapies, including Cognitive behavioral therapy (TF-CBT) and eye movement desensitization and reprocessing (EMDR) are also done depending on the patient's condition.
In case you have a concern or query you can always consult an expert & get answers to your questions!
2661
people found this helpful
Are you aware of the schizophrenia and the adverse effects it inflicts on a person? Schizophrenia is a chronic and extremely severe mental disorder that affects how a person thinks, behaves, and feels. Schizophrenia patients seem like they are not aware of reality. The condition requires lifelong treatment, even after the symptoms leave. There are various types of treatments, which are used for schizophrenic patients. The treatment is usually guided by an experienced psychiatrist.
The various modes of treatments are as follows:
Medications: Medications are very important for the treatment of schizophrenia, and antipsychotic drugs are most commonly used. They help in managing the symptoms by affecting dopamine. Treatment using antipsychotic drugs aims at managing the symptoms effectively. Antidepressants and anti-anxiety drugs are also used for treatment. Several weeks are required for these medicines to show results. Most of the medications used for schizophrenia treatment are associated with severe side effects and are thus avoided by many people. The patient's cooperation with treatment determines the choice of drug.
First generation antipsychotics: These medicines are associated with adverse neurological side effects, such as the possibility of developing tardive dyskinesia, which is an irreversible movement disorder.
Second generation antipsychotics: These medicines are preferred because of the lower risk of adverse side effects on the body than first generation medicines.
Psychological interventions: When the patient's psychosis decreases, psychological and psychosocial interventions are required. They include the following:
Individual therapy: Psychotherapy is important for normalizing a patient's regular thought patterns. Learning about ways to deal with stress, and identifying warning signs can help patients manage their condition better.
Social skills training: This aims at improving a schizophrenic person's social interactions, communication and his/her ability to take part in daily activities.
Family therapy: Family therapy is important for educating the families of schizophrenic patients about the disorder, and let them know about the ways to deal with it.
Vocational rehabilitation and supported employments: Most people with schizophrenia need some kind of daily living support. Programs are offered by several communities and self-help groups for helping schizophrenic people with housing, jobs, crisis situations. With proper treatment, most schizophrenic people manage to deal with their symptoms and illness.
Hospitalization: During emergency or crisis periods of extreme symptoms, a patient may need to be hospitalized to get proper nutrition, basic hygiene, sufficient sleep, and safety.
Electroconvulsive therapy or ECT is carried out for schizophrenic patients who do not respond to drug treatment. This therapy is also beneficial for patients who have got depression. It is recommended for you to consult a doctor on experiencing any symptom of schizophrenia. In case you have a concern or query you can always consult an expert & get answers to your questions!
2390
people found this helpful
In order to determine whether a person is having a drug problem, there are several signs, which can be interpreted to know about the exact drug abuse state of a person. Drug abuse requires immediate attention before it becomes more problematic.
There are several patterns and stages of drug use that have been listed below:
Hard drug use: Heroin, cocaine and methamphetamine fall under the category of hard drugs and are the most dangerous drugs. There are severe effects on the health and behavior of a user of hard drugs. Some people use these kinds of drugs for recreational purposes, but some can get addicted just after using them once. Such people usually isolate themselves from society and possess a high-risk behavior.
Frequent drug use: Frequency alone cannot determine whether a person is addicted to a certain drug. Some people may take drugs only once and twice a week, but still suffer from acute addiction. Frequency of drug use may indicate tolerance and a person may require more with each day. Frequent drug users usually keep on continuing the habit and it is hard for them to quit.
Early drug use: Some people start taking drugs at an early age during adolescence, and they are likely to develop severe drug problems later in life. People who take drugs before the age of fifteen turn out to be addicts as they grow up. The earlier a person uses drugs, the earlier he becomes addicted. Early drug use is a common phenomenon in today's world.
Solitary drug use: Using drugs and addictive substances while a person is alone may result in fatal addiction and various problems in life. Teenagers using alcohol, marijuana and cigarettes are prone to serious drug problems during adulthood. Solitary drug users are usually poor in studies and have a violent or abusive behavior.
Escapist drug use: Many people use drugs for dealing with stress, several problems in life or for building self esteem. These are used as a substitute for escapism, which allows a person to escape from reality to a place where nothing bothers them and they can be at peace. Such people are likely to develop drug problems. Some people may experiment with drugs just for the sake of trying, but slowly they may like it and get addicted. This causes several problems in life, and a drug problem arises. Such drug problems may affect the health in many severe ways.
Drugs are used in several patterns. All people do not use drugs in the same pattern and frequency. The pattern of drug use by a person lets the doctor determine the level of drug abuse he is on, or if he is addicted.
In case you have a concern or query you can always consult an expert & get answers to your questions!
2597
people found this helpful
There isn't any person who doesn't suffer from an irrational fear, but for most of the individuals, these problems are minor and under control. Unfortunately, there are some people who suffer from anxiety and fear to such an extent that it interrupts with their normal functioning and then it is termed as phobias. The good news is that you would be able to control and cure your anxiety and phobias with therapies and self-help strategies.
Understanding phobias and anxiety: Many kids develop different types of fears, which change from time to time and get completely eliminated when they grow up. This is absolutely normal and is a part of their growth and development. When a person reaches the age of seven, he/she is supposed to suffer from realistic anxieties such as academic performance, accidents, injuries and other similar incidents. But if the unnatural and unrealistic fear lingers on when an individual grows up to such severity that he becomes petrified with the thought of that specific thing, then it is crucial to pay attention to it.
Signs of anxiety and phobias: The signs of anxiety and phobias can be more or less and may vary in terms of severity. When you are able to understand a steady progression from mild feelings of apprehension to a full-fledged panic attack, it is a symptom of phobia. Normally, the closer the person is to the source of the fear, the more anxious and troubled he would be. It would take to devastating levels when the concerned individual is not able to get away from the difficulties.
Physical symptoms of the anxiety include
Frequent breathing with difficulty
Racing heartbeat
Pain in the chest
Trembling and shaking with convulsions
Individuals may also suffer from dizziness or light-headedness, churning in the stomach, tingling sensations along with cold or hot flashes and terrible sweating even when the temperature is considerably low.
On the other hand, the emotional symptoms of phobia or anxiety include feelings of overwhelming fear, panic and anxiousness. The concerned individual would feel like running off and remain detached from the rest of the world. It may make one feel that he is going to pass away and he is unable to control himself in spite of knowing that he is over-reacting.
Seek help at the earliest:
If the anxiety or the phobia one is suffering from doesn't intervene in normal workings of a person's life, then it should not be a cause of distress. But if it has taken terrible levels, then it is crucial to seek professional assistance. One may also help himself by taking the challenge of facing the fears one at a time, and it can be totally controlled with gradual and repeated exposure to the fear. If no therapy seems to help you, then it is best to consider seeking professional counseling.
In case you have a concern or query you can always consult an expert & get answers to your questions!
2317
people found this helpful
Near By Doctors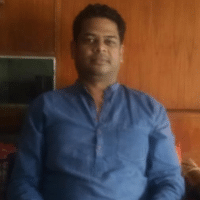 MBBS, Diploma in Psychological Medicine
Psychiatrist
Book Appointment