Personal Statement
My favorite part of being a doctor is the opportunity to directly improve the health and wellbeing of my patients and to develop professional and personal relationships with them.
...more
My favorite part of being a doctor is the opportunity to directly improve the health and wellbeing of my patients and to develop professional and personal relationships with them.
More about Dr. Gaurav Uppal
i am a FAGE holder from KMC, manipal , currently i am doing post diploma MD from MVJMC and RH
Info
Education
Diploma in Psychological Medicine - Kasturba Medical College, Manipal - 2017
Doing Post Diploma MD - MVJ MC and RH - 2017
MBBS - Kasturba medical college ,Mangalore - 2014
Languages spoken
English
Hindi
Punjabi
Awards and Recognitions
Guinness Book of World Record Holder
Location
Book Clinic Appointment with Dr. Gaurav Uppal
614/45, Sham Nagar, Street No-1, Near Bus Stand Ludhiana, Currently in Manipal

,

Ludhiana
Get Directions
Consult Online
Text Consult
Send multiple messages/attachments. Get first response within 6 hours.
7 days validity
•
₹300 online
Consult Now
Phone Consult
Schedule for your preferred date/time
15 minutes call duration
•
₹350 online
Consult Now
Video Consult
Schedule for your preferred date/time
15 minutes call duration
•
₹400 online
Consult Now
Services
Submit Feedback
Submit a review for Dr. Gaurav Uppal
Your feedback matters!
Write a Review
Patient Review Highlights
"Well-reasoned"
6 reviews
"Very helpful"
22 reviews
"knowledgeable"
17 reviews
"Caring"
7 reviews
"Practical"
3 reviews
"Professional"
3 reviews
"Saved my life"
1 review
"Thorough"
2 reviews
"Prompt"
1 review
"Sensible"
3 reviews
"Nurturing"
2 reviews
Reviews
Ibrahim Shaik
Aug 22, 2017
I found the answers provided by the Dr. Gaurav Uppal to be very helpful, knowledgeable and caring. Thank you so much gaurav ji. We will follow as suggested.
Anish Nair
Sep 13, 2017
I found the answers provided by the Dr. Gaurav Uppal to be well-reasoned, professional and very helpful. Thank you Sir.
Maha Rani
Oct 9, 2017
I found the answers provided by the Dr. Gaurav Uppal to be very helpful. Thank you sir your answer was very helpful
Sameer
Sep 20, 2017
Dr. Gaurav Uppal provides answers that are knowledgeable. Thks for usefull reply .. i contect as soon as posible
Sai Sankar Patra
Oct 9, 2017
Dr. Gaurav Uppal provides answers that are knowledgeable. Please give me your number
Verified
Oct 30, 2017
feeling relief and positive after having an audia call with Dr. Gaurav...thank u sir
Feed

Diploma in Psychological Medicine, Doing Post Diploma MD, MBBS
As parents, it is important that you should arrange for an early intervention if you notice that your child is suffering from any of the below-mentioned signs as they can be an indicator of autism in your child:
Not being able to utter a sound even after 6 months
Unresponsive to stimulants, whereby the child fails to make any gestures
Incoherent blabbering which fails to make any sense even after the child is 24 months old
An autistic child is way more sensitive than other children. Dealing with them can be challenging for the parents but it is not impossible. To deal with an autistic child effectively, follow these tips:
Early intervention is a must: As soon as you detect that your child is suffering from autism, seek help. There are various methods to treat autism like behavior therapy, speech-language therapy, play-based therapy, occupational therapy amongst others. As parents, you have to figure out which therapy is better for your child or to which therapy is your child responding to. Based on your observation and the evaluation of the therapist, you need to engage your child and encourage changes.
Repeat at home what your child learns at school: Often an autistic child learns certain skills at the school but fails to apply them in other environments, both social and personal. You need to get acquainted with the kinds of therapeutic methods that are being taught to him/her and repeat them in your home or within a social milieu to encourage proper implementation.
Reward them: An autistic child needs a lot of support from the parents in order to function in a healthy manner. Therefore, reward his/her positive behaviors with items that the child cherishes, like his/her favorite toys or stickers. Show the child that you care, in whichever way you find it fit.
Observe the body language of your child: Autistic children will make certain gestures to convey their feelings. You need to observe your child and understand what kind of stimulus irks him/her and what kind of stimulus makes him/her happy. Based on your observation you need to keep your child away from negative spurs and bring in more positive impetuses in his/her life.
Engage your child in recreational activities: An autistic child is no different from a normal child as far as his/her need for fun time is concerned. Maintain your child's schedule regularly and allocate time for recreational activities, most preferably games. Let your child mix with other autistic children. A happy disposition will help your child turn his/her obstacles into opportunities.
2
people found this helpful

Diploma in Psychological Medicine, Doing Post Diploma MD, MBBS
Remorse, guilt and regret are negative but normal human emotions which every human being feels or goes through from time to time. However, there are some people who don't feel remorse at all and hence are dangerous companions for you. Some of the reasons why you should stay away from them are discussed here.
Emotions, both bad and good make us human
People who don't show any repentance or sorrow are those who don't feel the pain or anguish of others and have a complete lack of empathy. Although psychopaths and sociopaths both exhibit this behaviour, a person doesn't necessarily have to be one or both of the above to suffer from a lack of remorse or guilt. These people can be aptly described as "morally broke". The most painful part is that if a family member or a loved one is a person such as this it can make your life very difficult and always result in you feeling unappreciated and drained.
Some of the reasons why you should stay away from such people are as follows -
When you are emotionally distressed for some reason and need words of advice, a hug or a shoulder to cry on, a person such as this will never be supportive, eventually they end up harming you emotionally.
Remorseless people can't tell you the difference between what is good and what is bad. Even if you ask them for some suggestions, they will leave it entirely up to you to decide what is good for you.
Sometimes they act in a selfish manner which may leave you and others close to you in a distressed and perplexed state. It is not that they don't care for you, but their inability to express it clearly hurts you.
According to research, seeing other people suffer activates a neural circuit inside our brain as if we are hurting ourselves. This is what makes you feel emotionally distressed or pained. For some people, the level of emotional expression can vary. People who don't feel remorse are emotionally abandoned. They will never be able to share your pleasure, pain or suffering.
How to get out of such relationships
It is important to get away from such relationships. Although it is hard to do following certain steps will help you come out of that toxic relationship fast.
The first thing is to believe that no matter how well you try, that person is not going to change.
Next, learn to let him or her go. You have to believe that you have the strength to come out of that relationship.
Third and the most important thing is to realize that you deserve someone better who is not emotionally drained and will not drain you emotionally either.
In case you have a concern or query you can always consult an expert & get answers to your questions!
2573
people found this helpful

Diploma in Psychological Medicine, Doing Post Diploma MD, MBBS
Autism spectrum disorders are a group of severe neurological and developmental disorders which begin in early childhood and can last throughout a person's life. It affects the ability to interact with others and also hinders communication and well as learning ability. A proper health center can diagnose the presence of autism spectrum disorder early on. Many tests are available for evaluation and diagnosis as it is a range of disorders which can have a variety of symptoms. The environment and genetics also play a role in the development of autism spectrum disorder but the exact cause of autism spectrum disorder is not yet known.

Symptoms of autism spectrum disorder:
Your child may not be able to respond when called by his or her name by 12 months age.
Will avoid eye contact and also have the desire to stay alone.
Have trouble understanding or relating to other people or talk about their own feelings.
Delayed speech and language skills which would affect the ability to speak.
Show unusual reaction to sound, smell, taste or feelings.
Answering questions with unrelated answers that have no meaning or link.
Prefer to play alone and would avoid physical contact.

Diagnosis of Autism Spectrum Disorder:
Comprehensive Diagnostic Evaluation – The behavior of your child and development is first studied by the doctor in detail. The tests include genetic testing, neurological testing, hearing and vision testing among others. Doctors may also suggest other specialized tests in certain cases.
Developmental Screening – The development of your child's basic learning skills with respect to the age is checked. The doctor checks for some delays in the progress and will also monitor movement, behavior and speaking progress of the child. Some additional checks are also done for low birth weight, premature birth among other things.
Treatment:
Applied behavioral analysis – This is a notable treatment and widely accepted by doctors all over the world. ABA is known to encourage positive behaviors and improves a variety of skills in a child.
Occupational Therapy – Teaches the skills to live independently like eating, dressing and social skills. This can help people afflicted by autism spectrum disorders to lead a normal life within the society and thus relate to as well as interact with other people.
Speech therapy – It improves and focuses primarily on communication skills and also uses picture boards and gestures to improve the abilities and induce learning skills.
In case you have a concern or query you can always consult an expert & get answers to your questions!
2608
people found this helpful

Diploma in Psychological Medicine, Doing Post Diploma MD, MBBS
Worrying is a natural tendency among children. While some worrying helps children to excel, too much worrying can lead to anxiety related disorders. From friendship woes to homework to fear of failure, there could be a lot of factors that can lead to anxiousness in a kid. This problem is mostly witnessed in school going, children. Some of the common symptoms that are portrayed include the need to be perfectionists, seeking of constant reassurance, getting sick worrying too much, scared of participating in a group event.
How to prepare your child to overcome anxiety?
Help them prepare: One major cause of anxiousness in a child is ill preparation. Be it tests or essays, if a child has not prepared well, he tends to get nervous and suffer from anxiousness. The solution is to teach them various study techniques such as flashcards and quizzes. If this is done regularly and reviewed meticulously, your child will get over the fear of failing and perform better.
Teach them to focus: Losing focus is a major tendency among kids who tend to suffer from anxiety related disorders. Keeping the concentration going is a major skill that needs to be taught by parents. Kids often go blank during tests thinking others are far smarter than they are. Some good method to tech focus is to teach them reverse counting, slow breathing technique and frequent consumption of water.
Pass on the anxiety: Anxiousness has to be passed in form of something. Certain activities, therefore play great strokes in addressing anxiousness. Teach your kids to distress in the form of TV or teach them to write when they are anxious. This not only takes off anxiety from the equation, it helps a kid to relax without the fear of failure.
Reassurance: Kids suffering from anxiousness often need repeated reassurance about the task in hand. The task here for a parent is to make their kid understand that failure will not impact their relationship with their parents. Often the failure of letting someone down makes a kid anxious. Constant reassurance will curtail the tendency. This being said, parents should ensure that this doesn't become a habit for the kid. The idea is to make them comfortable and not letting your child dependent on you.
Relaxation techniques: A study published by the Journal of School Counseling argued that kids who practice relaxation techniques are far less likely to suffer from anxiety and stress related disorders as compared to their peers. Some of the relaxation techniques that can be easily learned and practised include breathing exercises, meditation, yoga and so on. This exercise helps children to focus and concentrate more. In case you have a concern or query you can always consult an expert & get answers to your questions!
2593
people found this helpful

Diploma in Psychological Medicine, Doing Post Diploma MD, MBBS
There is a distinct relationship between sleeping disorders and your emotional health, both influence each other. Insomnia is a common sleeping disorder, which is generally caused due to stress and tension. Depression and anxiety also account for insomnia. It has been proven by research that people who experience sleeplessness or cases of insomnia are at a higher risk of depression and similar psychiatric disorders.
Insomnia is an important factor which causes depression and many people affected by it commit suicide. Researchers have found dysfunctional activity in the area of the brain where emotions are processed and regulated, among people with insomnia. Their study explains the mechanism by which insomnia affects and influences emotions in people, which leads to depression and other disorders.
The ways in which insomnia affects your emotions
There is a clear difference in the brain activities of people with insomnia when compared with normal people who get good sleep. There is usually a great difference between the activities of the amygdala, which are neurons in the temporal lobe of the brain. The amygdala is very important in regulation and processing of emotions.
Insomnia disrupts the ability of the brain to process negative emotions.
Neural change and problems with regulating emotions are also caused because of insomnia.
Insomnia disables the ability of judging or sensing any kind of emotion by looking at the face of a person. It is difficult to judge emotions such as anger and sadness in people suffering from insomnia. This impairment occurs more in women.
Insomnia and similar sleeping disorders affect our inhibition and disrupt our impulse control mechanism. An insomniac person is likely to develop increased impulsiveness to negative stimulus.
People suffering from insomnia develop a perception towards negative stuff and perceive most things in a negative way, rather than looking at the bright side which a normal person tends to do. People affected by insomnia are characterized by a negative mood and are pessimists in nature.
A sleep deprived or insomniac patient shows greater activity around the limbic area of the brain. This is the area where major emotional regulation and processing are undertaken.
A person suffering from insomnia develops a cranky personality. The patient is in an irritable mood and is triggered by the slightest and pettiest of circumstances. An insomniac patient is also characterized by swinging moods, high temper and general fatigue, which result due to lack of sleep.
Insomnia is a sleeping disorder which directly affects a person's emotions and the processing and regulation of emotions. There is a direct and important link between insomnia and emotional disorders.
In case you have a concern or query you can always consult an expert & get answers to your questions!
2726
people found this helpful

Diploma in Psychological Medicine, Doing Post Diploma MD, MBBS
At a young age, it is fairly common to be afraid of math. The rational nature of numbers, multiplication tables, addition, subtraction and all that in between can admittedly be a tough thing to get on with at a tender age. But in most of the cases, this difficulty tends to improve as one attains maturity. This can be attributed to a growing familiarity with the subject and a subsequent change in the way of understanding certain things. But if your child suffers from a problem with understanding math even at a grown age, chances are he/she might be suffering from Dyscalculia- a special type of learning disorder that is characterized by a person's inability to grasp the concepts of math or the very concept of numbers itself.
Dyscalculia generally occurs due to genetic factors. However, it is also possible to encounter this disorder if your child had suffered from significant brain injury in the past or have problems with remembering things. It is also possible to have this disorder, if your child is already suffering from Dyslexia ( a learning disorder which makes your child unable to read or understand written words).
The symptoms of Dyscalculia are as follows:
Inability to recognize numbers and significant trouble while counting.
Significant problems while performing basic additions, subtractions or divisions.
Facing problems with how to use money or telling time.
The problem with memorizing mathematical formulae or tables.
Your child might be unable to discern exactly how to approach a math problem.
Your child will be increasingly reluctant to go to a math class or feel tensed before math examinations.
Inability to understand the basic functionality of numbers.
It is extremely important to remember that having this disorder does not necessarily mean your child has a bad academic record on the whole. Since this disorder can cause significant problems in the future for your child in terms of dealing with things in the real world, you should be extremely sensitive regarding its treatment.
The treatment of Dyscalculia might include:
You should encourage your child more and more if they tend to get immensely frustrated with their math problems. If possible, try to help your child with his/ her homework.
Strike a healthy relationship with your child. Make him realize that not being able to grasp the concept of numbers is not the end of the world. Explore his other skills. That might boost his lost confidence and might encourage him to approach math in a more efficient manner.
You should try to make your child learn how to tell time or use money with little home exercises. If possible, try to make him learn the basic of math with daily activities like counting the number of flowers while walking down the streets.
You must consult a specialist who will make your child learn numbers by following different modes other than writing. For example, the specialist might read a math problem to your child in order to make him understand the problem. Consult an expert & get answers to your questions!
2588
people found this helpful

Diploma in Psychological Medicine, Doing Post Diploma MD, MBBS
Hi, lybrate-user,it is a myth, you can reach your nearest gynaecologist for the same and he or she might give you better advice.

Diploma in Psychological Medicine, Doing Post Diploma MD, MBBS
Hi, I suggest, you go to a neurologist for loss of weight as chief complaint, here is some stuff which might help you: Eat small, frequent meals, every two to three hours, or eat a nutritious snack between meals. Eat foods you enjoy. Save your energy for eating by keeping easy-to-prepare foods on hand. Stimulate your appetite by seasoning food with herbs, spices and sauces. Include some high-calorie foods like cream and butter (if recommended by your primary care provider) in your diet. Consider drinking a nutritional supplement, such as Ensure® or Carnation® Breakfast Essentials™. Avoid filling up on coffee, tea and clear soups. Limit fatigue by choosing foods that are easy to chew (e.g. Smoothies, ground meats or other soft proteins) and asking for help in cutting other foods (meat) into smaller pieces. Increase consumption of whole grains (whole grain rice, breads). BUT THESE SHOULD BE ONLY TAKEN AFTER ADVISE FROM A NEUROLOGIST.

Diploma in Psychological Medicine, Doing Post Diploma MD, MBBS

Diploma in Psychological Medicine, Doing Post Diploma MD, MBBS
View All Feed
Near By Doctors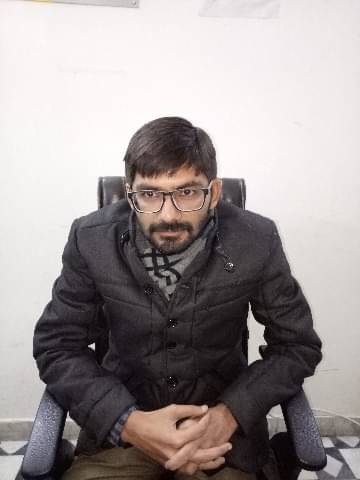 Diploma in Psychological Medicine, MBBS
Psychiatrist
PATEL NEUROPSYCHIATRY CLINIC,
Book Appointment