About
We are dedicated to providing you with the personalized, quality health care that you deserve.
...more
We are dedicated to providing you with the personalized, quality health care that you deserve.
More about Dr Sunil Menon
Dr Sunil Menon is known for housing experienced Dermatologists. Dr. Sunil Menon, a well-reputed Dermatologist, practices in Trivandrum. Visit this medical health centre for Dermatologists recommended by 71 patients.
Timings
Location
Near chempaka kindergarten, pallimukku-kannamoola road
Trivandrum,
Kerala
-
695024

Get Directions

MBBS, MD - Dermatology
Dermatologist
Book appointment and get ₹125 LybrateCash (Lybrate Wallet) after your visit
Services
Submit Feedback
Submit a review for Dr Sunil Menon
Your feedback matters!
Write a Review
Feed
Shared 2 months ago • Featured Tip
When skin is infected by a fungus, the resultant infection is called tinea corporis (ringworm). It is most common in athletes and children. The infection may appear on the scalp, beards, groin, in between the toes and other places.
Causes:
Tinea corporis can be caused by:
1. Skin contact
2. It is contagious, so if you use towels, bed linens and clothes of an infected person, you will get infected too.
3. Touching a pet infected by tinea corporis.
Signs and Symptoms
1. The rash starts as a scant area of red, bumpy pimples and spots. Then the rash forms a ring, with raised, red borders and a clear middle. The border might look scaly.
2. The rash may show up on face, legs, arms or other body areas which are exposed.
3. The area feels itchy. It might also be flaky and dry. You might even experience hair loss in the infected area.
Diagnosis
The skin in the area will be gently scraped off and the sample will be collected. Then, the sample will be viewed under a microscope. That will help discerning, which type of fungus is causing the infection.
Treatment
The following treatment regime must be followed:
1. The skin must be kept dry and clean.
2. Fungal creams are best. Creams that contain miconazole, ketoconazole, clotrimazole or oxiconazole are excellent for fungal infections.
3. Only apply the cream on clean skin. You can use it twice in a day. Bandaging the infected area is not recommended.
4. To prevent the infection from spreading, wash your towels in warm water and use clean towels every time you bathe. Also, clean the bathroom and wear freshly washed clothes.
5. If pets are infected, treat them as well.
The infection usually goes away under 4 weeks. The infection may branch out to the nails, groin, scalp and feet. Self-care is effective, but if symptoms persist, then do consult a specialist. Ringworms have certain complications, such as scratching the skin too much causes skin infections and other skin disorders, which may need further treatment.
4
people found this helpful
Shared 2 months ago • Featured Tip
Babies go through a host of problems that we usually refer to as growing pains. This article is of special importance to most mothers who are going through myriad problems like colic, teeth and even diaper rash. Diaper rash is known as diaper dermatitis in medical terms. When the skin of the area within the diaper becomes red and goes through inflammation, it is known as diaper dermatitis. Read on to know more about the condition, and how it may be treated.
Symptoms: The most obvious and common symptom of diaper dermatitis is the signs on the skin which will bear a patchwork of red blotches that may look tender to touch. The baby will also seem more irritable and cranky as the discomfort and pain starts to grow every time the diaper rubs against the rashes. Bleeding, itching and oozing can also occur, in which cause it is imperative to see a doctor immediately. Also, if the rashes are accompanied by fever, one must get it checked as there may be chances of an infection. Diaper rashes can also cause pain during bowel movements and a burning sensation during urination.
Causes: There are a number of reasons for the occurrence of diaper rashes. Trying out a new product may sometimes give the baby a rash as the sensitive skin of the child may not take to some ingredient. Therefore, it may develop as an allergic reaction. This new product may be a cream, lotion or a new brand or type of diapers. Further, sometimes when we introduce new foods, the baby's skin may erupt into rashes as a part of an allergic reaction. Also, chaffing or rubbing may cause such rashes, while prolonged use of the diaper without a change is known to be one of the most common causes of this condition. Bacterial or yeast infection can also cause diaper dermatitis. Also, antibiotics can cause rashes as a side effect.
Diagnosis: The diagnosis of the condition is usually done by a dermatologist or a paediatrician based on the symptoms that you list out as well as physical examination of the area. The doctor may also check the baby's temperature in order to ascertain if there is any fever or any chance of an infection.
Treatment: One should keep the baby's skin dry and absolutely clean at all times. Also, it would be recommended to use cloth diapers for a few hours a day so that the skin may get a chance to breathe. Further, the doctor will prescribe mild hydrocortisone ointments. Antifungal creams may also be used in case there is an infection. Oral antibiotics may also be prescribed in such cases.
2523
people found this helpful
Shared 4 months ago • Featured Tip
Hives, also called urticaria are swollen welts or bumps that appear on your skin suddenly.
They itch, burn and sting and can happen anywhere on your body. You can get them on your face, lips, tongue, ears or chest. And in size, they can be as small as an eraser to as large as a plate. They also form plaques and can last for hours or up to several days.
Types
Acute urticaria - These type of hives last less than six weeks. The most common causes are allergies due to certain foods and medications, or infections. These hives can also happen due to diseases or insect bites.
Chronic urticaria - Hives lasting more than six weeks come under this category. What causes them is usually more difficult to identify than what causes acute urticaria. In some cases, chronic hives are caused due to thyroid disease, hepatitis or even cancer. This type can affect your internal organs like lungs, muscles, and the gut. Thus, symptoms include muscle soreness, shortness of breath, vomiting, and diarrhoea.
Physical urticaria - These types are caused due to direct physical stimulation of the skin due to cold, heat, sun exposure, vibration, pressure, sweating, and exercise.
What causes hives?
Hives happen mostly due to allergies. Some of the common hive triggers are-
Certain foods, especially peanuts, eggs, nuts and shellfish- Fresh foods are more likely to cause hives as compared to cooked foods. Certain food additives and preservatives can also play culprits.
Medicines like penicillin and sulfa- based antibiotics, aspirin and ibuprofen which are non-steroidal anti-inflammatory medications, high blood pressure drugs like ACE inhibitors, and painkillers such as codeine can also trigger hives.
Insect bites
Latex
Transfusion of blood
Bacterial infections, including urinary tract infections and infected throat
Viral infections- common cold and hepatitis
Pollen grains
Plants like poison oak and poison ivy
Sunlight
Cold weather
Pet dander
In case you have a concern or query you can always consult an expert & get answers to your questions!
2407
people found this helpful
Shared 1 year ago • Featured Tip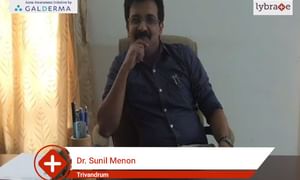 Lybrate | Dr Sunil Menon speaks on IMPORTANCE OF TREATING ACNE EARLY
2307
people found this helpful
Near By Clinics