Personal Statement
My experience is coupled with genuine concern for my patients. All of my staff is dedicated to your comfort and prompt attention as well.
...more
My experience is coupled with genuine concern for my patients. All of my staff is dedicated to your comfort and prompt attention as well.
More about Dr. Ranjana Kadam
Dr. Ranjana Kadam is a trusted Gynaecologist in Thane West, Thane. You can consult Dr. Ranjana Kadam at Tushar Nursing Home in Thane West, Thane. Book an appointment online with Dr. Ranjana Kadam on Lybrate.com.

Lybrate.com has a number of highly qualified Gynaecologists in India. You will find Gynaecologists with more than 37 years of experience on Lybrate.com. Find the best Gynaecologists online in Thane. View the profile of medical specialists and their reviews from other patients to make an informed decision.
Info
Languages spoken
English
Hindi
Location
Book Clinic Appointment with Dr. Ranjana Kadam
1st Floor, Krishna Tower, G B Road, Kapurbavdi Naka, Kapurbawdi,Thane West. Landmark:-Above Sanman Hotel, Thane

,

Thane
Get Directions
Services
Submit Feedback
Submit a review for Dr. Ranjana Kadam
Your feedback matters!
Write a Review
Feed
Nothing posted by this doctor yet. Here are some posts by similar doctors.
The instructions are simple.. just keep your private parts clean... And there is no connection of the hair wash with periods... so no restrictions..
1
person found this helpful
क्या आपको लग रहा है कि आप गर्भवती हैं? सुनिश्चित करने के लिए पता एकमात्र तरीका गर्भावस्था परीक्षण लेना है। लेकिन गर्भावस्था के प्रारंभिक लक्षण हैं जो आपको एक संकेत दे सकते हैं। आप अपना पीरियड मिस होने से भी पहले, गर्भावस्था के शुरुआती लक्षण देख सकते हैं। र्भावस्था के लक्षण महिला से महिला और गर्भावस्था से गर्भावस्था के लिए भिन्न होते हैं।
इसके अलावा, हर महिला अलग है, और इसलिए उनके गर्भावस्था के अनुभव भी। लगभग 60% महिलाएं प्रारंभिक गर्भावस्था के लक्षणों को 6 सप्ताह गर्भवती होने पर देखती हैं, जबकि 90% महिलाएं लगभग आठ हफ्तों में देखती हैं।

प्रेगनेंसी के लक्षण
गर्भावस्था के कुछ सबसे सामान्य प्रारंभिक लक्षण हैं:
1. पीरियड मिस होना:
पीरियड मिस होना सबसे आम गर्भावस्था का लक्षण है। यदि आप अपने प्रसव के वर्षों में हैं और एक हफ्ते या उससे अधिक की उम्मीद मासिक धर्म चक्र की शुरुआत के बिना पारित हो गए हैं, तो आप गर्भवती हो सकती हैं। हालांकि, यदि आपका अनियमित मासिक धर्म चक्र है तो यह लक्षण भ्रामक हो सकता है।
2. मतली या सुबह की बीमारी:
मतली गर्भावस्था का दूसरा सबसे आम लक्षण है। सुबह की बीमारी, जो दिन या रात के किसी भी समय हड़ताल कर सकती है, अक्सर गर्भवती होने के एक महीने बाद शुरू होती है। मतली से अधिकतर गर्भवती महिलाएं दूसरे तिमाही की शुरुआत से पूरी राहत महसूस करती हैं।
3. पीड़ादायक स्तन:
एक और आम गर्भावस्था के लक्षण हार्मोन के बढ़ते स्तरों के कारण संवेदनशील, सूजने वाले स्तन हैं। स्तन सूज, पीड़ादायक या सनसनाना हो सकता है, एक या दो सप्ताह बाद। आपके स्तन कोमल और भारी लग सकते हैं। निपल के आसपास का क्षेत्र, जिसे अरायला कहा जाता है, भी अंधेरा हो सकता है और आप अपनी सीने पर और अधिक स्पष्ट नसें देख सकते हैं।
आपका शरीर कुछ हफ्तों के बाद असुविधा को कम करेगा क्योंकि आपका शरीर हार्मोनल परिवर्तनों को समायोजित करता है।
4. थकान:
प्रारंभिक गर्भावस्था के दौरान, हार्मोन प्रोजेस्टेरोन का स्तर बढ़ता है, जिससे आप नींद महसूस कर सकते हैं। थकावट पहले त्रैमास के दौरान जारी रहती है, फिर दूसरे में कम हो जाती है। हालांकि, थकान आमतौर पर गर्भावस्था के बाद के चरणों में फिर बढ़ती है। बहुत अधिक वजन और गर्भावस्था के कुछ सामान्य असुविधाएं के कारण, जिससे रात की नींद प्राप्त करना अधिक मुश्किल होती है।
5. हल्का खून बहना:
गर्भाधान के बाद, निषेचित अंडे गर्भाशय की दीवार से जुड़ते है। इसे आरोपण कहा जाता है। मासिक धर्म की अवधि के दौरान प्रत्यारोपण खून बहता है। हालांकि, सभी महिलाओं के साथ ऐसा नहीं होता।
6. योनि स्राव:
रक्तस्राव के अलावा, एक महिला को उसकी योनि से सफेद, दूधिया पदार्थ निकलता दिखाई पड़ सकता है। यह योनि की दीवारों की मोटाई से संबंधित है। यह गर्भावस्था के दौरान जारी रह सकता है, आमतौर पर हानिरहित है और इसके उपचार की आवश्यकता नहीं है।
7. पेशाब में वृद्धि:
अक्सर पेशाब एक और प्रारंभिक गर्भावस्था का लक्षण है। गर्भावस्था के दौरान आपके शरीर में अतिरिक्त तरल पदार्थ पैदा होते हैं, जिससे आप अधिक पेशाब करते हैं। आपके गर्भावस्था की प्रगति के दौरान लगातार पेशाब जारी रहेगा या तेज हो जाएगा।
8. मूड में लगातार बदलाव:
गर्भावस्था के दौरान मूड-स्विंग होना सामान्य है, हार्मोनल परिवर्तनों के कारण जो न्यूरोट्रांसमीटर को प्रभावित करते हैं। कुछ लोग बढ़ा-चढ़ाकर भावनाओं का अनुभव करते हैं, दोनों अच्छे और बुरे, जबकि दूसरों को अधिक उदास या चिंतित लगता है।
9. भोजन की तृष्णा:
जब आप गर्भवती हों, तो आप कुछ गंधों के प्रति अधिक संवेदनशील हो सकते हैं और आपके स्वाद की भावना बदल सकती है।
3918
people found this helpful
Homeopathic medicine is the field of science that involves the production of medicine using natural herbs and other substances. In this, the extracts are obtained from different sources and mixed together in right dosages. These dosages are prescribed by homeopathic doctors since they are able to understand how each extract serves a different purpose, and that they would be effective in their action only if they are combined in the correct proportion. An increase or decrease in the level used can render a homeopathic medicine ineffective or make it harmful for the body. Along with the medicines, doctors also usually suggest some dietary precautions that need to be followed. And here is a list of some food items that the doctors advise their patients to stop taking while undergoing homeopathic treatment.
Food items to avoid
It is said that each food item has a power and effectiveness level of its own and needs to be taken in certain quantities so that you can enjoy its full benefits. This is also one of the major reasons why people who are taking homeopathic medicines are advised to avoid a few food items that might be a regular part of their diet, in order to make sure that that particular food does not interfere with the action of the medicines. This is true in cases where, some foods with strong odour or taste can hinder the medicine's action by overpowering its effectiveness.
So here is what you should avoid:
Drinking alcohol, chewing tobacco and smoking must not be continued when you are taking homeopathic medicines.
Most doctors advise the patients not to take coffee, garlic and mint leaves, since these have strong odours and tastes. But coffee at times may not be restricted, since in few medicines, coffee beans are used for grinding the crude extract.
Non vegetarian foods might have to be avoided during the time period of medication if so advised.
Sour foods like sour fruits or sour curd must be avoided in case you are taking medicines for skin disorders.
Spicy and oily foods and other foods that give out a pungent smell must be avoided if medicines are being taken for gastric problems.
Artificially treated foods and foods made with preservatives need to be avoided, if the person has to take the medicines for kidney problems like kidney stones and renal failure.
Patients who are taking medicine for diabetes must avoid drinking aerated drinks.
Generally, people are told to take their meals at the right time and no irregularity must set in when it comes to this.
3974
people found this helpful

MD - Obstetrtics & Gynaecology, FCPS, DGO, Diploma of the Faculty of Family Planning (DFFP)
From what you describe looks like no pregnancy and you got period because of treatment. If want to confirm may get blood test done serum HCG-Beta.
1
person found this helpful
When the immune system of the body reacts against the tissues of its own body, it is called an autoimmune disorder. To put it more dramatically, the body becomes its own enemy. The immune system of your body keeps fighting disease causing germs and bacteria, but in rare cases, the immune system might malfunction and fight its own body causing different disorders. These disorders may be caused due to genetic issues or due to mutations. According to ayurveda, autoimmune disorders are a result of constant unhealthy lifestyle and diet. Ayurveda works at the root cause of the disease where it starts treating the malfunctioning immune system.
Here is how ayurveda treats autoimmune disorders:
Toxin removal: Ayurveda starts working on removing the toxins from the body. According to ayurveda, toxins or ama in the body interfere with the proper functioning of the immune system, which often leads to autoimmune diseases. Usually shunthi, haritaki, pippali, maricha, hingu and saindhav lavan are used to detoxify the body.
Metabolism correction: Not only will ayurveda detoxify the body, but it will also correct the metabolism which gets messed up when afflicted with an autoimmune disorder. Neem, guggulu, guduchi, vasa, patola patra and ghrita are used to correct the metabolism.
Increase in ojus production: Ojus is the component which helps in the nourishment of the immune system. It is generally received from the food you eat. Due to dysfunctional immune system causing the impairment of metabolism, production of ojas decreases to almost nil. Hence ayurveda increases its production. Guduchi, haridra, manjishtha, amalaki, nirgundi, yashtimadhu and pippali are used to increase ojha production.
Immune system correction: Lastly, ayurveda works at correcting the immune system. If the immune system is not corrected, then the above treatment procedure will just be useless. Ghrita, haritaki, bahera, amalaki, ela and dadim are used generally to calm the immune system and rejuvenate it. They help correct the immune system for normal functioning.
Autoimmune disorders may not be easily treated, but that doesn't mean you cannot expect it to cure or witness a miracle. You just need some faith and confidence alongside proper treatment and you are ready to roll. If you wish to discuss about any specific problem, you can consult an Ayurveda.
3556
people found this helpful

MD - Obstetrtics & Gynaecology, FCPS, DGO, Diploma of the Faculty of Family Planning (DFFP)
A gynecologist is a doctor who deals with the health and well-being of the female reproductive system as a whole. These doctors usually deal with problems relating to all the organs of the reproductive system and issues faced while having a baby.

The most common reasons to visit a gynecologist are enlisted below.
Menstrual irregularities - The menstrual health of any person is directly related to the overall health of that person. Ideally speaking, your menstrual cycle should have a regular and constant pattern. The common signs of having menstrual irregularities are periods lasting for more than 7 days, abrupt delay in the occurrence of periods, having extremely heavy or light bleeding during periods, missing a period, and such other issues.
Breast problems - The breast problems which you might face at any point of time in your life may also be connected to having abnormal menstrual conditions. The common abnormalities seen by women in their breasts include breast discomfort during periods, abnormal breast changes, breast discharges, lump formations in breasts, and such others.
Lower abdominal pain - Lower abdominal pain refers to any sensations of irritation and discomfort in the area above the pelvic region. The most common examples of this type of pain are menstrual cramps in the abdomen, lumps in the abdomen and abdominal pain during sexual intercourse. So if you see visible signs of discomfort and pain, then you should go to a gynecologist at the earliest opportunity.
Pre-pregnancy counseling - A gynecologist is the most appropriate person you need to visit before you plan to have a baby. The doctor mostly recommends a complete health checkup so that you have a smooth pregnancy without any complications.
General well-being - Gynecologists also take care of your overall vaginal health. It is very essential to have a healthy vagina for women, to ensure that it may not cause further health complications. Additionally, you may also visit gynecologists if you have breast cancer, ovarian cancer, cervical cancer or if you are experiencing symptoms of menopause.
'Consult'.
Related Tip: 6 Nutrients Women Need The Most
3733
people found this helpful
View All Feed
Near By Doctors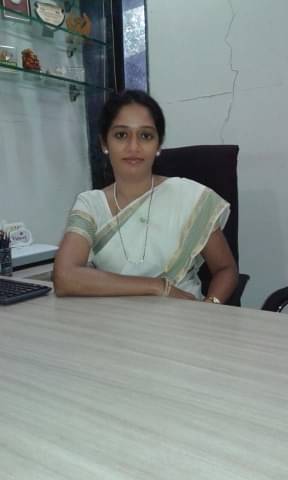 MBBS, MS - Obstetrics & Gynaecology & Fellowship In Fertility ( IVf Specialist ), Dnb - Obstetrics & Gynaecology, MRCOG - Part 1, PGDMLS
Gynaecologist
Book Appointment