About
Our goal is to offer our patients, and all our community the most affordable, trustworthy and professional service to ensure your best health.
...more
Our goal is to offer our patients, and all our community the most affordable, trustworthy and professional service to ensure your best health.
Timings
Location
Office No.302 & 303, Third Floor, Royal Avenue, Survey No.18, Hissa No.11/6, Next To Hotel Shivar Garden, Pimple Saudagar
Pimple Saudagar
Pune,
Maharashtra
-
411017

Get Directions
Photos (5)





Videos (1)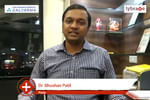 Amenities
Parking
Cafeteria
Online Appointments
Reception
Waiting Lounge
Credit Card
Ac Rooms
Doctors in Skinovate Laser & Cosmetic Surgery

MCh - Plastic Surgery, M.S. Gen. Surg., M.B.B.S.
Cosmetic/Plastic Surgeon
Book appointment and get ₹125 LybrateCash (Lybrate Wallet) after your visit
BHMS, Diploma In Trichology - Cosmetology
Dermatologist

Diploma In Trichology - Cosmetology, BHMS
Dermatologist
05:00 PM - 09:00 PM
10:00 AM - 02:00 PM
Specialities
Dermatology
Aims to deliver the highest quality of care to patients with skin disorders
Cosmetic/Plastic Surgery
Offers various surgical and non-surgical procedures to patients willing to enhance their appearance
Feed
Shared yesterday • Featured Tip
Find Out the Type of Alopecia the Bald Patches Might Be Indicating

Alopecia Areata is the most prominent kind of alopecia that causes hair fall. It happens if your immune system attacks the hair follicles, resulting in excessive shedding and even bald patches. Generally, people below 20 are most affected by this condition but it may occur to any individual irrespective of age and gender. The hair loss is reversible on its own and treatments are also available. Below is a list of different types of Alopecia Areata that have been diagnosed in people.
Alopecia Universalis (AU) - This kind of alopecia leads to complete hair loss from the body, including eyebrows and eyelashes.
Alopecia Totalis (AT) - Alopecia Tolalis causes shedding of hair from the scalp making one bald.
Alopecia Barbae - When Alopecia Areata occurs at the beard area making patches or wiping the entire area smooth, it is called Alopecia Barbae.
Scarring Alopecias (Cicatricial Alopecias) - This is the rarest form of Alopecia where one loses hair permanently.
Androgenetic Alopecia (AGA) - Also called male or female pattern baldness, this type of alopecia causes excessive thinning of hair to the point that the scalp is almost visible. This is a progressive kind of hair loss that is most common in people with hereditary alopecia.
Traction Alopecia - This type of alopecia results from excessive pulling on the hair, which causes tension in the hair follicles. Primarily seen in women because of certain kind of hairstyles, it can lead to damage of hair shafts preventing re-growth of hair.
Telogen Effluvium - If more than normal amount of hair falls out then, it is called Telogen Effluvium. It is usually innocuous and the hair returns to its former glory after the phase has passed.
12
people found this helpful
Shared 1 week ago • Featured Tip
It is a condition that causes discoloration and discolored patches to appear on the skin. The color of one's skin is determined by the production of melanin in the body, and hyperpigmentation is caused by a disproportionate production of melanin. People of any race or skin color can be affected by this condition.
The most common pigmentation problems are brown sun spots, melasma, age spots, and pigmented birthmarks. Pigmentation issues very depending on the natural colour of the skin. Treatments include fade creams, IPL, Elos Aurora, lasertreatments like Fraxel Dual and in some cases biopsy or skin excision is required to exclude skin cancer such as melanoma.

Three skin irregularities caused by this condition are; Post Inflammatory hyperpigmentation, Lentigines (or sun spots) and Melasma.
Treatment of brown sun spots: Many people have mottled brown spots, freckles and patches on their skin due to excess pigmentation. These are easily treated with medical grade Elos IPL or Fraxel Dual laser. There is a range of different causes of pigmentation. Treatments differ depending on what type of pigmentation is affecting your skin. The brown pigmentation is called melanin and is made by special cells in the skin called melanocytes. The main categories of pigmentation problem are freckles, age spots, (also called liver spots or sun spots) melasma and postinflammatory hyperpigmentation.
Melasma: Women with a genetic predisposition to this condition or those with darker skin complexions and those who have a higher exposure to ultraviolet rays are most commonly affected by melasma. It is a condition that affects the areas of the skin that are most exposed to the sun. It involves female hormones and so women who are pregnant are generally affected by melasma. Melasma is blotchy areas of brown skin pigmentation on the face. Melasma, (also known as chloasma), appears as blotchy pale brownish pigmentation on the face, especially forehead, cheek and upper lip. It is more common on darker skin types. It is especially common in women aged 20-40 and is associated with pregnancy or taking the contraceptive pill or injection. It also happens in healthy, non-pregnant woman taking no medications and men using aftershave. Sun exposure following some cosmetics can cause a phototoxic reaction where the chemical substance absorbs UV light. The resulting pigmentation extends where sun and cosmetic use have coincided, for example down the neck, often more on the right side in countries that drive on the left. Melasma is more stubborn and unpredictable to treat than freckles or age spots because the melanocytes have become sensitized and continue to produce extra pigment with even the slightest hint of sun. Sun protection is an essential part of treatment. Melasma can be treated with Active FX Laser Resurfacing. It destroys up to 80% of melanin, efficiently, which is ideal for cases of melasma that cause excessive pigmentation of skin.
Lentigines: Minute brown spots that appear on your face and body, which is the collective result of continuous exposure to the sun, photodamage or chronic sun damage, are called lentigines. The spots usually have a visibly distinct border and appear on areas most exposed to the sun such as the face and hands.
How is one affected by post inflammatory pigmentation?
If there is an excessive production of melanin in the body, it could then overflow to the surface of the skin; this is caused by an inflammation. Post inflammatory pigmentation is the formation of brown patches on the skin that are the result of infection, injury or other conditions. Patients who already have a skin problem are more likely to be affected by this condition.

Post inflammatory hyperpigmentation (PIH) occurs after injury to the skin from whatever cause and is far more prevalent in darker skin. PIH appears as a dark brown area over the area of the previous injury and is due to excess melanin being produced by melanocytes as a result of the inflammation. Typically PIH resolves over several months but can persist for 1-2 years and in some cases can be everlasting. Treatment is generally patience as it will resolve and treatments risk further inflammation and therefore further PIH. However hydroquinone can be useful in some patients and others benefit from mild treatments of Elos Aurora, IPL or Fraxel Dual laser.

Treatment of freckles
Freckles are small flat brown marks on sun exposed areas. The medical term is 'ephilide' and they are an accumulation of melanin in the surface skin cells (keratinocytes). The tendency to form freckles is inherited and is often seen in red heads and younger people. Freckles usually fade in winter and reappear in summer.
They need no treatment except sun protection. They can also be faded by Elos IPL, but will reappear with sun exposure. No treatment can transform a skin which freckles, into one which tans evenly. Of course, further sun exposure can bring the freckles out again so it is very important to apply a good sunscreen following treatment to maximise results.
How does laser treatment help to remedy hyperpigmentation?
Clear and Brilliant, Fraxel and Photofacial are three types of laser treatment that have been known to resolve hyperpigmentation.
Short bursts of energy and heat are produced by the laser and aimed at the cells that have a concentration of melanin. The excess melanin from these cells is then broken down and destroyed with the help of the laser.
Each case of hyperpigmentation varies, and their treatment varies on the extent of the condition as well. The treatment will be administered over a course of sessions.
Though these treatments are effective, one must always stay protected from damage due to overexposure to the sun, by wearing the sunscreen with the correct SPF and other sun gear.
8
people found this helpful
Shared 1 week ago • Featured Tip
Botox is a wrinkle treatment, but is used for treating a range of medical conditions. It has been in use for well over 18 years and is considered to be safe when performed under the guidance of a medical practitioner. Apart from aesthetics, a range of other facial, migraine and dermatological problems can be addressed by Botox.
Myth #1
Botox limits facial expression: The primary objective of a Botox treatment is to enhance the look of a person and not the contrary. When administered by a skilled physician, you can still smile and animate like before. Botox in no way affects the sensory nerve. The muscle beneath the point of injection gets relaxed and remains active. The apprehension of limited facial activity is baseless.
Myth #2
Botox travel through your body: This again is a myth. Botox diffuses not more than 1cm into the skin. Due to its localized nature, it does not affect any other parts of the body other than the intended area.
Myth #3
Botox has toxic content: Botox like any other drug is safe when taken under supervision. Like other drugs, it too gets scanned by the drug regulatory authorities. It is neither dangerous nor contains any toxic substance.
Myth #4
Dermal fillers involve intense pain: Dermal fillers are not as painful as advocated by many people out there. It does have its fair share of discomfort but a medical practitioner always uses a topical anesthetic and other anxiety related medications during the treatment.
Downtime for Botox is fairly long: Botox is known as the afternoon injection for its convenience and easy procedure. Botox procedure has no downtime at all. Doctors often suggest against lying down for a good 2-3 hours after the injection. Dermal fillers might result in minor swelling but there are medicines to counter that too.
Myth #6
Botox is permanent in nature: By far this is the biggest myth of all. Botox shots last for no more than 3 months. For people who take Botox shots regularly, the effect might last a little longer. As soon as Botox is discontinued, the muscles go back to their own position. This phenomenon is known as atrophy.
Myth #7
Dermal fillers and Botox are the same: While people these days use them interchangeably, they are not the same. For instance, Botox lessens the effect of wrinkles by relaxing the facial muscle whereas dermal fillers add volume to the tissue and restores the muscle.
Myth #8
Botox is applied only when Facial lines are visible: This is not necessarily true. If the family of an individual has a history of facial lines, it makes sense to start Botox for facial line prevention. This delays the actual facial line appearance and requires fewer Botox shots going forward.
3125
people found this helpful
Shared 3 weeks ago • Featured Tip
Do you ever wish you could start all over and take better care of your skin? A chemical peel could give you that chance. Peels can dramatically reduce lines, wrinkles, acne scars, dark spots, and roughness caused by years of sun.
A chemical peel is a solution applied to the face to remove the outermost layer or layers of skin. It's a technique used to improve the appearance of the skin on the face, neck or hands. A chemical solution is applied to the skin that causes it to exfoliate and eventually peel off. The new skin that grows in its place is softer, smoother and has fewer imperfections. The new skin is also temporarily more sensitive to the sun.
There are three basic types of chemical peels:
1. Superficial or Lunchtime Peel: Alpha-hydroxy acid or another mild acid is used to penetrate only the outer layer of skin to gently exfoliate it. The treatment is used to improve the appearance of mild skin discoloration and rough skin as well as to refresh the face, neck, chest or hands.
2. Medium Peel: Glycolic or trichloroacetic acid is applied to penetrate the outer and middle layers of skin to remove damaged skin cells. The treatment is used to improve age spots, fine lines and wrinkles, freckles and moderate skin discoloration.
3. Deep Peel: Trichloroacetic acid or phenol is applied to deeply penetrate the middle layer of skin to remove damaged skin cells. The treatment removes moderate lines, age spots, freckles and shallow scars. A thorough evaluation by a dermatologic surgeon is imperative before embarking upon a chemical peel.
When is a chemical peel appropriate?
Chemical peels are used to treat a number of conditions including:
1. Pigmentation on face or body
2. Tanning
3. Dyschromias
4. Fine Wrinkles
5. Acne
6. Acne marks and scars
7. Dullness
8. Aging skin
9. Crow's feet
10. Sagging skin
Who should not opt for chemical peels?
Generally, light-haired and fair skinned people are the best candidates for chemical peel. The procedure does not work as well on dark skinned patients. The procedure is not recommended for individuals with infections, active skin disease, cut or broken skin, or sunburns. Other contraindications include patients who are:
1. Nursing or pregnant.
2. Have taken Accutane in last six months.
3. Have psoriasis, eczema, dermatitis or rosacea.
Possible complications
Temporary change in skin color, particularly for women on birth control pills, who subsequently become pregnant or have a history of brownish facial discoloration.
Changes are transient and easy to take care of if taken care properly.
1. Scarring
2. Reactivation of cold sores
3. A variety of chemical treatments can be used to exfoliate and rejuvenate the skin.
Depending on the depth of treatment required, your surgeon may choose one of the following peels:
1. Alpha-hydroxy acid peel (AHA)
2. Trichloroacetic acid peel (TCA)
3. Phenol peel
4. Croton oil peel
Aftercare and recovery
Your dermatologist will discuss how long it will be before you can return to your normal level of activity and work. After surgery, you and your caregiver will receive detailed instructions about your postsurgical care, including information about:
1. Normal symptoms you will experience
2. Potential signs of complications
2
people found this helpful
Shared 3 weeks ago • Featured Tip
Stuck with extra flab that does not seem to go away, or simply trying to hide the sagging skin after losing tons of weight? Whatever the reason, a tummy tuck is a cosmetic means of fixing that unsightly area of your abdomen that many people have trouble with. While exercise and diet may all be good in theory, there are many circumstances that may require this kind of surgical intervention, which is also known as abdominoplasty in medical terms.
Read on to know more about it.
Ideal Candidates:Who is the best candidate for this kind of procedure? To begin with, women have a hard time achieving a taut tummy especially after a few pregnancies. They can easily make use of this kind of procedure in order to have the excess flab removed surgically. Also, men and women who were once obese and still have rings of excess fat deposits around this region as well as loose skin due to sudden weight loss, can use this procedure. The people who want to go in for this kind of surgery will also need to be in good health condition in order to qualify for the same.
Not so Ideal Candidates:If you have been pregnant before and are planning another pregnancy, then you may want to wait before having this surgery as the vertical muscles that are tightened during the surgery can be separated due to pregnancy and child birth again, which will reverse the effects of the surgery. Also, it should be the last resort after you have tried myriad weight loss measures. Further, people who are suffering from conditions like diabetes and cardiovascular diseases should have a talk with the doctor about the safety of such a procedure first.
Types of Abdominoplasty:There are two kinds of abdominoplasty. The first kind of called complete abdominoplasty. In this procedure, the surgeon will cut open the abdomen from one hip to another, and then carry out contouring of the skin, tissue and muscle as per the requirement of the patient. In this procedure, the belly button of the patient will also be moved and drainage tubes may be inserted for a few days. The other kind is partial abdominoplasty which is basically done for people who have fat deposits under their navel. The procedure is short and does not require belly button movement.
Preparation:One should be careful not to smoke or drink before the procedure and to keep a stack of loose clothing and ice packs ready for later.
Talk to your doctor in detail regarding complications and the aftermath so that you are better able to take care of yourself after the surgery.
3231
people found this helpful
Shared 3 weeks ago • Featured Tip
Age is really nothing but a number. The best thing about age is to embrace it. However, not everybody can jovially accept the bodily changes that come with age, especially the wrinkles, the sagging skin and the not-so-wanted curves of the face. So are you tired of using a hundred different age-renewal creams?
Tired of the false promises from brands claiming their products would turn back time? Tired of putting heavy makeup to hide those wrinkles? Guess what? There is a long-term solution to these problems. Consult an awesome cosmetic physician and get a facelift. Since this is a life-changing decision, you must know about the different types of facelifts to give you a proper idea about the whole thing before you contact a surgeon.
A surgical procedure that involves minimizing the various signs of ageing around the face and neck area is called a facelift, also known as rhytidectomy. There are numerous types of facelift surgeries, a few common ones are discussed below-
The deep plane procedure: There is a layer beneath our skin known as the superficial musculoapnoneurotic system (SMAS). The muscles of facial expression are surrounded by this layer. The deep plane lift is the most commonly used face-lift technique and in this technique the SMAS is lifted, released and repositioned. After the repositioning of this layer, the loose, extra skin is removed and the edges of the layer are structured and stapled in place. This is by far the best voted technique and is known to give long lasting results with lesser number of revisions.
The short scar lifts: This includes various types of facelift techniques, which involve minimal scar formation. The short scar lift techniques unlike the others do not extend beyond the ears. The surgeon can re-suspend all those tissues that support the smile-line and jowls, thereby, tightening a moderate amount of loose skin wherever required.
FAT auto transfer?: In this technique, fat from the buttock/stomach/thigh area is collected by the process of liposuction and is then injected into the face to fill in the required areas.
However, the most important part is to contact a certified cosmetic physician because as already discussed, this is a life changing decision, and one wrong move can cost you a lot.
1
person found this helpful
Asked for male, 20 years old from Chennai
Hi. As you have pointed out thick skin cover makes rhinoplasty a bit different in males. It needs to be individualised according to your needs. You should visit a plastic/cosmetic surgeon in person for this and detailed discussion about your treatment.
Asked for female, 24 years old from Nagar
Hi. Post pregnancy tissues usually become loose. We can get them back in shape. Do consult a plastic/ cosmetic surgeon for the same.
View All Feed