About
We like to think that we are an extraordinary practice that is all about you - your potential, your comfort, your health, and your individuality. You are important to us and we strive to ...
...more
We like to think that we are an extraordinary practice that is all about you - your potential, your comfort, your health, and your individuality. You are important to us and we strive to help you in every and any way that we can.
More about Shashwat Hospital Aundh
Shashwat Hospital Aundh is known for housing experienced Orthopedists. Dr. Rajendra Latkar, a well-reputed Orthopedist, practices in Pune. Visit this medical health centre for Orthopedists recommended by 74 patients.
Timings
MON-SUN
06:00 PM - 08:00 PM
09:30 AM - 01:00 PM
Location
Next To Dav School , Vidhate Vasti Ln, Aundh.landmark:Near Gaikwad Petrol Pump, Opposite Aundh Telephone Exchange, Pune

Get Directions
Doctor in Shashwat Hospital Aundh
MS Orthopaedics, D.N.B.Orthopaedics, D.Ortho
Orthopedist
06:00 PM - 08:00 PM
09:30 AM - 01:00 PM
Services
Submit Feedback
Submit a review for Shashwat Hospital Aundh
Your feedback matters!
Write a Review
Feed
Nothing posted by this doctor yet. Here are some posts by similar doctors.
Erasmus Mundus Master in Adapted Physical Activity, MPT, BPTh/BPT
The sciatic nerve is one of the largest nerves in the body. It goes from the lower back all the way down to the base of the leg. When there is a disorder associated with the sciatic nerve, it is known as sciatica. Sciatica, however, does not necessarily need a surgery or a very elaborate procedure to fix the problem. Most commonly, it is treated simply by practicing a number of simple exercises.
Here are some of the most common exercises prescribed to treat sciatica:
1. Reclining pigeon pose:
There are three main forms of the pigeon pose. These are sitting, reclining and forward. It is recommended that if you are just starting your treatment for sciatica that you use the reclining pose. In this pose, you are supposed to hold your left leg in the air at a right angle to your back. Then you are supposed to hold your ankle against the knee. Finally, repeat this stretch with the right leg as well.
2. Knee to opposite shoulder:
In this stretch, the starting position is on your back side. You have to have your legs out and feet upwards. From this position, try to bring your right leg towards your left shoulder. Hold this for 30 seconds and then release and relax. Repeat this exercise three times and then repeat the whole procedure with your other leg. Only take your leg as far as it will go.
3. Sitting spinal stretch:
At the start of this exercise, sit on the ground with your legs going straight outwards and your feet flexed in the upward direction. Pull your left knee and then put it on the outside of your right knee. Finally, place your right elbow on the left knee so that your body turns to the left. Hold for 30 seconds and then relax before repeating with the other knee.
4. Standing hamstring stretch:
Put your foot on an elevated surface such that it is above the floor but not above hip level. Flex your toes forward such that your feet and legs are nearly in a straight line. Bend as far towards the foot as possible. However, do not stretch so far that you feel pain. Finally, repeat this procedure on the other side after release.
5. Butler Mobilisation:
Your physiotherapist may also provide you butler mobilisation to help you get rid of the sciatic nerve. This has been a very successful way of treating this problem.
6. Self nerve mobilisation:
This is also a very effective technique for providing immediate relief to the sciatic nerve patients. It is a widely used by physiotherapists to help their patients.
No need to worry .Usually it is taken between two meals. It is anti inflammatory medicine to reduce the swelling No need for any special precautions only,Don't undergo any procedures like dental extraction or surgery today

Fellowship in Pain Management, MD, MD - Anaesthesiology , MBBS , Observer post
Pain Management Specialist, Pune
Sciatica pain arises from the sciatic nerve which is the single largest nerve in our body. It consists of individual nerve roots, which branching out from the lower back of the spine to the back of each leg and combining together forms the sciatic nerve. The origination of the sciatic pain lies in the lower back of the body and radiates down the buttock to the sciatic nerve.
Causes of the sciatica pain
Arthritis: If an individual is diagnosed with arthritis, then he or she can expect a throbbing pain or numbness down till the leg.
Herniated disc: Another cause could be a herniated disc in the lower back of the body.
Spondylosis: Spondylosis in the lower back would also be a reason for the development of the sciatica pain.
PIVD/DISC bulge
Other causes are a spinal injury, diseased degenerative disc, infection on and around the lower back. The pain would worsen, if an individual is in an occupation where he or she has to stand or sit for hours at length. The lifting of heavy things would strain the sciatic nerves as well.
How to identify sciatica pain?
Sciatica pain varies from infrequent to a constant throbbing down the lower back. So initially it is difficult to detect whether it is sciatic pain or not. But when the constant pain in the lower back leads right down till the toes and foot, it is really time for an individual to get in touch with a doctor. The pain can give a burning sensation almost searing making it difficult for the person to stand up or walk properly. Along with the pain, one can feel fatigued. An involvement of the spinal cord is rare in the sciatic pain but is possible.
Treatment for sciatica pain
Sciatica can be treated in both surgical and non-surgical way. Surgical treatment is rare as sciatica tends to respond well with non-surgical treatments. If the pain continues for over a month despite treatment, surgical treatment will be considered. The non-surgical pain treatment would include physical exercises and oral medications along with natural treatment.
Medications: Painkiller medications prescribed by the doctor can be used to reduce sciatica. Medicines like aspirin, non-steroidal or oral steroids can help reduce the pain.
Steroid injection: Epidural steroid injection acts faster as it is injected in the affected area, thus providing relief from the pain quickly.
Exercise: Early morning exercises can be quite helpful.
Percutaneous Endoscopic Discectomy: The surgical treatment of Percutaneous endoscopic disc dissectomy constitutes a large part of interventional pain physicians and it has evolved considerably in terms of surgical technique and instrumentation. Percutaneous endoscopic discectomy is a relatively new technique for removing lumbar disc herniation. It involves using an endoscope to visualize the disc removal. The discectomy is performed through a posterolateral approach using specially developed instruments. The advantage of percutaneous endoscopic discectomy is that the disc is approached posterolaterally through the triangle of Kambin without the need for bone or facet resection thus preserving spinal stability. The procedure is day care and is done under local anaesthesia.
1
person found this helpful
Muscle sprains and ligament tears are one of the most common injuries that medical practitioners encounter on a regular basis. These injuries are painful and can also limit one's movement, needless to say. However, there are simple things that can be done as soon as the injury happens so that the impact of the injury can be reduced, the symptoms minimised, and recovery improved.
A sprain is a tear of the ligament. The ligament is responsible for connecting the tissue strands that connect the bone to the muscle. When this sprain affects the muscle or even the tendon, it is known as a strain.
Sprains are very common and can occur due to a fall, twist, or impact. Most commonly affected areas are the ankles and wrists. Sprains happen when there is a pull or a twist of the ankle or the joint. This is very common in athletes and can be caused by repetitive motions in the knees, wrists, elbows, etc.
The most common symptom is pain, swelling, limited movement, and sometimes bruising. The degree of these injuries depends on its severity. The most common ways to treat such injuries are as follows.
RICE therapy: RICE is an acronym for rest, ice, compress, and elevate. Rest the affected area immediately by stopping any further activity. Ice the area using an ice wrap, with the ice cubes wrapped in a towel or a cotton cloth. Repeat this exercise if possible for every 20 minutes. This will reduce the swelling and pain. Compress the area using a sling or a wrap. This will help in reducing the swelling. Elevate the affected area if possible above the heart. This will help control the blood flow and thereby reduce the swelling and pain.
Pain control: If there is pain that needs medication, go for the non-steroidal drugs like ibuprofen or acetaminophen. If it is a child that is injured, it is advisable to give non-aspirin ones.
Seek professional help: Most sprains can be self-limiting over a couple of days. However, it is advisable to seek medical help if there is significant pain, swelling, or numbness, open wounds or bruises, or inability to move the joint.
The doctor may decide to do the following.
Scanning or imaging to rule out any internal hard/soft tissue injury like fracture or tear
Immobilise the joint with a splint or a cast
Start physical therapy if there is severe pain and immobility
Surgical repair if there is a ligament injury
A word of caution to athletes or people who are very active physically is to go easy on the joint. In an eagerness to quickly get back to their routine, more and severe damage may be caused. This can be avoided by allowing time for complete healing.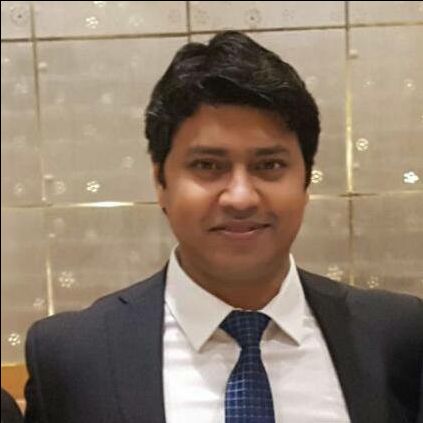 MS - Orthopaedics, MBBS Bachelor of Medicine and Bachelor of Surgery, Fellowship in Joint Replacement, MCh (Ortho)
Knee is a hinge joint where the lower leg bone tibia meets the thigh bone femur. During osteoarthritis, cartilage or ligament defects and degenerative arthritis, knee replacement surgery is recommended worldwide to get relief from extreme pain. Knee replacement surgery, also known as knee arthroscopy, is a surgical procedure, in which the affected knee joint is replaced with synthetic material. The most likely candidates for total knee replacement are the patients with severe destruction of the knee joint coupled with progressive pain and impaired function.
Modern technological advances have made computer-assisted knee replacement surgery extremely popular around the globe. In this surgery, the surgeon is assisted by a computer to remove the optimum amount and angle of the bone, which otherwise is done by inspecting manually. This is an excellent example of surgery through a small incision and it eliminates the chances of human error. Perfect alignment and balance are achieved and hence longevity is also increased to 20 - 30 years. Knee replacement surgery is also specific to gender as the anatomy of male and female patients is different.
There are many types of knee replacements, most common being the total knee replacement or Total Knee Arthroplasty. In addition, there is a partial knee replacement, bilateral knee replacement, revision knee replacement and knee arthroscopy.
In knee replacement surgery, the worn out surfaces of joints of the knee are replaced with an artificial implant of plastic and metal. The lower end of the femur bone is removed and replaced with a metal shell. The upper end of the lower leg bone (tibia) is also removed and replaced with a channelled plastic implant with a metal stem. A plastic ball is also added under the kneecap depending on its condition. These artificial components are commonly referred as prosthesis. The design of these highly flexible implants replicates knee, with the rotating knee replacement implants assist in the backward and forward swing of the legs.
Patients whose knee joints have been damaged by either trauma or progressive arthritis should consider total knee replacement surgery. Post-surgical hospital stay after knee joint replacement is usually three to five days. The surgery has a very high success rate and shows dramatic improvement after a month. This improvement is most notable one month or more after surgery. The pain caused by the damaged joint is reduced significantly when the new gliding surface is constructed during surgery. Initially, patient will walk with the help of a walking aid until the knee is able to support full body weight. After six weeks, patient can walk comfortably with minimal assistance. Patients with artificial joints are prescribed to take antibiotics during the course of any elective invasive procedures including dental work. Physiotherapy is an essential part of rehabilitation and it will increase the muscle strength and patient can enjoy most activities, except running and jumping.
Erasmus Mundus Master in Adapted Physical Activity, MPT, BPTh/BPT
Knee ligament laxity if you have problem in your legs then it might be due to ligament laxity where your legs would become very weak due to the old ligament injury and that should be treated immediately. Wear knee cap so that you will feel firm while walking or climbing stairs. This is a general strain and for this you can follow these measures: one keep a pillow right under the knee while sleeping, next is you can keep ice in the painful area for about 5--10 minutes, if pain still persists you can stretch your body by twisting the waist on both sides how we used to do in the school drill similarly you can try! one time you can do hot water fermentation that would help to reduce the muscle strain. You have to do knee strengthening exercises, ie. Knee rehabilitation exercises which will strengthen your knee. Exercises will give you permanent cure than the surgery. Physiotherapy management: you can take ultrasonic therapy in one of the nearby physiotherapy clinics which would help to heal the damaged cartilages along with shortwave diathermy which would help to improve the blood circulation.
If it is pid it will be visible in mri. It is better for free you to consult gynaecologist to confirm it even an uss scan of the abdomen can show this since your mri show mild disc related problems also your back pain could be due to this. As you are young it is better to avoid long term use of pain medications. Please join a proper back care programe.
As the BP is 92/62 , onw have to be cautious while using dytor. Get investigated to know cause of swelling
1
person found this helpful
Hello- The stress may be the culprit behind your issue. Think of sex as one giant chemical reaction of neurochemicals and hormones working in unison to provide stimulation and pleasure. The mind releases hormones to power an erection and lubricate the vagina. The body's neurotransmitters communicate between the brain and organs to prepare and sustain sexual inhibitions, while the mind releases stimulants to keep the body pleased. No sex can be frustrating for both men and women. Fearful or anxious women tend to avoid sex. The key for women is to reduce the anxiety and fear. How? Well, most can find methods to alleviate the stress. Hitting the gym, practicing yoga, punching someone in the face, swimming and reading all provide great stress-reliving activities. Try Sensual Aromatherapy to reduce your nervousness with calming botanical essential oils. Also, the body can benefit from powerful nutrients and many natural ways to ignite your desire again. Stress-alleviating herbs that may prove helpful include Ashwagandha, know to alleviate stress and power your libido, and Sacha inchi, a plant revered for improving serotonin production to improve mood.
2
people found this helpful
View All Feed
Near By Clinics

4.6
(

145

ratings)
View Clinic