About
Our medical care facility offers treatments from the best doctors in the field of Alternative Medicine.By combining excellent care with a state-of-the-art facility we strive to provide yo...
...more
Our medical care facility offers treatments from the best doctors in the field of Alternative Medicine.By combining excellent care with a state-of-the-art facility we strive to provide you with quality health care. We thank you for your interest in our services and the trust you have placed in us.
More about Mind Ocean, Aundh.
Mind Ocean, Aundh. is known for housing experienced Alternative Medicine Specialists. Dr. Ms. Isha Jha, a well-reputed Alternative Medicine Specialist, practices in Pune. Visit this medical health centre for Alternative Medicine Specialists recommended by 67 patients.
Timings
Location
A3-102, Whistling Palms, Aundh-Hinjawadi Road, Pune

Get Directions
Doctor in Mind Ocean, Aundh.
Alternative Medicine Specialist
Services
Submit Feedback
Submit a review for Mind Ocean, Aundh.
Your feedback matters!
Write a Review
Feed
Nothing posted by this doctor yet. Here are some posts by similar doctors.
The crucial thing to do is changing your food habits. Taking green leafy vegetables, fresh fruits, vegetables will help in reducing the amount of fat getting accumulated in body. Avoid taking deep fried foods, fast foods and red meat. Limit the consumption of eggs. It's really good thing that you started Physical activity. I hope that I provided necessary information.
Surgical removal is the only option but first let the antibiotics work and then they will surgically remove it.
1
person found this helpful
Visit a surgeon. He may give antibiotics first to control infection. Get your fasting and pp blood sugar levels.
2
people found this helpful
Dear Lybrateuser, - It is a type of rapid blood test to confirm malaria, your result is negative that is malaria is absent.
1
person found this helpful
Asthma is the most common chronic condition for women in pregnancy. While Asthma control can affect pregnancy, pregnancy too can affect Asthma. Yet while pregnancy does not beget Asthma, neither does it abate.
Nevertheless, Asthma management during pregnancy is very important. Improper Asthma management, especially in difficult Asthma, during pregnancy may imperil both the mother and the child.
Along with taking the right medications, Asthma patients also need to avoid exposure to Asthma triggers.
Avoiding Asthma Triggers
Asthma triggers may be different for different people. In general, one or a few of the following act as Asthma triggers:
Allergens like pollen, dust mite etc.

Certain exercises

Certain occupational exposure

Certain drugs like β‐blockers, aspirin etc.

Alcohol, dairy products, orange juice, peanuts etc.

Additives like tartrazine, monosodium glutamate etc.

Certain medical conditions like gastric reflux, rhinitis etc.
Apart from avoiding these Asthma triggers, she would also need to follow the instructions of her gynecologists. She should always be concerned that if the treatment is not working or if she is experiencing any trouble, she must consult with the gynecologists. She can also do some exercises to stay active and healthy.
However, she should always consult a doctor before doing any exercise, especially for those who have experienced Asthma attacks in the past.
Effects of Asthma on Pregnancy
Poor Asthma management and difficult Asthma before pregnancy are associated with increased risk of hypertension during pregnancy, which can beget Preeclampsia. Studies have also shown that women with Asthma tend to undergo Caesarean sections more than others. It has also been observed that Asthma may restrict the growth of the fetus leading to low birth weight.
However, this is more due to poor Asthma control such as persistent breathing difficulty or poor lung function etc., than Asthma per se.
Effects of Pregnancy on Asthma
Certain physiological factors during pregnancy do affect Asthma. In difficult Asthma, control usually deteriorates between 24 and 36 weeks of pregnancy, mainly due to poor adherence to corticosteroids. This is why pregnant women with Asthma should be monitored closely irrespective of the severity of Asthma.
Breathlessness in Pregnancy
Breathlessness during pregnancy is common. In fact, even pregnant women with no Asthma symptoms may feel breathless at times. It reflects some normal physiological and anatomical changes during pregnancy. Even anxiety may precipitate breathlessness. This indicates that pregnant women with difficult Asthma may feel breathless, not just because of Asthma, but also because of normal changes during this period. However, new incidents of Asthma can also be a cause of breathlessness.
Respiratory Distress in Pregnant Women
Respiratory distress in pregnant women may not always be due to asthma. There may be a whole host of reasons that include Anxiety, Hyperventilation, chest infection, dysfunctional breathing, pneumonia, interstitial lung disease, thromboembolic disease, amniotic fluid embolism, pneumothorax, ischemic heart disease, arrhythmias, cardiomyopathy and a variety of endocrine, hematological and renal disorders.
Preventing Respiratory Distress During Pregnancy
Apart from avoiding Asthma triggers, pregnant women with Asthma or difficult Asthma need to strictly adhere to Asthma control. This indicates that they need to adhere to their corticosteroids religiously. However, before that, they also need to make sure that the corticosteroid is safe to be taken during pregnancy.
Asthma may or may not affect pregnancy. However, it is always a great idea to go for Asthma management. This will help women deal with complications related to Asthma during pregnancy.
Apart from that, always consult a doctor before going for any medication related to Asthma control, or actual treatment of Asthma.
Yes. All these are the symptoms of Psychiatric illness, consult a psychiatrist nearby or online so that detail discussion and evaluation is done and proper diagnosis is established. Accordingly treatment can be suggested. Do not ignore or wait, it may increase with the time. All the best.
3
people found this helpful
Come winter or even a slight change of season, and it is easy to catch a cold. With cold, it is quite normal and natural to develop a deep chest cough. However, it is to be noted that chest cough develops due to different reasons. Some are due to chest infections, while others are dry cough. Thus, for these different variations of cough, different homeopathic treatments are administered. Here is a list of some of the common types of treatments for curing deep chest cough-
Pulsatilla: Pulsatilla is administered to those who have a sore throat, constant irritation in the eyes and fever. When fever is accompanied with cough and cold, it is important to treat all three symptoms, lest it might usher in a more serious disease. Homeopathy is often described as a holistic form of treatment. Through the medicines, the personality of the patient can be determined. For instance, Pulsatilla is administered on those who are soft, gentle, mild and timid and who have a fear of being abandoned and thus cling on to people.

Nux Vomica: Those experiencing high levels of stress and falling prey to cough and cold with a sore throat and sharp pain while swallowing should try a dose of Nux Vomica. This is used to cure cough and cold, which block the nose, especially at night, making it troublesome for the individual to breathe. This might also cause blockage in the ear and sharp pains while trying to swallow food.

Phosphorus: At times, one experiences an extreme bout of cough that is triggered through dry throat and coarse fever. This violent cough can be nerve wrecking at times and a relaxing remedy is preferred by the patient as soon as possible to soothe the irritation.

Bryonia: This is the best medicine to treat dry cough that can be a symptom of a slowly approaching influenza. Such coughs occurs when an individual takes a high intake of cold drinks or due to sudden weather changes. The cough is followed by fever and dryness of the throat. It might also itch to a certain extent.

Natrum Mur: It is the best treatment for a dry cough, which often causes a tingling sensation in the throat. This sensation creates irritation and often leads to sleepless nights for the patient. There is also presence of whitish mucus in such types of cough.
These are some of the most common types of homeopathic treatments for treating deep chest cough. Each cough is different in nature and origin, and hence should be treated differently as per the individual symptoms.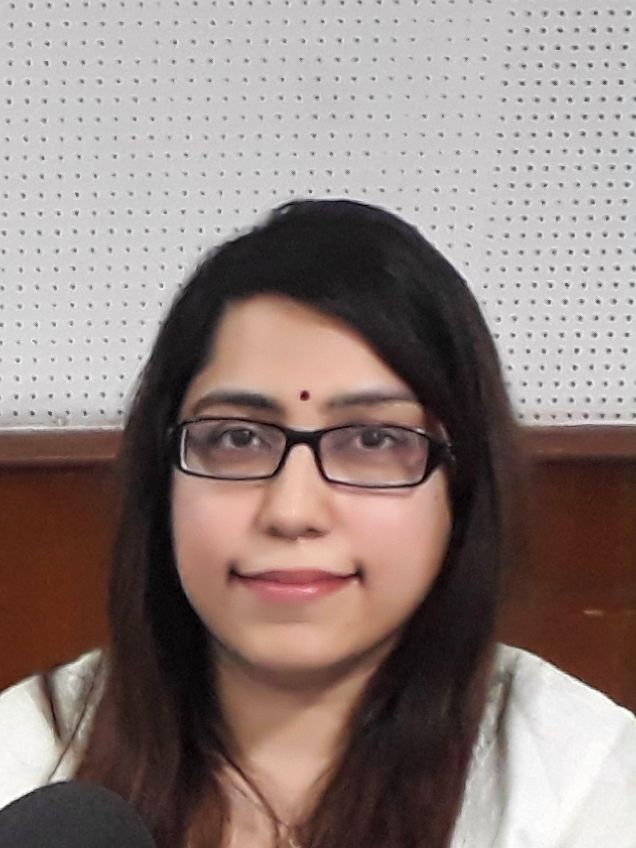 MBBS, DNB (PSYCHIATRY), PG Diploma In Clinical Cosmetology (PGDCC)
Internet addiction is becoming a serious thing with each and every passing day. Earlier people used to treat internet addiction lightly but now people are taking a more serious approach towards it as internet addiction is becoming a reality. Let us know more about it and it's impact on children and adoloscent.

What is Internet Addiction?
Internet addiction can be defined as the excessive use of internet or devices connected to the internet which is causing interference with the day to day activities of everyday life. This addiction is mainly affecting the children and adolescents because they are the biggest users of internet.

Internet addiction has been the subject of a number of debates and is being debated worldwide. Many people have different point of views regarding internet addiction. This is also becoming a social issue as the effects of this addiction on the individuals is also being felt by the members of the society.

There are debates regarding if internet addiction can be regarded as a mental health disorder. But most scholars do not regard it as a disorder. They are of the opinion that it is a type of addiction and in many cases it becomes severe which leads to disruption of day to day activities.

Impact Of Internet Addiction On Children
Internet addiction among children and adolescents do not have any effective diagnosis and it is in fact difficult to properly diagnose this addiction. In many areas it is not even considered to be a real disorder by many people. Internet addiction is often followed by or accompanied by other mental health disorders.

There have been instances in which children and adolescents have reported to be severely addicted to the internet and this started to have negative effects on their lives.

Final Verdict
Some scholars and medical practitioners attempt to define internet addiction by a single question, that is the time spent on the internet. If the amount of time spent by an individual on the internet is affecting his health and is causing other problems like mood swings and depression and the deprivation of internet if causes withdrawal symptoms then this can be regarded as an internet addiction for that person.

Some things in this world can be of great help but the same thing can prove to be negative as well. Internet is similar to this.
1
person found this helpful
For a fully functional and productive life, a person requires a healthy body and a healthy mind. Mental health issues could range from depression, bipolar disorder, anxiety disorder, dementia, obsessive-compulsive disorder, schizophrenia, autism and other causes.
Hence, it is important that a person pays attention to these mental health disorders to avoid further problems in their lives, as well as the lives of the people around them.
Here are a few reasons as to why a person should not avoid or ignore their mental health problems:
Better Physical Health: There is a solid association between the brain and the body. In case you are in physical pain, your work and family life might be influenced or you will be unable to do the activities you might like. This can prompt anxiety, nervousness and depression. People with physical health issues are three times more prone to look for mental health care than those without physical conditions as physical health problems can prompt mental distress and mental health issues can impair your physical health.
Enhanced Productivity and Financial Stability: Stressful situations may trigger reactions that can make a person unproductive and lead to financial problems as well. Some people end up abandoning their homes, going bankrupt or homeless after trying to manage some sort of mental illness.
Less Strain on the Family: Mental sickness or disorders influence families as well. The children of individuals with mental health issues are at more serious danger for misuse, disregard and an extensive variety of emotional and behavioral issues. Since they cannot look up to their parents for help and they frequently isolate themselves from their friends and most of them do not get the required social backing. Much of the time, the impact extends into adulthood, driving children to look for psychological or mental treatment of their own.
Evasion of Crime and Victimization: A few studies recommend that individuals with untreated mental health, particularly in combination with other risk factors, might be at risk of carrying out criminal activities, violence or most probably becoming victims themselves. The danger increases gradually when the individual uses medications or alcohol or has acute symptoms. It could also happen if they are not aware of their mental state or have poor adherence to medication. Usually, acts of violence happen against relatives or somebody in the individual's nearby group of friends or in close proximity to them.
A Longer, Happier Life: Individuals with even a mild mental health issue may have a lower life expectancy and a short lifespan. Those with the largest amounts of depression or nervousness had the danger of death that increased an incredible ninety-four percent, mostly identified with heart diseases.
1
person found this helpful
View All Feed
Near By Clinics