Personal Statement
I'm dedicated to providing optimal health care in a relaxed environment where I treat every patients as if they were my own family.
...more
I'm dedicated to providing optimal health care in a relaxed environment where I treat every patients as if they were my own family.
More about Dr. Satish Kumar Gupta
Dr. Satish Kumar Gupta is an experienced Psychologist, Neuropsychologist, Neuropsychiatrist, General Physician cum Assistant Professor Pharmacology in KD Medical College, Mathura. He has been a successful General Physician, Dermatologist Cosmetologist, Adolescent and Child Psychiatrist and Psychologist, Mental Health Psychologist, Diabetologist, Rheumatologist and Health Specialist for the last 35 years. He studied and completed MD, MBBS. You can meet Dr. Satish Kumar Gupta personally at KD Medical College, Mathura on weekdays and in Sector-76, Noida on Sunday by fixinf appointment at 8510033099 or can seek consultation, advice or counselling on email, googletalk or whatsapp. Save your time and book an appointment online with Dr. Satish Kumar Gupta on Lybrate.com.

Lybrate.com has a number of highly qualified General Physicians in India. You will find General Physicians with more than 39 years of experience on Lybrate.com. Find the best General Physicians online in noida. View the profile of medical specialists and their reviews from other patients to make an informed decision.
Info
Education
MD - King George Medical College, Lucknow - 1987
MBBS - King George Medical College, Lucknow - 1981
Languages spoken
English
Hindi
Location
Consult Online
Text Consult
Send multiple messages/attachments. Get first response within 6 hours.
7 days validity
•
₹1000 online
Consult Now
Phone Consult
Schedule for your preferred date/time
30 minutes call duration
•
₹1000 online
Consult Now
Video Consult
Schedule for your preferred date/time
30 minutes call duration
•
₹1000 online
Consult Now
Services
Submit Feedback
Submit a review for Dr. Satish Kumar Gupta
Your feedback matters!
Write a Review
Patient Review Highlights
"Very helpful"
52 reviews
"knowledgeable"
30 reviews
"Sensible"
8 reviews
"Professional"
8 reviews
"Well-reasoned"
16 reviews
"Saved my life"
1 review
"Thorough"
4 reviews
"Caring"
7 reviews
"Helped me impr..."
6 reviews
"Practical"
3 reviews
Reviews
Shantanu
Oct 12, 2016
Dr Gupta has provided treatment to my mother who is 87. The sensitivity he showed in choosing what to prescribe keeping her age in mind , the manner in he has preferred time tested drugs to the latest drug in the market and the logical manner in which he explained his prescribing pattern left me in no doubt that my mother was in good hands. I have only praise for him.
Ambrishkumar
Sep 18, 2016
Dr. Satish Kumar Gupta provides answers that are knowledgeable, well-reasoned, professional, caring and sensible. Thank you doctor ! Yr.reply is prompt, practical & very helpful. Thanks a ton again.
Kevin
Sep 20, 2016
Dr. Satish Kumar Gupta provides answers that are knowledgeable, very helpful, caring, professional and helped me improve my health. Share feedback in your own words...
Janvi
Sep 23, 2016
Dr. Satish Kumar Gupta provides answers that are very helpful, helped me improve my health and sensible. Share feedback in your own words...
Renu
Sep 21, 2016
I found the answers provided by the Dr. Satish Kumar Gupta to be very helpful and knowledgeable. Share feedback in your own words...
Manu
Sep 14, 2016
I found the answers provided by the Dr. Satish Kumar Gupta to be well-reasoned. Share feedback in your own words...
James
Sep 21, 2016
I found the answers provided by the Dr. Satish Kumar Gupta to be knowledgeable. Share feedback in your own words...
Subramanya Raja
Sep 22, 2016
I found the answers provided by the Dr. Satish Kumar Gupta to be very helpful. Share feedback in your own words...
M Abdul Rehman
Sep 11, 2016
Dr. Satish Kumar Gupta provides answers that are knowledgeable. Share feedback in your own words...
Ajay
Sep 23, 2016
Dr. Satish Kumar Gupta provides answers that are well-reasoned. Share feedback in your own words...
Mohammad Ashraf
Sep 22, 2016
Dr. Satish Kumar Gupta provides answers that are knowledgeable. Share feedback in your own words...
Viral
Sep 22, 2016
Dr. Satish Kumar Gupta provides answers that are very helpful. Share feedback in your own words...
Sheryl
Sep 19, 2016
Dr. Satish Kumar Gupta provides answers that are professional. Share feedback in your own words...
Shivang Patel
Sep 14, 2016
I found the answers provided by the Dr. Satish Kumar Gupta to be very helpful. Thanx
Tanuja Tripathi
Oct 11, 2016
Dr. Satish Kumar Gupta provides answers that are very helpful. Thank you
Tanuja Tripathi
Sep 18, 2016
Dr. Satish Kumar Gupta provides answers that are well-reasoned. Ok
Bijay
Sep 21, 2016
Dr. Satish Kumar Gupta provides answers that are sensible. Good
Feed
It is vitiligo or leukoderma. Vitiligo is a skin condition that causes the skin to lose its color. As the skin pigment disappears, people see white (or lighter-colored) patches. Unlike Peecher, most people see changes to their skin color, but they don't feel anything. It is caused by auto-immune damage of melanocytes in skin in patchy distribution. Melanocytes make the pigment of skin known as melanin. Usually it is slowly progressive. Vitiligo is not contagious. It is not life-threatening. But, vitiligo can be life-altering. Some people develop low self-esteem. They may no longer want to hang out with friends or develop serious depression. Most people have vitiligo for life, so it's important to develop coping strategies. Steroids may be tried to arrest it's progression but usually have not become successful in most of cases. Sunlight stimulates formation of melanin by remaining melanocytes but may also damage the skin of white patches as melanin pigment which absorbs harmful ultraviolet radiaton from reaching deep layers of skin is absent in these patches. You may need to apply sunscreens to white patches while going out in sun to protect damage to deep layers of skin at patches Treatment of Vitiligo: The type of treatment that is best for you will depend on your preference, overall health, age and where the vitiligo appears on your body. Some people choose not to treat vitiligo as it is more of a cosmetic problem than a medical problem. 1. No medical treatment (use cosmetics to add lost color): Cosmetic options include makeup, a self-tanner and skin dye. Offers safe way to make vitiligo less noticeable. Often recommended for children because it avoids possible side effects from medicine. Drawbacks: Must be repeatedly applied, can be time-consuming, takes practice to get natural- looking result. 2. Medicine applied to the skin: Several different topical (applied to the skin) medicines can repigment the skin. Prescribed for small areas. The most commonly prescribed medicine is a potent or super-potent topical corticosteroid. About half, 45 percent, of patients regain at least some skin color after 4 to 6 months. A topical corticosteroid may be combined with another medicine to improve results. Topical medicine works best in people with darkly pigmented skin. Topical medicines are most effective on certain areas of the body, such as the face. They are least effective on the hands and feet. Not all topical medicines should be used on the face. Drawbacks: These medicines have possible side effects, so patients must be carefully monitored. A possible serious side effect of using of a topical corticosteroid for a year or longer is skin atrophy. This means the skin becomes paper thin, very dry and fragile. 3. Light treatment: Uses light to repigment the skin. Patient may sit in a light box or receive excimer laser treatments. Light box used to treat widespread vitiligo; laser used to treat small area. Works best on the face; least effective on hands and feet. Effective for many patients; about 70 percent see results with excimer laser. Results can disappear. About half, 44 percent, see results disappear within 1 year of stopping treatment. After 4 years, about 86 percent lose some color restored by treatment. May cause patients with darkly pigmented skin to see areas of darker skin after treatment, but treated skin usually matches untreated skin within a few months. Requires a time commitment. Patients need 2 to 3 treatments per week for several weeks. May be combined with another treatment such as topical corticosteroid. 4. PUVA light therapy: Uses UVA light and a medicine called psoralen to restore skin color. Psoralen may be applied to the skin or taken as a pill. Bagchi (a herb also contains psoalens, and may be used. Can treat widespread vitiligo. About 50 percent to 75 percent effective in restoring pigment to the face, trunk, upper arms and upper legs. Not very effective for the hands or feet. Time-consuming, requiring treatment at a hospital or PUVA center twice a week for about 1 year. Psoralen can affect the eyes, so this treatment requires eye exams before starting treatment and after finishing treatment. To help prevent serious side effects, patients need to be carefully monitored. 5. Surgery: May be an option when light therapy and medicines applied to the skin do not work. For adults whose vitiligo has been stable (not changed) for at least 6 months. Not for children. Not for people who scar easily or develop keloids (scars that rise above the skin). Different surgical procedures available. Most involve removing unaffected skin or skin cells and placing where need pigment. Can be effective for 90 percent to 95 percent of patients. Possible side effects include failure to work, cobblestone-like skin and infection. 6. Unconventional treatment: Some vitamins, minerals, amino acids and enzymes have been reported to restore skin color in people who have vitiligo. Most have not been studied, so there is no evidence to support these treatments and no knowledge of possible side effects. Ginkgo biloba, an herb, has been studied in a clinical trial. Results from this trial indicate that the herb may restore skin color and stop vitiligo from worsening. In the ginkgo biloba trial, 10 patients given ginkgo biloba had noticeable or complete return of skin color. Two patients taking the placebo (contains no active ingredient) also had noticeable or complete return of skin color. Because some patients taking the placebo regained their skin color, more study is needed. 7. Depigmentation: This treatment removes the remaining pigment from the skin. Very few patients opt for this treatment. Removing the rest of the pigment leaves a person with completely white skin. It may be an option for an adult who has little pigment left and other treatment has not worked. Removing the remaining pigment can be an effective way to get one skin color. To remove the remaining color requires you to apply a cream once or twice day. This cream gradually removes color from the skin. Depigmentation can take 1 to 4 years. Once treatment is finished, some people see spots of pigment on their skin from being out in the sun. To get rid of these spots, you can use the cream that removed your remaining skin color. Outcome It is not possible to predict how a patient will respond to treatment. It is important to keep in mind that no one treatment works for everyone. Results can vary from one part of the body to another. Combining two or more treatments often gives the best results. Ayurvedic Treatment: Patanjali claims that:- Agnijith, a natural medicine for vitiligo, is scientifically proven for its capability to produce pigmentation in areas lacking color. The medicine is very effective for preventing vitiligo by blocking the loss of pigment cells from the skin. The medicine is also a cream with high anti-microbial properties, which is easily absorbed by the skin and increases blood circulation at the capillary level. Homeopathic Remedies for Vitiligo BOERICKE- SKIN- LEUCODERMA. Ars. Alb. Ars. Sulph.flavum. Bacillinum. Graphites. Merc sol. Nat. Mur. Nit. Acid. Nux vom. Phos. Sep. Sil. Sulph. Thuja. Aurvedic & Homeopathic doctors very enthusiastic claims but lack any controlled clinical trials and in fact their effect on vitiligo occurs very insignificant in most of cases. Actually they are not selling remedies to you but are selling hopes to you in exchange of money for ailments for which there is inadequate treatment in modern medicine (as some call it allopathy in retaliation). In fact truth reveals it self clearly when you go on practicals and medicine is a matter of truth, not a matter of faith as truth would treat your ailments, not the faith but faith is important as well to make you stick to treatment.
For oiliness of skin, take Becadexamin 1 cap daily for 2-3 months. You take plenty of fresh seasonal fruits, salad, carrot juice and cooked green vegetables (roughly 1 kg per day including fruits, salad and vegetables) for 5-6 months, your skin colour would become light and skin would glow. You can also use snow (glutathione 500 mg )capsules (as many claim it to make your skin colour lighter) as there are no side effects but useful effect is also doubtful as there are no controlled clinical trials to its effectiveness.
If it is male type baldness (receding of hairline backwards and central loss of hair)-- it is due to androgen hormone and is familial and has genetic disposition. Finasteride, sold under the brand names Proscar and Propecia among others, is a medication used for the treatment of benign prostatic hyperplasia (BPH) and male pattern baldness in males It is a type II and type III 5α-reductase inhibitor; 5α-reductase, an enzyme, converts testosterone to dihydrotestosterone (DHT). You may use antiandrogen cream or lotion containing cyproterone acetate or some other antiandrogen. You may also use minoxidil hair oil or cathepsin hair oil. But the results are poor. If patch loss of hair or loss of hair due to fungal infection or dandruff:- take Fluconazole 150 mg once weekly (every sunday) + once weekly shampooing with Selsun shampoo+ + Shampooing by Fluconazole shampoo on other days + local use of cotrimazole lotion Diet: Take high protein diet Don't eat egg as it has avidin which antogonises hair-growth promoting vitamin biotin or take egg with biotin Take green vegetables, salad and fruits Vitamins: TAKE BIOTIN 1/2 TABLET TWICE DAILY FOR 1 YEAR Excess of Vitamin A may cause hair-loss while optimal dose increases hair growth. If you are not having hair loss, but want their growth, the tips are as follows: 1. Take protein rich balanced diet with plenty of pulses, mushroom and milk or milk products like curd and plenty of green vegetables, salad and fresh seasonal fruits (avoid cold storage and nonseasonal and over-ripened fruits) to provide protein and vitamins for hair growth. 2. Take plenty of water several times daily. Take proper and regular sleep, take green tea, do regular exercise and walks (avoid weight lifting exercises.). Remain happy free from tensions and stress. 3. If you take Egg which contains avidin that destroys hair growth vitamin "Biotin" alwas take Biotin supplementation (1/2 tab twice daily, not to be taken with egg or egg containing food but at different time). 4. If your intake of vegetables is less, take biotin supplementation. You may also take other growth vitamins like Folic acid and Vitamin B-12 and Pyridoxine. 5. Wash your hair regularly with shampoo and use hair conditioner after shampooo. Comb when hair are wet with thick bristles side of comb. Never use heat or hot blower to dry hair. 6. Do not use sticking and greasy oils to hair. Use non-sticking hair oil like Keo-carpine. 7. If you have dandruff, use Selsun shampoo once weekly on every Sunday. 8. Do not apply any chemicals or chemical containing compounds to roots of your hair.
1
person found this helpful
He has got fungal infection. He has fungal infection in hair roots Take antigungal treatment: 1. Selsun shampoo once in a week to be done as mentioned on bottle. 2. Fluconazole or Ketokonazole shampoo (available by many brand names) daily 3. Candid (clotrimazole) lotion to be applied at hair roots after bath and drying of hair 4. Oral Fluconazole (Nuforce 150 mg) once every week for 4-5 months 5. Cap Aquasol 50, 000 iu once weekly 6. Dry the hair after bath quickly and hair dry. Wetness by water or sweat may increase growth of fungus.
Itch Guard Cream is composed of the following active ingredients (salts) Clotrimazole Boric acid Ichtyolammonium or Ichthammol Clotrimazole is antifungal Boric acid & Ichtyolammonium or Ichthammol are nonspecific drugs not having any important antifungal action moreover, main lesions and itching occur due to allergic reaction to fungal elements. So add steroid with clotrimazole. So use Candid-B cream containing clotrimazole+ Beclomethasone (steroid) also take oral antifungal Fluconazole (Nuforce 150 mg) 1 tab daily for 3 days followed by 1 tablet once every week for 2-3 months Wash your penis 3-4 times daily with soap & water, dry it with cloth and wind and apply cream 3-4 times daily keep your penis and adjacent private parts dry.
1
person found this helpful
You have low blood sugar Get yourself investigated for Dibetes: GTT (Glucose Tolerance Test) Also test your blood sugar when you feel hungry and have trembling hands and legs with tears in eyes. Sometimes it is not diabetes but you have sudden surge of insulin release on seeing food and on feeeling hungry which causes blood sugar to fall resulting in trembling and tears. In that case, always keep Glucon -D with it and take 1-2 spoons of glucose with 1-2 glass of water and some salt. Whenever you feel such trembling.
Treatment of Pimples:- Acne/pimples are easily treatable within 7 days to 1 month. Even dark spots would go away themselves within 3-6 months or you may use Benoquin (Hydroxyquinone 2%) cream for 1 month to get rid of black spots once pimples have got cured. Salicylic acid should never be applied on pimples as it being acid would cause damage to nearby skin and may cause scarring and black spots. Acne or Pimples result due to hypersensitive skin, arrested growth of sebaceous glands, high androgen production, high sebum production, frequent blocking of sebaceous glands with subsequent bacterial infection of sebaceous glands. You are producing more androgens but that is good for your sexuality. Excess androgens may cause both hyper-sexuality or night-falls and pimples but we can't give you ant-androgens because they may cause feminization of your body and mentality. Androgens cause more sebum production in sebaceous glands of your skin of face and cause pimples. More sebum production causes oiliness and dust particles stick easily to oily skin closing pores of sebaceous glands and sebum is stuck inside causing enlargement of gland as pimple. If it gets infected, it may develop pus making white heads. Some times skin is very sensitive and applying chemicals or drugs in the form of cosmetics and may result into pimples. In some people, skin growth is slow or arrested along with being oversensitized or associated with high production of androgens. This result into development of reddish pink pimples which grow very slowly but new ones keep on erupting and the whole face is filled with hundreds of reddish pink pimples. In some cases, pimples spread beyond face to neck, shoulder, back and even chest. If you pinch pimples, nearby skin gets damaged and heals by growth of new skin that contains more melanin due to overgrowth of melanocytes resulting into blackish pigmentation with or without scar. For pimples you do following things: Wash your face with mild soap like Lux, Rexona etc 3-4 times in day time, at the time of sleeping, at least once in night if got awaken and just after getting up from sleep. You should keep your face free from oiliness due to sebum on your face. Take AD capsules (containing fat-soluble Vitamin-A) 20 capsule every week. Vitamin A will diminish sebum production and enhance growth of skin and pimples and pimples will be shed off rapidly. (you get a bottle of 1000 AD capsules for around Rs100/-) You can also apply local cream or gel of Adaptalene (marketed by the name of acnelene) on your face. If you apply they refrain from sunlight. Adaptalene is also a retinoid like Vitamin -A. With Vit-A or adaptalene, pimples come outwards rapidly giving impression that problem of pimples is being enhanced. But keep patience. Pimples will shed off within a week. Tretinoin is also used for pimples but don't use it as it causes hyper-pigmentation. If the pimples get infected with pus, take Azithromycin 500 mg on empty stomach once daily for 5-days under medical supervision. Never pinch pimples but let them shed off or fall themselves otherwise blackening will occur and scar may also be formed. Do not apply cosmetics, cleansing lotions, sun-screens, chemical lotions or solutions or medicated soaps to already over-sensitized skin of yours. Use mild soaps like lux, rexona etc or cetrim soap congaing cetrimide. Or you may use besan paste or multani mitti to remove oiliness from face. Take less fats that provides triglycerides in blood which get converted into sebum in sebaceous glands. Take plenty of water to keep you hydrated. Consume green vegetables, salad and fresh seasonal fruits. Consume Green tea regularly. Divert your mind from sexual activities and pornographic literature or wash your face frequently during these activities as these activities increase androgen secretion in body which increase oiliness of face. Take proper and regular sleep in a disciplined life. Remain happy. Get rid of anxiety & tensions. Control your ambitions, envies and jealousies. Do regular morning evening walks and/or exercises. Black spots or pigmentation of acne/pimplea may subside itself within 3-6 months after pimples have cured. You may apply Benoquin (Hydroxyquinone 2%) cream for 1 month to get rid of them. If you have deep scars. You need Scar treatment by creams, laser or plastic cosmetic surgery. Creams for Scar Treatment •Dermagist Scar System •Dermagist Acne Scar Cream •Murad Post Acne Spot Lightening Gel •Revitol Scar Cream •Mederma Advanced Scar Gel •Dermatix Ultra Advanced Scar Treatment •Kinerase Scar Treatment Therapy •ZenMed Skin Eraser Kit •Bio Oil Specialist Reviews •ScarFade Scar Fade Gel •A C Care Advanced Acne Scar Cream •Proactiv Dark Spot Corrector •Sudden Change Scar ZoneA Acne Scar Treatment •Nanoderm Acne Scar Treatment •Bioskinforte Acne Scar Cream •Neutrogena Fight and Fade Ge •Clean and Clear Advantage Acne Spot Treatment •Cipla'c Super Glow Whitening Cream •Melalite XL Cream.
1
person found this helpful
GLYCO-12 DOES NOT LIGHTEN YOUR COLOUR BUT REMOVES SUPERFICIAL LAYERS OF SKIN TOO GIVE A FRESH LOOK No cream or drug can make your skin colour lighter than your natural skin colour which is apparant in your covered body area. The exposed area becomes a bit darker because of tanning. You can remove tanning and dark spots by melalite-XL cream or Benoquin 2%
2
people found this helpful
Minoxidil 5% is claimed to be effective but in reality effect is not much biotin is hair growth vitamin. You may take it orally along with using minoxidil hair oil if dandruff and fungal infection of scalp are there, they should be treated. If male type of baldness with receding back of hairline, anti-androgen treatment should be taken.
Balanced diet containing chapati, rice, pulses, mushroom, curd, milk, paneer, green vegetables, salad, fruits.
View All Feed
Near By Doctors
MBBS, FAGE, CCEBDM -Advanced Certification in Prevention and Management of Diabetes & Cardiovascular Disease
General Physician
Advance Polyclinic & Path Care,
Book Appointment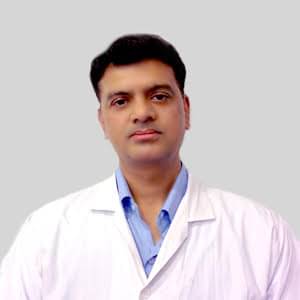 Book Appointment