About
We are dedicated to providing you with the personalized, quality health care that you deserve.
...more
We are dedicated to providing you with the personalized, quality health care that you deserve.
More about NARAYANA MULTISPECIALITY HOSPITAL
NARAYANA MULTISPECIALITY HOSPITAL is known for housing experienced Cardiologists. Dr. Anand Lingan, a well-reputed Cardiologist, practices in Mysore. Visit this medical health centre for Cardiologists recommended by 46 patients.
Timings
Location
CAH/1, 3rd PHASE, DEVANUR
Devanur
Mysore,
Karnataka
-
560048

Get Directions
Doctor in NARAYANA MULTISPECIALITY HOSPITAL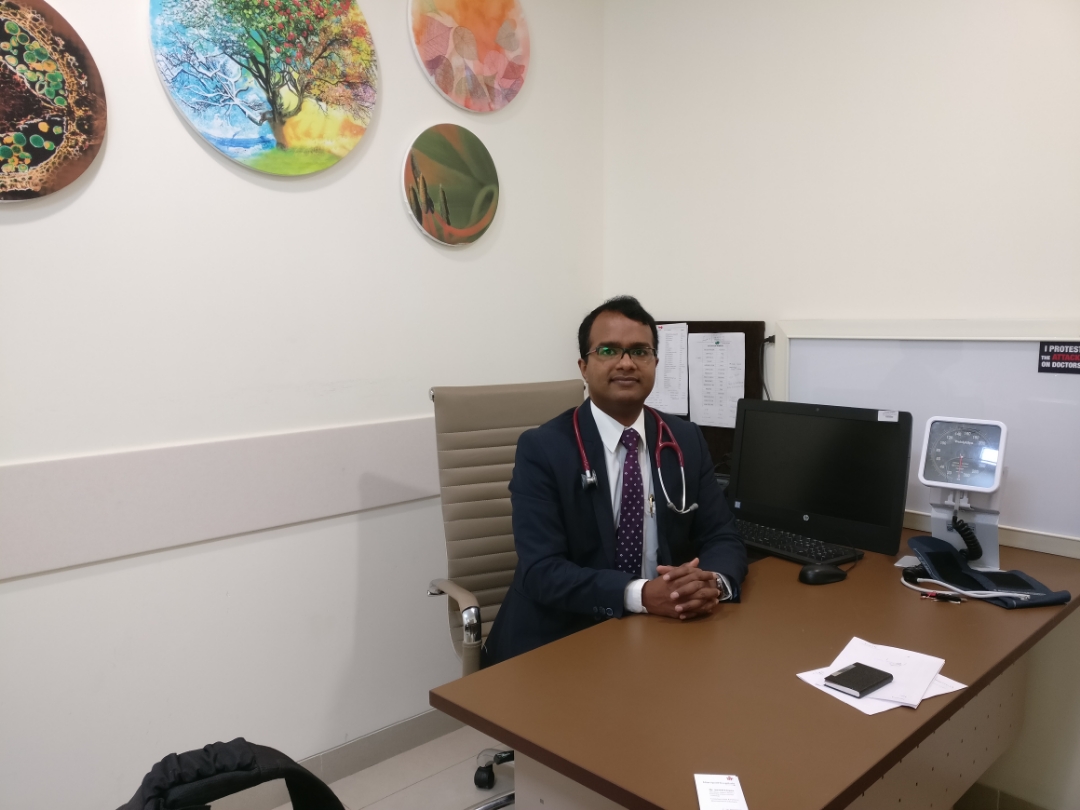 DNB Cardiology, MD, Fellowship in Interventional Cardiology
Cardiologist
Services
Submit Feedback
Submit a review for NARAYANA MULTISPECIALITY HOSPITAL
Your feedback matters!
Write a Review
Patient Review Highlights
"Professional"
1 review
"Practical"
1 review
"Thorough"
1 review
"knowledgeable"
5 reviews
"Caring"
1 review
"Very helpful"
3 reviews
"Inspiring"
1 review
Reviews
Shreya
Jun 14, 2017
The symptoms of smoking were severe and unmanageable, as I was addicted to smoking. Due to this smoking habit, I started facing the breathing issues, So I chose to consult a cardiologist, Dr Anand. He is not just friendly, but also is very motivating. My problem was such that it required a number of sessions, and I must say after all the sessions, I am feeling much better now. His guidance has helped me immensely and has helped gain confidence. I owe him a big thank for the treatment he provided.
Anirvan
Jul 29, 2017
The symptoms were severe and unmanageable, as I was suffering from shortness of breath, but Dr Anand was able to handle it. He ensures that he gives enough time to each patient. It's been more than a year now, and I have noticed considerable change in myself. The facilities available in the Manipal Hospitals are very nice.
Aryavan
May 4, 2017
dr Anand Lingan is very talented and seasoned doctor.I owe him a big thanks for making me fine again and finishing the problem of acidity that i was struck with.I am almost my normal self post the treatment at his clinic Manipal Hospitals Whitefield in Banglore and for that my Doctor is the reason.
Triti
Apr 23, 2017
I was suffering from heart problem due to which I was very stressed. I consulted Dr Anand, he has years of experience in Cardiology. I am benefitted with his treatment. Not only he treated my heart issue but also helped me overcome with the stress. I am thankful to him.
Anjor
May 28, 2017
I had some personal problems due to which my life was very disturbed. I had problems of anxiety .With dr Anand Lingan's treatment I am very well now and would like to thank the doctor very much. He can be consulted at Manipal Hospitals Whitefield in Bangalore.
Feed
Shared 5 months ago • Featured Tip
Women, who have been thinking that cardiac diseases are something that doesn't need much attention, then you have tragically mistaken. As a matter of fact, these are the diseases which most women aren't too aware of. However, it is affecting a lot of women all over the world. The most common issue in cardiology, particularly among women is a heart attack. The first thing that we should know is that Cardiovascular diseases like heart attack are killing as many women as men. Chances of women with coronary artery disease is delayed by a decade compared to male counterparts. Increased risk of heart attack is after 45 years or after attaining menopause.
Almost more than 25,000 women are dying all over India every year from a heart attack or other coronary heart diseases. The ratio results show that women are suffering from heart attack three times more than that of breast cancer. The main reason that creates this higher toll is that the disease may be different in women. However, in the case of men, it stays more localised. In the case of women, the disease is diffused and spread out, but it can be treated.
You cannot seek immunity only through pills:
We should be aware of the fact that pills will help you to curb the chance of having a heart attack, but again doctors claim that the risk does hike quite significantly after the menopause in women. The pills in such case can create various side effects and eventually trigger more cardiac diseases. The formation of clots in blood are created by different kinds of hormonal contraception, which is the main reason for a potential heart attack in women.
Heart attack symptoms in women:
We all know that the classic heart attack symptoms include severe pressure on the chest and extreme chest pain. However, these symptoms can be quite subtle in case of women. So, here we are listing down 4 of the most common symptoms of heart attack for women and those are:
Fatigue
Throat pain and jaw pain
Pain in arms may be in one or both
If you experience any one of these symptoms even, make sure that you go for a check immediately. Take quicker action as each minute that goes on during a heart attack is creating the death of a heart muscle.
Obesity and Heart Disease
Overweight and obesity may increase the risk of many health problems, including diabetes, heart disease, and certain cancers. If you are pregnant, excess weight may lead to short- and long-term health problems for you and your child.
People who are overweight or obese often have health problems that may increase the risk for heart disease. These health problems include high blood pressure, high cholesterol, and high blood sugar. In addition, excess weight may cause changes to your heart that make it work harder to send blood to all the cells in your body.
How can I tell if I weigh too much?
Gaining a few pounds during the year may not seem like a big deal. But these pounds can add up over time. How can you tell if your weight could increase your chances of developing health problems? Knowing two numbers may help you understand your risk: your body mass index (BMI) score and your waist size in inches.
Body Mass Index
The BMI is one way to tell whether you are at a normal weight, are overweight, or have obesity. It measures your weight in relation to your height and provides a score to help place you in a category:
normal weight: BMI of 18.5 to 24.9
overweight: BMI of 25 to 29.9
obesity: BMI of 30 or higher
Waist Size
Another important number to know is your waist size in inches. Having too much fat around your waist may increase health risks even more than having fat in other parts of your body. Women with a waist size of more than 35 inches and men with a waist size of more than 40 inches may have higher chances of developing diseases related to obesity.
In case you have a concern or query you can always consult an expert & get answers to your questions!
2054
people found this helpful
Shared 7 months ago • Featured Tip
Blood pressure readings above 140/90 are classified as hypertension or high blood pressure. Hypertension causes straining of blood vessels and an interruption in the blood flow. There are no specific symptoms, but prolonged uncontrolled hypertension can lead to a heart attack or brain stroke.
Listed below are a few ways to reduce high blood pressure:
Limit your salt intake: The sodium content in salt disrupts the balance of fluids in your body, leading to high blood pressure. To avert hypertension, cut down on your daily salt intake to a maximum of one tablespoon.
Indulge in physical exercise: If you are suffering from pre-hypertension (mild hypertension), it can be avoided or controlled by engaging in physical exercise such as brisk walk, swimming or playing a sport. Exercising regularly can lower blood pressure levels by 5 mmHg (millimetres of mercury).
Bask in the sun: Exposure to sunlight alters the nitric oxide levels in your blood which leads to reduction in blood pressure. Thus, soaking up the sun can prove to be a great way to avoid a stroke in future.
Add ginger and cardamom to your diet: The two spices, ginger and cardamom, provide required warmth to your body and help in stabilising the circulation of blood in your body and help in bringing down blood pressure levels.
Add more green vegetables to your diet: Green vegetables, preferably the leafy ones, are rich in nutrients such as magnesium, iron and folate which help in maintaining the blood circulation that is essential for combating high blood pressure.
Switch to decaf coffee: If you can't give up coffee entirely, switch to decaf beverages as caffeine is responsible for tightening your blood vessels which leads to increased stress and blood pressure levels.
Start drinking tea: Herbals teas such as chamomile, ginger, green tea and hibiscus tea contain herbal properties which soothe your blood vessels and nourish the blood flow. Herbal teas also help in hydration and rejuvenation of fluids in your body.
Update your playlist: Music is proven to be therapeutic and updating your playlist with soothing Sufi, Celtic or Instrumental tunes can help you relax your mind and combat stress related blood pressure spikes.
In case you have a concern or query you can always consult an expert & get answers to your questions!
2217
people found this helpful
Shared 9 months ago • Featured Tip
Health experts do believe, and are promoting the same nowadays, that eating right is the best step to control high blood pressure other than regular medications. Who knows, if you are strong enough to control your lifestyle and eating habits, you may not need a long term medication after some time. The blood pressure may lower down naturally with improving health and weight.
Factors that elevate blood pressure in the body.
Before suggesting the right eatables for lowering the blood pressure, let's look at the conditions which actually increase the blood pressure. They are:
A coronary heart disease

Work pressure or family and relationship troubles

Cholesterol

Other medical conditions like diabetes, depression, etc.
Each one has a toll on the body with resultant High Blood Pressure. With eating right you may gain a lot of control on the body.
Eating Right-
Here are some quick tips on eating right:
Avoid excess salt intake. The more salt you take, the more sodium your body gets, and as a result BP elevates. Restrict intake of preserved and processed foods such as papads, pickles, sauces, ketchup, salted biscuits, chips, cheese and salted fishes. Check the nutritional information when you eat ready made snacks, since most of them contain high sodium. Salt intake should not exceed more than 6 grams per day.

Avoid oily and junk food. Avoid food with unsaturated or trans fats. These kinds of foods straightaway add to the fat deposits of the body, and make you obese or more obese. In such cases, the obesity and increased weight build a pressure on the heart to pump more, thus elevating blood pressure.

Avoid excess caffeine. Caffeine comes in the body through coffee, tea, and aerated drinks. These beverages when restricted to only 1-2 intakes per day may help you lower the BP.

Quit smoking, as this puts excess pressure on the lungs to breathe and thus the heart to pump.

Avoid alcohol intake in excess amounts. Drinking more alcohol or frequent drinking can elevate BP.
Besides, there are some good foods that can always help to lower or control BP. They are:
Plain, fat-free yoghurt or Greek yoghurt

White beans

Pork tenderloins

Small fishes like Tilapia

Bananas

Oats

Broccoli

Bell Peppers
These food items are designed by nature to reduce blood pressure or normalize blood pressure in the body. Hence, if you are trying heart and soul to eat right, then try these in your daily food to see positive results. Besides, exercising and reducing weight are the two other important steps to take, which complement the healthy diet and eating habits to lower the blood pressure with or without medication.
5
people found this helpful
Shared 1 year ago • Featured Tip
The most common reason to succumb to death in case of males is a sudden cardiac arrest. Though females also get affected, but the main victims are males over the age of 40. Reasons for the cardiac arrest are many, and the top one is a prevalent heart disease caused by several factors. Factors include high blood pressure, smoking, alcohol, stress, depression, work life imbalance, anxiety, high cholesterol, obesity, hereditary traits, etc.
If you also fall in the same age group or are nearing it, then you must get conscious right now that you don't fall prey to a sudden cardiac arrest. If you get one, chances of survival depend on how soon you get a treatment and the potential in the body to receive treatment. However, prevention is always better than cure, and here are some measures that you can follow to prevent a cardiac arrest.
How to prevent getting a sudden cardiac arrest?
Prevention of a cardiac arrest starts right from the alteration of lifestyle. Diet and stress need to be monitored, and regular health checkups give you the confidence to stay better. Try following the steps below:
Quit smoking totally as it really kills. The carbon particles block the filters in the lungs gradually and permanently, and limit the lungs' capacities to inhale and filter and absorb oxygen.

If you drink, then do it socially and rarely. Long term alcohol consumption increases obesity and fat, and is another blood diluting agent. However, a low consumption helps by melting some LDL cholesterol and fat too.

Exercise everyday. You need not do a strength training essentially. Simple, brisk walking, free hand exercising, etc. will do, but the body must get a warm up everyday.

Go for a regular heart checkup in intervals of 6 months or 1 year. This will tell you the condition, the cholesterol deposition, the blood pressure and the overall blood circulation.

Avoid junk and oily food, and things that build up cholesterol and fat in the body.
When you have just experienced a cardiac arrest-
When you have just experienced a cardiac arrest, you should seek help from a family member using the CPR technique, or a defibrillator. In both cases, the know-how to use the techniques and instruments is a must. Hence, if you know that you have a coronary heart disease and are prone to a sudden cardiac arrest, you must train a member in the family to use these immediate treatments, while they call the doctor. If you wish to discuss about any specific problem, you can consult a Cardiologist.
1957
people found this helpful
Asked for male, 26 years old from Gonda
Dear lybrate-user A BP of 180/135 mm hg may be recording by your personal automatic bp machine. This may be a little exaggerated, however the recordings are definitely high. You definitely need to visit a cardiologist and to alter the medications dosages or change medicines after ruling other associated kidney or heart related causes. Low salt diet is a must. But do visit a doctor for further review.
3
people found this helpful
Asked for male, 46 years old from Hyderabad
Dear Mr. lybrate-user Your diabetes and hypertension get controlled by a combination of healthy life style, proper diet, exercise, weight reduction and Medications of course. So do take control of your diet and life style. Your diabetic medications may need alteration, which would be best done by your local physician after assessment. If BP is persistently high some change of medications for BP may be needed.
3
people found this helpful
Shared 1 year ago • Featured Tip
The heart is a muscle that pumps blood to the body through a network of arteries and veins controlled by valves. A heart disease could mean a problem in any of these organs, heart per se, the blood vessels, or the valves. Like it or not, heart problem is a chronic condition. It starts without any notice, and for sure, it is not going to go away completely. What can be done, though, is to manage it beautifully and lives and enjoy life so that the heart disease is not stopping you.
When there is a person with the chronic condition, it is not just that person who is affected, but the near and dear ones as well. When heading out for a dinner or when planning a gathering, there would be certain things that need to be accounted for and considered to accommodate the needs of the affected person. These very soon become a way of life and can be done effortlessly.
The following are some things to bear in mind when living with a heart patient.
Diet: Heart patients would have some dietary preferences based on the heart condition per se. This may include a need for more whole grains and vegetables, need for specific types of oils, specific cooking methods, etc. At home, it is essential to ensure these things are always stocked up. When heading out, whether it is to visit someone or out for a meal, take into account whether these would be available. The next best option should be kept in mind so that dietary intake is not affected. Gradually, with time, substitutes can be identified with which they could manage in most places.
Medications: Make sure the medication kit is always readily available. Make sure the person does not miss any medications, whether at home or outside. Ensure the regular medicines are in stock and some common emergency ones are also readily available.
Routine: Whether it is their morning walk or yoga or meditation, it is better to stick to the routine as much as possible. The person also should learn to adapt based on circumstances; however, to the maximum extent possible, these should be continued without major interruption.
Monitoring: Be it blood pressure, sugar levels or weight, these need to be monitored regularly and any deviations should be brought to the notice of the doctor immediately.
Other equipment: Whether it is a walker, inhaler, or a wheelchair, these should be functional and available. The home or the living place should not be cluttered to allow for the easy use of this equipment.
While these may initially require some effort, with time, it would just happen naturally. If you wish to discuss about any specific problem, you can consult a Cardiologist.
1940
people found this helpful
Asked for male, 24 years old from Hyderabad
Hi lybrate-user Do take medications as advised by your doctor. Your blood pressure is 120/80 mm hg because of the regular medications only. It is good that you are also pursuing yoga, meditation and physical activity. The requirement of the drugs may come down definitely. But, do stop or alter medications on medical advice only.
2
people found this helpful
View All Feed
Near By Clinics