About
We are dedicated to providing you with the personalized, quality health care that you deserve.
...more
We are dedicated to providing you with the personalized, quality health care that you deserve.
More about Parakh Hospital
Parakh Hospital is known for housing experienced Orthopedists. Dr. Hardeek N Ghundiyal, a well-reputed Orthopedist, practices in Mumbai. Visit this medical health centre for Orthopedists recommended by 72 patients.
Timings
Location
Khokani Lane, Opposite Ghatkopar Railway Station, Ghatkopar East,
Ghatkopar East
Mumbai,
Maharashtra
-
400077

Get Directions
Photos (2)


Videos (3)
Doctor in Parakh Hospital
Fellowship in Knee Replacement, D.N.B. (Orthopaedics) , MBBS
Orthopedist
Services
Submit Feedback
Submit a review for Parakh Hospital
Your feedback matters!
Write a Review
Patient Review Highlights
"knowledgeable"
2 reviews
"Very helpful"
5 reviews
"Caring"
1 review
Feed

Fellowship in Knee Replacement, D.N.B. (Orthopaedics) , MBBS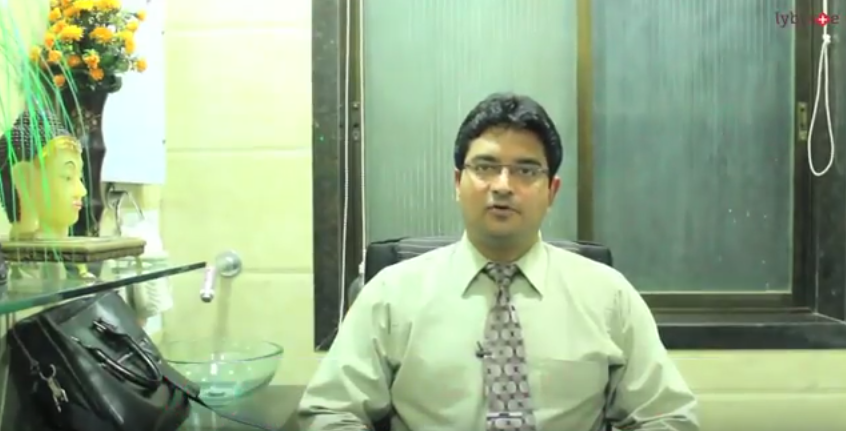 Hello,
I am Dr. Hardeek N Ghundiyal practicing Orthopaedic surgeon in Mumbai. So, today I would like to speak about osteoarthritis of the knee joint. There are various type of Arthritis of the knee joint - broadly they are divided into primary and secondary. Osteoarthritis comes in the primary category while the secondary category is post-traumatic or post-infectious Arthritis. However, today I will talk only about the osteoarthritis of the knee.
Osteoarthritis is a progressive form of Arthritis and is characterized by breakdown of the cartilage of the knee joint. It is also called as wear and Tear Arthritis. It is usually found in the people more than 60 years of age however young people can also have it. The common joints affected for Arthritis is the knee joint .
Spine is also affected in Indians. In some Western countries, hip joint is also affected. The common symptom of arthritis is the pain which is gradually increasing over a period of time and which becomes a disability for the patient. The other symptoms being stiffness - stiffness is usually present in the morning times and as the patient walks, stiffness comes down. The other symptoms of the deformity of the legs are in which the bones become crooked. The last thing is the bone grating sensation as the patient makes the movement of the knee joints.
The bones rub against each other which causes the patient to give a grating sensation when the patient moves his knees. The most common factor for the osteoarthritis is the age. As one grows old, osteoarthritis is pretty much evident in the knees. The factors being the gender, females are more affected in osteoarthritis than the males, maybe because of postmenopausal arthritis mostly osteoporosis leads to the Apparatus.
Weight is the third important factor which causes osteoarthritis. While the weight is less, the stress and strain is reduced at the joint which causes delayed osteoarthritis. Osteoporosis is also one of the important factors causing osteoarthritis. If the calcium levels of the bones are less, the bone grating and osteoarthritis increases. There is no specific treatment for osteoarthritis.
However joint functions can be improved with daily exercises in the form of swimming. Swimming is the best exercise for the patient with osteoarthritis. Second exercise is walking. Routine walk of at least 30 minutes per day is sufficient enough. The other exercises are bicycling and yoga can also be done. Loss of weight is the most important modifying factor for the osteoarthritis.
Various splints are available for osteoarthritis which help in preventing the deformity of the leg. Medications are available in the form of nonsteroidal anti-inflammatory drugs, steroids or disease-modifying agents. With all these medications and exercises with the weight loss, if the deformity and the pain persists, the last option to go for is total knee replacement. Knee replacement is actually resurfacing of the bones of the knees in which a part of a leg bone and part of a thigh bone is cut and it is replaced by metallic objects with a plastic part in between the metallic objects , so that the bone grating is avoided. The metal parts blide against the plastic and hence the pain of the knee joint is almost negligible and the movements are preserved.
2821
people found this helpful

Fellowship in Knee Replacement, D.N.B. (Orthopaedics) , MBBS
Knee replacement is a procedure where the weight-carrying surfaces of knee joint are replaced surgically to ease the pain or any disability. People suffering from osteoarthritis, rheumatoid arthritis or psoriatic arthritis undergo knee replacement. All these conditions revolve around stiffness and painful knee. This surgery is usually performed on people aged over 50.
Surgery Types-
Knee replacement is mainly of two main types:
Total knee replacement where both the sides of knee joints are replaced
Partial knee replacement where only single side of the joint is replaced
Procedure-
In case of partial knee replacement with minimal invasion, a smaller incision, which is 3 to 5 inches, is required. This leads to minimal tissue damage, and the surgeon can work between the fibres of the quadriceps muscles. Here, an incision through the tendon is not required. This may result in less pain, recovery time is reduced, and motion is better as scar tissue formation is less.
In total knee replacement, four steps are performed:
Removal of damaged cartilage surfaces, which is at the ends of the femur and tibia, with a small quantity of underlying bone.
Replacement with metal components, which help as a recreated surface of the joint
Incision of knee cap with a resurface made of a plastic button, which is optional based on the case
Insertion of a medical-grade plastic spacer amid the metal components. This creates an effortless gliding surface.
After general or spinal anaesthesia, an incision of 8-12inches is made in the front part of the knee. Joint part which is damaged is removed from the surface of the bones. The surfaces are then formed in a way to hold a metal or plastic artificial joint. The thigh bone shin as well as knee cap is attached to the artificial joint with either cement or a special material.
After Effects of the Procedure-
After the surgery, patients may stay in a hospital for three to five days. Post surgery, notable improvement can be seen after a month or later. The patient is gradually relieved from pain with the construction of new gliding surface during surgery.
There will be slow progress in the movement. In the beginning, one may walk with a support of parallel bars and then with the help of crutches, walker, or cane. After full recovery in about six weeks, people can enjoy normal activities except running or jumping.
Presently, over 90% of total knee replacements function well even after 15 years of surgery. Hence, knee problem is no problem at all!
In case you have a concern or query you can always consult an expert & get answers to your questions!
3910
people found this helpful

Fellowship in Knee Replacement, D.N.B. (Orthopaedics) , MBBS
Achilles Tendon pain is an orthopedic condition that can originate from tears and ruptures to the AchillesTendon, which is known as one of the strongest and also the longest tendon in the human body. It is a band of tissues that decides the quality of your movements and motions to a great extent, as it connects the heel with the calf. Therefore, any injury to this tendon can decrease the strength and support to the muscles and create a painful situation. So how can you deal with this pain? Read on to know more.
Rice Therapy: Rice is a commonly used term by orthopedic specialist. It refers to Rest, Ice, Compression with a bandage, and finally Elevation. The patient must take lots of rest as well as use ice packs to deal with the injury and acute pain. Finally, the area must be compressed with a bandage and kept elevated on cushions.
Surgery: For very severe cases, the orthopedic specialist can recommend surgery as well. This kind of surgery aims at reattaching the displaced or ruptured tendon which may have reached such a fate through a sports or any other kind of injury. The doctor may also place your leg in a cast for a few weeks to keep it at complete rest.
Pain Medication: The doctor can also prescribe pain relievers that contain Ibuprofen as well as acetaminophen or even naproxen. These medicines should be taken in moderation as per the doctor's prescription. Usually, this kind of medication is taken only when unbearable pain is experienced by the patient.
Thermotherapy or Heat Treatment: The use of heat for chronic pain or even pain that has been ailing for over 48 hours is known as thermotherapy. This therapy uses heating pads and hot water bottles to help relieve the pain. One must be careful while applying anything hot to the site of the injury. Use a towel to wrap the hot water bottle or heating pad so that there is no scalding or leaking on to the skin.
Footwear: It is important to prevent continuous injury and pain to the already injured Achilles tendon. To do this, you must wear supportive and comfortable footwear that has heel lifts and other customized orthotics built into the shoes.
Taking care of Achilles Tendon pain is a matter of taking various precautions and supportive actions that lead to better healing.
In case you have a concern or query you can always consult an expert & get answers to your questions!
4182
people found this helpful

Fellowship in Knee Replacement, D.N.B. (Orthopaedics) , MBBS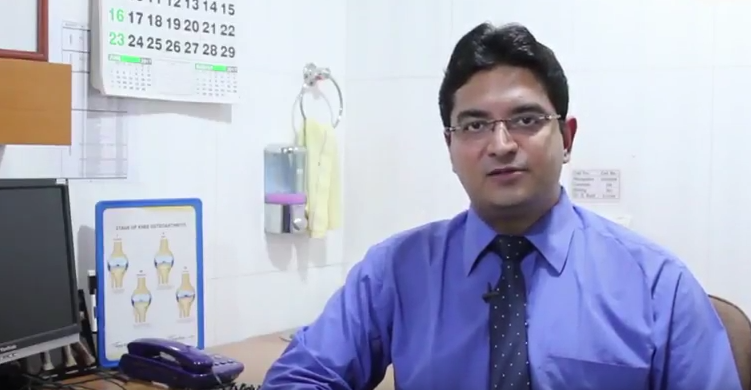 I am Dr Hardik Ghundiyal, practising orthopaedics surgeon since 7 years in Bombay. I am mainly into minimal Invasive Joint replacement surgeries.
Knee Replacement surgeries have been done all over the globe since last 30 years. And they have been very successful. In the past, if the patients had arthritis, we could only give them pain killers. But as if now when a patient comes with knee stiffness, pain, deformity, we can provide them with the total knee replacement. We always give a non-surgical conservative approach to the patient when the patient comes with arthritis. If that fails and they are not relieved from the pain, then we give them the option of total knee replacement. About 5,000,00 total knee replacement is being done all over the globe every year. Most of the people who have experienced knee replacement they think that they could have done it before because the pain relief is so good.
When we do a total knee replacement, we do not cut 2 inches or 3 inches of bone from the thigh, instead, we do re-surfacing of the knee. In the normal knee, there are smooth surfaces on the both sides which glide easily when the movement of the knees are done. But in the arthritic knee, the surface is pitted and get rough because of which the pain is there when they glide on each other.
In the total knee replacement surgery, we change the rougher surface into a smooth gliding prosthetic material so that they glide on each other without any pain and patient get pain free movements. The material has been improved drastically from last 15-20 years. The process however remains the same but the plastics, the poly ethylene which is used in between the metal surfaces have been improved drastically by durability as well as the strength. The research has improved the longevity and the prosthesis.
During surgery, we use a muscle sparing approach, that means we do not cut-open muscles while doing the surgery. The patient is mobile as early as possible. The patient is able to stand and walk up on the same day of the surgery. If a patient is comfortable, we make them able to walk also. Hence the hospital stay is reduced and it is minimized to 2-3 days only.
The recovery of the patients depends on how active was the patient pre-operative. Some patients need a walker, walking aid, some patients are mobile without any support. Most of the times, you can get back an activity within month time a surgery.
For more information, you can contact me through lybrate.com.
3714
people found this helpful

Fellowship in Knee Replacement, D.N.B. (Orthopaedics) , MBBS
The most common cause of neck pain can be cervical disc disease. It is generally caused by the abnormality of the disc that is the cushion present between the vertebrae. The disc can get damaged because of arthritis or any unknown cause. When damaged, it usually leads to inflammation or spasm of the muscles leading to neck pain.
There are a number of pain medications, traction exercises, and physical therapy for minimizing the neck pain. However, these home based remedies help in relieving pain along with a speedy recovery:
Take it easy: If you have a busy and hectic life, then take it easy. Living with cervical disc diseases can lead to an increase in the neck pain; thus cutting down on activities helps. A comfortable position should be observed while resting. If need be then a pillow can be placed under the neck.
Apply Cold/Heat Pack: There is always a confusion regarding whether a cold or a hot pack is to be used. The recommendation is to use ice or cold pack for the first 24 to 48 hours of the injury, so that the swelling subsides. This should then be followed by hot fermentation in order to improve the muscle stiffness and also loosen them. But in case of a cervical disc disease neither cold nor heat penetrates the tissue to relieve inflammation, so it is best to use the one which feels better. Whichever, pack is chosen it should only be used for 20 minutes and then left for 40 minutes. Take care and do not use ice or heat directly against the skin.
Stretch: Stretching exercises should be done in order to improve the flexibility and relieve pain in the neck. Exercises can be performed after warming up of the muscles by a warm towel or bath. Here are a few simple stretches for cervical disc disease that you can do at home:
Move the neck: As per the study by the American Medical Association, women who had neck pain got relief when they did exercises using light weight and resistance bands. This increased their endurance and strength of the neck muscles. Also, 30 minutes of exercise in the form of biking, walking, swimming, and biking is recommended to improve the blood flow.
Maintain the posture of the neck: A bad posture can cause a neck pain. Every time while standing, sitting, walking, lifting the posture should be kept in mind. The head and neck should be kept straight and the back should be supported in order to avoid neck pains.
In case you have a concern or query you can always consult an expert & get answers to your questions!
3859
people found this helpful

Fellowship in Knee Replacement, D.N.B. (Orthopaedics) , MBBS
Plantar fasciitis is an orthopedic problem that gives rise to pain in the foot and heel due to strain or pressure on the plantar fascia. This is a ligament or connective tissue which lies in a flat band, connecting your heel with the toes and effectively, providing a basis for the motion of the feet in general. Inflammation, swelling and bruising of this tissue or ligament can lead to excessive pain in the heel.
Let us look at ways that can help you deal with this pain:
Rest: Taking rest and giving your feet a break from all kinds of strain inducing activities can help in relieving the pain. Also, you can keep your feet elevated to help in reducing the pain in the area.
Supportive footwear: Using pads within your shoes with gel built into them, or using specific footwear that help in walking without feeling too much of pain is a good way of dealing with Plantar fasciitis. The shoe inserts must be rubber, felt or plastic so that they are soft for your feet. They also give your heel and its arch good support, while Orthotics pulls the ligament so that there is less stress on the same. You can also pull on a pair of night flints which will keep the foot and the ligament stretched while you enjoy a good night of sleep.
Exercise: Indulging in mild muscle strengthening exercise that also involves stretching and heel hooks can help in alleviating chronic pain that you may be suffering from. Lie flat on your back and take a towel. Lift your leg and hook your foot into it. Now press against the towel and pull down the towel simultaneously. Repeat at least ten times per foot. This will give you flexibility and strength in the area.
Painkillers: Use pain killers only when absolutely necessary and with due advice from the doctor or Orthopaedic specialist. The use of Ibuprofen and other pain relievers can help in numbing the pain inducing nerves in the brain and give you instant relief.
Anti-inflammatory drugs: Your doctor may prescribe anti-inflammatory medication that can bring down the swelling for more comfortable functioning when you are on your feet. Naproxen is one such drug that helps in bringing down the inflammation. Also, corticosteroid injections can relieve severe pain.
Surgery: Heel spur removal or Plantar fascia release are some of the surgical options for chronic and severe cases.
Taking care of your feet is a matter of ensuring that you look into the slightest discomfort and report the same to a doctor. If you wish to discuss about any specific problem, you can consult an Orthopedist.
3712
people found this helpful

Fellowship in Knee Replacement, D.N.B. (Orthopaedics) , MBBS
The lower back or the lumbar area is the region that lies right below the rib cage. Pain in the lower back is usually a result of persistent muscle spasms that make it a chronic pain. While many people suffer from this kind of pain at some point at the other, there are few who actually take up exercise as a long-term solution to deal with the pain. A proper exercise schedule and regular yoga can actually strengthen your lower back and help it support the spinal cord in a better manner. Also, most orthopaedic specialists recommend constant movement to alleviate the painful symptoms of lower back pain. Do go through this list of exercises to find one that suits you.
Partial Crunches: This one requires you to lie down, prop your knees up with your feet firmly on the ground and your hands behind your head. Now bring your body partially up and stop shy of doing a full on sit up. This will help in relaxing the muscles in the lower back, to a great extent.
Hamstring Stretches: Get on your back and prop up one knee. Take a towel and loop it under the ball of your other foot. Now lift and hold as you press your foot into the towel, to gradually relieve some of that stress as it plays on your lower back.
Ankle and heels: The classic ankle pump involves lying flat on your back and stretching your feet before you begin to move your ankles in an up and down motion. Repeat it ten times for each set. You can combine this exercise with the heel slide where you have bend and straighten your knee ten times each, in the same position as you lie flat on your back.
Wall Squats: While actual squats can be painful if you are suffering from lower back pain, you can take the support of a nearby wall for squats that will work the muscles in a more soothing manner and give you a good workout at the same time.

Touching your toes, running on the treadmill, sit-ups and other forms of intense exercise that make the back work too hard should be avoided if you are suffering from lower back pain.
In case you have a concern or query you can always consult an expert & get answers to your questions!
4341
people found this helpful

Fellowship in Knee Replacement, D.N.B. (Orthopaedics) , MBBS
An average person experiences two fractures during his or her lifetime and same holds true for joint related injuries. The severity of this condition depends on a number of factors, ranging from the forces responsible for injury and location to the damage done to the nearby tissues and bones.
How age plays a role in your chances of getting a fracture?
Your risk and severity of developing a fracture, depends, to a certain extent on your age.
A very common occurrence during childhood is crippling joint related injuries, the fractures that you tend to have during this time are generally less complex than the broken bone instances that you stand to experience when you enter adulthood.
With time, your bones become fragile and you become prone to broken bones sustained from falls, which you wouldn't when you were young. Furthermore, as you step into your 50th year, you can get struck by the bone condition osteoporosis, a leading cause of bone fractures during this time. For women, menopause makes them more susceptible to osteoporosis (as infrequent periods and hormonal changes at this time lead to loss of bone mass) and subsequently broken bones.
Preventing crippling joint injuries need many steps in a younger generation known as prehab especially for sporting population and adult population involved in a day to day activities requiring your body getting subjected to physical stress.
Simple steps to get your joints back to normal in case you do get into injuries.
Exercising to strengthen bone and muscle health as well as your balance
Taking relevant medicines to make your bones strong
Going for timely bone mineral density test to determine the health of your bone
Exposing yourself to the sun for about 20 minutes everyday
Having a requisite calcium intake of 1000 mg and 1200 mg for pre- and postmenopausal women respectively
Preventing a fracture by modification in your household furniture, extra clothings, sometimes addition of simple orthotic devices, improving your muscle reaction time etc go in long way to help prevent falls. If you wish to discuss about any specific problem, you can consult an Orthopedist.
3590
people found this helpful

Fellowship in Knee Replacement, D.N.B. (Orthopaedics) , MBBS
Adhesive capsulitis is the medical term for a frozen shoulder, which can be caused due to a variety of reasons. Scar tissues can grow in the shoulder joint when the said joint becomes thicker. This development keeps the shoulder from rotating in a normal manner, which can lead to a frozen shoulder. The most common symptoms of this condition include severe pain and stiffness as well as inflammation. Here are the causes and ways to treat this condition.
Causes: A frozen shoulder can be caused due to a sports injury as well as an accident. Also, a hormonal imbalance can cause this condition. A weak immune system may cause inflammation in various joints of the body, which makes motion difficult. Also, diabetes can give rise to a frozen shoulder as a side effect. If you have a sedentary lifestyle and do not exercise often enough, or have just been through surgery which has led to a prolonged period of inactivity, then you can be prone to this condition. Surgery will also leave your tissue and adhesions sensitive to inflammation. Scar tissue may end up forming in very extreme cases, over a period of at least nine months. This can limit your motion.
Risk Factors: Besides diabetes, hormonal changes and inactivity, people who have been through a stroke or surgery are most susceptible to this condition. Also, patients who are suffering from thyroid disorders can end up developing a frozen shoulder too.
Physical Therapy: One of the most recommended ways to deal with this condition is with physical therapy. This kind of therapy will help you in stretching your shoulder so that you get back some motion over a period of time. This process can take anywhere between a few weeks to a few months, depending on the severity of your condition. You must ask your doctor about other treatment options if this kind of therapy does not show results even after six months of intense and regular practice. Physical therapy can also be practiced at home, once you have learnt the technique from a physiotherapist.
Medication: One of the other ways to deal with a frozen shoulder is with the help of medication. Anti-inflammatory and pain relieving medicines can soothe the discomfort. These include aspirin, ibuprofen, as well as naproxen sodium. Also, if you are undergoing a lot of pain, the doctor can administer a steroid injection in the shoulder joint.
Surgery: If medication and physical therapy do not help in treating the condition effectively, then one can go in for an arthroscopic surgery to remove the scar tissue with a small incision and other kinds of surgery for breaking the adhesions as well. If you wish to discuss about any specific problem, you can consult an Orthopaedics.
3745
people found this helpful

Fellowship in Knee Replacement, D.N.B. (Orthopaedics) , MBBS
The condition of osteoarthritis is very common as you age. The condition is said to affect women more than men and is mainly due to the low estrogen levels that women tend to experience once they cross the age of 50.

What causes this most common form of arthritis?
The problem of osteoarthritis (oa) takes place when the soft but firm connective tissue is known as cartilage found in between bones of your joints (such as knees, ankles or elbows) deteriorates. This soft connective tissue is vital for ensuring frictionless motion of joints. During osteoarthritis, the surface of this tissue takes on a rough texture, and consequently, it wears down completely.

What can you do to reduce the risk of developing osteoarthritis?
There are several simple ways that you can employ to prevent this condition from occurring and these are:

1. Maintain a healthy body weight
Being overweight is one of the leading risk factors for osteoarthritis. The extra body weight causes additional pressure to be exerted on weight-bearing joints like knees and hips. As time passes, this additional strain damages the cartilage that acts as pads between bones of the joints. Additionally, the extra body weight also causes your body to produce a destructive protein known cytokines, leading to inflammation of the joint areas.

2. Maintain an optimal blood sugar level
High levels of glucose in your body bring about the development of certain chemicals that make cartilage rigid and more susceptible to mechanical stress. Controlling abnormal blood sugar levels is vital for reducing this risk of inflammation that can lead to the loss of cartilage and joint damage.

3. Indulge in physical activity
Indulging in any kind of physical can help in keeping your joints healthy. You need to spend about 30 minutes of each day on performing the moderately intense exercise. This will ensure not only the ability of your joints but also make stronger the muscles that hold up and steady your hips and knees.
4. Have a well-balanced diet
Including certain foods in your diet can help in reducing your chances of developing osteoarthritis. A well-balanced diet that prevents oa should consist of ample amount of omega-3 fatty acids,
vitamin d
and
vitamin c
. While fatty fish like tuna and salmon, eggs, sunlight etc are considered to be good sources of vitamin d, strawberries, tomatoes and potatoes are just a few of the food sources that you can consider for meeting your vitamin c requirements. For meeting your omega - 3 fatty acids requirement, you can consume
fish oil
as well as plant or
nut
oils. If you wish to discuss about any specific problem, you can consult an
orthopedist
.
3444
people found this helpful
View All Feed
Near By Clinics

4.5
(

44

ratings)
Ghatkopar, Mumbai,
Mumbai
View Clinic
4.7
(

819

ratings)
Ghatkopar, Mumbai,
Mumbai
View Clinic