About
It is important to us that you feel comfortable while visiting our office. To achieve this goal, we have staffed our office with caring people who will answer your questions and help you ...
...more
It is important to us that you feel comfortable while visiting our office. To achieve this goal, we have staffed our office with caring people who will answer your questions and help you understand your treatments.
More about Meera Mumbai Pain Clinic
Meera Mumbai Pain Clinic is known for housing experienced Pain Management Specialists. Dr. Meera Mohan Metha, a well-reputed Pain Management Specialist, practices in Mumbai. Visit this medical health centre for Pain Management Specialists recommended by 88 patients.
Location
Dept. of Anaesthesia Tata Memorial Hospital
Mumbai

Get Directions
Doctor in Meera Mumbai Pain Clinic
Pain Management Specialist
Services
Submit Feedback
Submit a review for Meera Mumbai Pain Clinic
Your feedback matters!
Write a Review
Feed
Nothing posted by this doctor yet. Here are some posts by similar doctors.
Plantars Fasciitis is an orthopaedic problem that gives rise to pain in the foot and heel due to strain or pressure on the plantar fascia. This is a ligament or connective tissue which lies in a flat band, connecting your heel with the toes and effectively, providing a basis for motion of the feet in general. Inflammation, swelling and bruising of this tissue or ligament can lead to excessive pain in the heel.
Let us look at ways that can help you deal with this pain.
-Rest: Taking rest and giving your feet a break from all kinds of strain inducing activities can help in relieving the pain. Also, you can keep your feet elevated to help in reducing the pain in the area.
-Supportive Footwear: Using pads within your shoes with gel built into them, or using specific foot wear that help in walking without feeling too much of pain is a good way of dealing with Plantars Fasciitis. The shoe inserts must be rubber, felt or plastic so that they are soft for the feet. These also give your heel and its arch good support, while Orthotics pull at the ligament so that there is less stress on the same. You can also pull on a pair of night flints which will keep the foot and this ligament stretched while you enjoy a good night of sleep.
-Exercise: Indulging in mild muscle strengthening exercise that also involves stretches and heel hooks can help in alleviating chronic pain that you may be suffering from. Lie flat on your back and take a towel. Lift your leg and hook your foot into it. Now press against the towel and pull down the towel simultaneously. Repeat at least ten times per foot. This will give you flexibility and strength in the area.
-Pain Killers: Use pain killers only when absolutely necessary and with due advice from the doctor or Orthopaedic specialist. The use of Ibuprofen and other pain relievers can help in numbing the pain inducing nerves in the brain and give you instant relief.
-Anti Inflammatory Drugs: Your doctor may prescribe anti inflammatory medication that can bring down the swelling for more comfortable functioning when you are on your feet. Naproxen is one such drug that helps in bringing down the inflammation. Also, corticosteroid injections can relieve severe pain.
-Surgery: Heel spur removal or plantar fascia release are some of the surgical options for chronic and severe cases.
Taking care of your feet is a matter of ensuring that you look into the slightest discomfort and report the same to a doctor.
The anterior cruciate ligament is one of the most delicate yet vital ligaments that holds the knee bones in place and stabilizes the movement. Injury to the ligament, on account of a sprain, can prove to be a cause of severe distress. This may lead to a partial or a complete destabilization of the knee joints and impair the normal movements to a great extent.
Causes
Some of the most common causes of this sort of a ligament tear are accidental injuries during a sporting activity, unexpected collision or incorrect body postures. This is a fairly common occurrence among the athletes. However, the physiological and neuromuscular controls make women more susceptible to damage to the Anterior Cruciate Ligament than men.
There are two cruciate ligaments in our body, i.e. the anterior and the posterior cruciate ligaments. They run in crosses to connect the insides of the knee joints. They regulate the back and forth movement of your knees. They therefore, may incur substantial damage through sudden movements like jerks or an abrupt change of direction; the degree of tear may vary from minor strains to complete detachment. Accordingly, treatments are available to cure the distress. The treatments may either be surgical or nonsurgical, depending about the extent of the injury as well as the age of the patient. A complete tear in the ligament necessitates surgery for recovery. However, one may choose to opt for other non - surgical methods to minimize the damage.
Some of the most effective treatments for a tear in the anterior cruciate ligament have been enlisted below:
1. Bracing: Wearing a brace or using a crutch for the purpose of movement can accord the knees with some stability. It also keeps the joints intact and alleviates pain.
2. Physiotherapy: Once the inflammation reduces, you may opt for physiotherapy to restore movement and reduce the pain. Heat and Ice therapies work as ideal adjuvants to physiotherapy in such cases.
3. Surgery: Regrowth of the anterior cruciate ligament may be possible through a surgical process of grafting. This enables the tissues to repair themselves. Knee caps and adequate rest accord better rehabilitation. The recovery is faster and steadier in this process.
Thousands of people are affected with a painful knee which troubles their lives directly. Due to a weak or inflated knee, they cannot continue to carry on with their activities which they do have been doing regularly. A total knee replacement is required in many such cases, which is one of the most popular and successful ways to provide relief from chronic knee pain.
But in many cases, a successful total knee replacement is not possible due to various reasons and in that case, the people need to undergo another replacement, called Revision Joint Replacement.
What is Revision Joint Replacement?
As we mentioned in the above section that total knee replacement is successfully carried out in most cases but there are also many in which it is not possible. Other than that, even if a successful total replacement is made, overtime different problems related to it may arise like wearing of thr implant or adjustment of the original parts as well. So, another replacement is recommended to fix these problems and this is popularly known as Revision Joint Replacement.
Revision joint replacement is often much more complicated than total knee replacement. This is because the process deals with bringing changes to the already replaced knee and therefore, any kind of mishandling can lead to serious knee problems. Let us have a look at the different reasons because of which revision knee replacement is carried out.
Why Revision Knee Replacement Done?
The reasons because of which a revision joint replacement may need to be performed include:
● One of the very important reasons is worn out implants. Even though implants are designed to support the knees for a long time, due to various reasons and activities of the individual, these implants gets worn out and needs to be replaced.
● Infection is one of the biggest risks in joint replacement surgery which will seriously affect the whole health of the person. If over time any kind of infection is likely to develop due to improper care or negligence of any initial infection symptoms around the postoperative area, revision replacement is done to help the individual.
● If it is found out that the implants are becoming unstable with time, you must understand that you will need a revision joint replacement. When the implants are not occupying a proper position or have been dislocated due to some reason, the implants will need to be placed in the right area once again.
So, these are the various reasons because of which revision knee replacement is important. If you read the article carefully you will understand that even though revision replacement has its risks, it is quite beneficial and convenient for the people too carry on with their activities.

MBBS, MS - Orthopaedics, MCh Joint Replacement, Fellowship in Joint Replacement
Your shoulder is one of the most overused joints in the body and thus is at a higher risk of contracting an injury. Shoulder pain may lead to mobility issues where moving your arms may become extremely difficult. The shoulder consists of three parts, viz. the shoulder blade, collarbone and the upper arm bone. Shoulder pain may result from an injury to any of these areas.
The various causes of shoulder pain are:
Impingement: Impingement of the shoulder muscle occurs when the top of the shoulder impinges on the rotator cuff muscles. This condition can lead to severe pain in the shoulder.
Bursitis: Bursa is a fluid filled sac that cushions the bones and help in preventing friction. Bursitis is a disorder that results in inflammation of the bursa, thus resulting in shoulder pain.
Tendinitis: Tendinitis is a condition that is characterized by gradual wear and tear of the tendon. Usually the rotator cuff tendons in the shoulder are affected by this condition.
Instability of the shoulder: Shoulder instability is a disorder of the shoulder wherein the upper arm bone dislocates from its socket. This can cause excessive pain in the shoulder.
Fractures: A fracture in the bones of the shoulder results in excruciating shoulder pain.
Arthritis: Arthritis is a disorder that leads to inflammation in the joints, thus resulting in pain and impaired movement of the joint.
Treatment: The treatment for shoulder pain consists of medications and physiotherapy. You may also be asked to discontinue any strenuous activity that requires shoulder movement. Medications such as NSAIDs are prescribed to help in controlling the pain. Various stretches of the shoulder are also recommended to improve shoulder flexibility and mobility.
Tips: Do exercises such as the overhead press with light weights to improve your shoulder strength. Also make sure to include certain external rotation exercises to strengthen the rotator cuff muscles.
Cervical osteoarthritis is also known as cervical spondylosis. It is a medical condition which involves changes in the joints of neck, bones and discs. This is generally caused due to the deterioration of the muscles owing to old age. With age, the cervical spine breaks down and loses all its fluids.
This leads to stiffness in the spine. It occurs usually in middle-aged and old aged people. This causes stiffness and severe neck pain. Corrective surgery is helpful to cure Cervical Osteoarthritis.
Symptoms of Cervical Osteoarthritis:
Pain and stiffness in the neck.
Headache which usually emerges from the neck.
Severe pain in the arms and shoulder.
Not being able to turn the head or neck fully while driving.
Muscle spasm and abnormal reflexes.
Grinding sensation or noise caused while bending the neck.
Cervical Osteoarthritis can be cured by physiotherapy in the following ways:
Heat modalities - In this method the pain and stiffness is reduced by putting heat on the affected area. This type of therapy is called heat therapy.
Neck exercise - Regular stretching and bending exercises for the neck can reduce pain and stiffness
Manipulating therapy - This form of therapy is used by massage therapists. They massage and manipulate the joints so that the muscles can function smoothly.
Hydrotherapy - This therapy involves exercising in a pool. Hydrotherapy is extremely beneficial for people having severe joint pain and stiffness.
Cervical traction - This is a common non-surgical treatment which cures pain in the neck by opening the cervical foramen (hole or passage).
Electrotherapy - Procedures like UST, IFT, etc give a lot of relief from pain and stiffness.
Physiotherapy is the most natural and safe way of curing cervical osteoarthritis. If you are diagnosed with cervical spondylosis, you should start physiotherapy as soon as possible.

MBBS, Diploma In Orthopaedics, DNB - Orthopedics, Fellowship In Joint Replacement & Arthroscopy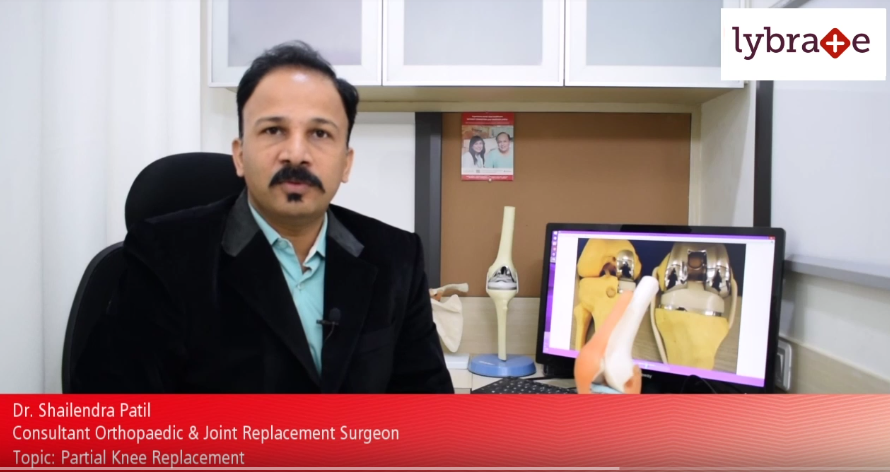 Knee replacement is a surgery wherein an artificial joint is used to replace a diseased, damaged or worn out knee. This surgery is common among people who fall in the age group of 60-80, but recent trends seem to suggest that younger people are opting for this surgery as well. The lifetime of the artificial knee joint is around 20 years, provided the knee is well cared for.
820
people found this helpful
MD, PDCC, MBBS Bachelor of Medicine and Bachelor of Surgery, FPCI
Pain Management Specialist, Delhi
Knee pain is a common phenomenon that plagues most of the people irrespective of their age. It can be the outcome of a torn cartilage or a ruptured ligament. Medical complications, such as infections, gout or arthritis (painful inflammation and stiffness of the joints) can also give way to knee pain.
Minor knee pain can be eased by self-care remedies such as physical therapy or by putting on knee braces. However, few complications might demand surgical repair. Pain can be managed by the pain management specialists.
1. Medications such as naproxen, ibuprofen and acetaminophen can be administered to help remedy knee pain.
2. You can seek relief by massaging your knees with ointments constituting of a number of agents such as capsaicin or lidocaine.
3. Keep away from your usual chores to prevent repetitive strains on the knees, thus, allowing the injury to heal as well as to stay safe from further damage.
4. Applying an ice pack in a towel can ease the inflammation and pain. But do not extend its usage for more than 20 minutes because that might harm the skin and nerves.
5. Compression bandages can inhibit fluid accumulation in the damaged tissues aiding knee alignment stability. Ensure that it is tight enough to render support to your knees without actually obstructing blood circulation.
6. To pacify the swelling, try resting your sore leg on a pillow (the idea here is to keep the affected leg elevated to reduce further pain).
7. Shed off your extra pounds as being overweight increases chances of other disorders such as osteoarthritis problem.
8. Go for regular work outs to enhance and maintain the flexibility of your muscles as excessively weak or abnormally tight muscles can contribute to injuries. Be smart while choosing your method of exercise based on the condition you are suffering from.
Robotic Unicondylar surgery, also known as Partial Knee Replacement surgery, with the assistance of a robotic arm. In this surgery, only one part of the damaged knee is replaced either inside (medial) part, the outside (lateral) part, or the knee cap of the knee.
Surgery to replace the whole knee is known as Total Knee Replacement Surgery.
Description of Robotic Unicondylar Surgery
In this surgery, damaged tissue and the bone of the knee joint are removed. This is done when arthritis is active in only one part of the knee. The areas are exchanged with a man- made implant, called prosthetic. The rest of the knee is preserved. Under this surgery, mostly small incisions are done, hence shorter recovery time.
Anesthesia used before the surgery is as follows:
General Anesthesia: Patient is asleep and pain free during the procedure.

Regional (spinal or epidural) Anesthesia: Patient is numbed below the waist and is also given medicine to relax and make them feel sleepy.
During the surgery, the surgeon makes a cut over the knee about 3 to 5 inches long.
In the knee joint, a small 3D camera and a tiny surgical instrument is placed.
Camera enables the surgeon to see a zoomed in view of the operative area in 360 degrees.
Then after, using the device hand and foot controllers, the surgeon can move the robotic arm slightly, which is attached to the surgical instrument.
Now another surgeon places the operation table in the correct position to verify the alignment of the operative area and the surgical instrument.
Risks Involved in Robotic Unicondylar Surgery:
There are several risks involved while having and after a Robotic Unicondylar Surgery:
Benefits of Robotic Unicondylar Surgery:
There are a number of benefits for Robotic Unicondylar Surgery:
High Accuracy.

A More Natural Knee Motion.

Small Incisions.

Less Pain.

Minimal Blood Loss.

Quick Recovery.

No need to remove Stapes.

All 4 stabilizing ligaments remain intact.
Conclusion:
A Robotic Unicondylar surgery is so minimal that in most cases patients walk within hours of surgery. It is always advisable to consult a doctor before going for surgery.
Erasmus Mundus Master in Adapted Physical Activity, MPT, BPTh/BPT
Knee ligament laxity if you have problem in your legs then it might be due to ligament laxity where your legs would become very weak due to the old ligament injury and that should be treated immediately. Wear knee cap so that you will feel firm while walking or climbing stairs. This is a general strain and for this you can follow these measures: one keep a pillow right under the knee while sleeping, next is you can keep ice in the painful area for about 5--10 minutes, if pain still persists you can stretch your body by twisting the waist on both sides how we used to do in the school drill similarly you can try! one time you can do hot water fermentation that would help to reduce the muscle strain. You have to do knee strengthening exercises, ie. Knee rehabilitation exercises which will strengthen your knee. Exercises will give you permanent cure than the surgery. Physiotherapy management: you can take ultrasonic therapy in one of the nearby physiotherapy clinics which would help to heal the damaged cartilages along with shortwave diathermy which would help to improve the blood circulation. Simple knee exerciesspecific knee exercises will also help ie. Keeping ball underneath the knee and keep pressing it. That's the simple exercise which will help you to strengthen the knees.
View All Feed
Near By Clinics