About
We are dedicated to providing you with the personalized, quality health care that you deserve.
...more
We are dedicated to providing you with the personalized, quality health care that you deserve.
More about Dr. J Brahmaji Rao
Dr. J Brahmaji Rao is known for housing experienced Dentists. Dr. Brahmaji Rao, a well-reputed Dentist, practices in Hyderabad. Visit this medical health centre for Dentists recommended by 81 patients.
Timings
Location
Kamineni Hospital, Dental Department, Hyderabad
Hyderabad,
Andhra Pradesh

Get Directions
Doctor in Dr. J Brahmaji Rao
Services
Submit Feedback
Submit a review for Dr. J Brahmaji Rao
Your feedback matters!
Write a Review
Feed
Nothing posted by this doctor yet. Here are some posts by similar doctors.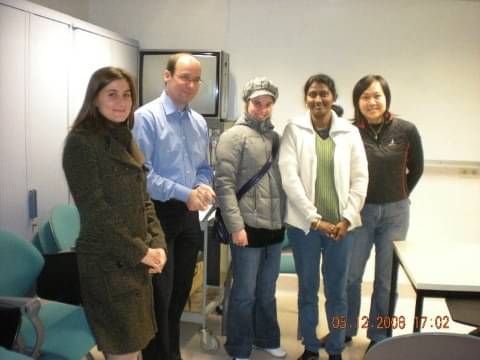 Erasmus Mundus Master in Adapted Physical Activity, MPT, BPTh/BPT
TMJ disorders may cause mild to debilitating symptoms, such as: •pain while chewing •pain in the ear, face, jaw, and neck •clicking, grating, or popping sounds in the jaw when you open or close your mouth •locking of the jaw joint, headaches Exercises for TMJ pain relief 1. Relaxed jaw exercise Rest your tongue gently on the top of your mouth behind your upper front teeth. Allow your teeth to come apart while relaxing your jaw muscles. 2. Goldfish exercises (partial opening) Place your tongue on the roof of your mouth and one finger in front of your ear where your TMJ is located. Put your middle or pointer finger on your chin. Drop your lower jaw halfway and then close. There should be mild resistance but not pain. A variation of this exercise is to place one finger on each TMJ as you drop your lower jaw halfway and closed again. Do this exercise six times in one set. You should do one set six times daily. 3. Goldfish exercises (full opening) Keeping your tongue on the roof of your mouth, place one finger on your TMJ and another finger on your chin. Drop your lower jaw completely and back. For a variation of this exercise, place one finger on each TMJ as you completely drop your lower jaw and back. Do this exercise six times to complete one set. You should complete one set six times daily. 4. Chin tucks With your shoulders back and chest up, pull your chin straight back, creating a "double chin." Hold for three seconds and repeat 10 times. 5. Resisted opening of the mouth Place your thumb under your chin. Open your mouth slowly, pushing gently against your chin for resistance. Hold for three to six seconds, and then close your mouth slowly. 6. Resisted closing of the mouth Squeeze your chin with your index and thumb with one hand. Close your mouth as you place gently pressure on your chin. This will help strengthen your muscles that help you chew. 7. Tongue up With your tongue touching the roof of your mouth, slowly open and close your mouth. 8. Side-to-side jaw movement Put a ¼ inch object, such as stacked tongue depressors, between your front teeth, and slowly move your jaw from side to side. As the exercise becomes easier, increase the thickness of the object between your teeth by stacking them one on top of each other. 9. Forward jaw movement Put a ¼ inch object between your front teeth. Move your bottom jaw forward so your bottom teeth are in front of your top teeth. As the exercise becomes easier, increase the thickness of the object between your teeth. Other ways to manage your TMJ pain Over-the-counter pain relievers such as ibuprofen and acetaminophenmay help relieve TMJ pain. Muscle relaxers may be prescribed for severe pain. Doctors may also recommend: TMJ pain may also be managed with simple lifestyle changes. You may wish to: •eat a soft diet to allow the TMJ to relax •avoid chewing gum •avoid biting your nail •avoid biting your lower lip •practice good posture •limit large jaw movements, such as yawning and singing tips to reduce pain and help make sure your teeth and gums stay healthy: •Use a soft-bristle toothbrush or a sonic toothbrush. •Use a rubber tip stimulator or water flosser if you can't open your mouth to floss. •Add an antiseptic mouth rinse to your daily dental care regimen. •Tell your dental care team if you're in pain during a dental procedure. •Apply ice or heat after a dental procedure. •Talk to your dentist about ways to remove plaque other than flossing. For example, they may suggest wiping your teeth with cotton gauze.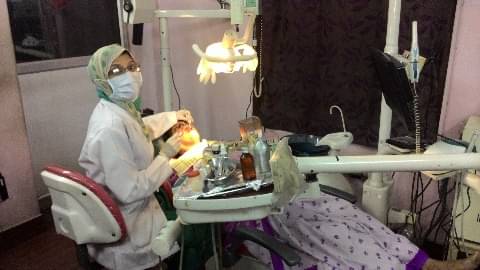 MDS - Oral & Maxillofacial Surgery
Kindly consult a dentist to remove caries and get filling done, for pain take Amoxycillin and imol plus after food. Thank you!
1
person found this helpful
Asked for Male, 42 years old from Dehradun

Almost every person has some degree of bad breath upon waking in the morning (this is called morning breath) and is easily eliminated by brushing the teeth. It is only when bad breath progress after brushing ones teeth that a diagnosis of halitosis can be made. Halitosis is often caused by a mouth or throat infection or in response to a food item in one's diet. The main food culprit is garlic which can often be easily counteracted by eating parsley. Oral health conditions can also cause bad breath and are responsible for the development of halitosis in 85-90% of bad breath sufferers. Severe diets which restrict carbohydrate intake such as ketogenic diets are also responsible for the development of bad breath. Certain anatomical deviations such as corrugations or striations in the tongue do allow for the accumulation and growth of bacteria in the oral cavity. Certain foods Foods such as garlic, onions and spicy foods etc. Cause foul smelling breath after eating them. These foods are absorbed into the bloodstream, transferred into the lungs and become expelled in the air you breathe. Regular eating of such foods is likely to cause halitosis. People who diet are more likely to develop unpleasant breath from infrequent eating. You also get direct expulsion of these gases from your digestive tract. Poor oral health care Without proper and regular brushing, flossing and routine examinations by your dentist, food remains in the mouth causing bacteria to multiply and produce toxic waste which in turn causes breath odor. Food stuck on the teeth, gums, and tongue creates an environment where bacteria can feed and multiply. These bacteria release certain chemicals as a by-product which causes damage and decay of the gums and teeth. The chemicals that are released by the bacteria and the resulting decay in the mouth contribute to the bad breath. Improper cleaning of dentures Dentures that are not cleaned properly may be collecting bacteria and food particles which cause bad breath. Periodontal disease One of the primary symptoms of periodontal gum disease is foul, odorous breath, and an unpleasant taste in the mouth. This condition requires immediate care by an oral health professional. Dry mouth (xerostomia) This condition is often a large contributor to halitosis. It occurs when the flow of saliva decreases. Saliva is required to cleanse the mouth and remove particles that may cause odor. Xerostomia may be caused by certain medications, a salivary gland disorder, or by continuously breathing through the mouth instead of the nose. Tobacco products Not only do tobacco products such as cigarettes, cigars, smokeless tobacco and snuff stain the teeth and put the body at risk for a host of other diseases, they also contribute to bad breath. Tobacco products cause bad breath, stained teeth, reduces one's ability to taste foods and irritates the gum tissue. Tobacco users are more likely to suffer from periodontal disease and are at greater risk for developing oral cancer. Medical condition Bad breath may be an indication or symptom of any of the following conditions. However, each individual may experience different symptoms such as: A respiratory infection Infection of the nose, windpipe, or lungs Chronic bronchitis Post nasal drip Chronic sinusitis Diabetes Gastrointestinal disorders Liver or kidney disorders Severe dieting Dieters may develop unpleasant "fruity" breath from keto-acidosis which is due to the breakdown of chemicals during fasting. Restriction of caloric intake leads to hunger which can lead to a dry mouth. Factors that affect the airways and cause bad breath: Nasal Polyps Foreign bodies Sinusitis Dryness Bronchitis Pneumonia Factors that affect the esophagus and stomach and cause bad breath: Gastritis and food reflux (GERD- gastro-esophageal reflux disease) Stagnation of food FOR MEDICATION CONSULT ONLINE IN PRIVATE.
2
people found this helpful
View All Feed
Near By Clinics