Personal Statement
I'm a caring, skilled professional, dedicated to simplifying what is often a very complicated and confusing area of health care.
...more
I'm a caring, skilled professional, dedicated to simplifying what is often a very complicated and confusing area of health care.
More about Dr. Ashutosh Wahi
Dr. Ashutosh Wahi is a renowned homeopath with 7 years of experience as a homeopathic consultant in Hubli Dharwad in Karnataka. He is an expert in hair treatment, sinus, acne and pimple treatment, osteoarthritis, renal stones, eczema, pack pain, arthritis, gynae issues and diabetes. Before Dr. Ashutosh Wahi started his own practice, he has worked as the homeopathic consultant for a number of big homeopathic clinics such as Dr. Batra's and Positive Homeopathy Private Limited. In his long and illustrious career as a homeopathic consultant, he has handled problems associated with psoriasis, hair loss or alopecia, PCOD, female menstrual problems, diabetes and thyroid. He has completed his BHMS from Rajiv Gandhi University of Health Sciences in Bangalore in 2009. In 2013, Dr. Ashutosh Wahi also completed his MBA in Hospital Administration from Sikkim Manipal Institute of Medical Sciences. From 2010 to 2016, he has worked as a homeopathic doctor at Homeocare Plus. In 2015, Dr. Wahi has been awarded for Excellence in Patient Care and Satisfaction. According to Dr. Wahi, homeopathy is a trusted form of medication as it is proved that this branch of medicine works well in auto immune problems. Moreover, for some patients this is a far better alternative than all those chemicals which are included in common medicines and injections. Homeopathy can also treat some ailments like migraine which are known to have no permanent solutions.
Info
Education
BHMS - Rajiv Gandhi University of Health Sciences - 2009
MBA (Healthcare) - SMU - 2013
Languages spoken
English
Hindi
Kannada
Awards and Recognitions
exellence in patient sercice and satisfaction
Location
Book Clinic Appointment with Dr. Ashutosh Wahi
Consult Online
Text Consult
Send multiple messages/attachments. Get first response within 6 hours.
7 days validity
•
₹300 online
Consult Now
Phone Consult
Schedule for your preferred date/time
15 minutes call duration
•
₹300 online
Consult Now
Video Consult
Schedule for your preferred date/time
15 minutes call duration
•
₹300 online
Consult Now
Health Packages
365 Days validity
•
Medicines included
₹15000
180 Days validity
•
Medicines included
₹8500
180 Days validity
•
Medicines included
₹8500
180 Days validity
•
Medicines included
₹7500
Services
Submit Feedback
Submit a review for Dr. Ashutosh Wahi
Your feedback matters!
Write a Review
Patient Review Highlights
"Very helpful"
13 reviews
"knowledgeable"
9 reviews
"Nurturing"
1 review
"Well-reasoned"
2 reviews
"Caring"
5 reviews
"Inspiring"
2 reviews
"Practical"
4 reviews
"Professional"
3 reviews
Reviews
Shalaka
Apr 3, 2017
I was shocked to experience the symptoms of female hair loss. Dr Ashutosh Wahi is really like god send person. I have consulted so many doctors , but no one was able to solve my female hair loss. My problem was such that it required a number of sessions, and I must say after all the sessions, I am feeling much better now. Thanks to the expert care and guidance, I feel much better than before. With great ease Dr Ashutosh Wahi explained us the problem and how the treatment will be carried out.The overall atmosphere in the HOMEOCARE PLUS is very soothing.
Kanchi
Jun 14, 2017
During the treatment, DR. Ashutosh Wahi supported me a lot. I felt strange that I am suffering from diabetes. The staff was very attentive to my needs. No matter how critical be the situation, he is always very calm. Ashutosh Wahi doesn't just randomly prescribes medicines, but first properly diagnoses the problem. Ashutosh Wahi guidance has helped me immensely and has helped gain confidence. The waiting area in the HOMEOCARE PLUS is very comfortable for elderly patients.
Dwijain
May 27, 2017
I was shocked to experience the prob of pimples. He is very talented and seasoned doctor. It's been so long, I had lost all hope, but then I met Dr Ashutosh Wahi and I am hopeful again that I will be fine. My boss referred me Dr Ashutosh Wahi. The HOMEOCARE PLUS is designed in such a manner that all requirements of patients are taken care of. In the very first sitting, Ashutosh Wahi clearly told us the problem and the what the treatment procedure will be in future.
Amar
Apr 5, 2017
I was having very bad thoughts regarding my erectile dysfunction. He never gets frustrated, even when I ask a number of queries. I thought that post treatment it won't happen again, but then after sometime, the symptoms re appeared. It was an amazing experience as everyone in the HOMEOCARE PLUS is so nice. I am so happy that I chose him for my treatment as now I am perfectly fine. The he gave me has helped me immensely with my situation.
Nehal
May 22, 2017
The problem was severe and unmanageable, as I was suffering from irregular periods, but Dr Ashutosh was able to handle it. I am amazed that he is such a sweet doctor, even though he is so busy all the time. Everything was just spick and span in the HOMEOCARE PLUS. he has expert knowledge in the field. A friend of mine referred to Ashutosh Wahi. I am so much benefitted with his treatment, that i am perfectly fine now.
Janavika
Mar 5, 2017
Dr Ashutosh Wahi is a very practical doctor. Whatever tests he prescribed, were very correct and gave us an exact idea about my condition. The friendliness of staff is the best in the HOMEOCARE PLUS. I was quite depressed due to my condition, but Dr Ashutosh Wahi guided me to change my attitude.Thanks to him I am much better now. He helped me immensly to treat my hairloss.
Bhooma
May 10, 2017
I saw drAshutosh Wahi clinic's advertisement in newspaper and that is how we referred him. He is very professional and is a really patient listener. In order to diagnose my problem of dandruff completely he asked me a number of questions. Due to my Dandruff problem i was feeling very depressed and had no hope. The entire HOMEOCARE PLUS in Hubli was spotlessly, clean.
Ojas
Feb 11, 2017
He is very talented and seasoned doctor. Even though Ashutosh Wahi is not from our city, he is still very famous, so we consulted him. It was an amazing experience as everyone in the HOMEOCARE PLUS is so nice. His treatment suited me the best and now I am fine. On the very first day he identified my problem.i took a gain weight treatment
Narasimha
Oct 9, 2016
I found the answers provided by the Dr. Ashutosh Wahi to be caring. Hello ..sir I'm not marrying right now ,there is five r more years to marry her ,i to know that,I'm just gathering information sir......
Manoj Kumar
Oct 31, 2016
I found the answers provided by the Dr. Ashutosh Wahi to be knowledgeable, very helpful and inspiring. Good improve
Swathi Mohan
Oct 31, 2016
I found the answers provided by the Dr. Ashutosh Wahi to be caring and very helpful. Very useful dr. Thank you
Shah Rahimi
Jan 11, 2017
Dr. Ashutosh Wahi provides answers that are very helpful. Can i used cocunut oil every night? reply me sir
Verified
Aug 1, 2017
dr wahi marvelous his experience appear in way of asking to patient.
Feed
Stress is the physical or emotional response of the body to an internal or external stimulus that upsets the equilibrium of the body. The contemporary lifestyle causes a lot of stress which may have adverse impacts on your health. The stress hormones which are secreted in animals only during starvation, childbirth or torture are secreted in human beings all the time.
Natural remedies like homeopathy can be used to combat stress without harmful side effects. Since stress is responsible for several health problems and homeopathy aims at eliminating the root cause of said disorders, these remedies can cure a lot of stress-related problems too. The common homeopathic medicines used to deal with stress are:
Arsenicum album is beneficial for people who are anxious, fastidious, nervous or excessively critical. It is also used for patients who exhibit tendencies of paranoia, such as arriving hours early for an appointment out of an irrational fear of being late.
Calcarea carbonica is the appropriate remedy for work-related stress or burnout. Often, people feel an intense amount of pressure at their workplaces because they feel they are constantly being watched and evaluated, are afraid of making even minor mistakes or have strict deadlines to meet.
Gelsemium is an immediate solution to anxiety and apprehension caused by an upcoming event such as a performance, an interview or a test. Gelsemium can relieve symptoms like short-term paralysis, increased pulse rate, dizziness, nausea and indigestion.
Argenticum nitrum is useful for nervous fits and impulses caused by suggestibility and extreme mental exertion.
Ignatia amara is used to deal with depression caused by stress factors like humiliation, fear, guilt and loss. People who go into shock can also be treated with ignatia.
Kali phosphoricum can provide relief from exhaustion due to over work or prolonged illness. The patient becomes over-sensitive, anxious and feels unable to cope with stress.
Natrum muriaticum is the treatment for symptoms like insomnia, claustrophobia, frequent headaches and pain around the eyes. It is also used to treat stress caused by isolation and dejection.
Pulsatillais is the remedy for mild or violent mood swings caused by stress. The patient may alternate between over-excitement and depression within a very short period of time.
Sepia is the homeopathic medicine that is used to treat patients of stress who have developed cognitive defects and memory problems.
Quick Stress Management Tips-
1. Avoid Alcohol, Caffeine and Nicotine-
Avoid, or at least reduce your consumption of nicotine and any drinks containing alcohol and caffeine.
2. Indulge in Physical Activity-
Even a 30mins walk can help you reduce your stress for the day.
3. Get More Sleep-
A lack of sleep is a significant cause of stress. So get at least 8hours of sound sleep.
In case you have a concern or query you can always consult an expert & get answers to your questions!
3593
people found this helpful
Rheumatoid arthritis is a disorder of the joints characterized by swelling, inflammation and pain in the joints. This disorder is an autoimmune disorder, wherein the immune cells of the body start to view the tissues of the body as a potential threat.
Homeopathy treats this condition very effectively as it focuses on treating the cause of the disorder. The remedies in homeopathy moderate the overactive immune system and thus help in reducing inflammation in the bones. The homeopathic practitioner starts the diagnosis by enquiring about your medical history, symptoms, working environment and provides treatment accordingly.
Homeopathic medicines that are generally or most commonly indicated to treat rheumatoid arthritis are:
Calcarea carbonica: Arthritis that leads to the formation of nodes in the affected joint, accompanied by symptoms, which aggravate during damp weather, is very effectively remedied by this particular homeopathic medicine.
Arnica: Arnica is a homeopathic remedy that is used to treat symptoms of chronic arthritis where you experience a sore feeling on a regular basis. The symptoms tend to worsen if you touch the affected area.
Bryonia: If you have a throbbing pain in your joints, then Bryonia is recommended. The symptoms tend to worsen in cold weather.
Calcarea fluorica: This remedy is recommended if the pain tends to improve with the application of heat. The symptoms include swelling of the joints and formation of nodes. It is especially used if arthritis develops after an injury.
Kali carbonicum: If the joints are extremely stiff with the pain aggravating during the early morning hours, then this remedy is prescribed. It also helps if the symptoms tend to worsen in damp and cold weather.
Pulsatilla: This remedy is prescribed in cases where the intensity of the pain keeps on fluctuating and also if the pain is not localized. The symptoms tend to worsen in warm conditions and improve in cold conditions.
Rhododendron: Rhododendron is recommended if the symptoms of arthritis tend to flare up and aggravate in cold conditions. Generally the p, in increases during the early morning hours or if you stay stationary for a long time. If you wish to discuss about any specific problem, you can consult a Homeopath.
3477
people found this helpful
Asthma is a condition characterized by wheezing and difficulty in breathing. Asthma is a common disease that affects children, teenagers and adults alike. Depending on what triggers an asthmatic attack, asthma can be categorized as four types. These are:
Allergic asthma: This sort of asthma usually begins in childhood and is caused by the overproduction of immunoglobulins as a reaction to the allergen. This type of asthma can also be passed on from one generation to another through genes.
Infective asthma: This is caused by viral bronchial or upper respiratory tract infections. It is not hereditary.
Emotional asthma: Some cases of asthma can be triggered by psychological factors such as stress, grief or anxiety. However, it is not clear if this is the sole trigger for asthma.
Occupational asthma: Exposure to metallic dusts, biological detergents, polyurethane, etc. can also trigger asthmatic attacks. This type of asthma is called occupational asthma.
A homeopath will not only determine the type of asthma, but will also delve into a detailed medical history of the patient before prescribing medication. Some forms of homeopathic medication that can be used to treat asthma are:
Lpecac: This is used to treat asthma in cases where the difficulty breathing is accompanied by a feeling of heaviness over the chest, dyspnoea, constant coughing with no expectoration and cold perspiration. It is often aggravated by motion.
Arsenicum: Asthmatic attacks that begin in the middle of the night and are accompanied by restlessness and anguish can be treated with arsenicum. This is especially beneficial in cases of chronic asthma in elderly people and habitual dyspnoea.
Nux vomica: This is used mainly to treat asthmatic attacks triggered by gastric troubles or be excessive intake of coffee and alcohol. A constricted feeling around the lower part of the chest is another symptom of this type of asthma.
Kali bichromicum: Asthmatic attacks that wake a patient up in the wee hours of the morning compelling him to sit up, in order to be able to breathe can be treated with Kali bichromicum. A stringy yellow mucus expectoration is another symptom of this type of asthma. It can also be used as an effective form of treatment for asthmatic attacks caused by nervousness.
Natrum sulphuricum: This is used to treat asthmatic attacks caused by a change in weather. In such cases, the asthmatic attack is accompanied by diarrhea and greenish expectoration. It is usually worst in the early mornings. If you wish to discuss about any specific problem, you can consult a homeopath.
3176
people found this helpful
The word pain is quite common to daily life. If we look around we can witness, everyone is suffering from a certain kind of pain. Well, if we are likely to talk about hand and wrist pain, then it is fair enough to say that hand and wrist pain is very common among people. This is because our hands and wrists are the two things that get engaged in most of the works we do. But there are reasons behind those daunting pains.
It can be due to any accident, or it can be due to any illness. The homeopathic medicines are safe and healthy in treating any kind of pain. But it is crucial to know the reason, which is causing the pain. Let us talk about some of the homeopathic medicines, which are generally being prescribed for treating wrist pain depends on the severity and condition.
What are the reasons of wrist pain?
Carpal tunnel syndrome is one of the common types of wrist pain. It occurs due to the delineation of the median nerve, which runs through the wrist joint.
It can be severe or mild injury on the wrist, which can cause wrist pain, or it can be any kind of sprain.
Other than this, any fracture can cause severe pain too.
Apart from these, there are infections like tuberculosis that can also cause wrist pain. Next is the arthritis, which is considered to be very common among the masses. It includes gout, osteoarthritis and rheumatoid arthritis problem. These commonly cause wrist pain. Whatever is the reason for any kind of wrist pain, it needs to get diagnosed. Clinically it is diagnosed by following some tests like X-ray, CT scan, bone scan, MRI, several blood tests, etc. General diagnosis includes various examinations regarding the pain and its history, etc.
Some of the best homeopathy medicines for wrist pain considering homeopathy medicines for wrist pain can be a good decision. As homeopathy is a holistic medication procedure. There are several medicines, which have been prescribed for treatment of wrist pain depending its type and history. The remedy is given on the basis of the diagnosis of the wrist pain. Regaining of complete health and removing the symptoms are possible through homeopathy treatment. Depending upon the cause, sensation, location, modalities and propagation of the pain, there are some therapeutic homeopathic medicines available too.
Here are some specific homeopathic medicines, names given below, which can be considered to be best for wrist pain:
Arnica, Benzoic acid, Rhus Tox, Hypericum, Agaricus, Calcuria Flour, Cilicia, Ruta, Actea Spicata, Medorihhinum, Brynoia, Calcaria carb, Eupatorium Perf, Silicia, Sulphur Symphytum and so on are the usually prescribed medicines for wrist pain. But it is generally advised to take advice of a professional homeopathic doctor in terms of choosing the right medicine and dosage. If you wish to discuss about any specific problem, you can consult a homeopath.
3144
people found this helpful
You are suffering from patterned hair loss which is called as male pattern Baldness. It is a progressive Irreversible Disorder which can only be halted to its present stage. To regrow hair back in bald areas hair transplantation is the only best option in which you can go for FUE method which is the latest and the best. However to save existing hair prevetive treatment is must otherwise it will also be lost. Start treatment immediately to save your hair.
1
person found this helpful
Constipation and the effectiveness of homeopathy in treating it

Constipation is defined as the condition in which the affected person has dry and hard stools with less than three bowel movements every week. In severe conditions, the bowel movements are reduced to one per week
It is one of the most common gastrointestinal problems that people face these days as a result of their unhealthy food habits and sedentary lifestyle. A number of other factors can cause constipation. Some of those are the lack of sufficient fluids and fibers in your diet, physical inactivity, laxative abuse or drinking less water/liquids.

Whatever the root cause of the problem may be, homeopathy is the best solution. Here are prominent reasons why homeopathic medications are the best option when it comes to treating constipation
1. No side effects: Homeopathy uses natural remedies for treating constipation, therefore, the medication is completely non-toxic and free from side effects of all kinds. You can completely rely on homeopathy for the treatment of your condition without being worried about the side effects at all. This virtue of homeopathic medication makes it best to use homeopathy for the treatment of constipation especially in the case of children, pregnant women, and elderly people.

2. Addressing the symptoms: Homeopathic treatment for constipation is based on your individual symptoms so the treatment varies from person to person. This makes homeopathic medications completely symptom based and therefore more effective.

For instance: A medicine called 'Alumina' is prescribed when a patient has to strain hard to be able to expel even soft stool (which is clay like and sticks to the rectum). However, 'Silicea' is recommended when stool recedes back in the rectum, being only partially expelled.

Permanent treatment: Homeopathy deals with the root of the problem and cures the causes and symptoms of constipation in such an effective manner that the treatment is permanent. If you wish to discuss about any specific problem, you can consult a homeopath.
In case of male pattern baldness regrowth is not possible by medicines and by eating healthy diet. It is a Progressive irreversible disorder which only can be halted to its present stage with the help of Homeopathic Medicine and healthy hair diet. If not stopped it can lead to complete baldness of grade 6-7.Start treatment and save your existing hairs.
View All Feed
Near By Doctors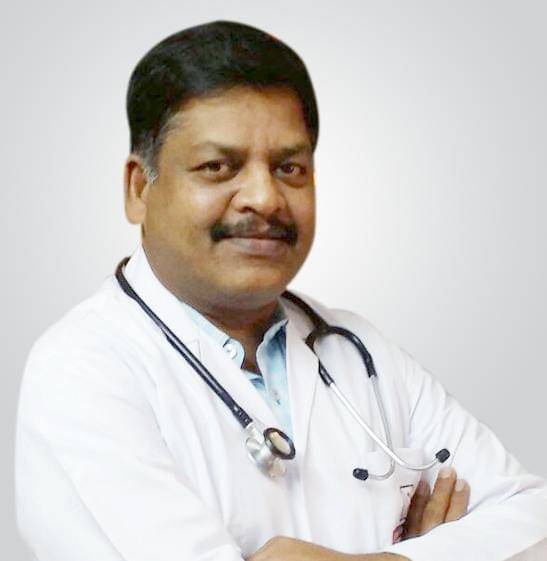 Book Appointment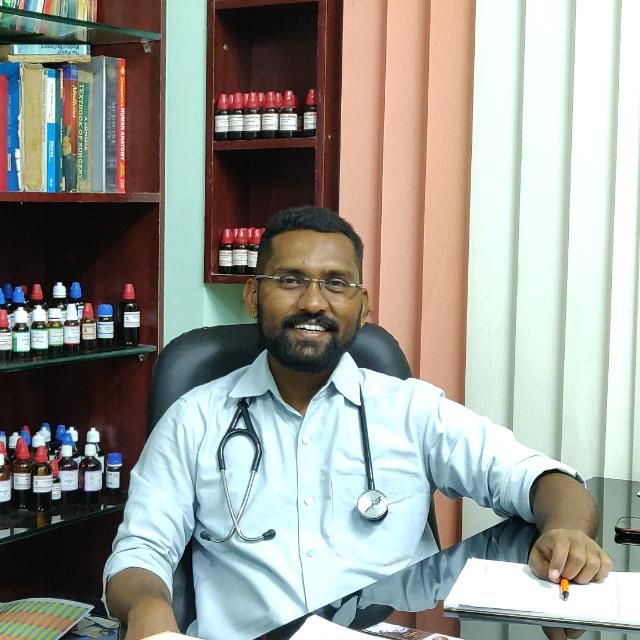 BHMS
Homeopath
Shri Krishna Homeopathic Clinic,
Book Appointment