Personal Statement
My experience is coupled with genuine concern for my patients. All of my staff is dedicated to your comfort and prompt attention as well.
...more
My experience is coupled with genuine concern for my patients. All of my staff is dedicated to your comfort and prompt attention as well.
More about Dr. Nishi Tandon
Dr. Nishi Tandon is an eminent Dentist who is based in Gurgaon, Haryana. With 20 years of experience in the field of Dentistry and Dental Health, she is currently attached to The Oral H medical centre in Gurgaon, Delhi. She completed her schooling from Carmel School in Port Blair and received her Bachelor?s Degree in Dental Surgery from Dr. R. Ahmed Dental College & Hospital in 1996.
Info
Education
BDS - Dr. R. Ahmed Dental College & Hospital - 1996
Languages spoken
English
Hindi
Professional Memberships
Indian Dental Association
MIDA
Location
Book Clinic Appointment with Dr. Nishi Tandon

FF - 19, Ninex City Mart Sector - 49 Sohna Road

,

gurgaon
Get Directions


Consult Online
Text Consult
Send multiple messages/attachments. Get first response within 6 hours.
7 days validity
•
₹200 online
Consult Now
Phone Consult
Schedule for your preferred date/time
5 minutes call duration
•
₹250 online
Consult Now
Video Consult
Schedule for your preferred date/time
5 minutes call duration
•
₹300 online
Consult Now
Services
Submit Feedback
Submit a review for Dr. Nishi Tandon
Your feedback matters!
Write a Review
Patient Review Highlights
"Very helpful"
2 reviews
"knowledgeable"
3 reviews
Feed
Shared 1 year ago • Featured Tip
Getting married is one of the biggest moments in every woman's life and everyone wants to look their best in their wedding photographs. Along with makeup and hairdos, your smile is also important. While all of us wish we were born with the perfect smile, many young brides may feel that their smiles are imperfect. Thankfully, with cosmetic dentistry, every smile can sparkle. Some of the common cosmetic dentistry procedures for young brides are:
Be The Very Best On Your Wedding Day
If you wish to enhance your natural beauty in readiness for your wedding day, why not talk to the specialist about the most suitable treatments for your skin? Simply get in touch to consult.
6068
people found this helpful
Shared 1 year ago • Featured Tip
One of the irritating conditions that can affect the mouth of a person is sores, which can be quite painful. These sores can affect anyone of any age group or gender. Sores may make it difficult for a person to eat, speak or even swallow. Here are a few ways through which you can get rid of mouth sores quickly or at least alleviate the symptoms to lessen the pain:

1. Topical products - There are various types of creams and lotions which are available in the market as over the counter drugs for treating or at least lessening the symptoms of mouth sores. Some of the common chemicals used to treat the sores are Fluocinonide, Benzocaine and Hydrogen peroxide.

2. Food and nutritional supplements - In many cases the sores are caused within the body due to deficiency of nutrients such as Zinc, Vitamin B12 or B6 and the doctor may prescribe special medications to supplement the need for those within the body.

3. Rinses - Certain special types of oral rinses are prescribed by the doctors when treating mouth sores. Most of the rinses prescribed by the doctors have a steroid, namely dexamethasone, which proves to be effective in the treatment of mouth sores.

4. Cauterizing or destroying sores -
In certain cases where topical or oral treatments haven't worked it may be necessary to correct it by cauterizing or using a special device to burn and destroy the sore so that new tissues can grow in its place.
5. Oral medications -
Certain oral medications may be prescribed for sores which are caused due to underlying physical conditions such as ulcers.
6. Avoiding spicy food -
Spicy foods are also a leading cause for canker sores as it may cause chemical imbalances within the stomach as well as inside the mouth and hence should be avoided as much as possible.
7. Improving general oral hygiene -
Regular brushing, flossing, and proper oral care will definitely reduce the chances of getting oral sores. If you wish to discuss about any specific problem, you can consult a
Dentist
.
6081
people found this helpful
Shared 1 year ago • Featured Tip
A root canal is a treatment to repair and save a badly damaged or infected tooth. The procedure involves removing the damaged area of the tooth (the pulp), cleaning and disinfecting it and then filling and sealing it. The common causes affecting the pulp are a cracked tooth, a deep cavity, repeated dental treatment to the tooth or trauma. The term "root canal" comes from cleaning of the canals inside the tooth's root.
Millions of teeth are treated and saved each year with root canal, or endodontic, treatment. Learn more about root canal treatment and how it can relieve your tooth pain and save your smile.
The Procedure-
A root canal procedure begins with an X-ray to determine the shape of the root canals and whether the infection has spread to the adjoining bone.

Local anesthesia is then administered to numb the affected area.

A rubber sheet is then placed around the tooth to keep the area and prevent it from the saliva.

A hole is then drilled in the affected tooth, following which the decayed pulp and nerve tissues are removed.

The removal is done by using root canal files which are inserted into the hole and then used to scrape and scrub the insides of the tooth.

After the scraping, water is used to clean and flush out the debris.

The sealing process involves filling the inner portion of the teeth by a rubber based compound and a sealer paste.
Modern endodontic treatment is very similar to having a routine filling and usually can be completed in one or two appointments, depending on the condition of your tooth and your personal circumstances. You can expect a comfortable experience during and after your appointment.
Saving the natural tooth with root canal treatment has many advantages:

Efficient chewing

Normal biting force and sensation

Natural appearance

Protects other teeth from excessive wear or strain
Post-obturation:
Once the surgery is done, the tooth may become sensitive due to inflammation of the tissues for the first few days.

It is advised to avoid any chewing by the affected teeth as it can slow down the repair process. You can brush and floss your teeth regularly.

If you wish to discuss about any specific problem, you can consult a dentist.
5855
people found this helpful
Shared 1 year ago • Featured Tip
Occasional teeth clenching is fairly common disorder among adults and children throughout the world. But if the teeth grinding occurs repeatedly, it can cause significant damage to your teeth or gums (with chances of potential tooth loss) and overall dental hygiene. Furthermore, recurrent episodes of bruxism might cause other serious complications such as severe headaches, facial pain or disorders in the temporomandibular joints (located in the forepart of the ear).
According to recent studies, 15-33% of children tend to grind their teeth while they develop their first few pairs and generally stop with the gradual development of adult teeth. In adults, this disorder might occur as an involuntary response, completely unbeknownst to the concerned individual.
Causes-
The most likely causes of bruxism are as follows:
According to the doctors, in 70% of the adults, repressed stress or anxiety might result in teeth grinding while you are sleeping.

Bruxism might also occur as a result of excessive consumption of alcohol, caffeine, sleeping pills, tobacco, and selected anti-depressants.

Bruxism might also occur due to depression and the sheer competitive nature in certain individuals.

Bruxism might also occur due to a serious disorder such as Parkinson 's disease.

Bruxism might also occur as an axillary of other sleep related disorders such as excessive snoring, sleep apnoea, etc.

If you have an irregular structural alignment among the upper and lower sets of teeth, Bruxism is more likely to occur.

In children, Bruxism might occur as a response from to pain in the ear or tooth.
Treatments-
The following treatments can be implemented to treat permanent instances of bruxism:
If it is caused by severe stress and anxiety, stress management therapies can be very useful to prevent Bruxism.

If you have a habit of grinding your teeth while you are asleep, you can consult your doctor to provide you with mouth guards.

Regulated consumption of alcohol, tobacco might help prevent Bruxism if it is caused by a side effect of either one of them. Likewise, if the disorder occurs due to a side effect of antidepressants or any other psychiatric medications, you must consult your doctor to change the particular medication.

You can also opt for Dental correction procedures like night guard if the reason of the disorder is the misalignment of the upper and lower teeth or other related dental complications. A custom fit night guard will not only safeguard your comfort, but improve the quality of your smile as well.

Although medications are not common, muscle relaxants (for a certain period of time) or Botox injections are prescribed by doctors when the patient does not respond to other forms of treatments. If you wish to discuss about any specific problem, you can consult a dentist.
6354
people found this helpful
Shared 1 year ago • Featured Tip
A thin layer of material placed over a tooth to protect its surface or improves its appearance is known as veneer. Dental veneers are a popular treatment for transforming your smile's overall appearance. Placement of dental veneers can dramatically improve your smile and appearance. Most people believe that veneers are a single treatment when there are actually many types of veneer you can avail.
Types-
Some common types of veneers include—
Composite Veneers: Composite veneers are more commonly done. These are adjusted and sculpted during the dentist appointment. Cracked or chipped tooth, small cosmetic problems are usually fixed with composite veneers.

Porcelain Veneers: Porcelain veneers are expensive, but the effect they have on your smile is worth every penny. Porcelain veneer treatment involves multiple trips to the dentist's office. They are stain-resistant and are more durable than other veneers.
Types of Dental Problems That Veneers Fix-
Veneers are routinely used to fix:
Teeth that are discolored -- either because of root canal treatment; stains from tetracycline or other drugs, excessive fluoride or other causes; or the presence of large resin fillings that have discolored the tooth
Teeth that are worn down
Teeth that are chipped or broken
Teeth that are misaligned, uneven, or irregularly shaped (for example, have craters or bulges in them)
Teeth with gaps between them (to close the space between these teeth)
Advantages-
The advantages of veneers are as follows:
They give a natural appearance to your teeth.

The tissues of the gum can tolerate porcelain well.

Porcelain veneers are resistant to stains.

The porcelain colour can be chosen to make dark teeth appear whiter.

Veneers offer a traditional approach in transforming the shape and colour of a tooth; they don't normally require the intensive shaping before the procedure, like dental crowns do.

Veneers offer an aesthetic dental substitute.
5650
people found this helpful
Shared 2 years ago • Featured Tip
Malocclusion refers to the general arrangement of teeth and the manner in which the lower and upper sets of teeth fit. In optimal conditions, the upper set of teeth should fit slightly over the lower set of teeth. Malocclusion is a condition wherein the teeth are improperly aligned. Often, malocclusion tends to be a hereditary condition. The symptoms that indicate the occurrence of malocclusion include:
Abnormal teeth alignment.

Irregular facial appearance.

Discomfort or difficulty during chewing or biting.

Mouth breathing (breathing using the mouth instead of the nose).
Malocclusion and Oral Health-
Malocclusion, also known as bad bite, is capable of affecting your overall oral health. This is because crowded and crooked teeth tend to hinder the proper cleaning of the mouth. This leads to tooth decay, gum diseases and even tooth loss.

Malocclusion has a negative impact on the maintenance of oral health. Studies showed individuals without malocclusion were able to maintain a better oral hygiene in comparison to those with the condition.

The improper alignment of teeth makes it rather difficult for the brush to reach in certain parts of the teeth thereby failing to remove bacteria and germs from particular areas for an extended period of time. This results in bad breath.

It also makes flossing difficult and it creates hindrance in the way of maintaining proper oral hygiene.

The improper adjustment of teeth leads to gum decay owing to the faulty cleaning. It promotes the growth of harmful bacteria that leads to weakening of tooth and gums.

Owing to the misalignment of teeth, chewing becomes difficult. This often goes to hamper and mar the way one speaks as well. Malocclusion also results in wearing off of the tooth enamel. This the teeth to appear yellow due to the inability of the brush to reach every place. If you wish to discuss about any specific problem, you can consult a dentist and ask a free question.
5620
people found this helpful
Shared 2 years ago • Featured Tip
Getting braces is the best thing you can do for your teeth. Yes, the process is painful. And maintenance of braces can get too much, but it is not undoable!
When you have braces on teeth, those teeth need extra attention to protect them from decay, staining and gum disease. You should also take precautions to avoid damaging the braces. For example, activities to avoid include eating chewy or sticky sweets, eating hard or crunchy foods, biting your lip, breathing excessively through your mouth and pushing your tongue against your teeth,
So if you got braces for the first time, here are some helpful tips you can swear by. Read on.
Listen to your orthodontist: This is kind of obvious, but seriously, listen to what your orthodontists says. You may wonder if you really need to do this or that, but not paying attention to your doctor's advice can actually prolong your treatment, and extend the time you need to keep your braces on.

Brush every time you eat: Although brushing twice a day is the standard oral care recommendation, when you wear braces, you should brush after every time you eat — even after that mid-afternoon vending machine snack or some late-night munchies. That's because food particles easily become trapped in the braces, and the longer those particles stay trapped, the greater risk you have of developing dental problems. Use a soft toothbrush with round bristles, or an electric toothbrush if you prefer.

Rubber Bands: If you have been asked to use rubber bands, it is always recommended to carry rubber bands with you all the time, so if one breaks it can be replaced promptly. Rubber bands wear down and lose their elasticity, so they should be replaced often, definitely after every meal. Wearing the rubber bands all the time will keep the treatment progressing at an optimum pace.

Use your back teeth to chew: Don't bite into that burger with your front teeth like you are accustomed to doing. This actually gets the food to stick on to your braces. So eat food that you can cut into bite size pieces and chew easily with your back teeth.

Drink plenty of water: Skip that soda, which will only erode your teeth, and drink water after meals. This not only keeps you healthy, but with water, you can swish it around your mouth to rinse out any big chunks of food.

Stay away from crunchy food: Crunchy foods are dangerous, not only do they get stuck in your braces, they also can get quite painful to remove. Plus, crunchy foods can be bad news for the shiny braces you just got for yourself.

Speak up: If during an appointment you have any query, no matter how silly, ask your orthodontist. Your doctor is there to help and guide you, so don't shy away from asking questions and discussing your problems. Or if some part of the brace is hurting mildly, get it checked at once. Air your troubles, that is what your doctor is here for.
After The Braces Are Off-
Whitening products, including whitening toothpaste and mouthwash, should not be used until after braces are removed. After braces come off, some discoloration of the teeth will likely be present, so this is a good time for a child to use whitening strips.
5050
people found this helpful
Asked for Male, 16 years old from Bhilai
Vitamin B complex deficiency may be the reason ..start taking Vit B complex and continue for 3 months
1
person found this helpful
View All Feed
Near By Doctors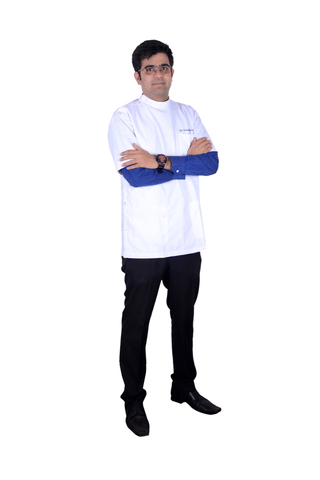 BDS, MDS, Diploma In Oral Implantology
Dentist
Book Appointment