Personal Statement
I am committed to work with sacrosanct dedication toward my patients with complete ethics, empathy and soft-skills, upholding the piousness of dental profession and ensuring a transparent...
...more
I am committed to work with sacrosanct dedication toward my patients with complete ethics, empathy and soft-skills, upholding the piousness of dental profession and ensuring a transparent, unbiased and rational treatment approach.
More about Dr. (Major) Varun Nischal
I am an Ex-Army Dental Corps (Indian Army) Officer with versatile and explicit clinical and administrative experience of almost 10 years. I have had the opportunity to work at various government and corporate dental organizations during my long career in the dental sphere and have catered to almost 30,000 patients during all these years. My foundations lay strong on the principles of ethics, benevolence and empathy and I uphold the dental interests of my umpteen patients in high esteem. Being an unfettered, maverick dental surgeon, I am continuing to carve those giggles and flamboyant smiles with all my zeal and clinical finesse.
Info
Education
BDS (Gold Medalist) - SDM College of Dental Sciences & Hospital, Dharwad - 2007
Languages spoken
English
Hindi
Punjabi
Awards and Recognitions
Gold Medalist (Oral & Maxillofacial Surgery) -
Professional Memberships
Indian Dental Association
Location
Book Clinic Appointment with Dr. (Major) Varun Nischal

920, HUDA Community Market, Sector-31

,

Gurgaon
Get Directions




+2


Consult Online
Text Consult
Send multiple messages/attachments. Get first response within 6 hours.
7 days validity
•
₹200 online
Consult Now
Phone Consult
Schedule for your preferred date/time
15 minutes call duration
•
₹300 online
Consult Now
Video Consult
Schedule for your preferred date/time
15 minutes call duration
•
₹400 online
Consult Now
Services
Submit Feedback
Submit a review for Dr. (Major) Varun Nischal
Your feedback matters!
Write a Review
Patient Review Highlights
"Very helpful"
18 reviews
"Well-reasoned"
10 reviews
"Sensible"
7 reviews
"knowledgeable"
10 reviews
"Practical"
4 reviews
"Nurturing"
4 reviews
"Thorough"
4 reviews
"Professional"
3 reviews
"Inspiring"
4 reviews
"Caring"
4 reviews
"Helped me impr..."
2 reviews
"Prompt"
1 review
Reviews
Bisaj
Jun 3, 2017
Overnite my dental pain aggravated.I am so much benefitted with Aesthetic Crown And Bridges treatment, that i am perfectly fine now.Everything was just spick and span in the Dental Realm.in gurgaon.Even though my treatment wasnt very big, the entire experience of undergoing a treatment was very relaxing.It had all the amenities, a patient requires.I am amazed that he is such a sweet doctor, even though he is so busy all the time. he with great ease handled my wife's serious case with ease.
Adarsh
Apr 19, 2017
I took dental caries from Dr.(Major) Varun Nischal. He has a very positive attitude towards all the patients. I searched ther(Major) Varun Nischal online and saw herreviews. The atmosphere in the Dental Realm. is always so positive and full of life. I was quite depressed due to my condition, but my (Major) Varun Nischal guided me to change my attitude. I am so thankful that (Major) Varun Nischal has given me the best advice and I am now finally able to get back to my normal self.
Nitika
Jan 22, 2018
I recently visited Dental Realm clinic yet again for my teeth whitening as I had heard about the doctors there using Laser to whiten the teeth. As expected, the laser whitening made my teeth look 3 shades whiter than they were before. I felt quite enchanted with the treatment done to me. I'd like to recommend their laser teeth whitening treatment to all those people who are looking for a brighter smile in no time. Thanks Dr. Seerat & Dr. Varun :)
Kaushalya
Jan 16, 2017
They took very nice care of me, i never felt that I am in a Dental Realm.. He is so nice that they even at odd hours one can call him in case of emergency. Whatever tests the (Major) Varun Nischal prescribed, were very correct and the gave they gave us an exact idea about my condition. His advice and counselling has helped me immensely. The waiting area in the Dental Realm. is very comfortable for elderly patients. he did my gap closing.
Sahodar
May 1, 2017
One of my friends referred Dr Varun Nischal. I wanted to get my teeths fixed so i was looking for a known dentist. I met Dr Varun Nischal. He has in depth knowledge and ensures that he explains the problem in detail. He suggested me for Crown and bridge fixing, I followed hersuggestions and I am glad that I visited him.
Pranav
Dec 21, 2017
I had been experiencing repeated episodes of wisdom tooth pain for almost 2 months which I had been trying to curb using medicines. I came in touch with Dr. Varun after a friend recommended me to visit the clinic. I was very impressed by the information that the doctors at Dental Realm shared tegar
Deetya
Jun 23, 2017
Finally with hertreatment, I am completely cured from the problem. It's been more than a year now, and I have noticed considerable change in myself. It's been so long, I have lost all hope, but then I met (Major) Varun Nischal and I am hopeful again that I will be fine. I went to the Dental Realm.
Anamitra
Jun 18, 2017
The Dental Realm. was equipped with various facilities. He is so pleasant to talk to and always ready to answer your doubts. It's been more than a year that I had my Cosmetic makeover done. (I am completely satisfied with the treatment and I am glad that I visited herclinic
Binod Singh
Dec 20, 2017
Drs. Varun and Seerat were quite helpful in their gesture towards me and marvellously made a flexible removable denture for me. I sincerely appreciate their behaviour and guidance and wish them all the best in every treatment that they provide their patients with.
Binod Singh
Jul 1, 2017
Dr. Varun is quite proficient at his work and gently removed my aching wisdom tooth without any discomfort. I was anticipating pain, but to my delight, the procedure was carried out absolutely painlessly. Thanks Dr. Varun for taking utmost care of your patients.
Nirbhay
Jul 12, 2017
He is very patient with all his patients. He did my whitening treatment. They took very nice care of me, i never felt that I am in a Dental Realm clinic . Dr Nischal guidance has helped me immensely and has helped gain confidence.
Nitika
Nov 28, 2017
Drs. Varun and Seerat are highly expert doctors in their field and helped me with my wisdom tooth issue. The painful wisdom tooth was gently removed by Dr. Varun at an economic price and full care. Highly appreciable.
Saman
May 9, 2017
Dr Varun Nischal is very professional and is a really patient listener. In the past i consulted so many doctors, but it was not usefull. The filling treatment given by Dr Varun Nischal was quite beneficial.
Dehabhuj
May 21, 2017
Thanks to Dr Varun for the teeth whitening treatment. He has a broad knowledge in the field of dentistry. He is a very practical doctor. I am quite impresseed with the way he treated me.
Subodh Sharma
Jul 16, 2017
Dr Varun is an excellent dentist. Went for my son's braces. He handled the treatment very efficiently. My son treat him as his friend. The results are visible in just 3-4 months.
Abhinav
Jul 29, 2017
Dr. (Major) Varun Nischal provides answers that are very helpful, knowledgeable, thorough, well-reasoned and caring. Awesome response
Prabha
May 19, 2017
Perfect treatment done for my broken crown by the gentle and polite doctors at Dental Realm. Highly recommended.
Gaurav
Aug 23, 2016
I found the answers provided by the Dr. (Maj) Varun Nischal to be well-reasoned and sensible. Brilliant Doctor
Varun Kumar
Jul 14, 2017
Excellent. Both Mr. & Mrs. Nischal are very cooperating and friendly doctors. I will recommend to all.
User
Aug 25, 2018
Really a very place.Dr. Kunal is very Experienced and of goor behaviour.Very Familiar with their patient.
Rajan
May 16, 2017
He is a very experienced ,expert Doctor dedicated for profession
Ishan Vij
May 15, 2017
Very friendly and at decent rates. Very professional.
Feed
Shared 8 months ago • Featured Tip
Today, the average size soft drink is 20 ounces and contains 17 teaspoons of sugar. More startling is that some citric acids found in fruit drinks are more erosive than hydrochloric or sulfuric acid—which is also known as battery acid. These refined sugars and acids found in soda and citrus juice promote tooth erosion, which wears away the hard part of the teeth, or the enamel. Once tooth enamel is lost, it's gone forever.
There is a beverage that does not produce such irreversible results. When deciding between the many options available, the best thing to drink to avoid tooth erosion is brewed tea, according to a study in the peer-reviewed journal of the Academy of General Dentistry (AGD).
Apart from tasting good, brewed tea has many health benefits. Tea is loaded with natural antioxidants, which are thought to decrease incidence of cancer, cardiovascular disease, and diabetes.
One researcher compared green and black tea to soda and orange juice in terms of their short- and long-term erosive effect on human teeth. The study found that the erosive effect of tea was similar to that of water, which has no erosive effect. And, when comparing green versus black, he discovered that there is a better option among those as well.
When we look at tea and read about the benefits, it's amazing—not because green tea is 'the in thing'—but because there are advantages. Green tea has been identified to being superior over black due to its natural flavonoids (plant nutrients) and antioxidants.
But, if you do drink tea, experts suggest avoiding additives such as milk, lemon, or sugar because they combine with tea's natural flavonoids and decrease the benefits. In addition, stay away from prepackaged iced teas because they contain citric acid and high amounts of sugars. It does not matter whether the tea is warm or cold—as long as it is home brewed without additives.
1
person found this helpful
Shared 8 months ago • Featured Tip
It's no secret there exists a strong link between soda consumption and tooth decay. Heavy soda consumption has also been linked to other health complications including diabetes, obesity and osteoporosis.
During the past generation, milk intakes have decreased while soda pop and 100 percent juice intakes have increased. It has become a daily habit for a growing number of people, especially kids, teens and young adults. A steady consumption of soft drinks is one of the leading causes of tooth decay.

However, measures can be taken to prevent and reduce tooth decay. The conclusions of a recent study support contemporary daily dietary guidelines for children that include:
Consuming two or more servings of dairy foods
Limiting the intake of 100 percent juice to four to six ounces
Restricting other sugared beverages to occasional use
This doesn't mean a person should never drink soda. In fact, drinking it in moderation may represent no harm at all. However, substituting sugary, acidic carbonated beverages for water or intake of caloric food could be problematic in the long run.
How soda attacks your teeth
The "Sip All Day, Get Decay" slogan isn't just meant to be a catchy tagline – it's literally the truth!
Sugar in soda combines with bacteria in your mouth to form acid, which attacks the teeth. Diet or "sugar-free" soda contains its own acid, which also can damage teeth. Each attack lasts about 20 minutes and starts over with every sip of soda you take.
These ongoing acid attacks weaken tooth enamel. Kids and teens are most susceptible to tooth decay because their tooth enamel is not fully developed.
You can avoid tooth decay and other health problems that arise from drinking too many soft drinks, other carbonated beverages, sports drinks, iced and sweet teas and other sweetened liquids (like fruit juices). Limiting your intake, brushing and flossing twice a day and visiting your dentist regularly will reduce your risk of tooth decay improve and/or maintain your oral health.
Stay hydrated the right way
Staying properly hydrated is critical to overall health – and some beverages are better suited for this than others. Most soft drinks contain sugar and caffeine which can actually SPEED UP dehydration.
While drinking sports drinks may keep your body hydrated, the ones with sugar also can unfortunately cause cavities. In addition, non-cola sodas, lemonade and sports drinks can cause significant damage to your teeth enamel, which can lead to tooth decay.
Did you know lack of water is the number one trigger for daytime fatigue? So next time you feel tired at work or school, don't reach for a caffeinated beverage, drink water. It's good for your body and won't damage your teeth like soda and other caffeinated beverages.
DO:
Drink soda in moderation (no more than one 12 oz can a day)
Use a straw to keep the sugar away from your teeth
Swish your mouth out with water after drinking to dilute the acid and sugar if brushing your teeth is not possible.
Drink plenty of water (8 glasses a day)
DON'T:
Sip for extended periods of time
Drink soda shortly before bedtime
Brush after meals – wait at least an hour after your last drink or meal before brushing
Substitute soft drinks, sports drinks or fruit juice for a meal.
Other tips for maintaining a healthy smile:
Chew sugarless gum
Visit your dentist regularly
Brush and floss daily
Drink fluoridated water and use a fluoride toothpaste
Read the labels for sugar content
2
people found this helpful
Asked for Male, 22 years old from Delhi
Restricted mouth opening after prolonged gutkha use is an early sign of Oral Cancer. If the habit continues and the condition aggravates, a surgical intervention is required. There are no 'magic tablets' available in the market to open the mouth. You must get yourself examined by an Oral and Maxillofacial Surgeon (specialized dentist) at the earliest and quit the habit right away. The surgeon would be able to suggest you certain medicines that you need to regularly take in order to improve the mouth opening. Some local injections (enzymatic) might be required as well to hasten up the mouth opening process. The good news is that if you immediately vow to STOP THE HABIT, the damage already done, will start to be repaired by your body. Take a sane decision and live longer and happily!
1
person found this helpful
Get scaling and polishing (teeth cleaning) done by a dentist (to cure the problem from its root!). The scaliness on your teeth might also call for some esthetic treatment options (like veneers, laminates or plain composites!). Home remedies of whitening teeth include applying a mixture of baking soda and crushed strawberries to your tooth surfaces for a few minutes and then properly rinsing your mouth with water. Can be done once a day for a couple of days till you achieve your desired results.
1
person found this helpful
Shared 8 months ago • Featured Tip
If flowers wilted every time you opened your mouth, the way it happens in cartoons, bad breath would be easy to detect. Unfortunately, real life isn't that simple. So how do you know if what's coming out of your mouth is more dragon than delightful?
How to check your breath:
The easiest way to get a status update on your breath is to ask. Your friends and family are your best allies for conquering a breath problem: if you've got one, they've probably noticed. If you're too embarrassed to ask or they're too polite to tell, then watch body language. If people turn away when you're speaking, your mouth may be emitting more than mere words. Another sign your breath may be less than minty fresh is if you have a bad or stale taste in your mouth. Chances are good that if you're noticing it, that mouth isn't kissable.
A little morning unpleasantness in the mouth is normal, that's why we call it "morning breath" but it can usually be whisked away with brushing. If you've got morning breath that lasts all day, that's another sign you may have a problem. And finally, if you're looking for a quick and easy way to do your own breath check, lick the inside of your wrist and give it a sniff: you'll get an instant reading on the state of your breath.
What to do about bad breath:
If you do discover that your breath is less than fragrant, don't despair! Though it can be an embarrassing problem, it's not impossible to fix. You have to treat bad breath as if it's an infection. Most people think it's just an oral hygiene problem, so they scrub and scrub and scrub. Bad breath is actually caused by bacteria in the mouth that thrive in dark, moist conditions and multiply more quickly than you can banish them. So although brushing helps dislodge some of those bacteria, it doesn't really solve the problem. In fact, a nasty-smelling mouth could be an indicator of a more serious health problem. If somebody's breath smells bad, it can give you a hint toward what's going on deeper down.
Keep your whole body in mind:
It's highly recommended to have a holistic or "whole-body approach" toward looking at halitosis (bad breath) problems. Eating a healthy diet rich in fruit and vegetables, for example, is an important place to start. Also look at your digestion: if your body isn't processing food well you could be emitting a 'rotten food smell.' Take a teaspoon of apple cider vinegar before a meal to help.
Sometimes bad breath is merely a result of eating fragrant foods, like onions or garlic. Rather than banishing them from your diet, add a bit of parsley, mint or other fresh herbs to your diet. That's the whole idea behind putting the garnish on your plate. You can eat it at the end of your meal. Not eating at all can be another source of bad breath, as can a dry mouth (a bacterial playground!). Make sure you eat regularly and drink lots of water through the day, or try chewing sugar-free gum to increase saliva production.
Take care of your health:
Good oral health care is still fundamental to banishing a breath problem. Brushing and flossing are the most effective ways to keep bacteria at bay, especially between the teeth, where they like to hang out and multiply. Scraping your tongue with a brush or tongue scraper is another good way to squeeze out bacteria. Mouthwashes are effective as long as they aren't overused, and watch out for the high alcohol content: it will dry out your mouth and may ultimately make the problem worse.
1
person found this helpful
Shared 8 months ago • Featured Tip
Dental pain is an especially difficult situation to handle on your own. True dental pain usually doesn't respond to common over the counter pain control options. Let's go over the different types of dental pain, what you can expect with each, and what you can do temporarily in each case.
Toothache (Severe Constant Throbbing, Hot and Cold Sensitivity)
Dentists call this type of toothache "irreversible pulpitis". The nerve of the tooth has been traumatized and is in the process of dying. While this lasts you'll have severe throbbing pain as well as pain from hot and cold. Many times the pain is enough to wake you up at night. I've had many patients tell me that it is worse than giving birth or having kidney stones. There are very few things you can do to help with this type of pain because of it's severity. 800 mg of Ibuprofen every 6 hours will sometimes take the edge off. Anesthetic gels or crushed aspirin tablet around the tooth will be ineffective. The only solutions to this problem are to wait for it to go away, have the tooth extracted, or have a root canal. If you decide to wait it out, you should realize that the tooth will likely become infected at some point in the future.
Toothache (Severe constant pain especially if any pressure is placed on the tooth, No hot and cold sensitivity)
Once the nerve of the tooth has died, the area inside the tooth becomes infected. This infection will often spread out of the tooth and into the bone around the tooth. This is known as a dental abscess. You won't have any sensitivity to temperature in this case but you can still have severe throbbing pain and pain when you bite or anything touches the tooth. You can use 800 mg of Ibuprofen every 6 hours to take the edge off. Again any anesthetic gel or similar preparation around the tooth will not help. Antibiotics will help in this case to reduce the infection and relieve some of the pain temporarily. The pain will come back at some point in the future. The only permanent options for treatment are to take the tooth out or do a root canal.
Toothache (Pain only when biting)
If you have pain on biting after having fillings done, your bite is usually a little bit high (called a 'high-point') and needs to be adjusted by the dentist. Avoid biting on that area as best you can until you can get it adjusted. If you haven't had any dental work done recently, this can be the result of a crack developing in the tooth. The best thing to do is avoid chewing on the tooth until you can see the dentist. Most of these teeth end up needing a crown and occasionally need a root canal if the crack goes into the nerve.
Ulcers in your mouth can mimic the pain from the a toothache. These can develop all on their own or sometimes they are the result of biting your lip or cheek. If you see a roundish white area surrounded by a bright red halo, you likely have an ulcer. Any over-the-couter available anesthetic gel (e.g. Mucopain, Hexigel, Soregel) placed on the ulcer will help numb it and reduce the pain. Most of these will heal on their own within a week.
Sinus Pain
Sinus pain is another one of those situations that can mimic a toothache. The roots of your top molars literally sit right next to your sinuses and any type of sinus pressure from a cold, etc can cause your teeth to ache. You'll usually feel a minor to moderate constant ache in those areas. One of the best tests of this is to bend your head and upper body down towards your feet and then straighten up suddenly. If this causes additional pain it is usually sinus related. Decongestants like Otrivin will help relieve some of this pain.
TMJ Pain
Lastly, many people develop TMJ pain. The Temporomandibular Joint (TMJ) is the joint that connects your jaw to your skull. When this joint is injured or damaged, it can lead to a localized pain disorder called Temporomandibular Joint (TMJ) syndrome. Temporomandibular Joint (TMJ) syndrome often responds to home remedies, including ice packs to the joint, over-the-counter nonsteroidal anti-inflammatory drugs (NSAIDs), massage or gentle stretches of the jaw and neck, and stress reduction. The prognosis for TMJ syndrome is generally good as the disorder can usually be managed with self-care and home remedies. If it doesn't respond to any medication, you must see your Dentist for further care.
2
people found this helpful
View All Feed
Near By Doctors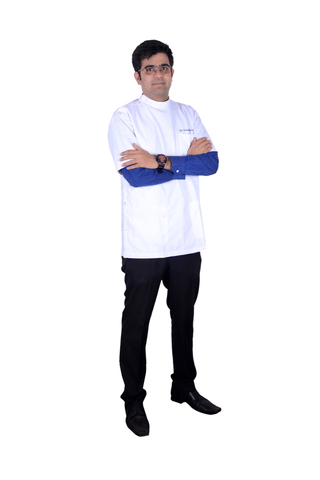 BDS, MDS, Diploma In Oral Implantology
Dentist
Book Appointment