About
Our goal is to provide a compassionate professional environment to make your experience comfortable. Our staff is friendly, knowledgable and very helpful in addressing your health and fin...
...more
Our goal is to provide a compassionate professional environment to make your experience comfortable. Our staff is friendly, knowledgable and very helpful in addressing your health and financial concerns.
More about Guri Skin Clinic & Laser Centre
Guri Skin Clinic & Laser Centre is known for housing experienced Dermatologists. Dr. C M Guri, a well-reputed Dermatologist, practices in Gurgaon . Visit this medical health centre for Dermatologists recommended by 105 patients.
Timings
Location
Sec 10 A Chowk Pataudi Road
Pataudi
Gurgaon ,
Haryana
-
122001

Get Directions
Videos (1)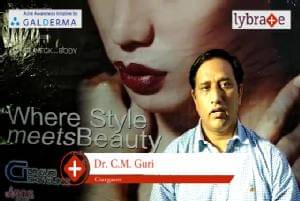 Lybrate | Dr C M Guri speaks on IMPORTANCE OF TREATING ACNE EARLY
read more
Doctor in Guri Skin Clinic & Laser Centre

MBBS, MD - Dermatology, Diploma in Aesthetic Mesotherapy
Dermatologist
Services
Submit Feedback
Submit a review for Guri Skin Clinic & Laser Centre
Your feedback matters!
Write a Review
Patient Review Highlights
"Prompt"
1 review
"Well-reasoned"
5 reviews
"Helped me impr..."
3 reviews
"Thorough"
2 reviews
"Practical"
2 reviews
"knowledgeable"
17 reviews
"Sensible"
1 review
"Caring"
4 reviews
"Very helpful"
20 reviews
Feed
Shared 8 months ago • Featured Tip
A mole, sometimes known as a birthmark, is a non-cancerous disorder of pigmented skin cells. They can vary in color and shade and by and large, can be medium to dark brown, sometimes they can be skin-colored or black too. Most of them are regular in shape, flat to moderately even as well. Sometimes, they appear to be slightly raised above the skin, are delicate to touch and lighter in shade. Also, they may or may not cause any kind of pain.
You need to get your moles checked at least once in every three months, because of the following reasons:
In case you have noticed the growth of new moles or have a family history with medical background marked by melanoma.

You need to watch out for moles that do not look like your other moles specifically. Dysplastic moles are the ones that look different from the normal ones and may lead to melanoma. In case you have different dysplastic moles, you are in serious danger of getting melanoma.

In case you have any moles that are bigger than the others and are smudgy or have unpredictable edges, which are uneven in shading or have some pinkness, you need to see a specialist and get them checked. Also, if you notice a change in the color or shade or it gets itchy, agonizingly painful or begins to bleed, it can be a sign of something serious. Thus you must visit a specialist immediately.

Although, most of them are non-cancerous and not that dangerous. However, there are some types that can convert into lumps and can be cancerous in nature. Although the chance of something like that happening is very rare, still it is a possibility.

In case you notice a liquid discharge or pus formation in the mole, you must consult a doctor immediately.
Being proactive about your well-being is the best way to avoid serious health conditions and you must look out for moles that can be risky as they are connected to skin cancer. Self-diagnose and examine your skin in front of a mirror. Give careful consideration to the zones of your skin that are frequently exposed to the sun, for example, the hands, arms, abdomen, face and head. Along with limiting your exposure to sunlight and utilizing sunscreens, inspecting yourself for moles can help with early detection of melanoma (the deadliest kind of skin tumor) and hence, get treated for the same. In case you have a concern or query you can always consult an expert & get answers to your questions!
5628
people found this helpful
Shared 10 months ago • Featured Tip
Alopecia areata is a kind of hair loss or male pattern baldness that happens when your immune system starts attacking the hair follicles, which is where the hair growth starts. This is therefore an autoimmune disease. The damage and harm caused to the follicle is usually not permanent. Specialists are still not aware as to why the immune system attacks the follicles.
Alopecia areata generally begins when chunks of hair start falling out, forming thoroughly smooth, round bare patches on the scalp or different regions of the body. Now and again the hair might become thinner without any noticeable bald spots, or it might develop and shed off, leaving small patches. This can lead to permanent balding and may also be a sudden evolution.
The condition takes place when the cells in the hair follicles are attacked by white blood cells, making them contract and drastically slows down the hair growth. It is unknown as to precisely what causes the immune system to attack the hair follicles in such a manner.
However, there are a few ways due to which people can get alopecia areata. They are as follows:
Since the exact cause of the condition is unknown, it regularly happens in individuals who have a family history of other immune system diseases, for example, type 1 diabetes or rheumatoid joint pain.

A few researchers presume that hereditary qualities may add to the advancement of alopecia areata. They additionally believe that specific factors are expected to trigger alopecia areata in individuals who are hereditarily inclined to the disease.

Around 10% of individuals with this condition may never regrow hair. You will probably have irreversible and permanent balding if you have the following:

A family history of the condition.

The condition appears at a young age (before adolescence) or for longer than a year.

Suffering from any other immune system infection

Inclined to hypersensitivities (atopy)

Have extensive hair loss.

Have unusual colour, shape, surface, or thickness of the fingernails or toenails.
In a few people with alopecia areata, the fingernails and toenails start becoming hollowed, that is they look as though a stick had made numerous small dents in them. They may likewise look like sandpaper. People with this condition might suffer from psychological and morale issues as well. Hence, getting tensed about it can aggravate the problem further, causing more hair loss.
Alopecia areata cannot be cured yet. The vast majorities of people who have had one episode might have more episodes of balding. Hence, whenever you feel like you might be showing certain symptoms of hair loss, do get it diagnosed by a specialist, since hair loss is not something that should be ignored, as it may be a symptom of greater lifestyle diseases. If symptoms recur after treatment, go for regular check-ups. If you wish to discuss any specific problem, you can consult a dermatologist.
2526
people found this helpful
Shared 11 months ago • Featured Tip
3280
people found this helpful
Shared 1 year ago • Featured Tip
Melasma is a skin condition resulting into discoloured and dark patches on the skin. It also goes by the name of chloasma. It is frequently observed in pregnant women. As per the report of the American Academy of Dermatology, it is found that 90 percent of the overall cases of Melasma are found among women.
What are the symptoms?
The main symptom of this skin condition is discoloration patches that are darker than the skin colour. Mostly visible in the face, Melasma occurs in a symmetrical fashion with equal effect on either side of the face. This being said, other body areas which often get exposed to sun also runs the risk of developing Melasma. While brownish patches are visible in body parts such as chin, cheeks, forehead and nose bridge, their presence can also be felt in the forearm and the neck. Skin coloration in no way is a threat to the body, it however, can make a person self-conscious about himself.
Common causes of Melasma
The exact cause of Melasma is not known. It is estimated that people with dark skin are more prone to developing Melasma than their white skinned counterpart. At t times the progesterone and the oestrogen sensitivity of a person is also linked with this skin condition. This essentially means that hormone therapy, birth control drugs and pregnancy are all associated with Melasma. Doctors have also identified thyroid and stress to be a potential cause of Melasma. Above all the ultraviolet rays of the sun are by far the bigger threat of Melasma than any other factors.
How the condition is diagnosed?
Melasma is usually diagnosed with one visual exam. However, a doctor might perform different tests to rule out other skin condition. One popular test that is often conducted by the doctor is known as Wood's lamp examination. This is a special light which can penetrate through skin and help a doctor identify the number of layers Melasma has infected of the skin. Furthermore, in case of any doubt, the doctor might take a sample of the affected area and send the same to the lab to rule out the possibility of cancer and other critical skin diseases.
How is Melasma treated?
If Melasma is caused due to pregnancy, it often disappears suddenly much like the way it came. No specific treatment is required. If, however, the condition refuses to heal, a doctor might prescribe topical steroids and creams to lighten the skin. If it fails, other possible avenues, such as microdermabrasion, chemical peels and dermabrasion are explored. Treatments such as these are capable of stripping the top layer of the skin and lighten the patches. However, no treatment can guarantee a non-recurrence of Melasma.
11
people found this helpful
Shared 1 year ago • Featured Tip
Cradle cap is a slick, yellow scaling or crusting on a child's scalp. It is regular in children and can be effortlessly treated. Cradle cap is not a part of any ailment and does not indicate poor care of the child. It is the usual development of sticky skin oils, scales, and sloughed skin cells. It is not harmful to your child and generally leaves by an infant's first birthday. Some of the recommended ways to treat cradle cap are listed below:
Baby shampoo: Shampoo might be the absolute best approach to treat cradle caps in babies. Regular shampooing can get rid of a flakey scalp and make it a smooth one. Abstain from getting the shampoo in your child's eyes. In case you are uncertain about using it, ask a doctor or specialist for guidance. Do not utilize shampoos that contain groundnut oil or shelled nut oil on children under five years of age.

Olive oil: Olive or almond oil is regularly used to heal cradle cap. Try rubbing it on the infant's hair and give it a chance to sit for some time, then delicately rub with a soft toothbrush.

Coconut oil: Every mother uses coconut oil for many reasons. It is the most effective treatment. It smells astounding as well. Put a little on your child's head every evening and wash it over the next morning with an infant brush.

Vaseline: A considerable number of mothers use Vaseline. Apply it on the hair around evening time and by morning, the cradle cap will be a little improved.

Fine-toothed comb: This is a lice brush and is very useful. However, with a little oil, this is most likely one of the least demanding and quickest approaches to evacuate those flakes.

Shea butter: Applying Shea butter on the scalp is a great approach. Rub it on the hair, then brush it off gradually. It brings about the ideal result, as indicated by a few mothers.
Home treatment is normally all that is required for support. Here is how one needs to do it:
An hour prior to shampooing, rub your child's scalp with infant oil petroleum gel to lift the coverings and flakey scales.

Before applying the shampoo, first get the scalp wet, then tenderly rub the scalp with a delicate swarm brush (a delicate toothbrush would work too) for a couple of minutes to remove the scales. You can attempt to tenderly remove the flakes with extreme attention to detail.

At that point, wash the scalp with baby shampoo, flush well, and tenderly towel dry.
In case that your child's cradle cap gets to be swollen or infected, a course of anti-infection agents or an antifungal cream or cleanser such as ketoconazole might be recommended by a specialist. A gentle steroid cream such as hydrocortisone may likewise be suggested for an irritant rash.
In case you have a concern or query you can always consult an expert & get answers to your questions!
2619
people found this helpful
Asked for male, 23 years old from Palakkad
Melagolw I you can apply but use ahaglow facewash and suncross sunscreen with this sunprotection is must.
2
people found this helpful
Asked for male, 21 years old from Pune
only abnormal pigmentation can be treated dont fall victim of whitening use good sunscreen to avoid darkening
2
people found this helpful
Asked for male, 21 years old from Chennai
What sunscreen you r using use medicated sunscreen suncross aquagelapply atleast 15 minute before you leave apply 3 times.
5
people found this helpful
Shared 1 year ago • Featured Tip
Prickly heat rashes, otherwise called miliaria rubra, is a rash comprising little, raised red spots that causes a stinging or prickling sensation and irritation on the skin. These rashes can grow at any place on the body, yet it normally shows up all over, neck, back, abdomen or thighs, a couple days after one is exposed to high temperatures.
The rash results in minor spots or knocks that are surrounded by a territory of red skin. The spots, once in awhile, look like modest blisters and can bring about:
Mellow swelling

Tingling

A stinging or extreme prickling sensation

Itching
Prickly heat rashes, more often than not, occur when a person sweats more than expected. For example, during hot or damp climate. However, it is more likely to get prickly heat in the winter.
The condition is brought about when the body's sweat glands tend to get blocked. Extreme sweating leads to sweat getting trapped under your skin. The trapped sweat causes skin disturbance and results in different types of heat rashes.
Prickly heat rashes are not an extreme condition and usually require a particular treatment. The rash typically vanishes after a couple of days. However, there are a few things you can do to treat your symptoms. The best ways to cure prickly heat rashes are:
Stay away from excessive warmth and humidity in case you have to go outside. Try to stay in the shade or take a small fan with you. Being exposed to the warmth will make you sweat increasingly and may exacerbate your rash to a great degree thus, leading to pain and even sores. Drink a lot of liquid to stay away from lack of hydration, particularly in hot climate.

Wear free flowing and loose cotton clothes and abstain from wearing synthetic clothes. For instance, polyester and nylon trap heat faster than regular filaments, so it is better to avoid them.

Keep your skin cool. A shower will cool you off, relieve your skin and reduce excessive sweating. Staying in a ventilated space for a couple of hours a day will likewise be of significant help. Under extreme conditions, you can utilize an ice pack, however do not keep it on the skin for longer than 20 minutes.

Utilize calamine cream. It is available at most drug stores and will relieve you from sore and disturbed skin.

Apply hydrocortisone cream. Low-quality hydrocortisone cream is available at drug stores and is adept at treating exceptionally aggravated areas of the skin. In any case, abstain from utilizing it all over and follow the directions of a skin specialist.

Antihistamine tablets may control tingling and itching. Do consult a specialist or a doctor before using them, considering the side-effects they might have on you.
2508
people found this helpful
View All Feed
Near By Clinics

4.3
(

24

ratings)
Pataudi, Gurgaon,
Gurgaon
View Clinic
4.6
(

31

ratings)
Sector-10, Gurgaon,
Gurgaon
View Clinic