About
Our goal is to provide a compassionate professional environment to make your experience comfortable. Our staff is friendly, knowledgable and very helpful in addressing your health and fin...
...more
Our goal is to provide a compassionate professional environment to make your experience comfortable. Our staff is friendly, knowledgable and very helpful in addressing your health and financial concerns.
More about Pushpanjali Medical Centre
Pushpanjali Medical Centre is known for housing experienced Ophthalmologists. Dr. Rajeev Gupta, a well-reputed Ophthalmologist, practices in New Delhi. Visit this medical health centre for Ophthalmologists recommended by 60 patients.
Timings
Location
A - 14, Pushpanjali Enclave, Vikas Marg Extention
New Delhi
New Delhi,
Delhi
-
110092

Get Directions
Photos (3)



Videos (4)
View All Videos
Doctor in Pushpanjali Medical Centre

MBBS, MS - Ophthalmology
Ophthalmologist
Book appointment and get ₹125 LybrateCash (Lybrate Wallet) after your visit
Services
Submit Feedback
Submit a review for Pushpanjali Medical Centre
Your feedback matters!
Write a Review
Patient Review Highlights
"knowledgeable"
1 review
"Very helpful"
3 reviews
Feed
Shared 2 months ago • Featured Tip
Meibomianitis is a disease that occurs when the lubrication glands of the eyes called Meibomian glands malfunction. The function of these glands is to produce oil that keeps our eyes lubricated and moisturised. Due to some reasons that we shall be looking at later, these small glands flip their switch and start producing excessive oil or just get inflamed causing Meibomianitis.
Bacteria also collect and prosper on the eyelids in the extra oil adding to the malaise.
So, how do you confirm that you have Meibomianitis?
Look out for these symptoms:
swelling and redness of eyelids

burning sensation in eyes

itchiness

flaking skin around eyes

crusted eyelashes

light sensitivity

frequent styes or bumps along the eyelids typically caused due to excess oil secretion and inflamed Meibomian gland

excessive blinking

blurred vision

loss of eyelashes
Like with all diseases, the severity of symptoms varies from patient to patient. A few may experience only mild symptoms, while others have to grapple with severe irritation and burning.
We suggest that you don't wait for your symptoms to become extreme before you visit your doctor.
Root Causes of Meibomianitis:
We already know that Meibomianitis occurs when the meibomian glands in the eyelids don't function properly.
But why does this happen?
The answer is that Meibomianitis is caused by any condition that increases oil production in oil glands. Like:
hormonal changes, especially during adolescence

allergies

skin conditions, such as acne and rosacea

eyelash lice

acne medications which actually encourage the growth of bacteria on the eyelids

A few contact lens solutions

Infected eye makeup
Meibomianitis, however, is not contagious.
Diagnosis and Cure:
When you go to a doctor with symptoms of meibomianitis, he will examine your eyes, focusing on eyelids and the front surface of your eyeball. By doing this, he will be able to identify whether you have blocked meibomian glands.
Next, he will use a swab to collect a sample of the crust or oil from your eyes and send this sample to a lab to be tested for bacteria.
If the test is positive, your doctor will recommend a thorough cleaning of your eyelids with warm water. He may also prescribe antibiotics or steroids to treat your eye condition in form of eye drops or creams applied directly to your eyelids, or in pill form.
Apart from this, you may have to forego wearing of contact lenses and treatment for your acne and rosacea. We also recommend that you go make-up free as this causes a buildup of bacteria and always maintain proper eye hygiene so that your oil glands remain infection- free always.
1
person found this helpful
Shared 2 months ago • Featured Tip
Are you losing your sight day by day? Does it make difficult to see you at night? Is this the onset of Blindness? Get to know about Retinitis Pigmentosa with these tips.
What actually is Retinitis Pigmentosa?
Retinitis Pigmentosa (RP) refers to a group of diseases, which causes a slow, but progressive vision loss. It is a genetic disorder that affects the ability to respond to light.This inherited disease causes a slow loss of vision, beginning with decreased night vision and loss of peripheral (side) vision and eventually results in blindness.
Causes: Retinitis pigmentosa is often hereditary (runs in families). If you or your partner has retinitis pigmentosa, there may be up to a 50 percent chance that you will pass it on to your children. Ask your ophthalmologist about genetic counseling if you are planning to have children.
Symptoms:
Slow loss of vision
Beginning of decreased night vision
Loss of peripheral vision
Difficulty in identifying colours
Diagnosis: If you have poor night vision or a loss of side vision or if there is a history of retinitis pigmentosa in your family, your ophthalmologist will conduct a comprehensive eye exam to determine if you have retinitis pigmentosa. Your ophthalmologist will dilate your eyes to look at the back of them for signs of disease.
Treatment: Currently there is no known cure for retinitis pigmentosa. However, research has shown that vitamin A palmitate may slow the progression of certain forms of RP. Your ophthalmologist can advise you about the risks and benefits of vitamin A palmitate and how much you can safely take. Taking too much vitamin A palmitate can be toxic, and evidence of vitamin A palmitate effect on RP progression is not substantial.
Another recommendation for slowing vision loss from RP is to wear sunglasses to protect your retina from harmful ultraviolet (UV) light.
Retinal prosthesis is also an important area of exploration because the prosthesis, a man-made device intended to replace a damaged body part, can be designed to take over the function of the lost photoreceptors by electrically stimulating the remaining healthy cells of the retina.
2486
people found this helpful
Shared 10 months ago • Featured Tip
While spectacles are a fashion statement for some people, for others they are an uncomfortable necessity. Though contact lenses may be a little more aesthetically pleasing they too can be quite uncomfortable and cannot be worn throughout the day.
Thankfully, there is a third way to correct vision. Laser surgery or LASIK, it is a popular refractive procedure that can correct common vision problems, such as nearsightedness, farsightedness and astigmatism. This procedure aims at reshaping the cornea so that light entering the eyes can be focused onto the retina for the person to have a clearer vision.
Laser surgery is pain-free and quick in most cases. Usually, it does not take more than 15 minutes to correct vision in both eyes. The results of this surgery can be seen in as little as 24 hours.
The first step of laser surgery to correct vision is to create a thin, circular flap in the cornea. This is then folded back to access the stroma or underlying cornea. An excimer laser is then used to remove some of the corneal tissue. For people suffering from nearsightedness, the cornea is flattened while for people suffering from farsightedness, the cornea is made steeper.
In cases of astigmatism, an irregular cornea is smoothened. Once the correct gradient has been achieved the corneal flap is put back into place and the cornea is allowed to heal naturally. There are no stitches or bandages required in a laser eye surgery. You may feel a temporary burning or itching sensation in your eyes immediately after the procedure. It is important not to rub your eyes or place any pressure on them.
Your vision may also be cloudy or blurred for the first few hours. A doctor will usually advise you to rest for a few days after the surgery so that your cornea can heal properly. In a few days, your eyesight should stabilize, though, in a few rare cases, it may take a little longer. You should also avoid any form of strenuous exercising for a few days after the surgery.
Though LASIK surgery has a very high success rate, there are very rare occasions where spectacles may still be needed even after the surgery. Thus LASIK is a choice of treatment for many who seek freedom from glasses.
In case you have a concern or query you can always consult an expert & get answers to your questions!
5512
people found this helpful
Shared 11 months ago • Featured Tip
Antrior most transparent layer of the eye is called cornea. It is an extremely useful layer for refraction and protection of eye. Any trauma, foreign body or chemical etc can invade the integrity of this layer and can be invaded by bacteria, fungus or virus, resulting in the corneal ulcer. Sometimes, due to hypoxia induced by contact lenses too can result in a corneal ulcer.

Depending on clinical presentation, a doctor diagnoses the cause of the ulcer and start the therapy. Since the transparency of cornea is very important, a doctor starts very intensive therapy. With repeated frequent checkups if a proper and intensive therapy is not given, the ulcer can progress and can cause collection of pus in the anterior chamber which if not attended properly, can cause the infection to travel into the interior of the eyeball (vitreous chamber) resulting in total blindness. The ulcer can become deeper and lead to perforation of the cornea, causing severe damage to the eye and may require removal of pus (evisceration) or total removal of the eye ball.

Generally, fungal ulcers are more dangerous and occur mostly in rainy season.
It is imperative that a case of corneal ulcer is diagnosed promptly and very intensive treatment proper treatment is given to save the disfigurement of the eye and total irreparable blindness.
At times we have not only to give topical drops but oral therapy has to be given. Injections in the eye have to be given. Culture sensitivity has to be done in severe cases to identify the causative organism.
In extremely severe cases, we have to perform, therapeutic keratoplasty.
Conclusion: Corneal Ulcer is a serious challenging problem with the potentiality to cause total and irreparable blindness and must be attended promptly by a very expert ophthalmologist to save the eye. In case you have a concern or query you can always consult an expert & get answers to your questions!
5438
people found this helpful
Shared 11 months ago • Featured Tip
Headaches are common among working people as accumulated stress results in headaches and tiredness. Among the many different causes, strain on the eyes is one of the leading reasons for that annoying headache.
Taking an eye exam is recommended in case you are having headaches. The issues may not always be related to the eyes, but still a thorough eye check up is recommended. Strain in the eye is caused when small muscles present in the eye have to put in more effort than usual. Symptoms include aching, tired eyes with blurred vision and accompanying headaches. Such headaches are caused because of the following reasons:
1. Astigmatism
The cornea is in abnormal shape and causes people to squint when they want to focus, and this leads to bad headaches.
2. Hyperopia
This disorder is also called farsightedness. In case of this disorder, the images are focused by the eye behind the retina, and causes blurred vision and strain upon the eyes. Headaches occur as a result.
3. Presbyopia
This kind of problem occurs when the lens hardens and becomes inflexible with old age. This makes it hard for a person to focus and causes sore eyes along with headaches.
All disorders or conditions of the eyes can be rectified with the use of prescribed spectacles and contact lenses. For people already having glasses, regular eye check up should be carried out. Your power may increase which you are unlikely to notice, so regular check ups are vital.
Other causes
Headaches related to eye strain and eye problem can also develop from other causes. They are:
1. Glaucoma, an eye disease also causes headaches. This disease is characterized by the development of a fluid in the eyes, which in turn causes the internal eye pressure to shoot up. This pressure fluctuation can lead to headaches in many cases of glaucoma.
2. Cataract affected people suffer from headaches as well. Cataracts develop in individuals due to ageing. The lens becomes cloudy, and the vision gets blurred and slowly diminishes. The eye has to give more effort resulting in eye strain and accompanying headaches.
Prevention
In case you are having headaches, and you are not being able to find out the reason behind it, you should have an eye check up. Eyes are very sensitive and added strain to them causes headaches. People who use computers for long hours are affected by headaches due to eye strain. The best prevention is to have an eye examination and switch to glasses or lenses if required.
Headaches are of various kinds and arise from different factors, but eye strain is known to cause a lot of headaches in people who do eye stress involving activities.
In case you have a concern or query you can always consult an expert & get answers to your questions!
5229
people found this helpful
Shared 1 year ago • Featured Tip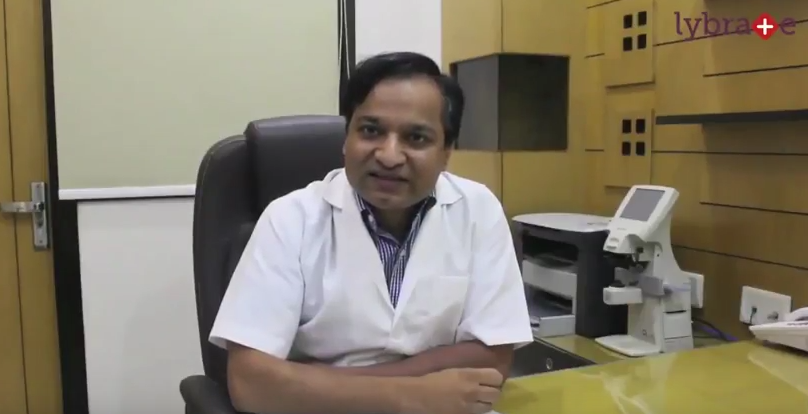 Mai Dr Rajiv Gupta, mera clinic Om Eye and Gynae Centre, Vaishali sector-5, Ghaziabad mein hai. Aaj hum chashma utarne ke operation ke bare mein baat karenge, yeha operation ideally tabhi kerna chahiye jab ankh ka number stable ho jaye. Isliye adhiktar bees saal ke baad kiya jata hai, kyunki adhiatar patients mein bees saal ke aas-paas number stable ho jata hai. Chashme hatane ka kaam teen alag-alag taranh ke operations ke dwara kiya ja sakta hai. Pehla laser dwara, jo sabse common aur popular tareeka hai, jisko adhiktar sabhi log jante bhi hain. Dusra, phakic IOLs dwara, teesra clear lens exchange dwara. Laser dwara chasma hatane ka bases yeha hai, ki jo cornea hai ankh ki, kali putli jo hai usko ek high power lens ki taranh samajh sakte hain. Aur iss lens ki power ko laser ke dawara chashme ke number ke according kam ya jayada kiya ja sakta hai, jisse ki jo kam chashma kr raha tha wo kam uski power mein adjustment karke ho jata hai aur operation ke bad cashma lagane ki zarurat nahi padti. Laser operation kai taranh se kiya ja sakta hai jaise PRK, lasik, lemto laser aur SMILE. Laser ko PRK mein cornea ki superfision layer ko hata kr, cornea pe laser kiya jata hai. Jabki lasik mein cornea ka partial thickness flap utha kr cornea pe laser kya jata hai, phir flap ko deposit kr diya jata hai. Lasik mein flap uthne ka kaam microcreatrom ke dwara kiya jata hai. Femto laser ek aisa procedur hai jissme lasik ki taraf flap uthya jata hai, lkin isme flap katne ka kaam laser ke dwara kiya jata hai aur jayada accurate hota hai. Isliye femto ko lasik se jayada achcha manate hain. Jabki SMILE insabse bhi aur advanced technique hai, jisme laser ka istemal flap banake uthane ke liye nahi kiya jata balki laser ka istemal ek ankh mein se, cornea mein se chota sa piece nikalne ke liya kiya jata hai, jisse ki ankh ki stability, cornea ki strength jayada achchi maintain rehti hai kyunki usme flap nahi badana pada. Koi patient laser operation ke liye fit hai ke nahi, ye janane ke liye ankh ki kuch jaanche ki jati hain. Yadi patient ki ankh uss janch mein fit aati hai, toh uski ankh mein laser operation kiya ja sakta hai. Laser ke results bahut achche hain, success rate more than 99% hai, lekin kisi bhi anya procedure ki taranh success rate 100% nahi ho sakta, aur operation se related kuch problems ya complications bhi ho sakti hain. Infective keratitis or keratoconus aise do uncommon but very important complications hain jinki wajah se ankj ki roshni kam bhi ho sakti hain. Ab hum baat karte hain phakic IOLs ki, jisme natural lens ke upar ankh ke ander hi ek aur artificial lens laga diya jata hai. Yeh procedure khastaur pe unn logon ki choice hai, jo laser ke liye fit nahi hain. Iski uncommon but important complications hain, ankh mein safed motia ya kale motia ka ho jana. Lekin phakic IOLs ki advantage ye hai yadi ye problems aati hain toh zarurat padne par artificial lens ko nikalker inn problems ko dur kiya ja sakta hai. Iska ek aur bada advantage yeh hai ki isme cornea ko chda nahi jata, yani ki conea mein koi cut nahi lagaya jata, jisse cornea ki apni strength maintain rehti hai, jabki laser aur patient mein cornea ki strength kam ho jati hai. Teesar tareeka hai clear lens exchange, isme natural lens ko nikal ker artificial lens laga diya jata hai. Iss procedure ko pentalis saal ki umar se pehle kerna pasand nahi kiya jata, kyunki iss operation ke baad ankh ki dur nazdeek focus kerne ki power khatam ho jati hai, Retinal detatchment yani parde ka apni jagah se hutt jana bhi iski ek serious complication ho sakti hai. Toh kisi specific patient ke liye kaunsa operation jayada suitable hai. Yeha mukhya roop se uski ankh ki condition pe nirbhar kerta hai, yadi uski ankh ki condition ke hisab se, ek se jayada procedures possible hain, suitable hain, toh uss case mein patient ki apni choice aur doctor ki preference nirbhar kerta hai ki uss patient mein kaun se tareeke se chashma hataya jaye.
Yadi aap aur information chahte hian toh mujhe contact kr sakte hain Lybrate ke through, ya directly clinic par. Thank You.
3630
people found this helpful
Shared 1 year ago • Featured Tip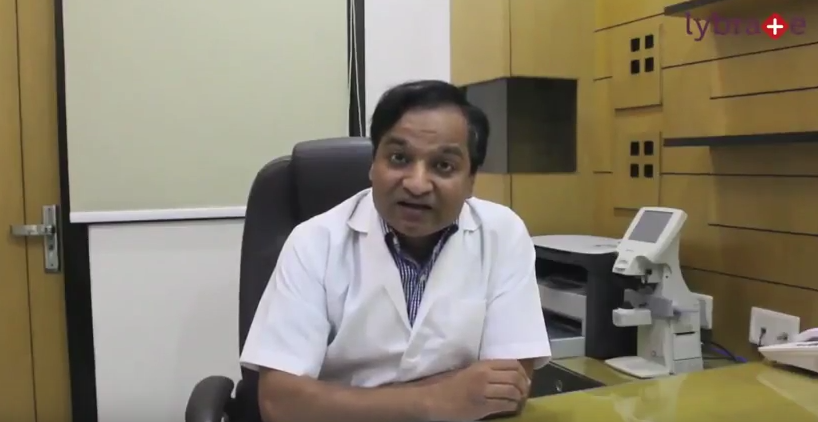 Mai, Dr Rajiv Gupta, mera clinic Om Eye and Gynae Centre, Vaishali sector-5, Ghaziabad mein hai. Aaj mai shareer ki unn do bimariyon ke bare mein baat karunga, headache aur diabetes, unka ankh se kya sambandh hai. Headache bahut si alag-alag bimariyon ki wajah se ho sakta hai, usme ankh ki wajah se headache hona ek possibility hai. Headache ke patient mein hum teen mukhya cheeje ankon mein dekhna chahenge. Ek chashme ka accurate number, yadi kisi patient ka number hai aur weh specs use nahi kerta toh usse headache ho sakta hai, yaw oh theek number ka specs use nahi kr raha tabh bhiheadache ho sakta hai, regular use nahi kr raha, kbhi kiya kabhi nahi kiya tabh bhiheadache ho sakta hai. Aise case mein regular use of specs can be very useful. Dusra eye muscles, weak muscles ki wajah se bhi headache aaj ki tareek mein kaphi logon ko hota hai khas taur pe nazdeek ka kaam kerne se ho sakta hai jaise reading, writing, computers, mobile yadi aapke muscles weak hain tohuss case mein ankhon ke muscles ki exercise kerna important hai, kyunki usse weak muscles ki strength ko recover kiya ja sakta hai, aur jaise-jaise weak muscles normal hote hain humme headache mein improvement mill sakta hai. Teesri cheej important jo hum dekhna chahenge ki wo hai ki ankh ki nas ki kya position hai, nerves mein koi sujan toh nahi hai, kyunki bhut si neurological aur eye problems aisi hoti hain ki jinse ankh ki nas mein sujan aa sakti hai. Yadi aank kin as mein sujan hai toh hum jaanch karke uss sujan ki wajah ko janana chahenge, jisse ki uss wajah ko theek kiya ja sakay. Ab hum baat karte hain diabetes ki, diabetes aaj ki date mein bahut hi common problem hai aur diabetes ki wajah se ankh mein bahut si problem ho sakti hai jaise ankh mein baar-baar infection hona, safed motia ka ho jana ya uska fast progress kerna. Lekin sabse important hai retinopathy, yani parde mein sugar ka asar aa jana. Diabetes retinopathy ki wajah se parde mein khun aa jata hai, sujan aa jati hai, yadi khun aur sujan parde ke dekhne ke sabse important hisse macula mein aa jaye toh ankh ki roshni bhi kam ho jati hai.yadi patient ka sugar uncontrolled hai toh diabetic retinopathy hone ka dar jayada hota hai aur jaise-jaise diabetes ka duration badta hai, tabb sugar control rehate bhi diabetic retinopathy ho sakti ho sakti hai. Isiliye hume ankhon ki janch ko kerte rehna bahut zaruri hai chahe sugar control hee na ho, control ho toh bhi, yadi uncontrol hai toh definitely risk jayada ho jata hai. Iske alawa high blood pressure, pregnancy, smoking, obesity, increased lipid levels in blood yeh sari chhze bhi retinopathy ke risk ko bada deti hain. Diabetic retinopathy ko diagnose kerne ke liye routine eye checkup ki zarurat hai aur uss eye checkup ke baad yadi zarurat lagey toh kuch special jancho ko kerne ki zarurat hai jaise fundus fluorescein angiography or OCD. Diabetic retinopathy ka ilaj kai taranh se hota hai. Sabse pehla main point hai ki sugar ko aur blood lipid levels ko control kiya jaye, dusra laser ke dwara, jo khun aa gaya hai, jo sujan aa gayee hai usko control kerne ki koshish ki jati hai, teesra ankh mein inection lagake sugar ko control kiya jata hai, chautha, yadi inn sabse bhi control na ho aur sugar agar bahut jayada bad jaye toh operation ki bhi zarurat pad sakti hai. Kab konsa operation kerna hai ye eye ki condition pe nibhar karega, yadi diabetic retinopathy ka ilaj na kiya jaye aur weh progress kerta rahe toh blindness ka risk bhi bad jata hai aur ye irreversible ho sakta hai. Yani ki ek baar ankh ki roshni chali gayee toh fir usse wapis lana bahut hi mushkil hai isliye diabetic patients ko regular interval per ankh ki janch karate rehna chahiye, jisse ki jab kabhi bhi aisa lagey ki usme kuch bhi active management ki zarurat hai toh wo kiya ja sake.
Yadi aap iss bare mein aur information chahte hain toh mujhse ybrate ke through ya clinic per contact kr sakte hain. Thank You.
3434
people found this helpful
Shared 1 year ago • Featured Tip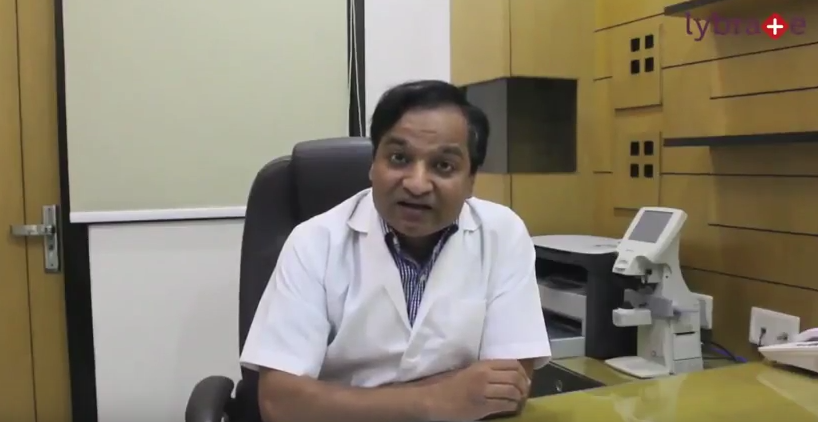 Mai Dr Rajiv Gupta, Mera clinic Om Eye and Gynae Centre, Vaishali sector 5 Ghaziabad mein hai. Aaj mai Glaucoma yaani kale moti ke bare mein aapse baat karunga. Glaucoma jisko hum kala motia, kala pani ke naam se jante hain. Yeha cataract yaani safed motia se bilkul alag bimari hai. Lekin hindi mein dono ka naam milta-julta hone ki wajah se bahut se patient inme confuse ho jaate hain. Glaucoma kisi bhi umar mein ho sakta hai, lekin jayadater 40, 50 saal ki umar ke baad hota hai. Jinn logon ki family mein Glaucoma ki history hai unme glaucoma hone ka risk general public ke mukable jayada hota hai. Glaucoma hai kya, ye waha bimari hai jisme aankh ki nas dheere-dheere sukh jaati hai aur kaam karna band kr deti hai. Aankh ki nas mein ye nuksan jayadater, aank ke ander pressure jayada hone se hota hai. Haalnli bahut se cases mein pressure normal hone ke baawajood bhi ankh ki nas ko nuksan pahunch sakta hai. Glaucoma jayadater do taranh ka hota hai ek open-angle glaucoma, dusra closed-angle glaucoma. Open-angle glaucoma adiktar silent killer ki taranh hota hai, yaani ye ankh ki nas ko nuksan karta rehata hai lekin patient ko kabhi koi dikkat nahi hoti, koi dekhne mein dikkat nahi hoti aur usko kai baar jab pata lagta hai, jab ki bahut jayada irreversible loss ho chka hota hai. Dusri taraf angle closer glaucoma mein temporarily ya permanently, ankh ke angle ke close hone ki wajah se ankh ka pressure bad jata hai aur uski wajah se ankh mein laali ho jaana, dard hona, ankh se kam dikhie dena hota hai jisse ki patient ko jald hi pata chal jata hai ki usey koi problem hai. Jahan kuch cases mein glaucoma ka diagnosis bahut hi straight forward ho sakta hai, ankh dekh ke hi pata lag sakta hai ki patient ko glaucoma hai. Wahin kuch dusre cases mein, large number of cases mein glaucoma ko diagnose karne ke liye bahut si jaancho ki zarurat hoti hai. Glaucoma ka ilaj teen tareeko se kiya jata hai, sabse commonly, eye drops glaucoma ke pressure ko kam karne ke liye istmal ki jati hain. Dusra tareeka hai laser, kuch cases mein khasker ke anle closed glaucoma mein laser ka kafi achcha role ho sakta hai aur laser glaucoma ko zindagi bhar ke liye bhi khatam kr sakta hai. Jabki baki aur bahut se cases mein glaucoma mein laser ka role bahut hi limited hai. Teesra tareeka hai glaucoma ka operation, glaucoma ka operation adhiktar unn cases mein kiya jata hai, jinme eye drops ya laser se glaucoma control nahi ho pata hai. Glaucoma ke operation karne ka matlab yeh nahi hai ki glaucoma hamesha ke liye theek ho gaya, balki glaucoma ke operation ke baad bhi zindagi bhar glaucoma ke liye janch karte rehna chahiye aur uspe najar rakhne ki zarurat hoti hai. Yadi kisi patient ko glaucoma hai aur uska ilaj na ho ya ilaj ke baad bhi glaucoma progress karta rahe, toh ankh ki nas dheere-dheere kharab ho jayegi, such jayegi aur kaam karna band kr degi. Phir aisi ankh ko kisi bhi tareekey se dihya nahi ja sakta hai, yaani ki wo ankh blind ho jayegi. Isiliye glaucoma ko khtarnak moti ke naam se bhi jana jata hai. Aur kisi wajah se jin logon mein bhi ye glaucoma ka shakk hai. Unhe regular checkup glaucoma ka karate rehna chahiye, jisse ki jiss stage per aisa lage ki glaucoma hai, ya glaucoma ilaj ke bawajood progress kr raha hai, toh usko control krne ke liye aur effective measures liye ja sakte hain.
Yadi aap mujhse contact karna chahen toh Lybrate ke through, ya mere clinic per direct contact kr sakte hain. Thank You.
3351
people found this helpful
Shared 1 year ago • Featured Tip
Even something as small as an eyeball, has multiple parts within it. The retina at the back of the eye ball is responsible for the clarity of vision. The central area of the retina is known as the macula. Macular degeneration is the deterioration of this part of the retina. Macular degeneration is age related and considered an incurable condition. People suffering from macular degeneration experience blurred vision, black spots and may eventually lose central vision while retaining peripheral vision.
There are two types of macular degeneration; wet and dry. The dry form of this disease is more common than its wet form. Of these, the latter causes more serious vision loss. Dry macular degeneration leads to white or yellow deposits on the retina leading to further degeneration. In the wet form of this disease, blood vessels beneath the retina start growing towards the macula and may pull it away from the base when they break or leak fluid.
There are three stages of age related macular degeneration (AMD).
- Early AMD
This is diagnosed by the presence of deposits on the retina. In most cases, ether is no vision loss at this stage but regular check-ups are essential.
- Intermediate AMD
A comprehensive eye exam will show the presence of larger deposits or pigment changes in the retina. At this stage, slight vision loss may be experienced.
- Late AMD
People suffering from late AMD have noticeable vision loss.
Though this disease is linked to aging, the exact triggers for macular degeneration are unknown. It is understood to be a combination of hereditary and environmental factors. The presence of certain genes and their variants has been associated with a number of cases of this disease. Studies also show that caucasions are at the highest risk of suffering from this disease. Depriving cells in the retina of oxygen can also increase a person's risk of contacting this disease. Other risk factors for this disease are obesity, smoking, high blood pressure and a light eye colour. The side effects of certain drugs can also induce this condition.
Macular degeneration is considered to be incurable but certain forms of treatment can improve vision and slow down the rate of deterioration. Treatment prescribed by a doctor depends on stage of the disease and whether it is wet or dry. Studies suggest that a diet rich in omega 3 fatty acids can prevent AMD and lower the risk of its progression.
In case you have a concern or query you can always consult an expert & get answers to your questions!
5244
people found this helpful
View All Feed
Near By Clinics
4.6
(

209

ratings)
Sector-1, Noida,
New Delhi
View Clinic