About
Our medical care facility offers treatments from the best doctors in the field of Anorectal Surgeon, General & Laparoscopic Surgeon, Surgical Gastroenterologist.Our goal is to offer our p...
...more
Our medical care facility offers treatments from the best doctors in the field of Anorectal Surgeon, General & Laparoscopic Surgeon, Surgical Gastroenterologist.Our goal is to offer our patients, and all our community the most affordable, trustworthy and professional service to ensure your best health.
More about PRIMUS HOSPITAL
PRIMUS HOSPITAL is known for housing experienced General Surgeons. Dr. Gaurav Bansal, a well-reputed General Surgeon, practices in Delhi. Visit this medical health centre for General Surgeons recommended by 40 patients.
Timings
Location
2, Chandragupt Marg, Chanakyapuri,
Chanakyapuri
Delhi,
Delhi
-
110021
Get Directions
Doctor in PRIMUS HOSPITAL
MBBS, MS-General Surgery , FMAS, FIAGES
General Surgeon
Services
Submit Feedback
Submit a review for PRIMUS HOSPITAL
Your feedback matters!
Write a Review
Patient Review Highlights
"Professional"
6 reviews
"Prompt"
4 reviews
"Well-reasoned"
4 reviews
"Helped me impr..."
5 reviews
"Nurturing"
2 reviews
"Practical"
8 reviews
"Thorough"
1 review
"knowledgeable"
18 reviews
"Sensible"
6 reviews
"Caring"
10 reviews
"Very helpful"
48 reviews
"Saved my life"
4 reviews
"Inspiring"
2 reviews
Feed
Shared 4 months ago • Featured Tip
A corn (or clavus, plural clavi or clavuses) is a distinctively shaped callus of dead skin that usually occurs on thin or glabrous (hairless and smooth) skin surfaces, especially on the dorsal surface of toes or fingers. They can sometimes occur on the thicker skin of the palms or bottom of the feet.
Corns form when the pressure point against the skin traces an elliptical or semi-elliptical path during the rubbing motion, the center of which is at the point of pressure, gradually widening. If there is constant stimulation of the tissue producing the corns, even after the corn is surgically removed, the skin may continue to grow as a corn.
Signs and symptoms
The hard part at the center of the corn resembles a barley seed, that is like a funnel with a broad raised top and a pointed bottom. Because of their shape, corns intensify the pressure at the tip and can cause deep tissue damage and ulceration. Hard corns are especially problematic for people with insensitive skin due to damaged nerves (e.g., in people with diabetes mellitus). The scientific name for a corn is heloma(plural helomata). A hard corn is called a heloma durum, while a soft corn is called a heloma molle.
The location of soft corns tends to differ from that of hard corns. Hard corns occur on dry, flat surfaces of skin. Soft corns (frequently found between adjacent toes) stay moist, keeping the surrounding skin soft. The corn's center is not soft, however, but indurated.
Diagnosis
To exclude other differential diagnoses, a skin biopsy may be taken.
Treatment
A popular method is to use a corn plaster, a felt ring with a core of salicylic acid that relieves pressure and erodes the hard skin. However, if an abnormal pressure source remains, the corn generally returns. If the source of any abnormal pressure is detected, this may be avoided, usually through a change to more comfortable footwear or with various types of shoe inserts or footwear with extra toe space. In extreme cases correcting gait abnormalities may be required. If no other treatment is effective, surgery may be performed.
3
people found this helpful
vasicosities cannot disappear in 5 days. wear stocking in early disease or plan surgery if advanced varicosities
Shared 6 months ago • Featured Tip
Depression is a serious mental illness in which feelings of sadness and loss of interest last for weeks and interfere with daily life.
There are numerous factors that can trigger the onset of depression, including:
Actions and conditions (like threat, abuse)
Illness (such as cancer or chronic pain),
Social isolation or loneliness and
Stressful life events (such as divorce or money problems).
Depression can cause deep emotional pain both to the person experiencing it and, often, to that person's close family and friends.
There are several different types of medically recognized depression.
Major depression
Episodic Depression
Post Partum Depression
Pre and marital Depression
The most common type of depression is called major depression
It occurs when your symptoms interfere with your enjoyment of life or daily functions — including your work, sleep, and eating habits for atleast two weeks straight.
Episodic Depression
Some people experience only one episode of major depression in their life, while others may go through numerous episodes of the illness.
1
person found this helpful
Shared 7 months ago • Featured Tip
What are ingrown toenails?
1. Ingrown toenails occur when the edges or corners of the nail grow into the skin next to the nail.
2. Ingrown toenails that are not infected can be treated at home, but you should seek medical treatment if the nail has pierced the skin.
3. You are at a higher risk of complications from an ingrown toenail if you have diabetes or other conditions that cause poor circulation.
Ingrown toenails occur when the edges or corners of your nails grow into the skin next to the nail. Your big toe is most likely to get an ingrown toenail.
What causes ingrown toenails?
Ingrown toenails occur in both men and women. According to the National Health Services (NHS), ingrown toenails may be more common in people with sweaty feet, such as teenagers. Older people may also be at higher risk because toenails thicken with age.
Many things can cause an ingrown toenail, including:
Cutting toenails incorrectly (cut straight across, since angling the sides of the nail can encourage the nail to grow into the skin)
Irregular, curved toenails
Footwear that places a lot of pressure on the big toes, such as socks and stockings that are too tight or shoes that are too tight, narrow, or flat for your feet
Toenail injury, including stubbing your toe, dropping something heavy on your foot, or kicking a ball repeatedly
Poor posture
Improper foot hygiene, such as not keeping your feet clean or dry
Genetic predisposition
Using your feet extensively during athletic activities can make you especially prone to getting ingrown toenails. Activities in which you repeatedly kick an object or put pressure on your feet for long periods of time can cause toenail damage and increase your risk of ingrown toenails. They include:
Ballet
Football
Kickboxing
Soccer
What are the symptoms of ingrown toenails?
Ingrown toenails can be painful, and they usually worsen in stages.
Early-stage symptoms include:
Skin next to the nail becoming tender, swollen, or hard
Pain when pressure is placed on the toe
Fluid building up around the toe
If your toe becomes infected, symptoms may include:
Red, swollen skin
Pain
Bleeding
Oozing pus
Overgrowth of skin around the toe
How are ingrown toenails diagnosed?
Your doctor will most likely be able to diagnose your toe with a physical exam.
What are the treatment options for ingrown toenails?
Ingrown toenails that aren't infected can normally be treated at home. However, if your toenail has pierced the skin, or there is any sign of infection, seek medical treatment. Signs of infection include:
Home treatment
To treat your ingrown toenail at home, try:
Soaking your feet in warm water for about 15 to 20 minutes three to four times a day
Pushing skin away from the toenail edge with a cotton ball soaked in olive oil
Using over-the-counter medicines, like calpol, for the pain
Applying a topical antibiotic, such as t-bact, to prevent infection

If the toenail does not respond to home treatments or an infection occurs, you may need surgery. In cases of infection, stop all home treatments and see your doctor.

Surgical treatment

Total nail removal may be used if your ingrown nail is caused by thickening. The doctor will give you a local pain injection and then remove the entire nail.

According to the NHS, nail removal is 98 percent effective for preventing future ingrown toenails.

After surgery

Your doctor will send you home with your toe bandaged. You will probably need to keep your foot raised for the next one to two days and wear special footwear to allow your toe to heal properly.

Avoid movement as much as possible. Your bandage is usually removed two days after surgery. Your doctor will advise you to wear open-toed shoes and to do daily salt water soaks until your toe heals. You will also be prescribed pain relief medication and antibiotics to prevent infection.

Your toenail will likely grow back a few months after a partial nail removal surgery. If the entire nail is removed down to the base, the nail matrix under your skin, a toenail can take over a year to fully grow back.

Complications of ingrown toenails

If left untreated, an ingrown toenail infection can cause an infection in the bone in your toe. A toenail infection can also lead to foot ulcers, or open sores, and a loss of blood flow to the infected area.

A foot infection can be more serious if you have diabetes.

Preventing ingrown toenails

Trim your toenails straight across and make sure that the edges do not curve in.

Avoid cutting toenails too short.
Wear proper fitting shoes, socks, and tights.
Wear steel-toed boots if you work in hazardous conditions.

If your toenails are abnormally curved or thick, surgery may be necessary to prevent ingrown nails.
2
people found this helpful
Shared 7 months ago • Featured Tip
In 1995, Longo described a new and innovative operative technique for hemorrhoid. This novel procedure to treat piles is not a hemorrhoidectomy. In this technique neither the anal mucosa and nor the hemorrhoidal tissue is excised. The procedure of MIPH is performed in the patient with piles on distal rectal mucosa and submucosa, proximally to the dentate line. MIPH hemorrhoidectomy includes excision of a band of excessive or loose prolapse mucosa and submucosa within the rectum, proximally to the hemorrhoidal tissue and fixation of the mucosa by stapled end to end mucosa anastomosis. This minimally invasive maneuver occlude the blood supply of the superior hemorrhoidal artery above the hemorrhoidal tissue and thus piles is cured as well as prolapsed mucosa is retracted up.
Description: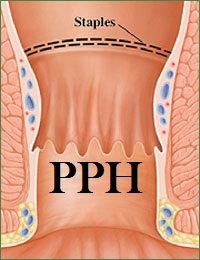 What are the indications PPH or MIPH?
Indications for PPH include patients with grade III hemorrhoids, with uncomplicated grade IV hemorrhoids that are reducible at surgery or after manipulation in the operating room. In the surgery of MIPH hemorrhoidal tissue is not excised during the procedure, and in those who failed other treatment modalities.
How it work and what are the benefits of Stapled Hemorrhoidopexy?
Stapled Hemorrhoidopexy procedure uses a special device to remove a ring of tissue from the anal canal. Removing the tissue cuts off blood supply to the hemorrhoids, causing them to shrink. The tissue ring is then secured with staples. This helps hold the tissue in place. Stapled hemorrhoidopexy is a significantly less painful operation and offers significant advantages in terms of hospital stay and symptom control in the long term, making for a significantly earlier return to work.
What are the Contraindications of Minimally Invasive Procedure for Hemorrhoid?
Complication of this surgery include:
Active sepsis,
Anal stenosis, and
Full-thickness rectal prolapse
Because these conditions are not adequately treated by PPH.
What are the complications of Stapled Hemorrhoidectomy?
Although PPH is usually considered relatively safe and simple, complications still may occur and sometimes may be devastating.
Most common complication are:
Hemorrhage
Incontinence
Anal stenosis
Fistula, and
Septic complications
Possible complications of Minimally Invasive Procedure for Haemorrhoid (MIPH) include anal stenosis, postoperative pain, urinary retention, secondary hemorrhage, anal fissure, abscess or fistula, formation of skin tags, pseudo polyps, and incontinence. Postoperative pain is a main concern after Minimally Invasive Procedure for Haemorrhoid (MIPH); none of the techniques offers the patient a completely pain-free recovery. Urinary retention can be a result of pain in some of the patient, narcotics and anticholinergic drugs, fluid overload, high ligation of the hemorrhoidal pedicle and operative trauma.
Minimally Invasive Procedure for Haemorrhoid (MIPH), serious complications have been reported and include, rectal perforation, retroperitoneal sepsis, retropneumoperitoneum, rectal stricture, rectal obstruction, and rectovaginal fistula. These benefits may appear only after surgeons have gained sufficient experience with the procedure. However, skin tags and recurrent prolapse occurred at higher rates after PPH. The meta analysis did not find significant difference in the rates of postoperative bleeding, urinary retention, anal fissure, stenosis, or difficulties in evacuation.
1
person found this helpful
Near By Clinics
4.7
(

51

ratings)
Chanakyapuri, Delhi,
Delhi
View Clinic