About
Our goal is to offer our patients, and all our community the most affordable, trustworthy and professional service to ensure your best health.
...more
Our goal is to offer our patients, and all our community the most affordable, trustworthy and professional service to ensure your best health.
More about Care Medicentre
Care Medicentre is known for housing experienced Gynaecologists. Dr. Arpana Jain, a well-reputed Gynaecologist, practices in Delhi. Visit this medical health centre for Gynaecologists recommended by 48 patients.
Timings
Location
No.7, Hakikat Nagar, Gate No.1, Opposite GTB Nagar Metro Station Gate No.2, Kingsway Camp
Laxmi Nagar
Delhi,
Delhi
-
110009

Get Directions
Photos (1)

Videos (3)
Doctor in Care Medicentre

MBBS, DGO, DNB
Gynaecologist
Book appointment and get ₹125 LybrateCash (Lybrate Wallet) after your visit
Services
Submit Feedback
Submit a review for Care Medicentre
Your feedback matters!
Write a Review
Patient Review Highlights
"Professional"
2 reviews
"Well-reasoned"
1 review
"knowledgeable"
3 reviews
"Sensible"
1 review
"Very helpful"
8 reviews
"Caring"
1 review
Reviews
Poonam Yadav
Aug 14, 2017
It was an amazing experience of getting treated under her for 9 months. She made me feel so comfortable and made my journey so soothing , the best part was I wanted a normal delivery and I told her this, She all the time gave me strength and support like a friend and told me to keep in mind that I am pregnant and not a patient, Stay active and normal and enjoy your journey, I am here to help you.S he was always there for my queries and worries Today I am blessed with a princess and had a normal delivery and also I worked till last days of my pregnancy. This is my first baby. I would highly recommend Dr.Arpana Jain. Would like to thank from bottom of my heart. Love you Doctor.
Krithinidhi
Apr 10, 2017
I was shocked to experience the symptoms of pregnancyShe is very courteous and behaves very aptly with elder patients. I searched this Arpana Jain online and saw her reviews. Hygiene is very important, and I must Care Medicentre was extremely clean. Even though the problem was not so big, but still the other doctors were not able to treat it. The I consulted Arpana Jain. Arpana Jain guidance has helped me immensely and has helped gain confidence. The guidance Arpana Jain gave me has helped me immensely with my situation.
Hira
May 27, 2017
Thanks to Dr Arpana for the perfect advice as I was not able to conceive. I was quite depressed due to this problm. The doctor gave me perfect guidance and prescription whcih helped me deal with my situation. The complete process of the treatment was so painless and quick, and i am so relieved that I chose to consult her. I must say she is one of a known gynaecologist in the city.
Samik
Apr 20, 2017
Thanks to the expert care and guidance, I feel much better than before. It has been quite some time that i was having no periods. The overall atmosphere in the Care Medicentre is very soothing.Dr Arpana Jain has in depth knowledge and ensures that she explains the problem in detail. Not only she is very calm and composed, but is also a very understanding doctor.
Gandha
May 3, 2017
I was not able to conceive . One of my neighbours suggested me to consult Dr Arpana Jain who is a famous Gynaecologist in New Delhi. She gave me the reason of my problem and suggested to get a small surgey done which will not have any negative impact on my body. Her prescription and surgery helped me to great extent and Now I have a beautiful daughter.
Ravindra
May 1, 2017
All of sudden I developed this polycystic ovary synDrome and didn't know what to do. She is very professional and is a really patient listener. Even after my treatmentwith my old doctor, I never felt so much relief, but Dr Arpana Jain has treated my completely. As someone I knew, consulted her,, they referred us.
Nicholas
Apr 12, 2017
It was getting very difficult for me to cope us with my problem of irregular periods. Finally with her treatment, I am completely cured from the problem. They took very nice care of me, i never felt that I am in Care Medicentre. I remember, I read an article of Dr Arpana Jain in the paper and made contact.
Shrishti Jain
Dec 26, 2016
Arpana Ma'am Has Been Extremely Caring and Was Helpful During My Pregnancy. She Has Been Instrumental In The Birth Of My Baby Boy In a Tricky Scenario. Her Ability To Take Decisive Actions And Hearing You Out Completely Is What Comforted Me The Most. Would Definitely Recommend Expecting Moms To Consult Her
Aloka
Sep 25, 2016
My pregnancy is progressed under dr Arpana jain. She is very experienced and humble doctor, I am thankfull to her. She guides me very well and treating like family member. I am due in October. God bless dr Arpana bcz of her very soon I m going to hug my bundle.of joy. Thanks dr Arpana
Ijaya
Jun 3, 2017
I am amazed that she is such a sweet doctor, even though she is so busy all the time. It's been more than a year that I was experiencing Infertility. Hygiene is very important, and I must Care Medicentre was extremely clean. Thanks to her I am totally satisfied with the results.
Rutveg
Aug 18, 2017
she did IVF for us. I am almost my normal self post the treatment and for that my Arpana Jain is the reason. The atmosphere in the Care Medicentre is always so positive and full of life. Our family physician personally recommended this Arpana Jain. we are happy with her service.
Prana
Jul 29, 2017
I was panicked, because I never thought I will suffer from ovarian cysts like this. Arpana Jain is really like god send person. The overall atmosphere in the Care Medicentre is very soothing. Arpana Jain with great ease handled serious case
Neha Sharma
Jun 13, 2016
She is the only doc with a calm n composed attitude ,that I have come cross.Considering their busy schedules and hectic routines doctors tend tone a little annoyed.Easily available on calls/msgs.......Very well organised,highly recommended.
Yamini Gugnani
Jun 15, 2016
Dr. Arpana was extremely supportive and understanding. The counciling provided helped me a lot during my pregnancy and in the post delivery phase as well. I will recommend her tonalk many expecting friends and family members.
Shivani
Jun 18, 2016
Dr Aparna jain is v v good doctor...I used to afraid to have my chckup done BT her services mke me feel V cmfrtble .I rly appreciatemam s gesture towards e very pt....service is also v good at her clinic
Verified
Sep 6, 2017
Dr. Arpana is Very Nice doctor and i would recommend to all gynae problems. after 3 years of marriage with the help of Dr. Arpana I have twins baby (girl/boy) . I am very thankfull to her .
Lipi
Jun 18, 2016
She is a very nice and friendly doctor. My first delivery was done by her and I had a good experience with her so now also for my second pregnancy, I m visiting her again with full faith.
Saurabh Mendiratta
Jun 27, 2016
Very nice doctor.. Listens to problems very carefully n always comes up with good advice. I m completely satisfied n would like to recommend her to all :) one stop destination!
Ashima Babbar
Jun 18, 2016
Very good experience, she patiently listens to your problems n gives instant resolution. She is quite accessible and approachable. Highly recommended doctor !!
Neha Sharma
Jun 28, 2016
Have had my first child under her guidance and Normal delivery.Inspire of me willing to for C-Sec ,Doc forced for going via normal delivery.Highly recommended!
Feed
Shared 3 months ago • Featured Tip
The female reproductive organ is an area of the human body where many microbial organisms inhabit together and it is a necessary requirement for its health. These organisms may include fungi and bacteria and play important roles individually in maintaining the pH levels (the acidic and alkaline balance) levels of the vagina. However, when one of these, especially the fungi go out of balance and begin to propagate, it results in a vaginal yeast infection.
Symptoms
A yeast infection or vaginal candidiasis is a fungal infection that causes extreme itchiness of the vulva (which is the opening of the vagina) and the further insides of the vagina as well. It may result in a white discharge from time to time and causes vaginal inflammation. Some of the other symptoms are:
Pain in the vagina akin to a burning sensation while urinating or when having sex
Rashes in the vagina
General soreness and pain
White odorless discharge, which is thick in consistency
Colorless watery discharges can occur as well
Swelling and redness near the vulva or the vagina in general
Causes
The type of fungi that causes vaginal yeast infections is the 'candida fungus'. Usually, this fungus is present within the vagina, but is kept in check by the Lactobacillus bacteria. These are bacteria naturally present within the vagina and secrete acids, which keep the fungi in check. However, when the levels of bacteria are reduced, it will cause the levels of fungi to increase causing a yeast infection.
Risk Factors
The below mentioned factors can aggravate the risks of this disease:
Problems brought on by diabetes
A compromised immune system
Pregnancy may also disturb the balance
Starting to use or stopping the use of oral contraceptive pills
Hormone therapy
Usage of antibiotics that may kill off lactobacillus bacteria within the vagina
Generally, yeast infections are not considered to be sexually transmitted, although yeast infection could be spread through sexual contact as well.
The primary treatment includes a course of anti fungal oral medication to lessen the levels of the fungi within your vagina. It could be supplemented with vaginal creams, which may reduce the itching and the inflammation. If you have recurrent infection multiple times within a year, then you may have to go for a longer course of treatment and correct the underlying conditions that may be causing it.
2774
people found this helpful
Shared 3 months ago • Featured Tip
Uterine fibroids are abnormal growth that manifests in the uterus of the woman. Hormones and a family history of the same are the usual causes listed for such a growth. As per many medical reports, about 70 to 80% women over the age of 50 years, experience such growths. The most common symptoms of the condition include heavy bleeding during the menstrual cycle or even at other times of the month, as well as severe pain in the abdomen.
Read on to know eight facts about these fibroids.
These fibroids may be caused by a family history of the same and is usually passed down by the mother. The other causes include excessive hormonal imbalance and changes as well as pregnancy and obesity.
Heavy urination is one of the most common symptoms of this condition, as the fibroids may press against the uterus and cause pressure in the area. Also, for those who have not reached menopause yet, this condition may also cause heavy and prolonged menstrual bleeding.
A Pelvic MRI scan is one of the most common ways of diagnosing the condition with the creation of images that will show any anomalies and growth in the uterus, ovaries and cervix.
Medication may be used in order to control and regulate the levels of hormone production and release. This can affect the fibroids by making them shrink eventually.
All fibroids do not point at the progression of cancer. If you have uterine fibroids, it does not mean that you have to have cancer. The symptoms may be similar and the condition is usually called uterine sarcoma. Usually, the diagnosis can only be done with the help of a sugary which will remove the growth and then study the same in the lab to find whether or not it is malignant. This process is known as a biopsy.
They are the most common reason behind undergoing a hysterectomy. Many women, the world over, have to go through a hysterectomy, which removes the uterus and even the ovaries in some cases. This usually happens when the uterine fibroids become too huge to handle and may give rise to a variety of risks and complications.
Pregnancy may become a difficulty if you happen to have uterine fibroids. While it is still possible to become pregnant and conceive naturally, many women face problems in doing so easily because these fibroids cause changes in the uterus when it comes to the shape and size of the same.
Many women do not experience any symptoms of the condition at all. In such cases, no treatment will be required. Yet, even in these cases, the doctor will recommend regular clinical check ups and observation in order to ensure that there are no complications.
In case you have a concern or query you can always consult an expert & get answers to your questions!
2644
people found this helpful
Shared 5 months ago • Featured Tip
More than half of the women who menstruate, tend to go through pain from period cramps for a day or two every month. During the menstrual cycle, the uterus contracts to remove its coating or lining. Hormone like substances, called prostaglandins, which are the cause for pain and aggravation, trigger the uterine muscle contractions. More elevated levels of prostaglandins are linked with more severe menstrual cramps.
While menstrual cramps, additionally called dysmenorrhea, are normally not an indication of a highly serious health condition, they can act as barriers in your daily lifestyle. To help with the pain, here are five things that may offer some relief. In case your period cramps appear to be extreme or you do not get help even after attempting some of these choices, check with your specialist for the required medication or treatment. Five ways to prevent severe menstrual cramps are:
Exercise: A regular walk or any sort of physical movement can relieve you from the abdomen and thigh pain. This discharges endorphins to balance the prostaglandins and diminish your cramps. Exercising a little three to four times each week is useful for the general strength of your body.
Apply a heating pad: Warmth unwinds the contracting muscles in your uterus, which is the reason for your pain. There are a number of over-the-counter warming pads and cushions, or electric, reusable heating bags.
Drink chamomile tea: Certain teas may calm menstrual cramps. Teas have been used traditionally and can offer relief from pain. Chamomile tea is one of the most effective teas among many others. It tends to increase the hippurate element in your body, which is a natural anti-inflammatory agent. Mitigating agents diminish the prostaglandin formation in the body, accordingly assisting in pain relief from menstrual cramps.
Improve your diet: Vitamin D is vital in decreasing menstrual cramps. Decreasing your fat intake and eating more vegetables as a part of your diet may ease the pain. Low-fat food and less carbs help your health by and large, even as they can have an obvious impact on menstrual issues. Swap less solid fats like the saturated fats found in junk food, for more healthy ones like unsaturated fats found in olive oil. Getting more dietary magnesium appears to relieve the pain as well. Magnesium directs better nerve and muscle functioning, among other crucial functions.
Massage with essential oils: Using certain sweet-smelling oils and massaging them can likewise soothe menstrual pain. Dilute lavender, clary sage, or marjoram to a three percent concentration in an unscented cream. The duration of pain can be lessened from two and a half to one day after self-massaging with these essential oils.
In case you have a concern or query you can always consult an expert & get answers to your questions!
2572
people found this helpful
Shared 6 months ago • Featured Tip
Premenstrual syndrome is a common condition that affects women who are menstruating. A multitude of psychological and physical symptoms might show up before the onset of a menstrual period. What causes PMS is unknown, but fluctuating hormonal levels (progesterone and oestrogen) seem to be linked to it.
Symptoms
PMS has many symptoms. These vary in severity and frequency and aren't the same in every woman. These are the common symptoms of PMS:
1. Tenderness of breasts
2. Bloating
3. Increase in weight
4. Agitation
5. Impaired concentration
6. Backaches or headaches
7. Fatigue
8. Anxiety
9. Irritability
10. Depression or mood swings
11. Overeating or food cravings
Diagnosis
A doctor might recommend a few tests to understand and rule out related symptoms:
Diary: Keeping track of the PMS symptoms in a diary for a few months to check the duration will help you understand the condition better. You might be able to see recurring patterns in your behaviour and moods after keeping track of them for few consecutive months.
Thyroid test: Thyroid disease is fairly common in women and a lot of its symptoms match those of PMS. To rule out any thyroid problem, a test can be done to check the efficiency of the thyroid.
Prevention
Relief can be found by treating the symptoms as there is no prevention of the condition. A nutritious diet, sufficient rest and exercise can help deal with the symptoms better.
Treatment
Nutrition: Proper nourishment leads to overall mental and physical well-being. Dietary changes like consuming less caffeine, sugar and salt might reduce the PMS symptoms. Supplements prescribed by your doctor such as vitamin E, calcium, magnesium and vitamin B6 help as well.
Medications: Painkillers such as naproxen, ibuprofen and aspirin may provide relief from cramps, backache, breast tenderness and headache. If the PMS causes severe depression, your doctor may prescribe certain antidepressants.
Being Informed: Tracking your periods by maintaining a monthly diary can help you understand and in turn prevent the severity of the PMS symptoms. Learning about coping mechanisms can help you as well.
In case you have a concern or query you can always consult an expert & get answers to your questions!
2572
people found this helpful
Shared 7 months ago • Featured Tip
In medical terms, the pelvic floor refers to a group of muscles in the pelvic area. These muscles provide support to the organs in the pelvic region, including the bladder, uterus (women), prostate (men), and rectum.
What is pelvic floor dysfunction?
This is a medical condition that is used to refer to a situation when you are unable to control the functioning of the pelvic floor. It means you fail to control the bowel movement. People suffering from pelvic floor dysfunction use these muscles to contract rather than to relax. It is for this reason that they cannot have a bowel movement. They often have an incomplete one.
What causes pelvic floor dysfunction?
In most of the cases, the exact reason behind this dysfunction is unknown. It is often believed that this condition is caused due to traumatic injuries to the pelvic area. This can happen after an accident and due to complications aroused after vaginal childbirth.
What are the symptoms?
There are several symptoms that are linked to this medical condition. You must visit your doctor if you come across the following signs:
The feel of having several bowel movements within a short period of time.
If you feel that you cannot complete a bowel movement.
When there is constipation pain linked with bowel movements.
A frequent urge to urinate.
Painful urination.
Pain in lower back.
Continuous pain in pelvic region, genitals, or rectum.
Pain during intercourse in women
How is pelvic floor dysfunction diagnosed?
It may be diagnosed through a physical examination by the doctor. You will ask several questions to know the case history and find out the cause. You may also be asked to take pelvic muscle control test by placing surface electrodes on the perineum or sacrum. A small device called a perineometer is also used for the same.
What are the best ways for treating pelvic floor dysfunction?
It can be treated without surgery. There are several techniques. Some of these are as follows:
Biofeedback: It is done with the help of a physical therapist.He uses special sensors to watch and monitor the muscles.
Medication: A low-dose muscle relaxant is prescribed to treat the same.
Relaxation techniques: Your therapist may ask you to take up techniques for relaxation such as warm baths, yoga, and exercises.
Surgery: If your physician finds out that the dysfunction is caused by a rectal prolapse or rectocele, he or she will take up surgery.
Pelvic Floor Dysfunction results in Urinary Dysfunction. Urinary incontinence is the unintentional passing of urine. It's a common problem thought to affect millions of people. There are several types of urinary incontinence, including:
Stress Incontinence – when urine leaks out at times when your bladder is under pressure; for example, when you cough or laugh
Urge Incontinence – when urine leaks as you feel a sudden, intense urge to pass urine, or soon afterwards
Overflow Incontinence (chronic urinary retention) – when you're unable to fully empty your bladder, which causes frequent leaking
Total Incontinence – when your bladder can't store any urine at all, which causes you to pass urine constantly or have frequent leaking
It's also possible to have a mixture of both stress and urge urinary incontinence.
Pelvic organ prolapse is a condition in which structures such as the uterus, rectum, bladder, urethra, small bowel, or the vagina itself may begin to prolapse, or fall, out of their normal positions. Without medical treatment or surgery, these structures may eventually fall farther into the vagina or even through the vaginal opening if their supports weaken enough.
In case you have a concern or query you can always consult an expert & get answers to your questions!
2497
people found this helpful
Shared 10 months ago • Featured Tip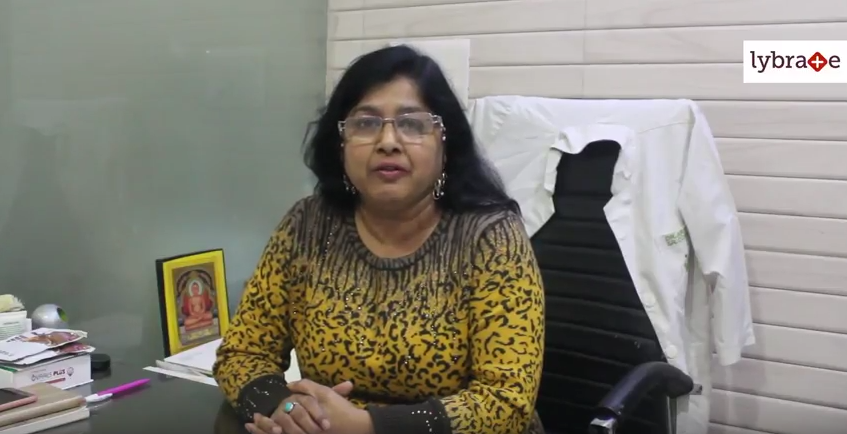 I am Dr Arpana Jain, senior gynecologist, attached with Fortis hospital Delhi.
Today we are discussing about cosmetic surgery related to vagina i.e., cosmetic vaginal surgeries. Because of increasing awareness and self-realization of the body, this surgery is in great demand. There are various procedures which we can do To improve the cosmetic problem related to vagina portion. One is vaginoplasty when the vagina lacks because of repeated childbirth, the vagina becomes very loose, and there is decreased sexual pleasure. To increase that, the vaginal uterus can be reduced with surgery, and other is labiality. It is basically the term for labia minora because the inner lip of labia which is very large because of that there is difficulty in walking and there can be difficulty in sexual relation also it leads to a lot of problems, and cosmetically it is also not good. The surgery can be done to reduce the size of this lip. And the other is hymenoplasty, this is a thin membrane over the vagina and after relation it is broken, to repair that membrane and to make the woman virgin again the hymen membrane can be stitched again to make woman virgin. Another point is labia major augmentation. Sometimes it is the outer lip of vulva, which is very thin which is cosmetically not very good, so it can be augmented with putting the backup fat below this to make it beautiful. Another is vulvar lipoclastic. When it is very thick, the labia is very thick, it is very full of backup fats sometimes it becomes very bad looking so it can be reduced by liposuction. Another is G point augmentation, and clitoral hood reduction, sometimes there is long skin layer on G point, it can be reduced the clitoral hood which can be reduced and these two surgeries G point augmentation and clitoral hood reduction is basically to improve the sexual desire. These cosmetic surgeries are increasing day by day to improve the sexual desire and pleasure and because of the cosmetic region, we are doing this which is really really fine.
Thank you so much and if you have any query or if you want to contact me you can come down to my office or you can take appointment through lybrate. Thank you so much.
3927
people found this helpful
Shared 1 year ago • Featured Tip
The uterus is a muscular structure held in place inside your pelvis with the help of muscles, ligaments, and tissues. These muscles weaken in women due to pregnancy, childbirth or delivery complications and can lead to severe complications. One such complication is a uterine prolapse. Uterine prolapse occurs when the uterus sags or slips from its normal position into the vaginal canal.

The causes of uterine prolapse are varied and include:
Delivering a large baby
Pregnancy
Difficulty in labor and delivery
Reduction in estrogen levels post menopause
Traumatic childbirth
Loss or weakening of the pelvic muscle
Conditions which lead to increased pressure in the abdominal area such as a chronic cough, straining, pelvic tumors or accumulation of fluid in the abdomen
Loss of external support due to major surgery in pelvic area

Uterine prolapse can be complete or incomplete depending on how far the uterus sags into the vagina. Women who have minor uterine prolapse may not have any visible symptoms. However, if the condition worsens, it manifests itself in visible signs.

Symptoms of moderate or severe prolapse are:
A feeling of fullness or pressure in your pelvis when you sit
Seeing the uterus or cervix coming out of the vagina
Vaginal bleeding or increased discharge
Recurrent bladder infections
Continuing back pain with difficulty in walking, urinating and moving your bowels
Without proper attention, the condition can cause impairments in the bowel, and can also affect bladder and sexual function.
In case you have a concern or query you can always consult an expert & get answers to your questions!
2911
people found this helpful
Shared 1 year ago • Featured Tip
Painful intercourse can occur for a number of reasons – ranging from structural problems to psychological concerns. Women experience painful intercourse atleast once in their entire lifetime. The medical term for painful intercourse is dyspareunia. It is a persistent or recurrent genital pain that occurs just before, during or after intercourse. Physical causes of painful intercourse differ, depending on whether the pain occurs at entry or with deep thrusting. Also, certain emotional factors can also be probable causes of painful sex.
Entry pain: Pain during penetration may be associated with a range of factors:
1. Insufficient lubrication
Insufficient lubrication is caused by a drop in estrogen levels after menopause, after child birth or during breast feeding. Certain medications inhibit desire or arousal, decreasing lubrication and making sex painful. These include antidepressants, high blood pressure medications, sedatives and certain birth control pills.
2. Injury, trauma or irritation
This can be injury from an accident, pelvic surgery, female circumcision or cut made during childbirth.
3. Infection or skin disorder
Infection in the genital area or urinary tract can cause painful intercourse. Eczema or other skin problems in the genital area can also cause problem.
Deep pain
1. Certain illness and condition
These include endometriosis, pelvic inflammatory disease, uterine prolapse, retroverted uterus, cystitis, hemorrhoids and ovarian cysts.
2. Surgeries or medical treatment
Scarring from pelvic surgery can sometimes cause painful intercourse. Medical treatments for cancer, like radiation and chemotherapy can cause changes that make sex painful.
Emotional factors
1. Psychological problems
Anxiety, depression, concerns about physical appearance, fear of intimacy can contribute to a low level of arousal, resulting in discomfort or pain during sexual activity.
2. Stress and tension
You may have a million things to worry about in a day, but taking that tension to bed with you can lead to painful sex. Your pelvic floor muscle tightens in response to stress in your life. This can contribute to pain during intercourse.
3. History of sexual abuse
If you've had a history of some form of sexual abuse or are scared of sex, pain during intercourse because of your past experience(s) may be a possible cause for an unpleasant sexual experience in the present. Consult an expert & get answers to your questions!
2965
people found this helpful
Shared 1 year ago • Featured Tip
Urinary incontinence is the term used to describe bladder control problems that affect several people. Many think it only occurs among older, menopausal women but it actually isn't uncommon amid young and active women.

Inability to control the bladder accompanied by pain can be symptomatic of various disorders ranging from a minor infection to cancer. Fortunately, bladder cancer is rare, and bladder pain is usually not serious.

The varied causes of urinary incontinence in women are as follows:
Urinary tract infection: this is the most common cause of urinary incontinence and it affects women more than men due to anatomical factors. It can also happen at any age.
Medicinal side effect: the inability to control one's bladder may be a result of the administration of certain medicinal substances such as alpha-blockers, antidepressants, sleeping pills and various narcotics.
Changes in the reproductive system: pregnancy and fluctuations in hormone levels can cause bladder irritation, which leads to urinary incontinence.
Impacted stool: when stool gets tightly packed in the lower end of the digestive system and rectum, bladder control is affected. Chronic constipation and constraint strain on the lower intestines leads to the weakening of bladder muscles and hampers the bladder control.
Surgical side effects: temporary loss of control of the bladder is often a result of prior surgery and radiation therapy in the pelvic region.
Nerve damage and neurological disorders: strokes and spinal cord injuries have a heavy impact on bladder control and amount to urinary incontinence. Diseases such as Alzheimer's disease, Parkinson's disease and multiple sclerosis also lead to the same.
Health complications: disorders such as diabetes and obesity directly affect the bladder and the ability to exercise control over it.
Disability and impaired mobility: for women who are physically impaired and suffer from problems of arthritis, urinary incontinence is a major problem as they are unable to reach the toilet easily.
Bladder cancer: even though it is extremely rare, bladder cancer affects a number of women every year and is treated through surgery and chemotherapy. If you wish to discuss about any specific problem, you can consult a Gynaecologist.
2726
people found this helpful
Shared 1 year ago • Featured Tip
There are technical ways in which you can get your body all set for labour. Although you may not know how your labour will progress, you can ease the pain that you experience during childbirth to a significant extent by doing these four exercises:
1. Kegel Exercises: These exercises target the muscles that provide support to your bladder, uterus, urethra and rectum. By strengthening the muscles of the pelvic floor, these exercises help in improving the flow of blood to your vaginal and rectal area. Kegel exercises involve contracting of the muscles of your pelvic floor as you would do if you had to prevent passing urine or stool. It is also known to reduce the duration of the pushing stage of childbirth, which is the second stage. You can do the exercises sitting or standing and in either of the two ways-
Slow kegel: For this, contract the muscles of your pelvic floor and hold them for 3-10 seconds. Release and repeat the exercise for ten times.
Fast kegel: To do this, you need to contract and loosen up your pelvic muscles 25-50 times. Do the set for about 4 times with 5 seconds interval between each set.
2. Squatting: Practising squatting during your pregnancy can help in preparing your pelvic muscles for labour. While strengthening your thighs, it opens up your pelvis for an easy descent of the baby. So, here's what you should do:
1. Begin by standing behind a chair for support with your feet wide apart
2. While contracting your abdominal muscles, relax your shoulders and chest before lowering your tailbone towards the floor
3. While inhaling and exhaling deeply, push into your legs and go back into a standing position
3. Pelvic Tilt: This exercise helps in strengthening the muscles of your back, pelvis and thigh regions while improving posture. Ensuring your pelvic joints remain flexible, it eases the pain experienced during delivery. Here's how it's done:
1. Get down on both your hands and knees while keeping your head in a parallel position with your back
2. While arching your back, pull in your stomach
3. Hold this position for a few seconds before releasing
The exercise needs to be repeated 3-5 times - all the while maintaining a strong hold over your back and stomach.
4. Tailor Pose: The tailor pose is designed to help relax your hip joints as well as open up the pelvis. It also helps in improving your body posture while easing the aches that occur in the lower part of your back. For this, you need to perform the following steps:
1. While keeping your back straight, sit comfortably on the floor
2. Placing the soles of both the feet together, press your knees gently towards the floor
3. Keep the position for 10-15 seconds. You can repeat the exercise for 5-10 times. If you wish to discuss about any specific problem, you can consult a Gynaecologist.
2572
people found this helpful
View All Feed
Near By Clinics