About
Our mission is to blend state-of-the-art medical technology & research with a dedication to patient welfare & healing to provide you with the best possible health care.
...more
Our mission is to blend state-of-the-art medical technology & research with a dedication to patient welfare & healing to provide you with the best possible health care.
More about Vihaa Multi Speciality Hospital
Vihaa Multi Speciality Hospital is known for housing experienced Orthopedists. Dr. J. Hari Haran, a well-reputed Orthopedist, practices in Chennai. Visit this medical health centre for Orthopedists recommended by 97 patients.
Timings
Location
E-5, 3rd Avenue, Annanagar East
Anna Nagar East
Chennai,
Tamil Nadu
-
600102

Get Directions
Doctor in Vihaa Multi Speciality Hospital
MBBS, MS - Orthopaedics
Orthopedist
Services
Submit Feedback
Submit a review for Vihaa Multi Speciality Hospital
Your feedback matters!
Write a Review
Feed
Nothing posted by this doctor yet. Here are some posts by similar doctors.
Dear Lybrate user as per your mother's problem these are age related degenerative d's - osteoarthritis it is not 100 % curable we can only manage it go for blood sugar, and lipid profile check up x ray of knee joint this will help in understanding stage of d's medicine and panchkarma procedure are required in her case if see is reluctant to medicine go for panchkarma and physiotherapy it will help in moment and pain management through panchakarma her bones and muscles will get strength consult for proper guidance.
1
person found this helpful
Fibromyalgia refers to a medical condition which is characterized by chronic widespread musculoskeletal pain, often backed by tiredness, sleep and issues related to memory and mood. Research indicates that the problem of fibromyalgia tends to amplify painful sensations by affecting the way our brain processes signals related to pain.Notable SymptomsGenerally physical trauma, surgery, any sort of infection or psychological stress tends to indicate that there is chance of fibromyalgia. They are now talked of in great detail below:Widespread Pain: If you are troubled by pain, on both the sides of your body, which is widespread in nature, especially above and below the waist, then it's a clear indication of fibromyalgia
Tiredness: People affected by the problem tend to wake up feeling tired, even when they sleep for long periods of time.
Cognitive Difficulties: There is a symptom, commonly known as "fibro fog", which tends to impair one's ability to focus, be attentive and concentrate on mental tasks.
Fibromyalgia often tends to co-exist with certain other painful conditions such as acute headaches like migraine, painful bladder syndrome, mucous colitis, which is the other name for irritable bowel syndrome. Causes:The actual cause of this disorder is not known but it might be the result of accumulation of certain factors.
Genetic Disorder: Fibromyalgia often tends to affect families. Certain genetic mutations might make someone a lot more susceptible towards developing this particular disorder.
Infections From Illnesses: Some genetic disorders such as lupus can cause infections, as a result of which fibromyalgia might be caused.
Trauma: Physical trauma such as car accident or even mental trauma due to early death of a loved one can lead to the problem of Fibromyalgia.
Treatment options
There are currently no cures for Fibromyalgia but some changes in lifestyle can make a person live peacefully with this chronic pain condition too. Manage Your Duties Well: Try and manage your daily chores in a sparing manner. Avoid lifting heavyweights and keep someone in the loop for assistance.
Take Sufficient Rest: Though one should avoid being in the bed for too long but still sufficient rest is a must.
Regular Exercises: Exercise is considered to be one of the best ways to get rid of fibromyalgia. Exercises in the form of either walking, swimming or stretching and bicycling would be beneficial.
Yoga: Stress related pain could be easily tackled through Yoga, which is a very effective form of exercise for people suffering from fibromyalgia.
So, we have talked about different perspectives on fibromyalgia, with regard to the symptoms, what causes this particular problem and how can one get rid of it or at least stay healthy with it.
In our fast-paced life, a wrong bend or an incorrect posture is quick to trigger a backache. It can also occur because of reasons like arthritis, improper diet, lack of physical activity, an improper lifting of a heavy object, excessive physical labour or pregnancy. Most white collared professionals are a victim of a sedentary lifestyle where they spend hours on end sitting in the same position. In fact, prolonged sitting is also a cause for weight gain, obesity, joint problems, poor health and even premature death.
Our instant reaction is to take a painkiller and get relief from backache. But painkillers often come with unwanted side effects and it is best not to take them unless prescribed by a physician. Some of the commonly prescribed painkillers in the market increase your risk to a heart attack by 2 to 4 times, cause cardiovascular problems, gastrointestinal problems, like digestive tract bleeding and even kidney problems. Instead, backache has several home remedies that can wonders. It will require a little patience but the zero side effect factor and long term relief will eventually be great for you.
Try these herbal and home remedies for backache:
Internal and external pain relief with Ginger: Ginger has anti-inflammatory compounds that can work well for pain relief. You can start by making Ginger tea. To do this, add 2-3 slices of ginger in half cup boiling water and simmer it for 10 - 15 minutes. You can add honey and drink it 2-3 times a day. You can also add half teaspoon crushed peppercorns and 2-3 cloves to this tea. Adding a dash of black salt helps in improving the taste.
Harness the power of Basil: Add 10 Basil leaves to a boiling cup of water and continue to boil it until it reduces to half. You can add a dash of salt to this and drink it through the day.
Home remedies with exercise: Not only should you stretch between long sitting hours, but you should also get some back exercise suggested by a physical trainer with expertise in the field.
Trigger your inner healing by releasing endorphins: Endorphins act as a pain-blocking mechanism in the body and doing certain activities you like can help release them. From walking for 20 minutes to aerobics, to yoga to meditation to chiropractic care, you can try whatever makes you happy and calm to trigger your inner healing.
Garlic: These tiny cloves healing powers are well known for a variety of body ailments including blood pressure. Taking a couple of cloves early in the morning on empty stomach or massaging with garlic oil helps relieve backache

Erasmus Mundus Master in Adapted Physical Activity, MPT, BPTh/BPT
The sciatic nerve is one of the largest nerves in the body. It goes from the lower back all the way down to the base of the leg. When there is a disorder associated with the sciatic nerve, it is known as sciatica. Sciatica, however, does not necessarily need a surgery or a very elaborate procedure to fix the problem. Most commonly, it is treated simply by practicing a number of simple exercises.
Here are some of the most common exercises prescribed to treat sciatica:
1. Reclining pigeon pose:
There are three main forms of the pigeon pose. These are sitting, reclining and forward. It is recommended that if you are just starting your treatment for sciatica that you use the reclining pose. In this pose, you are supposed to hold your left leg in the air at a right angle to your back. Then you are supposed to hold your ankle against the knee. Finally, repeat this stretch with the right leg as well.
2. Knee to opposite shoulder:
In this stretch, the starting position is on your back side. You have to have your legs out and feet upwards. From this position, try to bring your right leg towards your left shoulder. Hold this for 30 seconds and then release and relax. Repeat this exercise three times and then repeat the whole procedure with your other leg. Only take your leg as far as it will go.
3. Sitting spinal stretch:
At the start of this exercise, sit on the ground with your legs going straight outwards and your feet flexed in the upward direction. Pull your left knee and then put it on the outside of your right knee. Finally, place your right elbow on the left knee so that your body turns to the left. Hold for 30 seconds and then relax before repeating with the other knee.
4. Standing hamstring stretch:
Put your foot on an elevated surface such that it is above the floor but not above hip level. Flex your toes forward such that your feet and legs are nearly in a straight line. Bend as far towards the foot as possible. However, do not stretch so far that you feel pain. Finally, repeat this procedure on the other side after release.
5. Butler Mobilisation:
Your physiotherapist may also provide you butler mobilisation to help you get rid of the sciatic nerve. This has been a very successful way of treating this problem.
6. Self nerve mobilisation:
This is also a very effective technique for providing immediate relief to the sciatic nerve patients. It is a widely used by physiotherapists to help their patients.
1
person found this helpful
No need to worry .Usually it is taken between two meals. It is anti inflammatory medicine to reduce the swelling No need for any special precautions only,Don't undergo any procedures like dental extraction or surgery today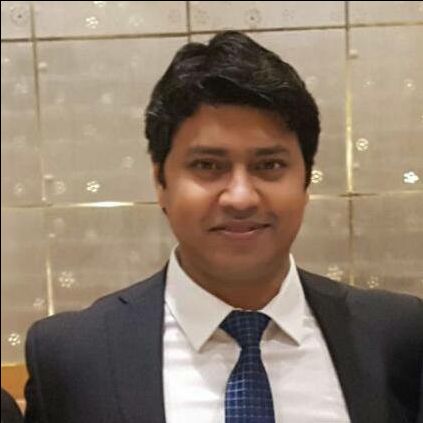 MS - Orthopaedics, MBBS Bachelor of Medicine and Bachelor of Surgery, Fellowship in Joint Replacement, MCh (Ortho)
Knee is a hinge joint where the lower leg bone tibia meets the thigh bone femur. During osteoarthritis, cartilage or ligament defects and degenerative arthritis, knee replacement surgery is recommended worldwide to get relief from extreme pain. Knee replacement surgery, also known as knee arthroscopy, is a surgical procedure, in which the affected knee joint is replaced with synthetic material. The most likely candidates for total knee replacement are the patients with severe destruction of the knee joint coupled with progressive pain and impaired function.
Modern technological advances have made computer-assisted knee replacement surgery extremely popular around the globe. In this surgery, the surgeon is assisted by a computer to remove the optimum amount and angle of the bone, which otherwise is done by inspecting manually. This is an excellent example of surgery through a small incision and it eliminates the chances of human error. Perfect alignment and balance are achieved and hence longevity is also increased to 20 - 30 years. Knee replacement surgery is also specific to gender as the anatomy of male and female patients is different.
There are many types of knee replacements, most common being the total knee replacement or Total Knee Arthroplasty. In addition, there is a partial knee replacement, bilateral knee replacement, revision knee replacement and knee arthroscopy.
In knee replacement surgery, the worn out surfaces of joints of the knee are replaced with an artificial implant of plastic and metal. The lower end of the femur bone is removed and replaced with a metal shell. The upper end of the lower leg bone (tibia) is also removed and replaced with a channelled plastic implant with a metal stem. A plastic ball is also added under the kneecap depending on its condition. These artificial components are commonly referred as prosthesis. The design of these highly flexible implants replicates knee, with the rotating knee replacement implants assist in the backward and forward swing of the legs.
Patients whose knee joints have been damaged by either trauma or progressive arthritis should consider total knee replacement surgery. Post-surgical hospital stay after knee joint replacement is usually three to five days. The surgery has a very high success rate and shows dramatic improvement after a month. This improvement is most notable one month or more after surgery. The pain caused by the damaged joint is reduced significantly when the new gliding surface is constructed during surgery. Initially, patient will walk with the help of a walking aid until the knee is able to support full body weight. After six weeks, patient can walk comfortably with minimal assistance. Patients with artificial joints are prescribed to take antibiotics during the course of any elective invasive procedures including dental work. Physiotherapy is an essential part of rehabilitation and it will increase the muscle strength and patient can enjoy most activities, except running and jumping.
2
people found this helpful
Muscle sprains and ligament tears are one of the most common injuries that medical practitioners encounter on a regular basis. These injuries are painful and can also limit one's movement, needless to say. However, there are simple things that can be done as soon as the injury happens so that the impact of the injury can be reduced, the symptoms minimised, and recovery improved.
A sprain is a tear of the ligament. The ligament is responsible for connecting the tissue strands that connect the bone to the muscle. When this sprain affects the muscle or even the tendon, it is known as a strain.
Sprains are very common and can occur due to a fall, twist, or impact. Most commonly affected areas are the ankles and wrists. Sprains happen when there is a pull or a twist of the ankle or the joint. This is very common in athletes and can be caused by repetitive motions in the knees, wrists, elbows, etc.
The most common symptom is pain, swelling, limited movement, and sometimes bruising. The degree of these injuries depends on its severity. The most common ways to treat such injuries are as follows.
RICE therapy: RICE is an acronym for rest, ice, compress, and elevate. Rest the affected area immediately by stopping any further activity. Ice the area using an ice wrap, with the ice cubes wrapped in a towel or a cotton cloth. Repeat this exercise if possible for every 20 minutes. This will reduce the swelling and pain. Compress the area using a sling or a wrap. This will help in reducing the swelling. Elevate the affected area if possible above the heart. This will help control the blood flow and thereby reduce the swelling and pain.
Pain control: If there is pain that needs medication, go for the non-steroidal drugs like ibuprofen or acetaminophen. If it is a child that is injured, it is advisable to give non-aspirin ones.
Seek professional help: Most sprains can be self-limiting over a couple of days. However, it is advisable to seek medical help if there is significant pain, swelling, or numbness, open wounds or bruises, or inability to move the joint.
The doctor may decide to do the following.
Scanning or imaging to rule out any internal hard/soft tissue injury like fracture or tear
Immobilise the joint with a splint or a cast
Start physical therapy if there is severe pain and immobility
Surgical repair if there is a ligament injury
A word of caution to athletes or people who are very active physically is to go easy on the joint. In an eagerness to quickly get back to their routine, more and severe damage may be caused. This can be avoided by allowing time for complete healing.

View All Feed
Near By Clinics
Anna Nagar West Extension, Chennai,
Chennai
View Clinic