About
We like to think that we are an extraordinary practice that is all about you - your potential, your comfort, your health, and your individuality. You are important to us and we strive to ...
...more
We like to think that we are an extraordinary practice that is all about you - your potential, your comfort, your health, and your individuality. You are important to us and we strive to help you in every and any way that we can.
More about Sakthi Hospital & Research centre
Sakthi Hospital & Research centre is known for housing experienced Urologists. Dr. Venkat Subramaniam, a well-reputed Urologist, practices in Chennai. Visit this medical health centre for Urologists recommended by 73 patients.
Timings
Location
#175, Big street, Triplicane, Chennai, Chennai
Triplicane
Chennai,
Tamil Nadu

Get Directions
Doctor in Sakthi Hospital & Research centre
MCh [Urology & Kidney Transplant]
Urologist
Services
Submit Feedback
Submit a review for Sakthi Hospital & Research centre
Your feedback matters!
Write a Review
Feed
Nothing posted by this doctor yet. Here are some posts by similar doctors.
1.Pass urine whenever you feel a desire, empty bladder completely. 2.Wipe from front to back after toilet 3.Take lots of water so as to have clear urine 4.Do not use any spray, scented bath products 5.Try to take shower rather than bath 6.Clean genitals before sex and pass urine after sex to flush out any bacteria 7.Keep genital area dry- wear cotton, loose under garments, avoid tight clothes like jeans medicine can not be advised for open question, for medicine contact on private consultation.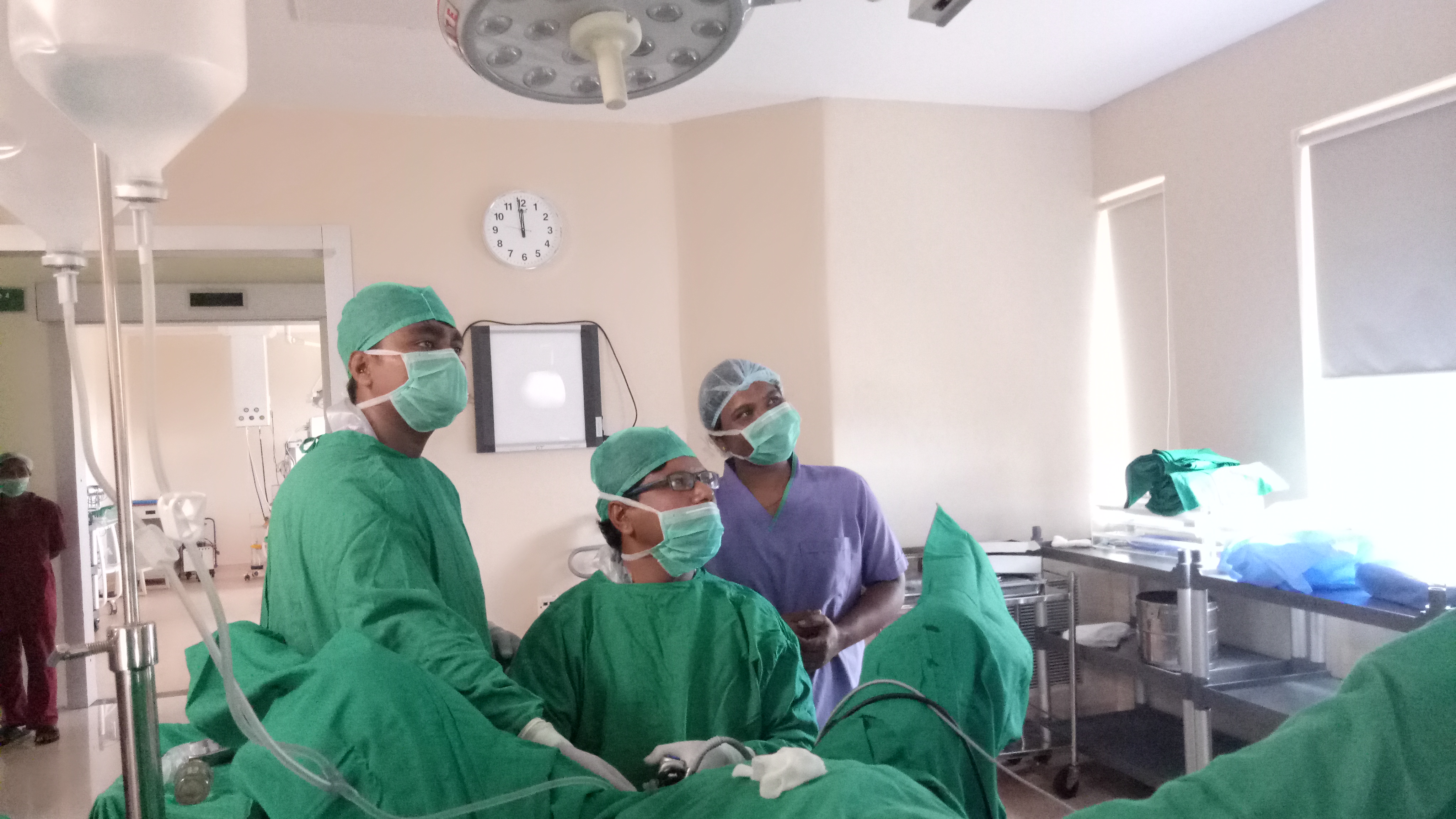 MBBS, Shadan Institute of Medical Sciences, Research Centre and Teaching Hospital, Peerancheru, Batra Hospital & Medical Research Centre, New Delhi
What are kidney stones?
The primary function of the kidney is to filter the blood and eliminate the waste products through urine. The waste deposition is sometimes in the form of excessive calcium, uric acid and other undesirable contents. It may cause the urine to get highly saturated. This is when stone-like formations take place inside the kidneys. Kidney stones are also termed renal lithiasis or calculi. There are different kinds of kidney stones, which are differentiated based on its varied constituents. Kidney stones cause excruciating pain and uneasiness. Frequent urination, extreme discomfort during urinating and presence of blood in the urine are some of the major signs of kidney stones. The symptoms are not evident if the stones are very small in size.
Causes of kidney stones:
Incorrect calcium intake: High amounts of calcium can lead to high calcium depositions in the kidneys. It is important to keep the calcium intake moderate. Calcium supplements must be checked if you have already included dairy products in your diet.
Abnormal rates of sodium in the body: Sodium, just like calcium, gets deposited in the kidneys.
Excessive animal protein intake: Too much of animal protein intake can make the urine turn acidic, leading to uric acid depositions in the kidneys.
Sugary, aerated drinks: These lead to undesirable waste deposition in the blood stream and eventually in the kidneys.
Inadequate water intake: Not keeping the body well hydrated can cause the urine to turn acidic and increase waste deposition.
Potential risks and complications of kidney stones:
Kidney stones may cause an infection in the kidneys which may eventually spread to the other internal organs and surrounding tissues.
Kidney stones block the ureter and cause severe pain and discomfort that make sitting, standing or any other posture difficult.
Kidney stones rarely cause kidney failures but the severe blockage and infection may cause such detrimental results in the human body.
Kidneys stones occur as a result of accumulation of mineral deposits in the kidneys. The size of a kidney stone may vary from person to person and they are noticed only if they create a blockage in the kidney. Apart from the kidneys, they may occur in the urethra, ureters and the bladder. Kidney stones only cause pain when they are pushed into the ureters.
Homeopathy is a system that focuses on treating the cause of the disease and hence is a holistic method of treatment. The various homeopathic remedies for kidney stones are:
Cantharis: Cantharis is recommended if you experience intense pain while urinating; it also helps if you have a constant urge to urinate. You may also notice blood in the urine.
Berberis vulgaris: If you suffer from pain in the kidney resulting from the kidney stone located on the left portion of your body, then this remedy is prescribed. You may also experience stiffness in the kidney region in the early hours of the morning. You may also have a bubbling sensation that worsens while moving your body.
Sarsaparilla: If you are passing white colored deposits in your urine, then sarsaparilla is used to treat the condition. You may also experience intense pain after urinating.
Lycopodium: Lycopodium is a deep acting remedy that is recommended if you pass red deposits through your urine. You may experience very strong urges to urinate at night along with intense pain in the back that gets better after urinating. The pain from the kidney stones tends to worsen during the afternoon.
Benzoic acid: If you show symptoms, such as dark brown urine and high uric acid levels in the body, then this remedy is recommended to treat the condition. Benzoic acid also helps in optimizing the levels of uric acid in the body.
ColoCynthis: This remedy is recommended if you experience intense pain in the urethra while passing stools. You may also pass crystals in your urine.
Having a kidney disease can make it feel as if your life has spun out of control. But having some knowledge about your kidney disease can save you the stress and trauma that you might experience. Knowledge about the same can also help you take better control over your condition.
Here are some frequently asked questions about kidney diseases:

1. How do you know if you are at the risk for kidney disease?
Some basic things are to be monitored to keep away from the risk:
Blood pressure levels to be monitored at least once a year
Urine analysis to check protein levels
Creatinine level in your blood
2. What can we do to take care of our kidneys?
The most important thing is to ensure that your blood pressure and blood sugar are under control. Essential lifestyle changes can help keep your kidneys working longer.
3. How long can I live with Kidney disease?
Many people think that if their kidneys fail, it is the end of their life. But with modern advances in health care, this is not the case. How long you live depends on age, your overall health and how involved you are in your care. Even if you reach kidney failure you can continue to live for a long time with dialysis or kidney transplants.

4. What can be done for fatigue when you have kidney disease?
Fatigue is a common symptom of kidney disease, but there are medications to deal with it. Talk to your doctor to assess your condition and deal with it.

5. Is kidney disease hereditary?
Genetical factors can contribute to kidney disease and around 10% of kidney failures are caused by hereditary factors.

6. Do I need dialysis?
If your kidneys don't perform their function and the serum creatinine levels reach a certain point, dialysis can be done. The dialysis machine will take over the kidney function of filtering out the impurities from your blood.

7. How long can you stay on dialysis while waiting for a transplant?
There is no set upper limit for the amount of time spent on dialysis. Some patients have gone over 25 years and it all depends on your health condition.

8. What questions should I ask my doctor?
No two people are same. Asking questions is the best way to find where you stand. So, discuss with your doctor on what percent of kidney function you have and what can be done to improve.

9. Can Dialysis be done at home?
Yes, discuss with your doctor to know how it can be done and whether it is good for you.

10. Do kidney stones lead to kidney disease?
No, they don't lead to kidney failure. But long term obstruction of the kidney can cause kidney failure.
1
person found this helpful
Dear Lybrateuser, -your problem could be due to a urinary tract infection - have plenty of oral fluids including 2-3 litres of water - do hot water fomentation of the affected area of abdomen if pain is more - do urine re/me, culture - consult a doctor as you will require a course of antibiotics for your problem.
Diabetes and hypertension, if poorly controlled, will lead to kidney failure in 5-10 years or earlier. There need not be any symptoms that may indicate kidney problem until a late stage requiring dialysis. At this stage fluid can form in lungs and bleeding tendency can occur.
1
person found this helpful
A kidney transplant is a surgical procedure that patients of kidney disease go through in order to replace a non functioning kidney with a live one that is healthy and functions well. Other methods to treat this disease also include dialysis, which basically is an artificial way of doing what our kidneys are designed to do. When dialysis does not work, many doctors recommend a kidney transplant. A replacement or donated kidney can come from a living donor or a non-living donor. This new kidney will mostly work towards keeping the blood clean, which is a function that stops when the old and diseased kidneys fail.
So, here's a list of five essential facts that you need to keep in mind if you are looking at a kidney transplant:
Donors: While there are living and non-living donors, the doctor will have to ensure that your donor is someone who has no medical history of complications, kidney disease or any other medical condition like diabetes or hypertension. Also, the donor would have to have two proper functioning kidneys. Further, one of the most important factors is the blood group. The blood group of the donor and the patient must match for the transplant to be possible.
Procedure: During the surgery, the patient will be under general anesthesia. The surgeon will make an incision in the lower abdomen area and the blood vessels of the new kidney will be connected surgically with the vein and iliac artery of the patient. Thereafter, any excess fluid will be drained before wrapping up the surgery.
Rejection: The patient's body may also reject the kidney. The immune system of the patient may mistake the new kidney as an attacking body and its natural defenses may work against it, which will lead to complications. For this, doctors usually prescribe immunosuppressant medicines that will help in preventing such an eventuality.
Longevity: While a living donor's kidney may last longer, a non-living donor's kidney will not enjoy such a long life. In such cases, a second transplant can be conducted.
Diet: After the transplant, the patient will be required to go through a number of measures like coughing to show that the lungs are clear, as well as administration of fluids and some amount of examination and dialysis. Also, the patient will have to have a special diet that includes raw fruits and vegetables, and plenty of non-fat dairy ingredients.
A kidney transplant is a major operation that can change your lifestyle in the long run.
View All Feed
Near By Clinics