About
ONE STOP SOLUTION FOR MANAGEMENT OF DIABETES AND ITS COMPLICATIONS !
...more
ONE STOP SOLUTION FOR MANAGEMENT OF DIABETES AND ITS COMPLICATIONS !
More about Bhoomi Diagnostic Centre
Bhoomi Diagnostic Centre is known for housing experienced General Physicians. Dr. Neelkanth Kote, a well-reputed General Physician, practices in Bangalore. Visit this medical health centre for General Physicians recommended by 69 patients.
Timings
Location
No.495, 24th Main Road, 17th Cross, HSR Layout, Sector-2, Bengaluru
HSR Layout
Bangalore,
Karnataka
-
560102

Get Directions
Photos (6)






View All Photos
Doctor in Bhoomi Diagnostic Centre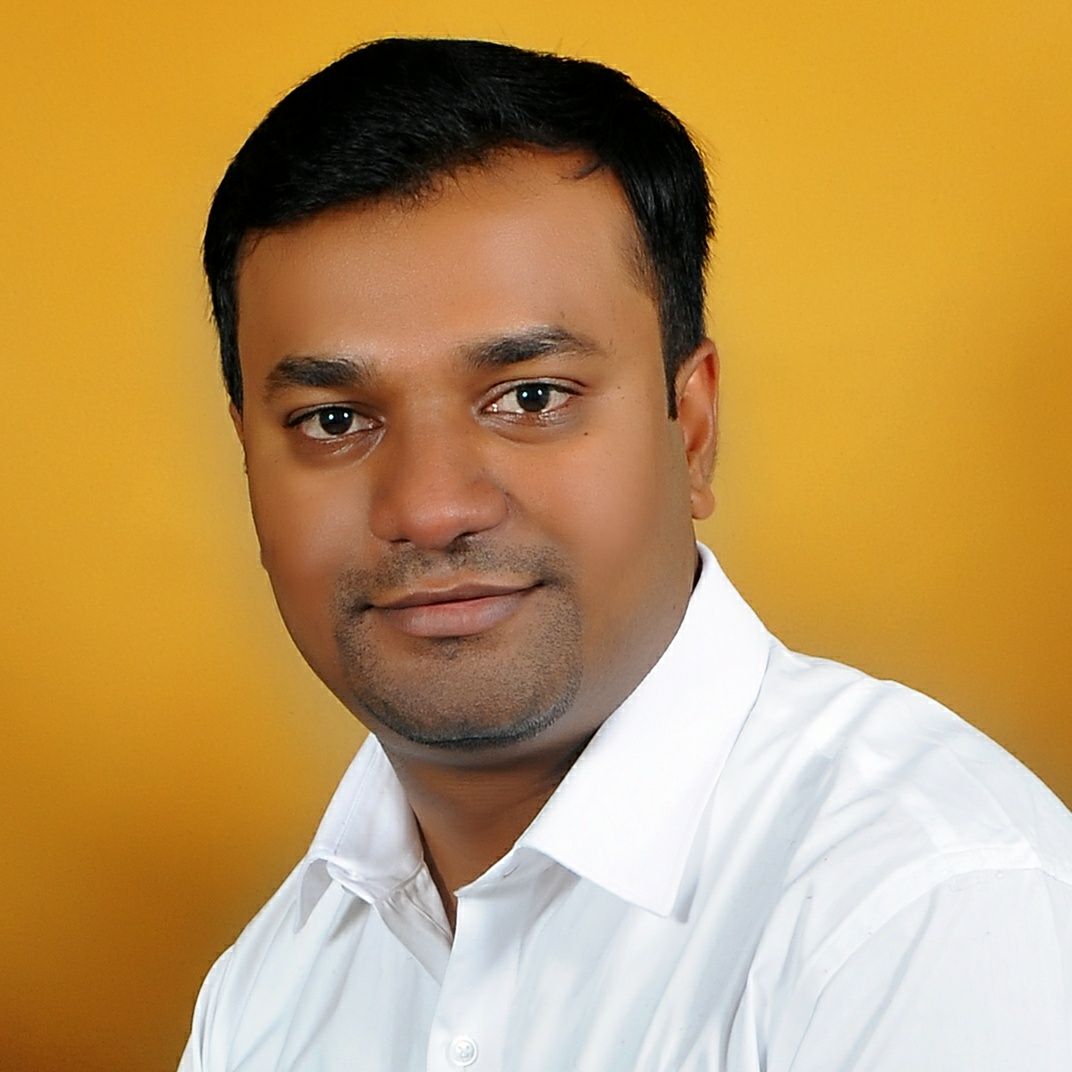 MBBS, MD, Certificate Course In Diabetes Management
General Physician
Book appointment and get ₹125 LybrateCash (Lybrate Wallet) after your visit
Services
Submit Feedback
Submit a review for Bhoomi Diagnostic Centre
Your feedback matters!
Write a Review
Patient Review Highlights
"Professional"
1 review
"Prompt"
1 review
"Well-reasoned"
2 reviews
"Helped me impr..."
1 review
"Practical"
2 reviews
"knowledgeable"
4 reviews
"Sensible"
2 reviews
"Caring"
2 reviews
"Very helpful"
15 reviews
Reviews
Sunil Kumar Gautam
Jun 30, 2018
Dr. Neelkanth Kote provides answers that are very helpful. Thanks.. sir.. for.. answering... i will improve my.. haemoglobin.. thanks sir
Iuc
Jul 3, 2018
Dr. Neelkanth Kote provides answers that are very helpful. Well.. Ok dr. Thnx alot..
Tarum Kumar
Dec 4, 2018
Excellent. He explained it very clearly and enthusiastically I would recommend him..
Feed
Hi, consume light and fibre rich diet at night. Drink plenty of liquids. Not having dinner for long time is not a good practice to follow take care of your bowel health! regards.
1
person found this helpful
Flu is caused by a virus known as influenza and is a common respiratory disease. It is typically caused from the month of October to May. Some of the common symptoms include fatigue, runny nose, fever, cough, muscle ache, sore throat, body ache, etc.
The flu vaccination helps to protect from influenza. The effect generally lasts for a year. It is recommended that an individual takes this vaccination once in a year since the strain of the virus keeps changing every year. Flu vaccine comprises of an egg-based technology.
Who Can catch flu?
Anyone can get a flu vaccination. Children above the age of 6 months or more are eligible to get a flu vaccination. In addition, the person who has a severe outbreak of allergic reaction due to the flu vaccination should also stay away from this.
Pregnant women can also get this vaccination without any worry about the baby. They not only safeguard the mother, but protect the child from influenza too. Adults who are more than 65 years old can take this vaccination without worrying. Patients with an acute allergy should consult their doctors before taking a flu shot.
Are there any side effects?
Although most people do not feel a thing after the flu shot, some might experience mild symptoms, such as redness of the area where the vaccine has been injected, mild body aches, soreness, redness and fever. Other serious side effects include allergic reaction resulting in soreness and very high fever. A doctor or healthcare personnel should be immediately contacted in such an instance.
Can flu shot cause flu?
This is totally a myth. A flu vaccine doesn't result in the flu. The virus content of the flu vaccine doesn't contain any live virus that can potentially trigger an outbreak of flu in the body. They are noninfectious in every sense of the word. It takes a couple of weeks for the flu vaccine to build immunity in the body. A person might get affected during this time if he comes in contact with an infected person.
Confusing flu with similar symptoms:
Common symptoms of flu such as nausea, vomiting, sneezing, body ache and fever can be symptoms of an entirely different disease such as diarrhoea. Until the tests are conducted and the doctor gives an assured verdict of flu, it is unwise to take a flu vaccination based on gut feel and mere speculation.
When is an ideal time to take flu vaccine?
There is no right or wrong time of taking a flu shot. It is seriously infectious and can catch hold of a person at any time. The right time to take a flu shot is now. It is readily available over the counter and can be injected at any time of the year.
5167
people found this helpful
Diabetes is one of the most common problems that are caused by obesity, unhealthy and inactive lifestyle. It is a metabolic disorder in which the body is unable to store and use energy from food. Being physically inactive and eating unhealthy food are primary causes of diabetes. It is a long term condition which causes high or unstable blood sugar levels in the body.
98896When a patient suffers from low blood sugar it is called Hypoglycemia, and if the blood sugar levels are too high, it is called Hyperglycemia. Both are extremely harmful for a patient.
Type 1 and Type 2 and Gestational Diabetes-
Type 1
In Type 1 diabetes, the body does not produce insulin. The condition has no known cure and is usually hereditary in nature. Approximately 10% of those suffering from diabetes have Type 1 diabetes. Patients with Type 1 diabetes have to take regular medication, including insulin injections as well as take care of their diet.
Type 2
Type 2 diabetes happens when the body does not produce enough insulin for its proper functioning. 90% of all diabetic people suffer from Type 2 diabetes. It is usually caused by poor lifestyle choices, like physical inactivity and unhealthy food habits. The disease lasts a lifetime and is usually progressive in nature, but can be managed by taking regular medication, choosing an active lifestyle and maintaining proper body weight.
Gestational Diabetes
Diabetes during pregnancy is known as gestational diabetes. This has to be managed by taking medication or in extreme cases insulin shots. If undetected or untreated, gestational diabetes increases complications during childbirth, and causes unusual weight gain in the baby. However, gestational diabetes usually ends after the baby is born and women can go back to their normal lifestyle and eating habits post delivery.
Symptoms of Diabetes-
Extreme hunger or thirst
Problems with vision
Unexplained fatigue
Cuts or sores that heal slowly
High number of infections
Who is at greatest risk for developing diabetes?
People who:
are 45 or over
are overweight
are habitually physically inactive
have previously been identified as having IFG (impaired fasting glucose) or IGT (impaired glucose tolerance)
have a family history of diabetes
are members of certain ethnic groups (including Asian American, African American, Hispanic American, and Native American)
have had gestational diabetes or have given birth to a child weighing more than 9 pounds
have elevated blood pressure
have an HDL cholesterol level (the good cholesterol) below 35 mg/dl and/or a triglyceride level above 250 mg/dl
have a history of vascular disease
What is pre-diabetes?
Pre-diabetes is a condition of elevated blood glucose level that has not yet reached a diabetic level. Along with insulin resistance, pre-diabetes causes no symptoms. An individual may be pre-diabetic for years without knowing it. Pre-diabetes increases your risk of developing Type 2 diabetes and heart disease.
Weight loss and exercise may halt the onset of diabetes from pre-diabetes by returning blood glucose levels to a normal range.
Diabetes is the fifth-leading cause of death by disease. Diabetes leads to the death of many people each year across the globe. In case you have a concern or query you can always consult an expert & get answers to your questions!
5187
people found this helpful
Indigestion refers to the discomfort in your upper belly or abdomen after you have eaten your food. Indigestion in many cases has an underlying problem like gastro esophageal reflux disease, ulcers or disorders of your gall bladder. Indigestion is also known as dyspepsia in medical terms.

The causes of indigestion due to the presence of any diseases or underlying medical conditions consist of the following:
1. Problems like ulcers
2. In rare cases it could be initial symptoms of stomach cancer
3. Chronic pancreatitis
4. Thyroid disease
5. Infections in your stomach and irritable bowel syndrome
6. Pregnancy could also result in indigestion

Some of the lifestyle habits that can cause indigestion are mentioned below:
1. Excessive consumption of alcohol
2. Smoking cigarettes
3. Stress and fatigue in daily life
4. Consumption of foods with high fat content
5. Regular and excessive intake of fried and oily foods

Medications can also cause indigestion and some of those could be:
1. Steroid medications
2. Thyroid medicines
3. Certain of antibiotics in heavy doses
4. Oral contraceptives and estrogen replacement medications
5. Non steroidal anti inflammatory drugs like ibuprofen and naproxen
6. Painkillers
Sometimes indigestion may not be related to the factors mentioned above and yet persist within your body. This type of indigestion is known as functional or non ulcer dyspepsia. You should contact a medical professional immediately if the symptoms of indigestion include some of the following:
1. Back pain
2. Jaw pain
3. Heavy sweating and anxiety
4. Indigestion that lasts longer than one day
5. Severe and sudden pain in the abdomen
6. Problems when you try to swallow food
7. Vomiting or presence of blood in your stool
8. Sudden loss in your weight
9. Skin and eyes turning yellow in color which is a tell tale sign of jaundice

In case your indigestion persists for too long and doesn't respond to conventional treatment, your doctor might prescribe some of the following tests.
1. Ultra sound tests of your abdomen
2. Blood tests
3. Upper endoscopy
4. Physical examination of your digestive tract and the stomach area
5. Questions by the doctor about what symptoms you may be facing and how they are manifesting within your body

4568
people found this helpful
If your mother has already attended menopause then it's more likely a calcium deficiency. Calcium deficiency is invariably linked to Vitamin D deficiency too. It's ideal to get serum calcium and Vitamin D tests done before starting the treatment. In the meanwhile ask your mother not to climb stairs frequently and lift heavy weight. Please take care of wet floors in the bathroom. She could be prone to fracture in future.
Drink leuke warm water every day morning so that your throat feels clear. You could be allergic to something as response your body secretes mucus. Check with a doctor for more details.
1
person found this helpful
View All Feed