About
Our medical care facility offers treatments from the best doctors in the field of Orthopedist . By combining excellent care with a state-of-the-art facility we strive to provide you with...
...more
Our medical care facility offers treatments from the best doctors in the field of Orthopedist . By combining excellent care with a state-of-the-art facility we strive to provide you with quality health care. We thank you for your interest in our services and the trust you have placed in us.
More about Chinmay Mission Hospital
Chinmay Mission Hospital is known for housing experienced Orthopedists. Dr. Madan Temker D, a well-reputed Orthopedist, practices in Bangalore. Visit this medical health centre for Orthopedists recommended by 88 patients.
Timings
Location
# 4, C.M.H. Main Road, Indira Nagar. Landmark: Opp. Deena Bandhu Temple.
Indira Nagar
Bangalore,
Karnataka
-
560038

Get Directions
Photos (1)

Doctor in Chinmay Mission Hospital

MS - Orthopaedics, DNB (Orthopedics), MBBS
Orthopedist
Services
Submit Feedback
Submit a review for Chinmay Mission Hospital
Your feedback matters!
Write a Review
Feed
Nothing posted by this doctor yet. Here are some posts by similar doctors.
Ayurveda is a very old system of medicine, which originated in India. Using herbs found in nature to cure various illnesses, knee pain can also be permanently cured with this method indigenous to India. It reduces knee pain caused by various illnesses including arthritis, inflammation of the cartilage and wearing of the patella among others.
Here are some common Ayurvedic remedies, which help reduce knee pain:
Alfalfa: Alfalfa is medically known as Medicago Sativa. Alfalfa is excellent for making sure that your joint pain reduces, when taken in liquid form four times a day.
Ashwagandha: Ashwagandha is medically known as Withania Somnifera. In the West, Ashwagandha is popularly known as Winter Cherry. Also, it has a lot of therapeutic properties, which include reducing joint pains.
Banyan: The Banyan tree's medical name is Ficus Benghalensis. It has a sap very similar to the form of rubber known as latex is derived from the Banyan tree. The Banyan tree's sap is externally applied over the joints and the painusually disappears after a few regular applications.
Bishop's weed: The medical name for Bishop's weed is Trachyspermum Ammi. The oil extracted from this herb is usually applied to the knees to reduce the intensity of such knee pains.
Celery: The medical name for celery is Apium Graveolens. Celery is not only an effective treatment for rheumatoid arthritis and associated pains in the knees, but it is also helpful in treating gout. It is usually agreed upon that this particular treatment is usually long lasting because of its alkaline nature.
Dandelion: Dandelion's biological name is Taraxacum Officinale. It is rich in magnesium and is crucial for the correct mineralization of the bones. This mineralization allows the bones to become stronger and also prevents knee pain.
Garlic: The medical name for garlic is allium sativum. Five to six cloves eaten everyday has proved to reduce knee pains.
Ginger: Ginger is biologically called Zingiber Officinale. These can be easily included in your diet and go a long way in curbing knee pain.
MS - Orthopaedics, DipSICOT, Fellowship in Arthroscopy,Liverpool,UK, Fellowship Hip Arthroplasty,Argentina, Fellowship Knee Arthroscopy,Argentina, MBBS
The Anterior Cruciate Ligament or ACL tear is a very common problem with athletes and with people who have an active lifestyle. In fact, this can also be caused by any accident due to sudden movement.
Importance of ACL-
The ACL is the supporting ligament, which runs diagonally from back to front right in the middle of the knee, connecting the femur bone and the tibia, and helps the tibia not to come before the femur. Thus the balance of the knee during back and forth movements and the entire stability of the knee joint is secured by this very important piece of ligament.
What leads to an injury to the ACL?
Here are a few actions that may result in a ligament tear.
Sudden stopping while running or slowing down from a fast speed

Sudden change in direction

Uncontrolled jumping from a height

Direct hitting with an object or person
What happens when the ACL is torn?
If the ACL is torn, the stability of your knee is gone, and you feel as if you have no control over the joint. Moreover, it causes extreme pain and instant swelling. Swelling usually appears within 24 hours of the injury.
Treatment of ACL Injury-
Recovery from an ACL tear is possible only after a surgery. Without surgery, the affected will not be able to return to sports or athletics, or may not be able to run and make swift movements again as before. However, to avoid surgery, there are non-invasive treatments for the aged and people who require moving less.
Non-invasive Treatment: Physical therapy and range of motion exercise is for free knee movement but does not replace the ACL reconstruction. This is also a prerequisite for the surgery to have a free ROM and at the same time it is a requirement for those not getting operated upon for any reason.

Surgical Treatment: Once the swelling subsides, surgeons would plan for an Arthroscopic (Key-Hole Surgery) ACL reconstruction. In this Surgeon makes a graft of a tendon. This graft is inserted into the joint and fixed in anatomical position in femur and tibia Arthroscopically so that the newly created ACL functions like the natural one. This is the only way to get back the ligament in whole as the torn ligament cannot be stitched. Surgery is done through arthroscope and recovery time is 15 days for resuming day to day activities and 3 to 6 month for resuming sports activities with continued physical therapy after the surgery.
Pain is unpleasant suffering caused by injury or illness. Back pain may be sudden/constant, dull, severe or not responding to short rest and medication. Constant pain in back in any region of the spine for more than few days to weeks needs intervention.
Pain which is intense especially at night requires an urgent visit to a specialist.
Sudden onset of pain in back with or without injury needs urgent attention.
Back pain with difficulty in walking, pain while getting up from position of comfort, pain during change of posture or pain after prolonged sitting (for work) can lead to serious permanent damage, if left untreated.
Pain which travels to one or both legs may be due to pressure on the nerve/s and if left untreated for long can lead to permanent weakness or damage.
Pain associated with numbness, tingling or weakness in legs, especially below the knees, commonly called Sciatica, needs to be investigated. Various spinal ailments can lead to weakness in one or two limbs or all four limbs. There may be associated or isolated numbness (loss of sensation to touch, pain or temperature) without back pain.
Numbness, tingling or weakness may be the only symptoms without any complaint or without a history of back pain.
Problems related to bladder control which may be difficult to control, hesitancy in passing or dribbling of urine. There may be associated with constipation. Loss of bowel/bladder control is caused by pressure on spinal cord &/or nerves which may be due to injury, infection, disc prolapse or tumor.
Sudden swelling and redness in the back usually happen after an injury or accident but sometimes are signs of underlying severe illness.
Loss of normal shape/curvatures of spine can present with or without pain. It can lead to forward, sideways or rarely backward bending.
Unintentional weight loss, loss of appetite, evening rise of fever or disturbed sleep with associated back pain/weakness/numbness needs to visit a specialist.
Carpal Tunnel Syndrome is a painful one that is born from a strain on the median nerve, which loops through the wrist bone to connect it with the rest of the hand and fingers so as to promote motion. This condition can be a painful and debilitating one that usually starts at night, and affects the various fingers, especially the thumb and index finger. The symptoms include numbness, a tingling sensation, a weak grip, and the inability to do many tasks that involve the thumb and index finger. There are many ways of treating this condition with the help of physiotherapy, steroids and corticosteroids. There are easier ways of dealing with this issue on an everyday basis, as follows.
* Wrist Splint: It is a good idea to wear a wrist splint at night which will keep the bones and muscles stationery as the pain in this condition usually starts at night. This will also prevent further damage to the median nerve.
* Activity: Keep your activity to a minimum to give your hand and rest, in particular, some much needed rest from the pain, numbness and tingling. Further, you need to avoid activities that cause too much pain and numbness. Also, take care to keep your thumb and wrist straight during other activities so that there is less strain on the median nerve.
* Strength and Flexibility: Many times, the pain from the wrist and fingers can spread towards the arm as well. In order to prevent this and to treat the pain on a more long term basis, it is important to turn to some mild exercise which can make the area more flexible and strong. This can include wrist twists which can be done ten times for each hand. One can also try Yoga to strengthen the joints in the upper body.
* Ice Pack: Use an ice pack or ice compress on your wrist for ten to fifteen minutes each every few hours to help in reliving unbearable pain.
* Anti Inflammation Medication: Patients suffering from this condition can also turn to non steroid medication that will help in bringing down the inflammation. This inflammation is usually responsible to a great extent for symptoms like numbness and pain which can halt various activities. These drugs may include aspirin, ibuprofen, and even naproxen sodium.
* Taking Breaks: One must take regular breaks at work and flex the fingers and the wrist so that the painful bending posture does not make matters worse.

Ensuring that you manage your everyday functioning despite Carpal Tunnel Syndrome is a matter of balancing your activities with rest.

MBBS, Diploma in Orthopaedics, DNB - Orthopedics/Orthopedic Surgery
Surgery for joint preservation is used to repair damaged articular cartilage because of osteoarthritis and malalignment. High Tibial Osteotomy is a medical or surgical method to realign the knee joint. This surgery especially helps people with knee arthritis to avoid knee replacement surgery, either partial or total, by maintaining injured joint tissues.
People suffering from degenerative arthritis or osteoarthritis encounter a high crushing of the articular cartilage and menisci that can result in their tearing. Unbalanced forces lead to unwarranted pressure on the knee resulting in mal-alignment.
High Tibial Osteotomy as an Alternative to Knee Replacement:
High Tibial Osteotomy is usually performed on younger people suffering from mal-alignment or arthritis. The plastic and metal parts used in the total knee transplant surgery have a life expectancy of 15-20 years that might result in another knee transplant surgery for a younger patient. That is why high Tibial Osteotomy is referred to the younger patients until knee replacement becomes unavoidable.
Through High Tibial Osteotomy, the knee is re-aligned to take the pressure off the injured side of the knee. One will have to go through some medical tests before the surgery to know the actual condition of the injury. If the mal-alignment of the knee is not treated, it can make difficult for the patients to perform their daily tasks even walking.
Who Are Eligible for High Tibial Osteotomy?
HTO or High Tibial Osteotomy of the knee is more appropriate for young, active people. Patients who do not feel pain under their knee cap and only on a single part of the knee are permitted for knee osteotomy. They should be able to bend and straighten their knees completely. One should consult their doctor before confirming the type of surgery they will be going for as not everyone is suitable for High Tibial Osteotomy depending upon the severity and overall health of the patient.
Types of Osteotomy Surgeries:
Closed Osteotomy Surgery: The most commonly osteotomy procedure used is a closed wedge osteotomy where the wedge bone is replaced through guide wires. The bones are then closed to fill the gap with the removal of the wedge.

Open Osteotomy Surgery: In this type of osteotomy surgery, the bone wedge is opened to add a bone graft to block up the space with the removal of the wedge.
An effective osteotomy postpones the need for knee replacement surgery.

No physical restrictions have been posted for the surgery.
Disadvantages:
Unpredictable pain post surgery

Longer healing time than partial or total knee replacement surgery

Difficulty in bearing weight on the operated knee
Post-Operative Care:
Physical joint exercises

Protective weight bearing exercises

Use of crutches or walkers as assistive devices

Radiography to correct maintenance of bone

Pain medications
Take Away:
High Tibial Osteotomy Surgery is performed to avoid Total or Partial Knee Replacement Surgery. This type of surgery is mostly performed on young patients. For most sufferers, this alternative has proven to be working to relieve pain. However, it is always advisable to consult a doctor before opting for this surgery.

Masters in Endocrinology, MBBS, C.Diab, CCEBDM(DIABETOLOGY), CCMTD, DOMS
The body is controlled by chemicals known as hormones. These are produced in minute quantities by minute organs, but have great control on almost all body functions. There are different hormones, each determining different functions like how tall a person will grow, how strong the bones will be, how well a person can react to stress and the reproductive ages. There is also a master gland called the pituitary which is situated somewhere deep in the brain, which controls all these organs. Small variations in the amount of these chemicals in the body produce significant effect on their respective control organ.

Thyroid is one such major gland, which produces a hormone called thyroxine or T4 as it is commonly called. This controls metabolism and emotional health to a large extent. Reduced amounts of T4 is very common in women, and with altered metabolism, there is increased musculoskeletal pain in various joints.
Here are some of the best ways to reduce Joint Pain from Hypothyroidism:
Thyroid hormones help all your organs work well. They control how your body uses food for energy.
What Do Thyroids Do
Thyroid hormones affect your metabolism rate, which means how fast or slow your brain, heart, muscles, liver, and other parts of your body work. If your body works too fast or too slowly, you won't feel well. For example, if you don't have enough thyroid hormone, you might feel tired and cold. Or, if you have too much thyroid hormone, you might feel nervous, jumpy, and warm.
What hormones does my thyroid gland produce?
The thyroid gland produces thyroxine (T4), which is a relatively inactive prohormone and lower amounts of the active hormone, triiodothyronine (T3). Collectively, T3 and T4 are referred to as the thyroid hormones. Twenty percent of the body's triiodothyronine is made by the thyroid gland; the other 80% comes from thyroxine converted by organs such as the liver or kidneys.
The thyroid gland also produces calcitonin from cells called C-cells. Calcitonin is understood to play a role in regulating calcium levels in the body, but its exact function in humans remains unclear. Thyroid hormone is one such chemical which has effect on all organs of the body including the joints. Vague pains may be due to thyroid disorders. They are easy to manage with treatment.
2
people found this helpful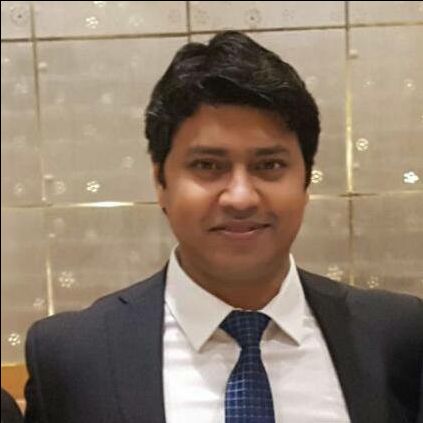 MS - Orthopaedics, MBBS Bachelor of Medicine and Bachelor of Surgery, Fellowship in Joint Replacement, MCh (Ortho)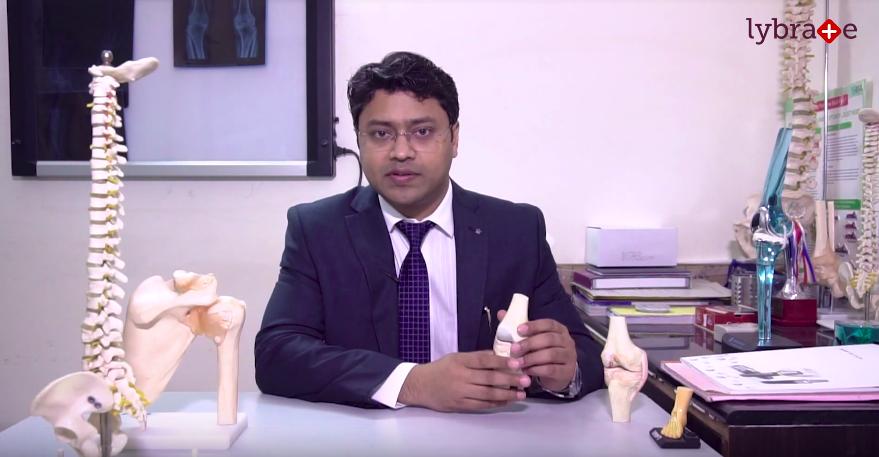 As you age, the cartilage cushioning your joints starts wearing down, causing the bones to rub against each other. This causes osteoarthritis, which is a type of degenerative disease caused. The rubbing of the bones causes inflammation of the joints. The joints of the arms and legs along with the lower back are most commonly affected by this condition.
615
people found this helpful

Fellow of Faculty of Pain Medicine (FFPMRCA), Fellowship of the Royal College of Anaesthetists (FRCA), Post Gradate Certificate in Musculoskeletal Ultrasound, European Diploma in Regional Anaesthesia and Acute Pain Management, Diploma in Anesthesia, MBBS Bachelor of Medicine and Bachelor of Surgery
Pain Management Specialist, Delhi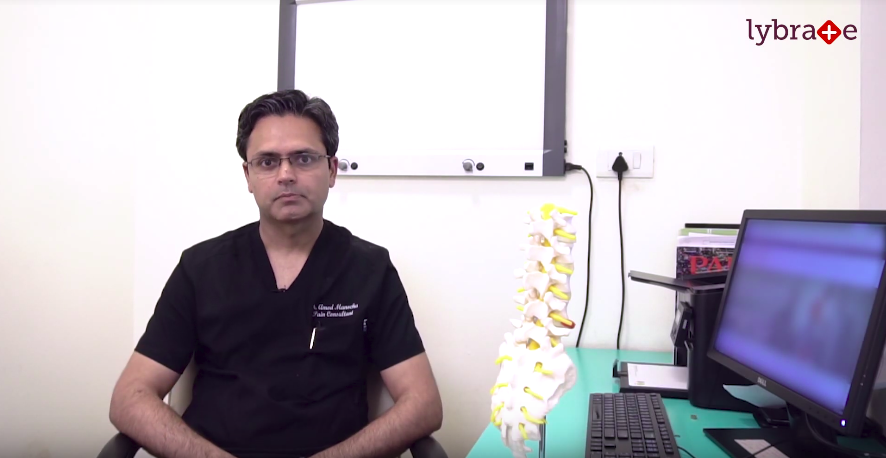 The sciatic nerve spreads down the spine till the legs. The pain in this nerve can feel like sparks running down your leg (by and large only each one in turn) or cause pain in the lower back. Anything that puts weight on or aggravates this nerve can cause pain that shoots down the back of one butt cheek or thigh. The amount of pain can increase gradually. Sciatica may feel like a gentle ache, a sharp sensation or extreme uneasiness.
611
people found this helpful
Chiropractic adjustment will help. Standing calf stretch stand away from a wall and. Put your fight foot behind you and be sure your toes are facing forward. Lean forward at the ankle while bending the right knee and keeping your heel on the ground. Hold this for 30 to 60 seconds. Repeat 10 times a twice a day.
View All Feed
Near By Clinics
4.6
(

50

ratings)
Indira Nagar, Bangalore,
Bangalore
View Clinic

Indira Nagar, Bangalore,
Bangalore
View Clinic

4.4
(

33

ratings)
Indira Nagar, Bangalore,
Bangalore
View Clinic