About
Customer service is provided by a highly trained, professional staff who look after your comfort and care and are considerate of your time. Their focus is you.
...more
Customer service is provided by a highly trained, professional staff who look after your comfort and care and are considerate of your time. Their focus is you.
More about Hair Skin Clinic
Hair Skin Clinic is known for housing experienced Dermatologists. Dr. Ramesh Gosavi, a well-reputed Dermatologist, practices in Ahmednagar. Visit this medical health centre for Dermatologists recommended by 100 patients.
Timings
MON-TUE, FRI-SAT
10:30 AM - 04:00 PM
06:00 PM - 08:00 PM
Location
Laxminarayan Market, Shrirampuram, Near Laxmi Theatre, Distt. Ahmednagar
Shrirampur
Ahmednagar,
Maharashtra
-
413709

Get Directions
Photos (4)




Videos (1)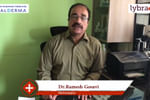 Doctor in Hair Skin Clinic

MBBS, MD - Dermatology
Dermatologist
Get ₹125 cashback on this appointment (No Booking Fee)
₹300 online
10:30 AM - 04:00 PM
06:00 PM - 08:00 PM
Services
Submit Feedback
Submit a review for Hair Skin Clinic
Your feedback matters!
Write a Review
Patient Review Highlights
"Well-reasoned"
1 review
"Helped me impr..."
1 review
"Practical"
1 review
"knowledgeable"
2 reviews
"Very helpful"
1 review
"Saved my life"
1 review
Reviews
Verified
Oct 6, 2018
Nice one
Verified
Sep 29, 2018
Good
Feed
Shared 1 month ago • Featured Tip
Exposure to the sun for a long period of time can result in several skin problems. They occur on the basis of heat, humidity and the rays of the sun. Here are the most common skin problems caused due to sun exposure:
Sunburn: Sunburns occur as a result of overexposure of the skin to the harmful ultraviolet rays of the sun. Melanin in the skin protects it from the sun's rays, but in case of overexposure, melanin fails to work and sunburn is caused. The symptoms of sunburn include the skin turning red, burning in the affected areas, skin tightness and a sensation of itching. Severe symptoms are blisters, chills, fever and fatigue.
Age spots: Age spots are caused due to overexposure to the sun. They are brown marks, which appear on the surface of the skin, especially in the arms, hands and other body parts. Age spots get more prevalent with ageing. Symptoms of this condition include brown and gray pigmentation on the skin surface. The pigmentation occurs in a circular shape and is flat on the skin.
Photosensitivity: This condition is also known as sun allergy. People with photosensitivity are likely to get burned from sun exposure very easily, and symptoms of sunburn are observed. Symptoms include red and pink skin rashes accompanied by itching and burning. The area gets scaly and blistered.
Moles: Moles occur commonly due to sun exposure. They may appear on any part of the body. Moles may vary from being harmless to cancerous. Common symptoms include raised skin and the skin tone changing into reddish brown or black. Moles are round in shape, and some moles are painful.
Solar elastosis: This condition is commonly known wrinkles and occurs when the elastic tissues of the skin get deteriorated due to sun exposure. The skin turns limp on account of no strength of the tissues and collagen. Wrinkles appear, and the skin seems loose and sagging. Deep lines are formed on the skin.
Skin cancer: Skin cancer accounts for being the most severe and fatal result of prolonged exposure to the sun without any kind of protection. There are many forms of skin cancer. The most primary skin cancers include Melanoma, basal cell carcinoma and squamous cell carcinoma.
Polymorphous light eruption: This condition, known as PMLE in short, affects women between the age group of twenty to forty. It also occurs in light sensitive people who spend more time under the sun. Symptoms include a red or pink, bumpy rash and raised areas on the skin surface. Itchiness and dry patches are indicated.
A large number of skin problems occur due to long hours of sun exposure. Some of these are chronic problems, which require proper treatment.
5
people found this helpful
Shared 3 months ago • Featured Tip
Human skin is prone to many problems like pimples, pigmentation, wrinkles and acne. Acne is the bane of an adolescent's life. Yet it happens due to a common problem. Hair follicles on skin, arms and the torso, sometimes overproduce cells and become blocked. Due to this blockage, oil produced by tiny oil glands in the skin gets trapped and becomes a breeding ground for bacteria, giving rise to acne.
There are two main types of acne - non-inflammatory and inflammatory. Examples of non-inflammatory acne are whiteheads and blackheads. Blackheads form when a clog or plug develops in the opening of hair follicles in your skin. Each follicle contains one hair and a sebaceous gland that produces oil, called sebum, which helps keep your skin soft. Dead skin cells and oils collect in the opening to the skin follicle, producing a bump called a 'comedone'. If the skin over the bump stays closed, the bump is called a whitehead. When the skin over the bump opens, exposure to the air causes it to look black and a blackhead forms. These are ugly but can be taken care of through common cosmetic procedures.
Inflammatory acne is not so easy to treat or hide. Usually, in this type of acne, the hair follicle wall ruptures and the fighter white blood cells rush into the spot, causing either a very prominent white, yellow or red sore to form or a pus-filled lesion which is damn ugly and leaves a lifelong scar on drying.
Acne Scar Removal-
That's all about acne, now the treatment. Acne is partially a hormonally linked problem and it is also linked to inflammation. Adolescents suffer the most. Treatments include pills and creams.
But now lasers have become the treatment of choice for sufferers.
Lasers are the magic wands of plastic surgery. They work by emitting a ray of light which produces certain effects in the skin leading to the removal of acne and its scars, as well as skin tightening, and hair removal. Laser treats acne by shrinking oil glands and killing the bacteria that cause acne. They, apparently work on 'porphyrins', compounds which are present inside acne-causing bacteria. So when porphyrins are targeted, they damage the bacterial wall killing the bacteria.
The kinds of lasers that doctors use for treating acne include Diode, Nd:YAG, IPL, Glass, and Pulsed Light and Heat Energy (LHE), as well as a new "vacuum" laser called 'Isolaz' which is extremely effective. There are reports that laser treatment may also reduce sebum (skin oil) levels in the skin which trap bacteria and cause acne in the first place.
The lows of laser for acne treatment are that it's expensive and usually, requires multiple trips to the dermatologist. Doctors usually recommend three treatments, about a month apart. This can go up if you have stubborn acne.
Laser resurfacing, a process that smoothes the top surface of the skin is also used for getting rid of acne scars. But once again it's expensive and takes multiple sittings.
2467
people found this helpful
Asked for female, 20 years old from Anantapur
If you are obese and have irregular mensis along with hyper trichinosis (increased amount of hairs which are unwanted on face, then there is every chance that you are a patient of PCOD, which can be ruled out by doing abdomenal and pelvic ultrasonography. In that case you are likely to have severe nodulocystic acne. This needs different treatment and also treatment from gynaecologist, simultaneously. Unless you control PCOD, it is difficult to control acne.
2
people found this helpful
Use no socks and shoes. Keep your feet as dry as possible. Your preferable foot wear should be airy, means either chappal or sandle, Find out whether your toe nails are also having fungal infection, if toe nails are involved with fungal infection then the duration of treatment will be 12 to 15 months. If only plantar surface is involved then duration of treatment will be 3-4 months. Multiple drugs are available dermatologist will choose the drug according to your body weight.
2
people found this helpful
Shared 5 months ago • Featured Tip
There is probably no person who doesn't lose some hair every day. In fact, losing about 100 hair in a day is considered normal. But if there is a problem of hair loss running in your family, you are vulnerable to lose even more hair. And it can lead to bald patches and spots in a short time. Approximately, half of all individuals suffer from this type of hair loss by the time they reach 50.
What are the causes of hair fall?
Although it has been speculated that hair loss is quite common, it could be a difficult thing to live with, particularly because it alters the way a person looks. Some of the most common causes of hair fall include:
Family history: Hair fall is often inherited, indicating that it passes down from one generation to another. This is termed as female-pattern or male-pattern hair loss.
Stress: The present work culture exposes all people to a lot of mental stress. Hair fall can also be caused by physical stress stemming from some ailment, high fever, and surgeries.
Chemotherapy: A powerful medication destroying cancer cells, chemotherapy is also known to wreak havoc on hair.
Wearing away: Hair damage can be caused by pulling back the hair, braiding it too tightly, making tight ponytails or by using too much of hair dryer, hair iron or hair straightener.
Iron deficiency: Hair loss would be inevitable if one does not maintain a proper diet, particularly if it lacks protein and iron.
Hair diseases: Hair disorders like ringworm, atopic dermatitis, psoriasis and other conditions can lead to loss of hair.
Thyroid: Both hypothyroidism and hyperthyroidism are known to cause hair fall.
How is hair fall treated?
If you have hair loss and you are looking forward to treating it, then your hair loss treatment would depend on the type of hair loss you are suffering from.
If hair loss is induced by some ailment that can be treated or is not going to last long, then your hair would grow back in some time. For instance, if hair fall is caused by thyroid conditions, then administering thyroid medications can help.
When your hair loss is caused by stress or any underlying medical condition or any medication, then you should try to alleviate it in order to notice desirable improvements.
In case the hair fall is triggered by some hair disorders, it is important to consult a dermatologist for comprehensive treatment solutions.
PRP For Hair Fall
PRP or Platelet Rich Plasma is a very effective treatment for hair loss. It involves drawing out the blood from the patient's body which is already rich in blood platelets. This blood is then concentrated to extract enriched blood platelets in the form of a serum. This serum is then injected into the scalp. PRP treatment can even be combined with hair transplant surgery, medication and micro needling to enhance their effectiveness.
Advantages of PRP treatment for hair fall-
It is a non-surgical procedure so you don't have to be sedated with anesthesia.
It is a short duration procedure as PRP procedure lasts for 60 to 90 minutes.
It is extremely reliable, safe and authentic.
Time taken for recovery is very short. You will see noticeable results in less than a week after this procedure while getting to see marked improvements over the course for the next few weeks and months.
Hair loss is controlled doesn't recur after this procedure while the result looks very natural.
Non-Eligibility for a PRP treatment
If you are suffering from malignancies or blood-borne diseases you should not go in for a PRP treatment.
If you have a current infection you might not be able to sit for a PRP hair treatment.
Patients suffering from cerebral palsy and Parkinson's disease are not eligible for a PRP treatment.
If you are currently pregnant or anemic, you shouldn't opt for a PRP treatment.
If you are currently suffering from any form of skin diseases you shouldn't opt for PRP treatments either.
In case you have a concern or query you can always consult an expert & get answers to your questions!
2618
people found this helpful
Shared 5 months ago • Featured Tip
Hyperpigmentation is a relatively harmless condition, but can affect a person's self-image and psyche. This skin condition is characterized by dark patches on the skin due to exposure to UV radiation or as a sign of aging. It is caused by an excessive production of melanin in the body. Hyperpigmentation affects people of all ages and with all skin types. However, fair-skinned people are at a higher risk of suffering from this condition than dark skinned people.
This condition can be treated in a number of ways including:
Laser: Laser treatment for hyperpigmentation improves skin tone and boosts collagen production. With advancement in laser technology, scarring is no longer a very big risk with this form of treatment. Depending on the degree of hyperpigmentation argon or carbon dioxide lasers may be used in with short pulses or long pulses. Treatment can take anywhere between 30 to 45 minutes and is relatively pain free.
Chemical peels: Chemical peels rid the skin of its top most layer and bring new cells to the surface. This gives the skin an even tone and eliminates dark spots and patchiness. A light salicylic acid or glycolic acid peel is ideal for hyperpigmentation treatment. This is often used in cases where the patient's skin is resistant to over the counter topical treatment. The concentration of active ingredients in the peel depends on the skin tone. Mild skin discolouration and blotchiness can be treated with a superficial peel while age spots and freckles require a medium peel.
Topical ointments: Topical ointments are usually the first form of treatment for hyperpigmentation. Hydroquinone or retinol are the most commonly prescribed ointments. Broad spectrum sunscreen that offers protection against UVA and UVB rays can also help prevent further sun damage and dark spots. Skin lightening creams with soy or niacinamide as active ingredients also help brighten skin tones.
Apart from these forms of treatment, there are also a number of home remedies for this condition. Some of these home remedies are:
Rubbing a freshly sliced or the juice of a grated potato on the skin
Applying a combination of cucumber and lemon juice on the skin
A grated papaya face mask
Soak almonds in milk overnight and then skin them and puree with the milk. Apply this mixture on the affected areas.
A mask of guava and banana pulp
In case you have a concern or query you can always consult an expert & get answers to your questions!
2301
people found this helpful
Asked for Female, 22 years
Remember sound sleep for at least 6-7 Hrs is essential to keep you healthy. Any insufficient sleep or relaxation reflects on people who are having tendency to show it around the eyes. Most of the time it is running in families (dark circles around eyes. However people who have dark circles around eyes must remember few things- Avoid late night keeping, Try to remain stress free, Take your meals & breakfast regularly, Stop worrying for trivial things, Do meditate which will offer you relaxation of mind. Even after observing this discipline your dark circles around eyes remain persistent then you need to consult your nearest Dermatologist.
1
person found this helpful
View All Feed
Near By Clinics